In Conversation with Veteran Indian Architect, Krishna Rao Jaisim
This is a candid interview with veteran architect- Krishna Rao Jaisim, founder of Jaisim-Fountainhead which is a Bangalore based firm comprising of architects, engineers, ecologists and planners that deals with residence, institutions, leisure, wellness activities, corporate offices, landscape, arboriculture, and urban planning.
His philosophies include 'Architecture is an adventure', 'Differences and difference is what makes life creative', 'Architecture is all about space', 'Principals of grammar never change: but expressions do', 'Time & Tide wait for the right thought', 'Nuances of Space is interaction with five elements namely Water, earth, air, fire and ether', 'The pencil, the computer are only tools; the mind is absolute yet it can achieve little without tools', 'Architecture is not all; all is architecture', 'Tangible material hint at Intangible abstract', 'Human beings were created: to think', 'Thoughts must have silences….', Space defined by decisions; decisions demand design', 'God lies in the details', 'History is never kind to those who hurry', 'The five elements to five senses, shall always patrol this environment', 'Art gains value in time; technology is time-bound', 'Structure is manifestation of materials', 'Art inspires' buildings become architecture', 'Live a life as a monument to your soul'.
Pappal Suneja: How did architecture really happen to you? Did you ever as a child wanted to become an architect?
Krishna Rao Jaisim: To be very honest about it, until I studied and finished school, I didn't know what architecture was! I was more into playing games, putting mechanical objects together. I loved mechanics and playing with things. Then heading to, you know as my grandfather was an architect; all that I hardly knew anything about it. What really happened was that I had joined the defense academy and wished to come back not wanting to be in the academy. As I came back, there is a short story behind taking up the Architecture course.
What was the choice for another choice?. One, I would have to go and join Mechanical Engineering in Manipal. Then my parents said there is something called architecture in Guindy (a city in Tamil Nadu, India). So fine, I Thought, I shall rather do it and then my mother told that her father was an architect that's why she suggested it, even until then it didn't strike me at all that it was something inherent. Also, one of the Reasons was that it will be near to my home. Nobody had heard much about it. The architecture! What it really was?. Only thing is that my mother rather promised me that to go to that college in Guindy as it was quite far, she would buy me a motorcycle and they showed one, that's it, I decided that I am joining the course.
Even in the first year I hardly knew what was happening and as things went ahead, I found more about art, sketching and painting. The things which I liked but it didn't appear very serious. That's how the architecture part started about it then. Later on, it became serious when I read about the fountainhead and many things opened up. I became the student union president, joined journalism, tried to run the politics of Bangalore students; meeting very important & interesting persons and all that continued. Further by accident, I was introduced to read Mies van der rohe's books and study of how the history of architecture and grammar of architecture evolved became another turning point. I always tried to condense the whole aspect of it and then see a new vision to study it. Also, I had a very strange way, not to do what somebody else did. I don't know why it has always been in the back of my mind not to do what somebody else would do if I put it the other way around.
'Bube 1972', by Jaisim. Image © Jaisim-Fountainhead
Pappal Suneja: What is your best project until date?
Krishna Rao Jaisim: There is nothing like that. In fact, this is the big question most journalists ask 'Sir we want you to describe some project' No! All is architecture, that's why we put the title as "five decades of architecture". Every building, every architectural design and all the elements in frames and without all that, this interview wouldn't have happened. The learning process is been continuous and we should face bigger challenges as we proceed in life ahead.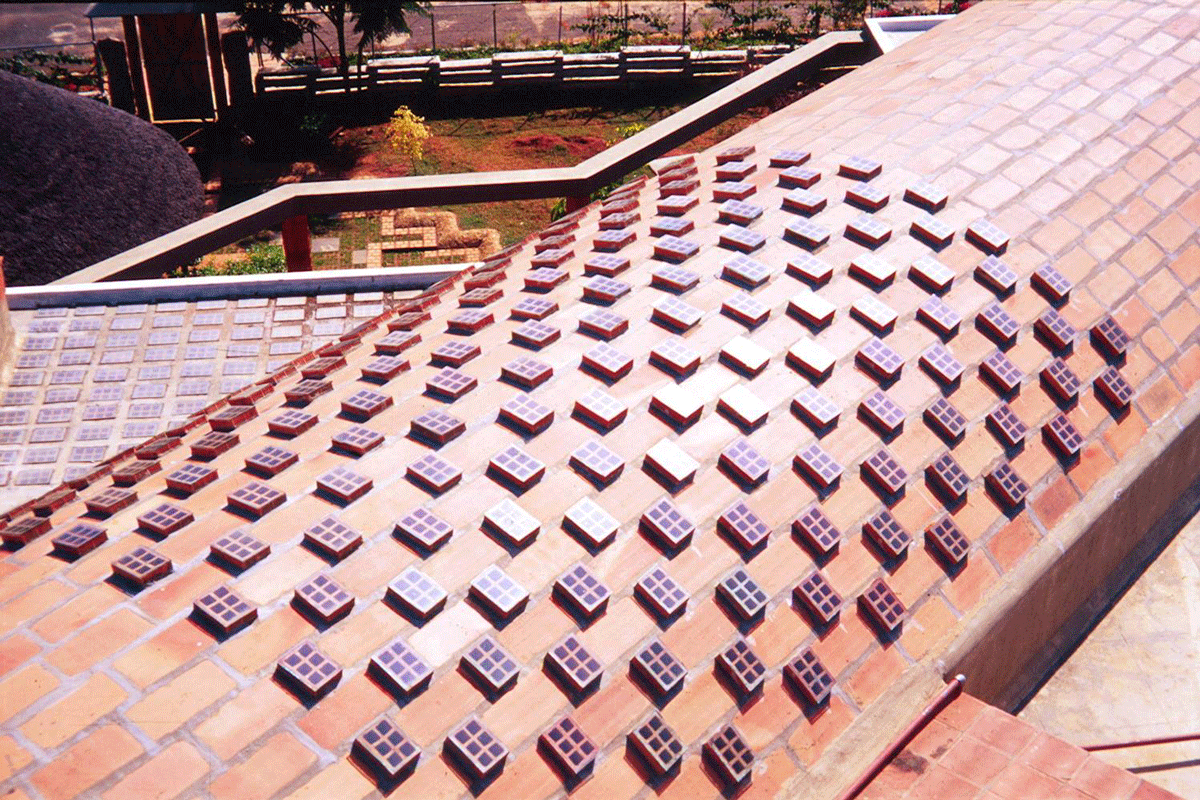 Exploring the use of Solar Panel in Roofing Tiles by Jaisim. Image © Jaisim-Fountainhead
Pappal Suneja: Sir, what are your views about the Marki-tecture which is greatly affecting the architectural practice across the globe?
Krishna Rao Jaisim: I believe architecture is not for the market-oriented practices, all that is Small trade, and business politics. Architecture is very definitive, rather very deep. I am glad you asked this question. That's how we brought this to engineers and let's have an architecture and engineering conference, Nirmana 2019. So, the major question is that engineers can build a home, build houses, and build any buildings, that they don't need architects. Architects can't build without the engineers but what really is a big difference that happens if an engineer builds. Is it just a building, we don't understand it, most people don't understand it. If really when architects design a building and get it built, something blissful happens. That something, which happens, is what life is & that is what human beings should experience. If you look at birds or look at animals they all build, but the two nests built by them may not be the same; which I keep saying very often. Each species builds the way it is designed to be built. Whereas, human beings are the only species which can build differently. This is itself a great thing! Unfortunately, 99 percent of the architects don't try to build diversely, that really saddens me. There is an ability to design beautifully, diversely, without being really different in the sense not for the sake of doing it another way around. It is just that you are not different but your approach is different. Once you get over that process, that is when the answer comes. Is the architecture for the already known? or is it for designing & exploring. When people talk about mass houses and a social house, it doesn't really make sense.
Pappal Suneja: Yes, it's only nice to talk about it. Ground reality and practical application considering long term shall have a major gap that will be difficult indeed to figure out.
Krishna Rao Jaisim: So, I give excuses when asked can you come to do some mass housing for us. What do you want to mass? I can design, but who are the people for whom we need to design is my next question. Then, I am very happy if a person understands what you speak.
CR Simbha 'Guhe' residence designed by Jaisim. Image © Jaisim-Fountainhead
Pappal Suneja: Young Architects like me are always tensed about our future. What is your secret of being optimistic that the adversities shall alter for the betterment of the large?
Krishna Rao Jaisim: Keep pushing yourself, be honest and don't lie. Involve yourself in the design and the process all by yourself. Many people shall not be appreciating your work, but I can see something in you, you shall have your own world, this is what I can tell you looking at your potentials. If you want to take the trouble. I will admire your struggle but live like a Rational Thinker. You really keep that to yourself and keep working towards your goals. You will have your own way. You are doing something unbelievable, believe in yourself. You are one of the privileged to have realized your prospects at an early stage of your career. You have the right direction of architecture and journalism to explore the design process. But, it doesn't come without immense faith. Keep it within for yourself. You don't have to tell anyone. This is my advice for you and other young architects of the generation. And, any time you want my guidance; you are free to talk to me.
Suresh Gupta residence designed by Jaisim. Image © Jaisim-Fountainhead
Pappal Suneja: Sir, you have extensively been featured a lot across the globe in a lot of magazines, newspaper and TV Channels. How do you relate it to your young days as you were witnessing icons being featured and now you are amongst them?
Krishna Rao Jaisim: Yeah! A lot of actually, everybody gets shocked, what to do? I Believe they don't have anybody else to feature. I take it very lightly as it has become a part of routine work.
Pappal Suneja: In the continuation of the same question. So, how do you actually feel when you see yourself 50 years back; when you had started the practice at the age of 25. Like, I am 25 Right now. Thus, I am curious to know about your feelings five decades back and now when you see yourself. When you see that transition of those years. How long have you come, how far the journey has taken?
Krishna Rao Jaisim: The journey has been fascinating; I think my first decade where I got to do that pavilion & exhibition center in the design competition was the best.Especially with the people involved in those projects as they were quite encouraging. Nowadays, the situation is the other way. I don't particularly bother, I will say if the client comes and ask me to do something; it isn't important that it will happen. There should be something very interesting to take up. Many people say, why aren't you doing big projects. What is the most fascinating project aesthetic; I shall just say it's a small site, which no architect would capture. That is how much work has been done by far. I never use the word experiment. What I have actually done, people say is an experiment. But, I don't experiment; it was serious to be done. That's the test point. People said oh! He experimented, and get scared of it. They run away, they all like always to be standardized with buildings. I speak it as an expression. I find many senior architects that have seen this in me. Most people say to me why you don't learn this. I say, no sir; I'm not doing hundreds of the projects that many people are doing.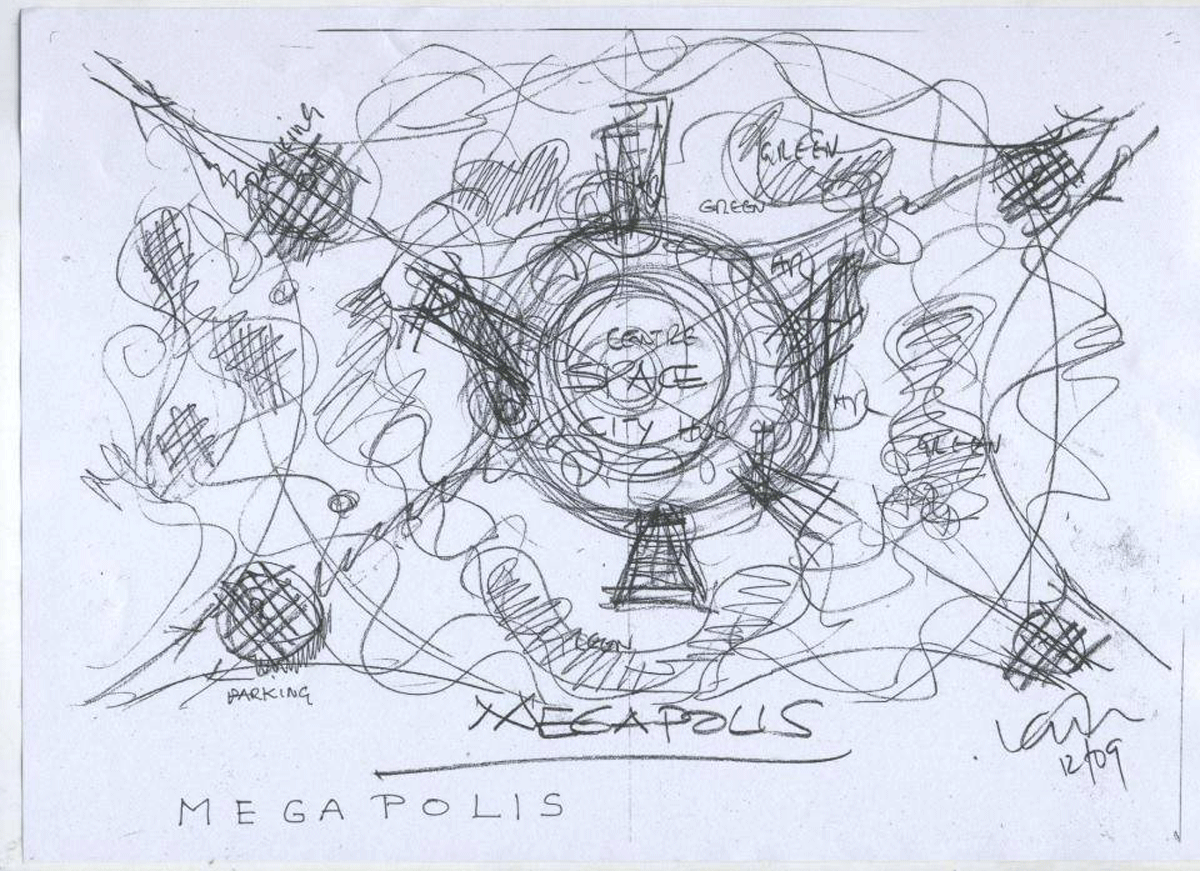 Sketch of Future Megapolis by Jaisim. Image © Jaisim-Fountainhead
Even yesterday morning I was working on finding something new. I was just thinking of and looking for a new thing called crystal concrete. I don't know what it is, but the thing is that it is going to be a new exploration. Everybody had a laugh, but I said I am going to do it, then have the fun of it. Why are you doing it? It is not about experimenting. I'm not into experiments, rather I want to explore it. I know the work and I wish to explore untouched. Similarly, nature also teaches us a lot. Yes, it does. Nature thought we can do it being the part of it's highest element. Who else shall do it? But, sometimes it seems difficult. I mean looking back at the glory of steps, I think there are a lot of expansions. I feel very unused. I want to go and talk to architecture students. I wish to keep exploring further and further. There is a lot of the potential that still we have to find. We still need to go on and also spent time with people who are in there 90's and find the unexplored. As these people won't open up since, at this stage they shall rather like only to listen to others the whole time.
Sketch of Future Mega Centre: City Tower by Jaisim. Image © Jaisim-Fountainhead
Pappal Suneja: The buildings that you have designed are been honored highly and many times I have seen that is not only with you, but this is also the fate that many Indian architects are facing, India BBC and National Geographic at times don't give the credit to architect whose building or structure they document. How do you take it?
Krishna Rao Jaisim: I don't take it seriously at all; there was always a fun factor that many people even say that the place where I stay in Suvidha Retirement Village, Bangalore is done by them. They don't realize, without the architecture, they won't have children playing over there. They don't want to give the credit. But, what you say is very fascinating. Like I don't ever go after the project is done, because infinite people are near another fight. What are you doing? I say nothing.
Pappal Suneja: Any special message to the young and upcoming budding architects?
Krishna Rao Jaisim: Be bold. Go find new ventures, new methodologies and don't be afraid. Most of the problems are due to fear. Fear is something within. Conquer it and you shall rise and shine.
(Pappal Suneja has a special bond with Krishna Rao Jaisim. He is his mentor, teacher, counselor, and a dear friend. Prof Jaisim also supports and encourages all the endeavors of Architectural Journalism & Criticism Organization, India as an Advisor.)
Top Image © Krishna Rao Jaisim (Left Image is of his Office 'I Do' Entrance in Bangalore)
> via One on One Interaction with the Veteran Architect.