This innovative brick house in Vietnam creates continuous internal spaces
This moulded-looking brick house pushes the traditional boundaries of brick material by providing continuous internal spaces, while presenting the maximization for ventilation efficiency via its two sloped roofs and central courtyard.
Designed by Vietnamese architecture firm Tropical Space, the two-storey house can be seen as the reinterpretation of the traditional Vietnamese house but with strong architectural language and spatial arrangement.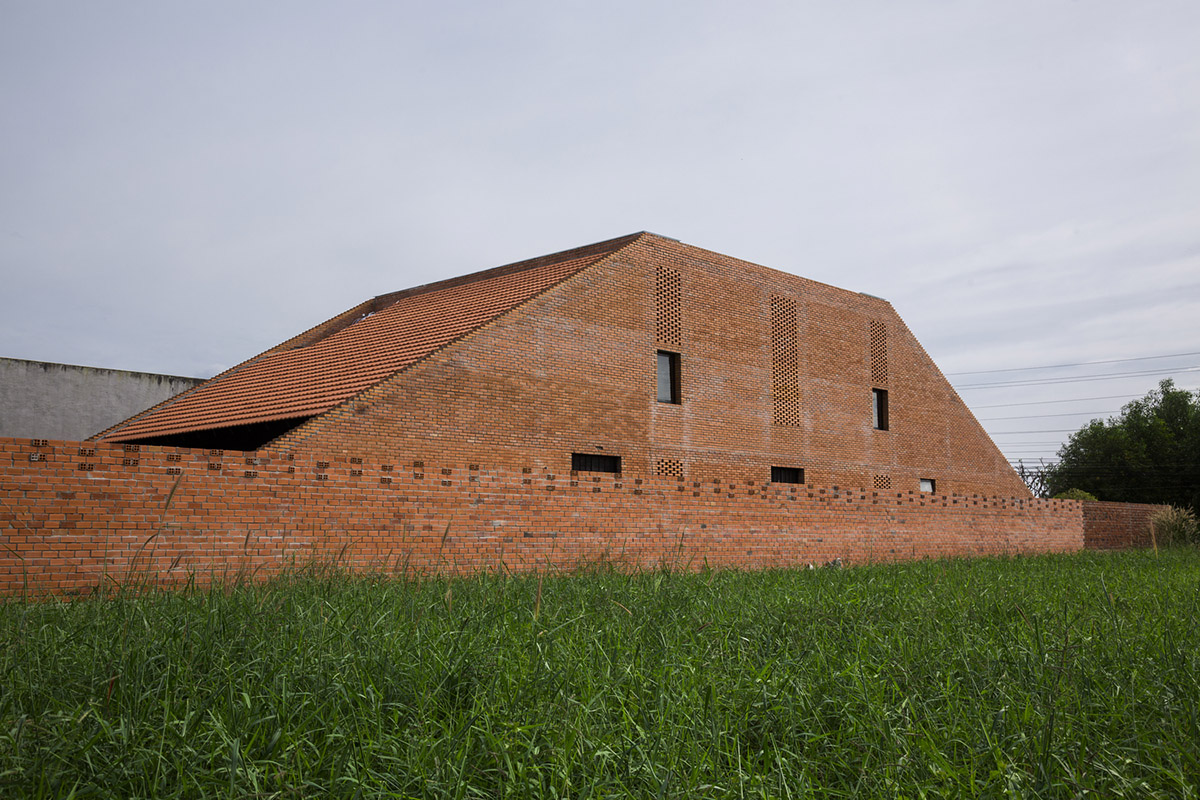 Called Long An House, the 300-square-metre house is a perfect example of a house sourced with "locally climate" approach in which all its internal logic was arranged accordingly.
To improve efficiency for ventilation, the architects divided the roof into two parts and designed a courtyard; then placed two corridors to connecting the roof. This approach created a courtyard and big walls. These are porous walls which can bring breeze into the house.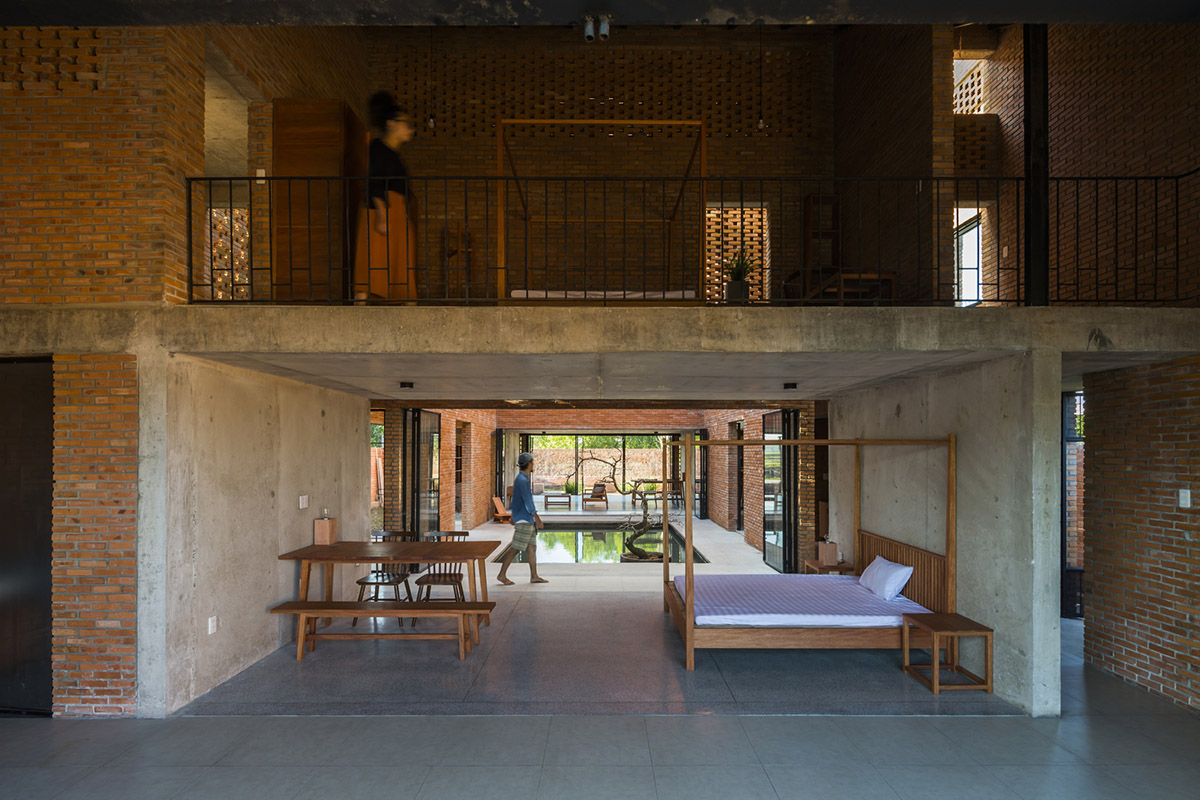 "The Vietnam traditional house is stretched from front to back creating continuous functional spaces. These spaces' boundaries are estimated by light with different intensity and darkness," said Tropical Space.
"The layout utilizes the wind direction of the local area in different seasons. Approaching the house firstly is the front yard made bY the hollow clay bricks, which can absorb the rain itself and reduce the heat on the floor Following is a buffer space which created the light transition from the yard to the living room, dining room and bedroom."
The architects designed the kitchen area and other functional spaces on the north side and other functional areas continuo along the house, to provide an advantage to traditional cooking when many family members come and visit.
On the mezzanine floor, there are two bedrooms for relaxing and reading, and a long corridor connects all spaces in the house through two stairs on both ends.
"We want to have a continuous space between the functional ones in and out of the house, so that the children can play and move freely, throughout the house without being confined by separate walls," added the architects.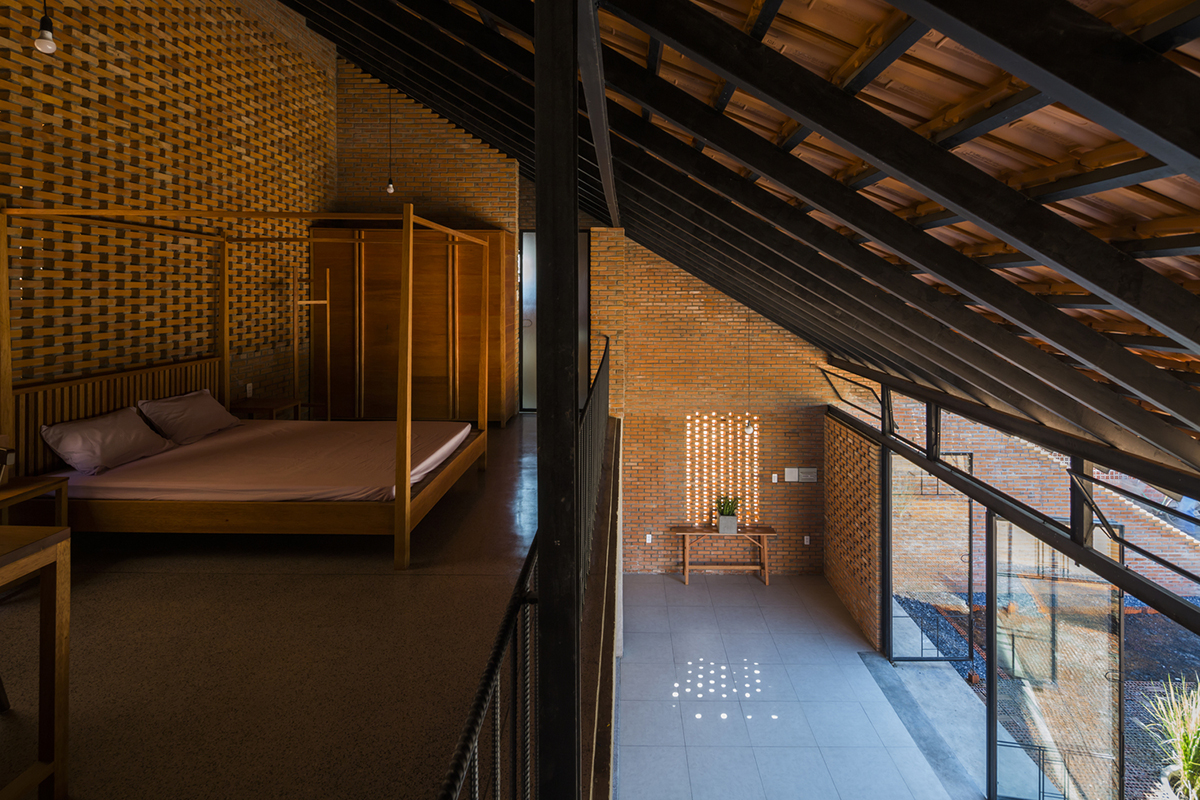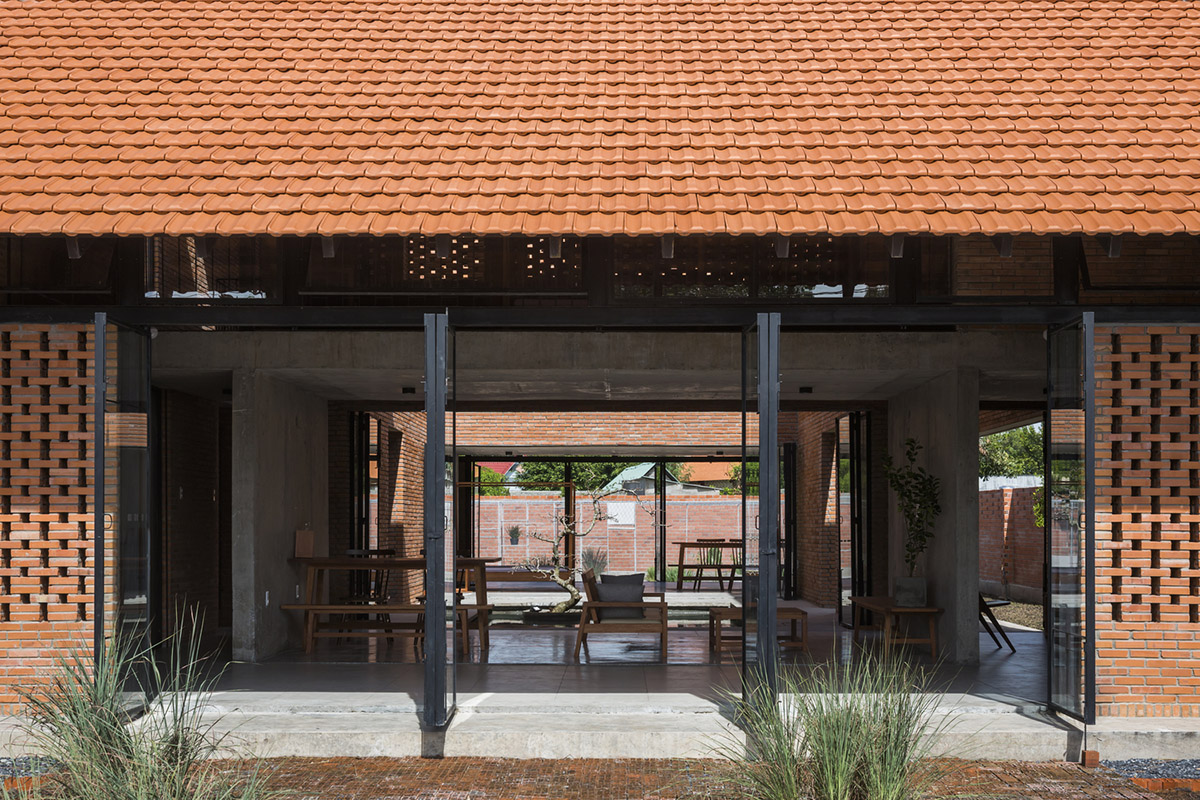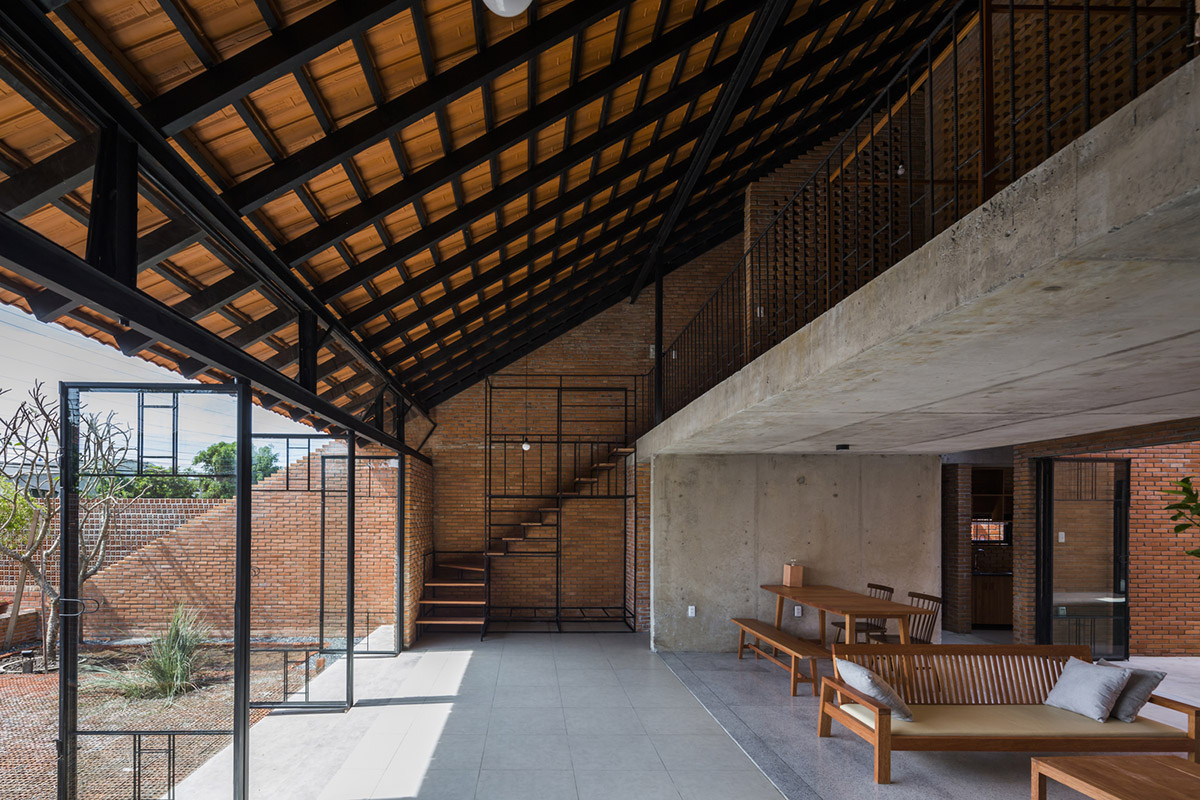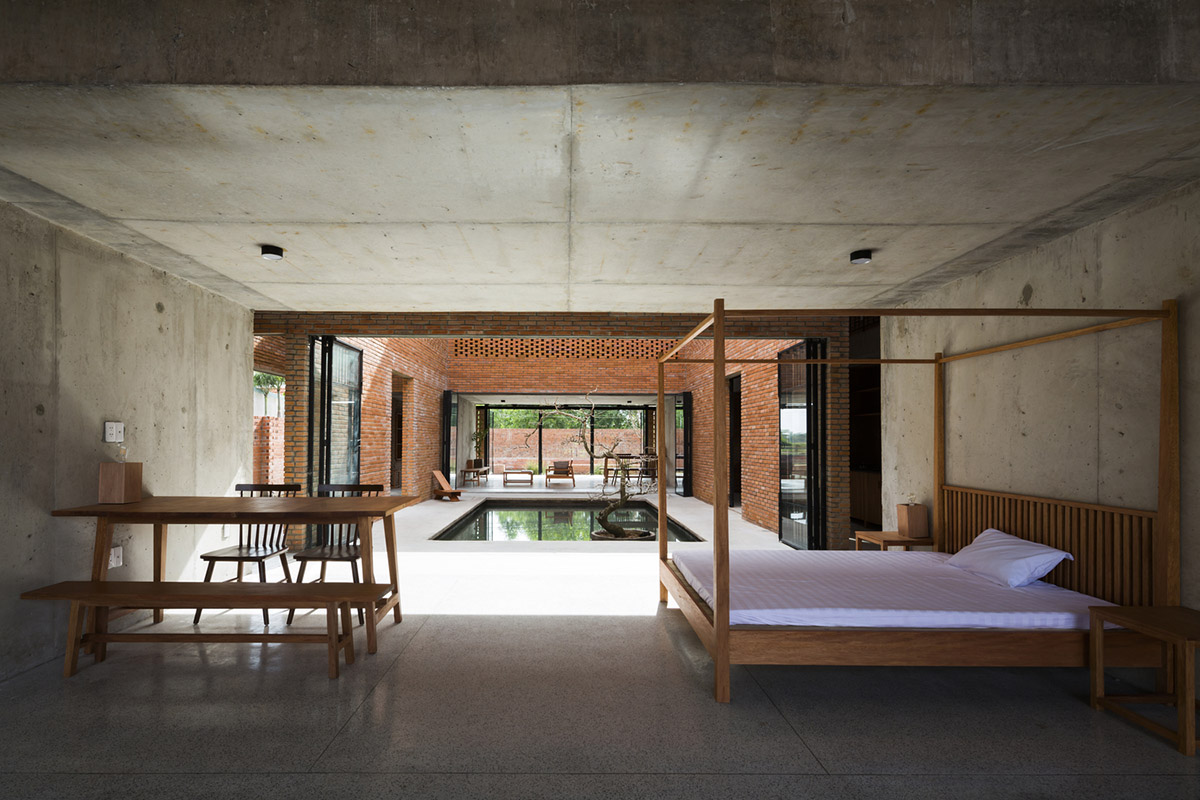 Ground floor plan
1st floor plan
Roof plan
Elevation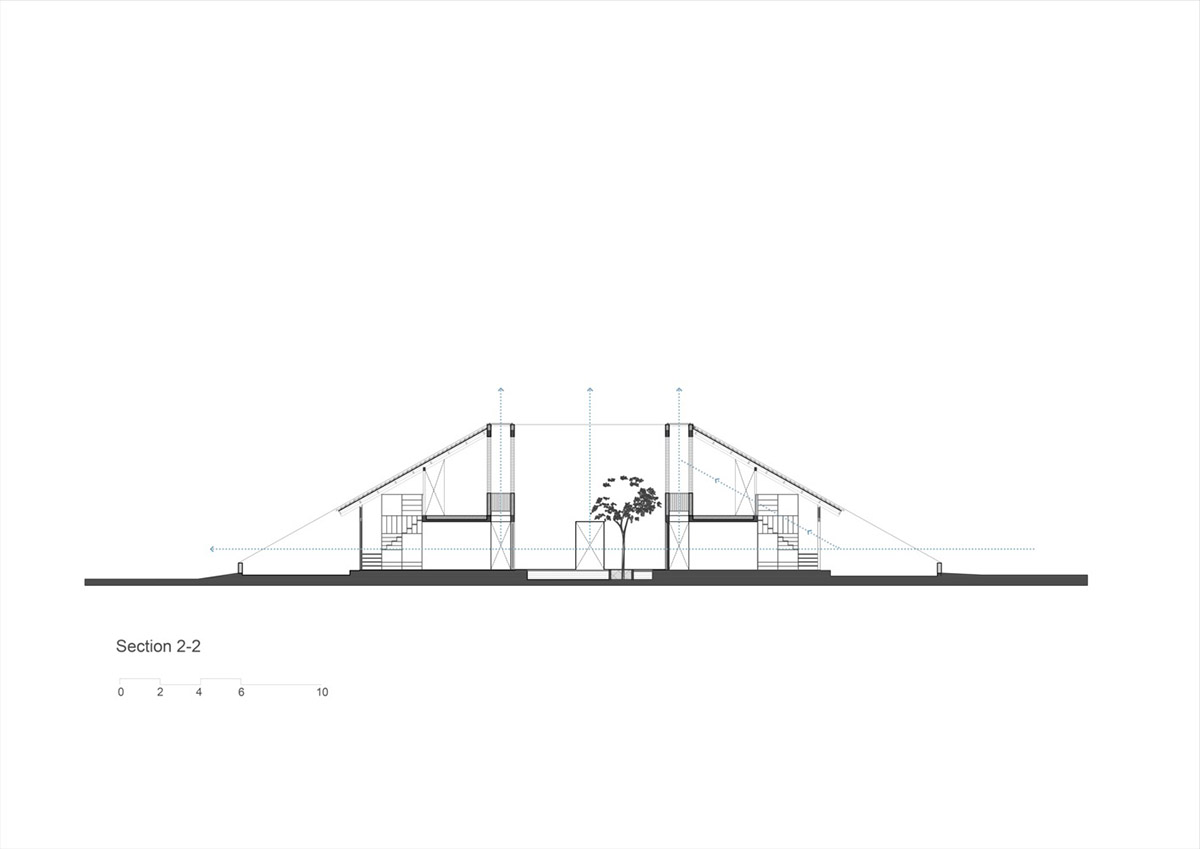 Section
Section and elevation
The house, located in My Hạnh Nam, Vietnam, was completed in 2017. The architects, for other projects too, have a deep understanding of Vietnamese culture and climate, and the firm is committed to the use of environmentally friendly buildings and sustainable material selection.
Project facts
Location: My Hanh Nam, Ward, Duc Hoa District, Long An Province, Vietnam
Architecture: Tropical Space Co.,Ltd
Principal Architects: Nguyen Hai Long, Tran Thi Ngu Ngon
Design Team: Nguyen Anh Duc, Nguyen Thu Hoai, Nguyen Tuan Dang
Year: 2017
Site area: 750 m.sq
Building area: 300 m.sq
Level: 02 (1 ground floor, 1 floor)
Materials: Brick, Concrete
All images © Oki Hiroyuki
> via Tropical Space