383 projects nominated for the 2019 Mies van der Rohe Award
The European Commission and the Mies van der Rohe Foundation has announced the list of nominated projects for the 2019 European Union Prize for Contemporary Architecture, Mies van der Rohe Award.
383 works from 238 cities in 38 countries have been nominated by 76 independent experts, the national architecture associations and the Prize Advisory Committee.
The Mies van der Rohe Foundation reported that the most populated city is London which is also where there is the highest number of works, 12. It is followed by Vilnius with 9, Paris with 8, and Tbilisi, Tirana and Helsinki with 7 and Tallinn, Ljubljana, Lisbon, Brussels, Berlin and Barcelona with 6. Copenhagen, Budapest and Prague have 5. Nearly 50% of the places have one single work.
The Mies van der Rohe Foundation was set up in 1983 by the Barcelona City Hall with the initial purpose of reconstructing the German Pavilion, designed by Ludwig Mies van der Rohe and Lilly Reich for the 1929 Barcelona International Exhibition.
Besides conserving and disseminating knowledge about the Mies van der Rohe Pavilion, the Foundation today also fosters debate on and awareness of themes related to contemporary architecture and urban planning, as well as encouraging studies on the work of Ludwig Mies van der Rohe and on the Modern Movement. In accordance with these objectives, the Fundació organises awards, congresses, conferences, exhibitions, workshops and installations.
Outstanding among these activities is the organisation, jointly with the European Commission, of the European Union Prize for Contemporary Architecture – Mies van der Rohe Award, one of the most prestigious of all European architecture prizes.
The jury formed by Dorte Mandrup (Chairwoman), Frank McDonald, María Langarita, Kamiel Klaasse, Ștefan Ghenciulescu, Angelika Fitz and George Arbid will shortlist 40 projects that will be announced on January 16, 2019, and the 5 finalists will be announced on February 13, 2019.
The winners will be announced in mid-April and the EU Mies Award Open Days will take place in May to promote visits to the shortlisted and finalist works.
Scroll down to see the list of 383 nominees for the 2019 Mies van der Rohe Award:
The Sultan Nazrin Shah Centre by Niall McLaughlin Architects, Oxford, United Kingdom. Image © Nick Kane
Pustec Square
Skanderbeg Square
"New Baazar in Tirana" Restoration and Revitalization
arTurbina
"Lalez, individual Villa"
Himara Waterfront
"The House of Leaves". National Museum of Secret Surveillance
"Aticco" palace
"Between Olive Trees" Villa
Vlora Waterfront Promenade
The Courtyard House
"Tirana Olympic Park"
BTV Headquarter Vorarlberg and Office Building
Austrian Embassy Bangkok
MED Campus Graz
Higher Vocational Schools for Tourism and Catering - Am Wilden Kaiser
Farm Building Josef Weiss
House of Music Innsbruck
Exhibition Hall 09 - 12
P2 | Urban Hybrid | City Library Innsbruck
Post am Rochus
Alpine Sports Silvretta Montafon
Basilica & Clerical House, Mariazell
Housing Maximilianstraße
Aspern Federal School
Princess Veranda
Schendlingen School
Temporary Center of the city district of Reichenau
Performative Brise- Soleil
Office Building Kakanj Cement
Hotel M Gallery
CAMP'S (a contemporary abbey for the production of mustard and pickles)
Residential care center KAPELLEVELD
Crematorium Stuifduin
COOP
PC CARITAS
Het GielsBos - Phase 3 - Care-centre for disabled
Restoration, renovation and extension of the Royal Museum for Central Africa
Cultural and meeting centre in Kasterlee
Renovation of three historical buildings
Folklore Museum
Ryhove Urban Factory
Herman Teirlinck Buiding
Zuidboulevard and public library
Square Rogier
UCL Faculty of Architecture of Tournai
De Krook library
Utopia - Library and Academy for Performing Arts
Espace Winson
Rehabilitation of the ancient Pathé Palace to a cinema and a cultural complex
ESAC - Institute of Circus Arts
MAD - Brussels Fashion and Design Platform
Castra Rubra Winery Guest House
The Triangular Tower of Serdica
white concrete old house
Magazia 1
Demokratos
Radisson Blu Larnaca
University of Nicosia 'Six Towers' Student Residences
Connection and Amelioration of the 28th October, K. Palama and D. Solomou Squares in Paphos
3CX Office Building
Laniteio Secondary School Extension
Mouttalos District Redevelopment
Markideio Municipal Theatre
Smalto Dental Clinic
Protest Stand - site specific instalation
DRN
Old Water Tower Community Center
Doubravka Lookout Tower
Dolní Břežany Sports Hall
Apartment house Domino
Štajnhaus
Exit station of the Pustevny cableway
Boiler House Libčice nad Vltavou
church of st. Wenceslas
KINONEKINO transformation of a movie theater into cultural community center Extension of DOX Centre for Contemporary Art
Residential and studio building at the former Berlin flower market
Terracehouse Berlin
Opera House /
ThyssenKrupp Test Tower
Wittenberg Castle
Embassy for children, SOS Children's Villages
City Library
Philosophical Seminar at the Cathedral Square, Muenster
New Town Library Rottenburg am Neckar
Futurium Berlin
UNIQUE3 CUBE
Substation Sellerstraße
Christkönig–Chapel at Cathedral Altenberg
WSDA Waste Recycling, Maintanance Depot
Community centre, refugee camp Spinelli
Bremer Landesbank
Museum Tonofenfabrik
Kulturpalast
Maersk Tower, extension of the Panum complex at the University of Copenhagen Dortheavej Residence
Streetmekka Viborg
Researcher Apartments
THE SILO
Hammershus Visitors Centre
TIRPITZ
Axel Towers
Fjord House
LEGO House
Baltic Station Market
MAD - Brussels Fashion and Design Platf...V+ (Bureau Vers plus de bien-être), ROTOR, Brussels, Belgium. Image © Maxime Delvaux
Renovation of the Machinery Hall of A.M. Luther's Furniture Factory Memorial for the Estonian Victims of Communism
Pilgrims' House in Vastseliina
Estonian Film Museum
Arvo Pärt Centre
Estonian Academy of Arts
Arts Centre and Hotel in the Sant Julià de Ramis fortress
Residential complex: three houses + multipurpose pavilion
Hotel and Restaurant in the ancient Montalván pottery factory (Triana)
Restoration and Environmental upgrade of the Architects Association of Catalonia Headquarters New Pallol Square in the historic center of Girona
Life Reusing Posidonia / 14 social dwellings in Sant Ferran, Formentera
Civic Centre Lleialtat Santsenca
Gallery-House
Glass House
Building for new Norvento Headquarter
Exhibition Hall in the former Santo Domingo Convent
Plasencia Auditorium and Congress Centre
Refurbishment of a building in Plaza de Puerto Rubio for the Save The Children Foundation Boquero Morilla House
Ca la Dona (Whomen's house) + Youth centre
Desert City
House 1413
Congress Center and Hotel in Palma de Mallorca
Rehabilitation and expansion of the Gon-Gar Workshops
Ibenergi Headquarters
New logistic center of Mayoral Moda Infantil
Public Library and Historic Archive of the city of Baiona
Rehabilitation of Casa Vicens
Palace of Justice
Mix dwelling building at 22@
Solo House
CaixaForum Sevilla Cultural Center
Aalto University Väre Building
Taika Kindergarten
Helsinki Central Library Oodi
Kruunuvuorenranta Automated Waste Collection Station
Gullkronan Senior Housing
Think Corner
West Terminal 2
Amos Rex Art Museum
Lonna Sauna
The Perret Hall - Cultural Centre
Museum of Arts, Nantes
Oscar Niemeyer cultural and sports center
E26 (school refectory)
Extension of the Cluny Museum
Stone building in Paris
Hidden house
Camille Claudel Museum
Longchamp Racecourse
'Théodore Gouvy' Theatre in Freyming-Merlebach
Transformation of 530 dwellings - Grand Parc Bordeaux
ENSAE PARISTECH, Campus Paris-Saclay
Paris Courthouse
Institute of Molecular Sciences in Orsay
Chris Marker student housing and RATP bus amenities
Lafayette Anticipations
Extension of Technilum production unit in Béziers
Saint Jacques de la Lande Church
Headquarters of the Bar Association, School of Lawyers and offices in Lyon
Moxy Hotel Tbilisi
Black Sea Arena
Dance Hall For Dance Choreographer Tea Darchia's Studio
Fabrika Tbilisi
Bazaar Building
Tbilisi Park Hotel
Coffee Production Plant
Pavilion for Chacha Ceremonies
OTE Call Center Athinas Renovation
H_34 Apartments Building in Voula
Public Preschool in Glyfada
AGEMAR Headquarters (Headquarters of Angelicoussis Group)
Hotel Salona Palace
Museum of Modern and Contemporary Art Rijeka-in the making
Issa Megaron
Stadium Luka Šokčević Šaljapin
House for Two
Popovača School
Adris Grupa/ Croatia Osiguranje office building interiors
Mali Arsenal, HERA Visitor Center
Public pool Vukovar
Mini Art Cinema
'Žnjan - Pazdigrad' Primary School
Housing Complex Jodranovac
Country House Konstari
Reconstruction of the Saint Martin parish church
Entrance Building, Graphisoft Park
Treehouses
The renewal of the Palatinus Bath
Blessed Celestina Nursery
Reconstruction of the Old Town Hall of Buda
Port Authority Building, Győr-Gönyü
The Graphic Designer's House
Market Hall and Event Center of Újpest
Rust-ic House
Art Room, Secondary School, Aran islands, Ireland
New School In Town
Dublin Port Centre Precinct
St. Mary's Medieval Mile Museum
Vaulted House
National Gallery of Ireland, Refurbishment of Historic Wings
14 Henrietta Street
The Retreat at Blue Lagoon
The Marshall House
Vigdis Finnbogadottir - Institute of foreign languages
Engie Headquarters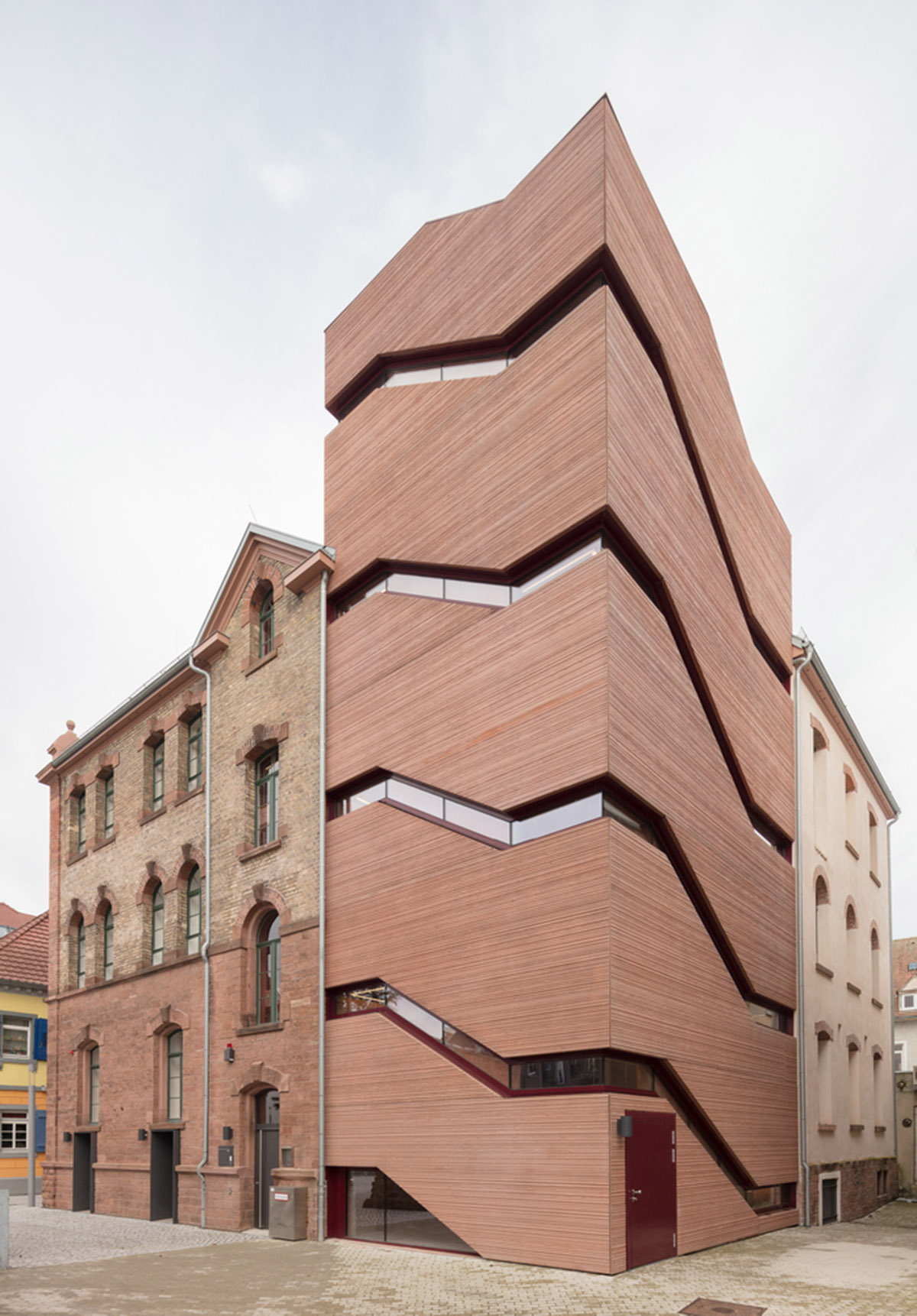 Museum Tonofenfabrik by heneghan peng architects, Lahr, Germany. Image © Thomas Bruns
Casa Fantini
Terra Madre - Scuola d'infanzia Sandro Pertini e piazza pedonale
library of the benedictine monastery Marienberg
Corte del Forte Dance Pavilion
Educational Ensemble Terenten
Accessibility project for the Heritage Park of Ceto, Cimbergo and Paspardo (UNESCO Site n.94)
Vatican Chapel / Pavilion of the Holy See — Venice Architecture Biennale 2018
M9 Museum District
ANM 2018 / Ordinary Re-construction
Prada productive headquarter
Chapel of Silence
Atelier of the Artist Marco Bagnoli
STONED
Refurbishment of two rural houses
Espace Winson by RESERVOIR A, A+11, Piron Architectes et Ingénieurs,..Fosses-la-Ville, Belgium. Image © Marie-Noëlle Dailly
Lavazza Campus: company headquarters and museum, public garden and multi-functional center
Fondazione Prada Tower
Kaunas Bus Station
Valley Villa
Bus Station at Vilnius International Airport ADMINISTRATION BUILDING "REALINIJA", JONAVOS 30 Green Hall 2
Multifunctional complex A.Juozapavičiaus str.13
Vilnius Tech Park
Reconstruction of sanatorium into reacreational building VU Botanical Garden Laboratory Building reconstruction MO-Modern Art Museum
Apartment building in Žvėrynas
Duplex in Turniškės
Office building on Nemunas waterfront
Showroom Norbert Brakonier
LUMEN
Cycle and Pedestrian Path under the Adolphe Bridge
LLC Luxembourg Learning Center
Highschool for healthcare professions
Private house in Cēsis
Two houses
Office building PLACE ELEVEN
Red Ice
Pauls Stradins Clinical University Hospital
Gertrudes 121 - refurbishment of tenement houses
Summer Houses
Hotel Kamenovo
Skanderbeg Square in Skopje
Chelsea business center
Urban Modular
Residential Building STOGOVO 14
Restoration and rehabilitation of the Phoenicia Hotel and its surrounding fortifications
At the Borderline
HOUSE_59
eCABS Booking Office
Farsons Corporate Office Extension
Musis Sacrum
Sportcampus Zuiderpark
House of Province Gelderland
Circl
Rijnstraat 8, renovation Ministry Building
Data Center AM4
Visitor center park Vijversburg
Experimental housing at Svartlamon
Cabin Nerskogen
Klostergaarden Boathouse
Kvåsfossen Visitor centre
Skreda Raodside Rest Area
Fleinvær Refugium
Mylla Cabin
lnnfill housing, Huitfeldts gate 15 AS
The Nursing School
City Municipal Building in ZA BRAMKĄ Street
Museum of World War II
Red House
The Regional Court Building Complex in SIEDLCE
Cracovia 1906 Centennial Hall with the Sports Center for the Handicapped
SZUCHA Premium Offices
Nawa - Architectural Sculpture
"Vistula River" Station Park
Affordable Housing Assembly at the European Capital of Culture 2016 Settlement Nowe Żerniki
Hunting Lodge by Pantograph Kuchyňa, Slovakia. Image © Livia Stokingerova
World's Vanishing Plants Garden with the educational pavilion in Arboretum SGGW Bałtyk office building
Kindergarten in Kleszczówka
Town Hall
Unikato
Silesia University's Radio and Television department
Sprzeczna 4 Residential Building
Akademeia High School in Warsaw
By the Way House
Rural Hotel River House
Promise - Cottage house
FPM41
Barão de Santos Palace
Rotating House, Coimbra
Chapel of Eternal Light
Tua Valley Interpretive Centre
Quelhas House
José Adrião
Luís de Camões Theatre
House in Rua do Paraíso
Our Lady of Fátima Chapel
CAA / Águeda Arts Centre
Museum Of The World War II by Studio Architektoniczne Kwadrat, Gdansk, Poland. Image © Paul Raftery
Power Plant for the Foz Tua Dam
Mount Chapel
Lisbon Cruise Terminal
Porto Botanical Garden: Casa Andresen, Koepp Greenhouses and Casa Salabert Londra Housing
Werk Restaurant
Ion Oblemenco Stadium
Equestrian center in Sânsimion
Summer Houses by AKVS architecture, Kotor, Montenegro. Image © Relja Ivanić
Restoration, Refurbishment of the Headquarters of the Order of Architects of Romania Bucharest Branch
Occidentului 40
Oromolu Office
Stattwerk office Belgrade
"Virtus" Winery
N1 Housing
Villa Pavlovic
Commercial and hotel complex in Rajiceva, Belgrade Misdemeanor Court Pancevo
Reconstruction of Museum of Contemporary Art, Belgrade Nationalmuseum
Rural Hotel River House by Menos é Mais Arquitectos Associados, Lda. Vila Nova de Foz Côa, Portugal Image © José Campos
Elderly Care Skärvet
Skissernas Museum
Kata Farm
Atelier Lapidus
Masterplan and Holiday houses, Bungenäs
Bruksgården
Entrance Pavillion to Arboretum Volčji Potok
Renovation of the Vrlovčnik Homestead in Matkov Kot
Termalija Family Wellness
Renovation of Hotel Švicarija
3SHOEBOX HOUSE
Brdo F6 terraced houses
Winter cabin in Mount Kanin
Ljubljana Regional Waste Management Centre - RCERO Ljubljana
Tem Čatež Factory Expansion
House Celovska 01
Promise - Cottage house by Camilo Rebelo Arquitectos, Grândola, Portugal. Image © Nuno Pinto
Pedenjped Day-Care Centre, Pedenjcarstvo Unit in Ljubljana Kašelj
Revitalisation of the Public Space of the Centrum Shopping Centre
Residential Complex Condominium Devín
Hunting Lodge
Courtyard
Family house Jarovce - A home for grandparents and nine grandchildren
Adaptation of the former factory Mlynica
New Synagogue
The land of bears and wolves
Pechersk School International
Hlibivka Countryside Hotel
Rock House
H_34 Apartments Building in Voula by 314 Architecture Studio, Voula, Greece. Image courtesy of EUmiesaward19
The Metropolitan Sheptytsky Center, Ukrainian Catholic University, Lviv
Teatr na Podoli
Stage
The Sultan Nazrin Shah Centre
Writ in Water
Belarusian Memorial Chapel
Nucleus, The Nuclear Decommissioning Authority and Caithness Archive
Royal Academy of Music: The Susie Sainsbury Theatre and The Angela Burgess Recital Hall Gasholders London
Fallahogey Studio
168 Upper Street
Charlie Bigham's Food Production Campus
Glass House by OFIS arhitekti, Granada, Spain. Image © Gonzalo Botet
Red House
Goldsmiths Centre for Contemporary Art
Stele House
Royal Academy of Arts masterplan
Chadwick Hall
Bushey Cemetery
Bloomberg
Storey's Field Centre and Eddington Nursery
The Leadenhall Building
15 Clerkenwell Close
H House
Garden House
Anarchitecture Theatre
Bremer Landesbank by Caruso St John Architects, Bremen, Germany. Image © Helene Binet
The process will culminate with the EU Mies Award Day on May 7, 2019 at the Mies van der Rohe Pavilion in Barcelona: opening of the exhibition, lectures and debates, presentation of the publication and Awards Ceremony.
Top image: Espace Winson by RESERVOIR A, A+11, Piron Architectes et Ingénieurs,... , Fosses-la-Ville, Belgium. Image © Marie-Noëlle Dailly
> via Mies van der Rohe Award