Shigeru Ban transforms disused quarry into a production campus with timber pyramids in Kentucky
Pritzker Prize-winning architect Shigeru Ban's firm Shigeru Ban Architects has been commissioned to transform a disused quarry into a new 420-acre production campus dedicated to whiskey near Louisville, Kentucky.
The firm has released the new images of design for a state-of-the-art distillery owned by Kentucky Owl Bourbon. The design is comprised of three timber pyramids which will transform old Cedar Creek Quarry into rickhouses for aging, a bottling center, a state-of-the-art distillery and offices for the American Whiskey Division of Stoli Group, which bought Kentucky Owl last year.
Video courtesy of Stoli Group USA
Dubbed as "Kentucky Owl Park", it will be built at Cedar Creek Quarry in Bardstown. The site will boast beautiful lakes with crystal clear, limestone-filtered water that will be used in our whiskey production.
Kentucky Owl Park will be a collection of one-of-a-kind buildings that are rooted in industrial vernacular design with each building featuring a distinct structural form that incorporates visual elements of the local bourbon-making process.
The newly-released plans show that there will be also a vintage dinner train to stop on the property, which will connect the site to other distilleries along Kentucky's Bourbon trail.
"The park will become a must-see destination, connecting to other distilleries along the Kentucky Bourbon Trail and creating a tourist experience unlike any other," stated in a press release.
Ban, known for his paper tube and mass timber constructions around the world, the architect envisions, once more, a distinct structural system incorporating local bourbon-making process.
Interpreted with a trio of pyramidal buildings built at the enter of the site, the architect will convert old quarry pits into lakes with crystal-clear and limestone-filtered water.
"We are honored to have been chosen to build Kentucky Owl Park and are eager to bring the joint vision of Stoli Group and Shigeru Ban to life," said SBA Managing Partner Dean Maltz.
"This is an opportunity for us to challenge ourselves like never before, as these plans serve as our first Kentuckydistillery and incorporate unique highlights and nods to the industry and its history, while prioritizing light and a connection to nature, features the architectural world has come to expect from our firm."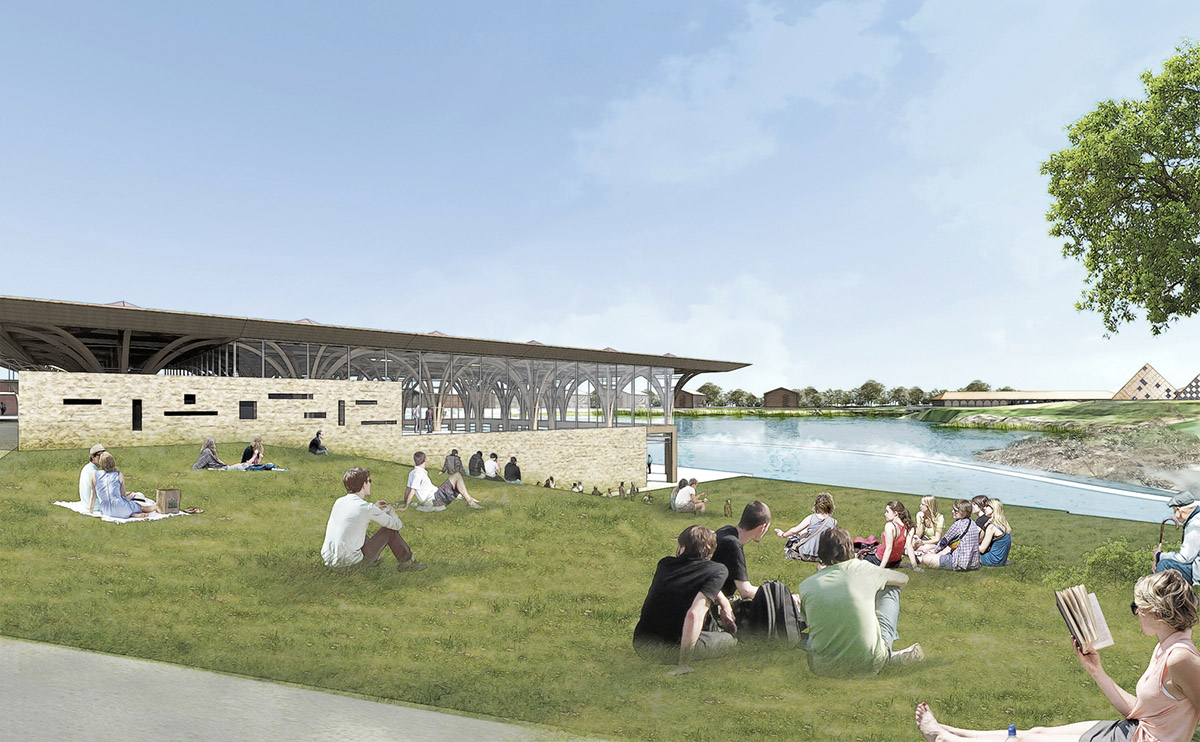 The press release states that as Master Blender, Dixon Dedman will continue to manage the production of Kentucky Owl in small batches, while the mass production of new whiskeys will be produced at the new distillery. The new Kentucky Owl Park is scheduled to open in 2020.
All images courtesy of Shigeru Ban Architects
> via Kentucky Owl Bourbon