Launching 3 New Hotels in Barcelona's Booming yet Regulated Tourism Sector
In 2014, 63 Spanish cities received over 54.37 billion travelers, accounting for 62% of the total tourist volume in the country. In Barcelona alone, some 30 million visitors come each year. With 30% or over 9 million (in 2016) of these tourists opting to stay in hotels, spiked the demand for hotel accommodation. As it gives tourists a place to stay and spend the night, the hotel sector has become one of the main factors that shape Barcelona as an ideal tourist destination.
At the same time, with 60% hotel investment funds, it has become assets in the city's financial market. Thus, alongside its diversified management as well as new investment models and amid the rise of alternative forms of accommodations such as flat renting/sharing and couch surfing, the hotel sector is experiencing an unprecedented growth. While there were 187 hotels in 2000, it doubled within a span of 10 years with 328 total in 2010 and most recently, a total of 426 in 2017.
By the end of 2018, the launch of three more notable hotel brands is a validation of this continued growth.
The Barcelona EDITION
Edition Hotel perspective. Image © OAB-Ferrater Studio
Mid of this year, Barcelona EDITION opened its doors to the public. Located in El Born, at the Ciutat Vella district, this 5* Hotel is only an arm stretch away from the iconic Santa Caterina Market and within walking distance from the Barcelona beach, Picasso museum, Antoni Gaudí's Palau Güell, and the famed Basilica de Santa Maria del Mar. Located within the most historic, creative and lively district of the city, the hotel hopes to vibrate life, style and energy.
An old underused office building, whose general structure was preserved, was transformed into a contemporary, simple yet unique edifice. The design treatment of the facade by Carlos Ferrater Studio involves a systemic use of geometric elements that accentuate light, shades and shadows as well as a glass material that mirrors the surrounding urban character and the public space. The Barcelona EDITION appears to harness the essence of its environment.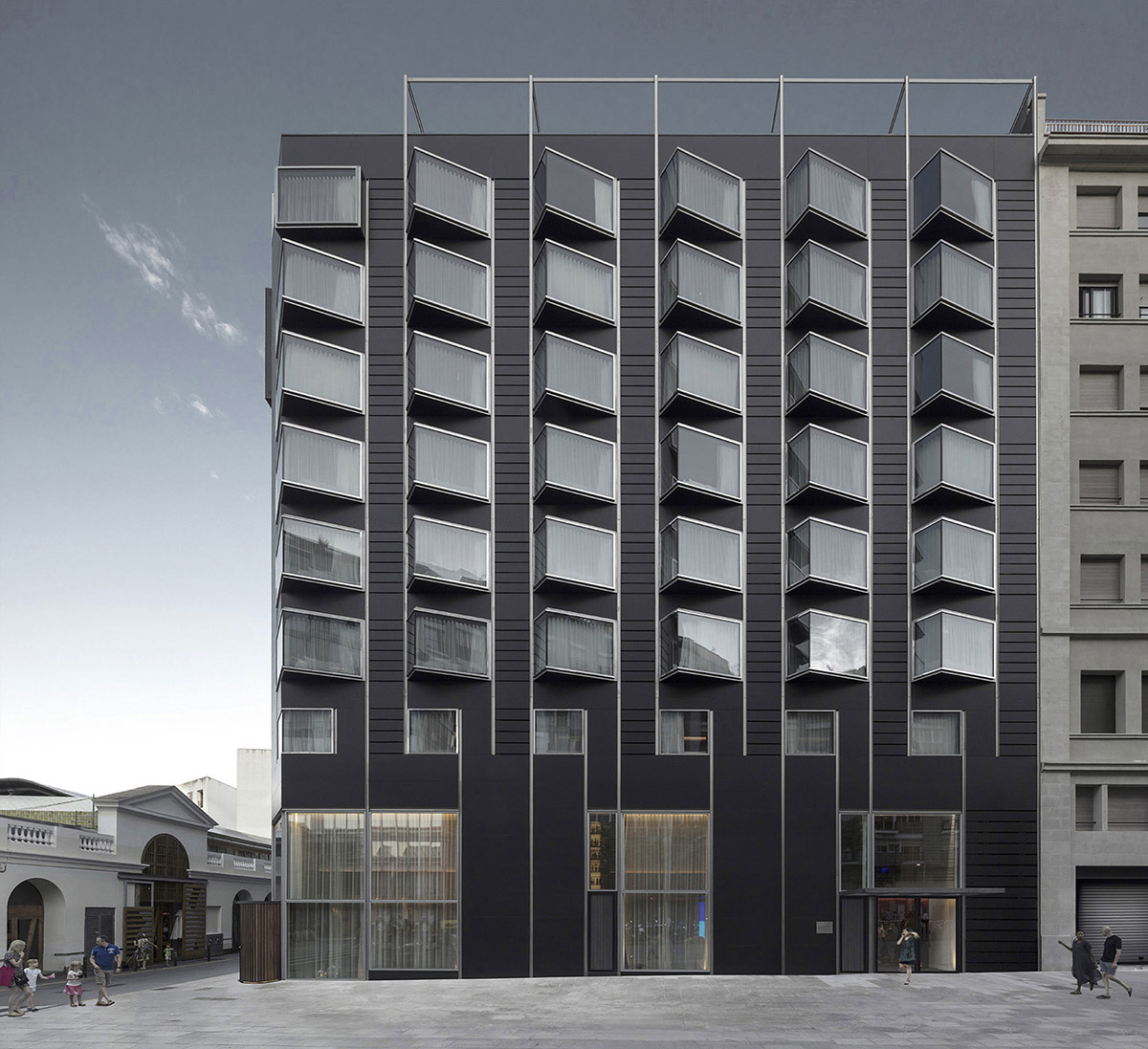 Facade of Avenida Francesc Cambó. Image © OAB-Ferrater Studio
One bedroom suite spot perspective. Image © EDITION Barcelona
Bar and Dining area spot perspective. Image © EDITION Barcelona
The facade of Avenida Francesc Cambó bears a rhythmic triangular bow design for the windows, which correspond to the hotel rooms. The stainless-steel elements provide sense of verticality and lightness while the three-story podium and the chamfered corner seek to create a connection between the building and the street level public space. On the other hand, the rear façade presents openings whose size and position are carefully thought out in order to respond to the scale of the old part of the city.
Under the direction of the hotelier, alongside the Spanish interior designer Lázaro Rosa-Violán the hotel interiors bring together the character of a historic environment with a simple design sensibility. The hotel has 100 rooms and suites, three restaurants, two bars, a roof terrace with plunge pool and a lobby.
Nobu Hotel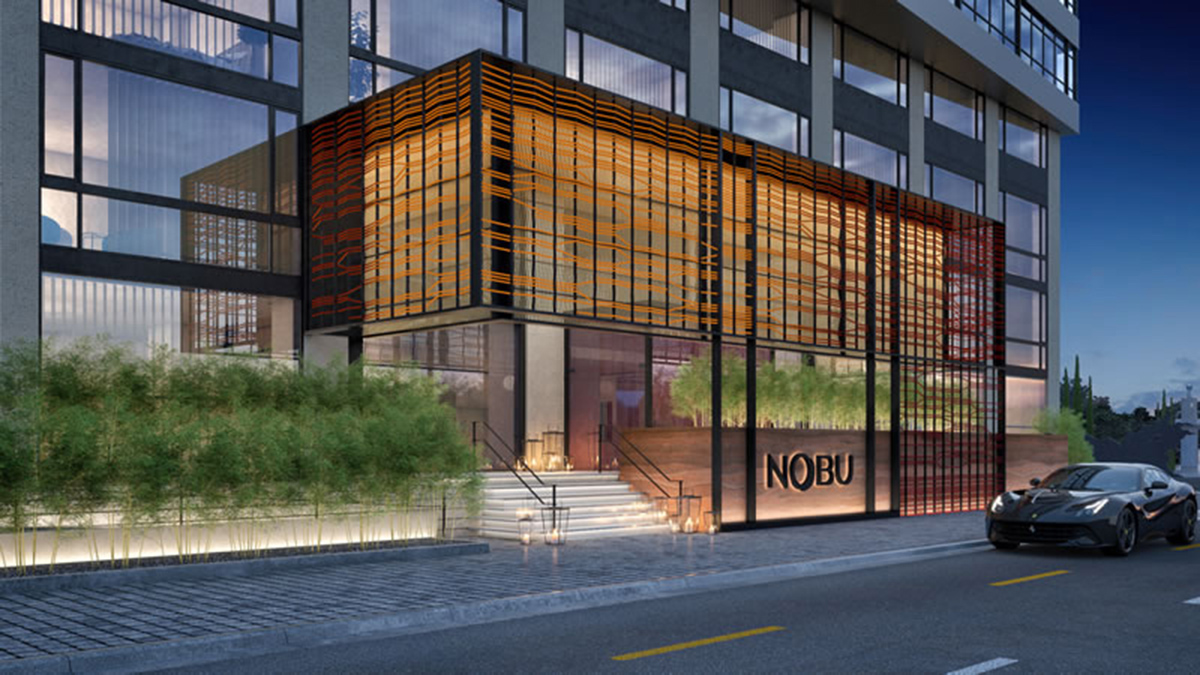 Nobu Hotel main entrance perspective. Image © Rockwell Group
Set to launch late this year, Nobu hotel Barcelona will be a benchmark of the hotel chain in Europe. The existing Gran Hotel Torre Catalunya located next to Barcelona's main transport station, Estacio de Sants, is refurbished and transformed into an integrated and innovative hotel and restaurant in one, creating a seamless combination between luxury hospitality and the finest food and beverage. Nobu Restaurant sit atop the building with 360-degree views of Barcelona, complementing Nobu's famous restaurant offering with a high-rise dining experience.
Rockwell Group's design concept is about luxury living around energized public spaces. The design seeks to capture the unique essence of the city while reflecting the brand's core aspirational lifestyle offering.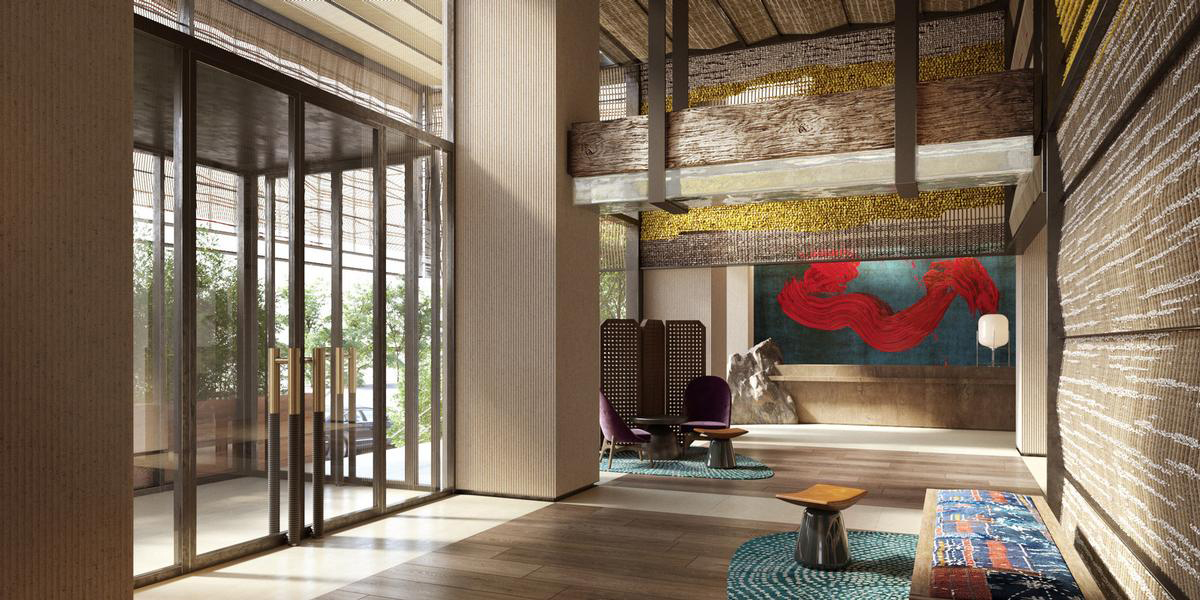 Hotel lobby spot perspective. Image © Rockwell Group
Nobu restaurant Dining area. Image © Rockwell Group
The interiors, on the other hand, is inspired by the Japanese art of Kintsugi or the art of repairing broken pottery with lacquer mixed with powdered gold, silver, or platinum. As a philosophy, it treats breakage and repair as part of the history of an object rather than something to disguise and thus enhancing the cracks and imperfections, reflective of the Barcelona's adaptive re-use heritage preservation measures.There will be over 23 storeys with 250 rooms and suites along with meeting rooms, event spaces and the Nobu Restaurant.
The Hotel Barcelona 1882
Hotel Barcelona 1882 Facade. Image © GCA Architects
Hotel Barcelona 1882 Facade. Image © GCA Architects
By mid November, Hotel Barcelona 1882 will open as the newest space of luxury and relaxation near the Sagrada Familia. Featuring 182 executive rooms, 3 bars, outdoor swimming pool and restaurant with show cooking, the hotel exudes elegance with services that channel the same elegance from the surrounding location.
Prior to opening, the hotel garnered an honorary recognition from the Rethink Hotel 2017 as the best project in sustainability and hotel rehabilitation in Spain, catapulting it as an example of sustainable hotel project at a national level. The hotel will also obtain the LEED Gold sustainable buildings certificate as its architecture and facilities have been designed with focus on energy efficiency and sustainable design.
Hotel lounge spot perspective. Image © Lázaro Rosa-Violán Studio
Hotel bar spot perspective. Image © Lázaro Rosa-Violán Studio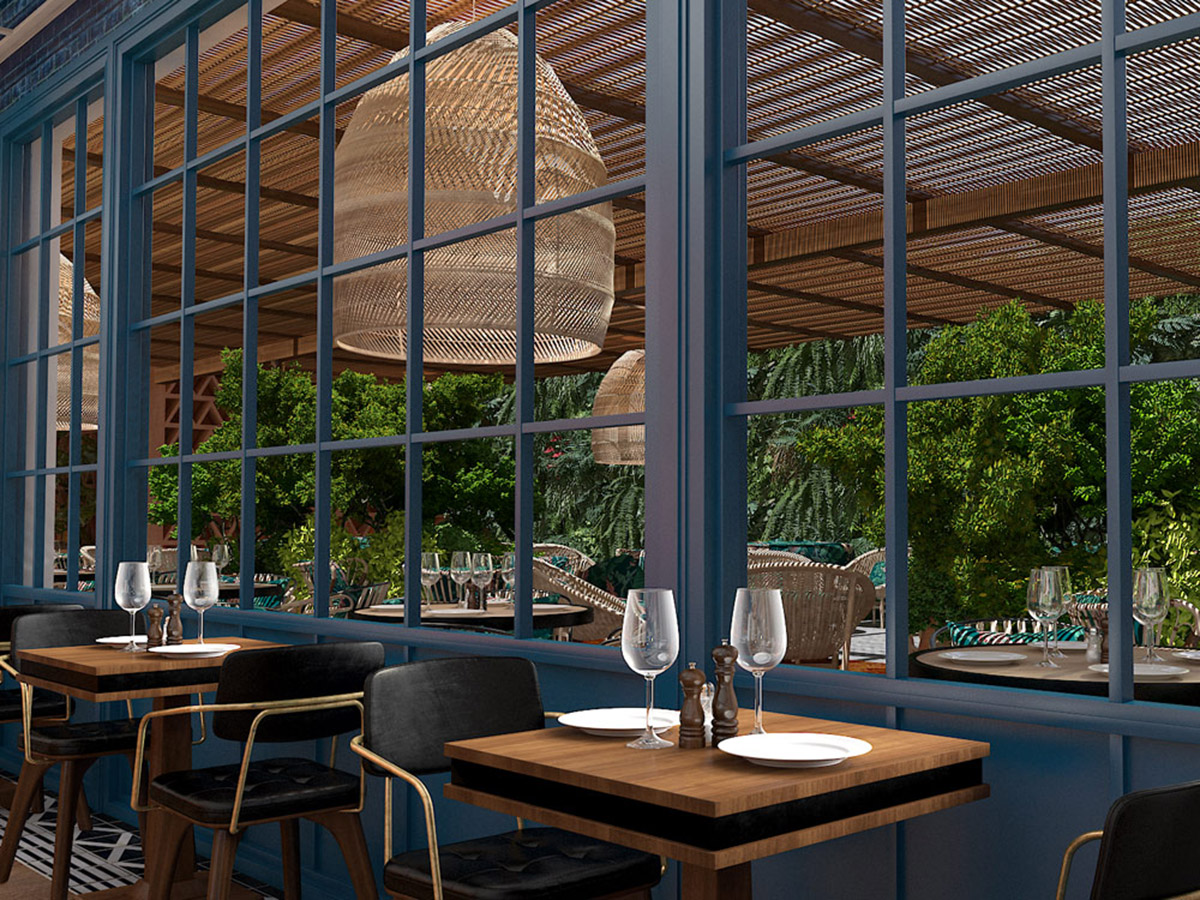 Dining area spot perspective. Image © Lázaro Rosa-Violán Studio
Hotel unit perspective. Image © GCA Architects
The building envelope and its facilities have been designed considering energy efficiency measures such as low thermal transmittance compositions, low-emissive glass, air conditioning production equipment and highly efficient air handling units, low consumption lighting, control system over the air conditioning and lighting to optimize its operation, among others. This project has made a selection of equipment for bathrooms that ensure a 46% savings in water consumption. In addition to this reduction, the contribution of renewable energy sources such as thermal solar panels and heat recovery of air conditioning equipment (VRV) for water heating needs. This means that 100% of the hot water (DHW) will come from renewable energy. GCA architects are responsible for the construction and design of the hotel while its organic, earth-toned and somewhat oriental interior design is done by Lázaro Rosa-Violán and Acsa Sorigué as a construction company.
"The health of tourist activities in the city extends to the well-being of its population and has to be the cause and effect of the proper development of tourism in Barcelona", The Strategic Tourism Plan for 2015.
Despite the positive impacts of this continuous growth, conversion of housing blocks and buildings into hotels and tourist-use housing (HUTs) led to a rise in rental prices as well as other practices that negatively impacted local residents. Thus, at the local policy level, the government enacted laws that sought to regulate accommodations in the city. The PEUAT (Pla Especial Urbanístic d'Allotjaments Turístics 2017), the first municipal policy in the country relating to tourist accommodations, states that no new accommodation will replace any residential use and allows improvement and rehabilitation works to be carried out. Its principles include: the preservation of housing, the guarantee of a city with a mixture of balanced uses, ensuring the quality of public space and maintain the diversity of urban fabric. This is strengthened by the Barcelona Tourism Plan (2020) as a collective strategy for sustainable tourism towards an integral perspective of tourism policies, including management areas, locations and instruments.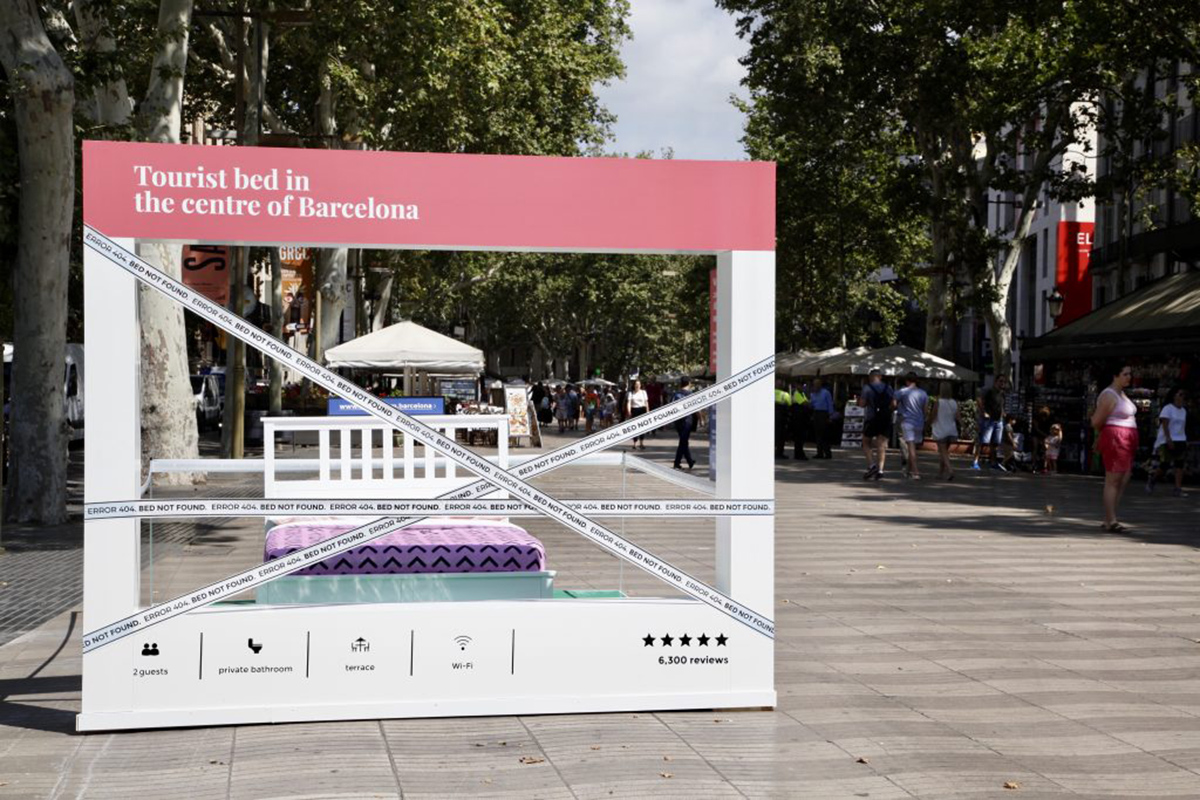 More than 2,300 illegal tourist flats closed in two years. Image © Ajuntament de Barcelona
Moving forward, nonetheless, some more famed hotel chains will launch in the next coming years- proof that this sector will continue its current pace:
Kimpton Barcelona
IHG (InterContinental Hotels Group) will soon launch its Kimpton brand in Spain, with the opening of Kimpton Barcelona in the second half of 2019. The first hotel of the brand in Spain, Kimpton Barcelona will be located at the heart of the city's old city center near the famous La Rambla street and will feature 156 rooms, a lobby lounge, an all-day dining restaurant and 250 square metres of event space. The hotel will offer guests and locals a stunning rooftop and a swimming pool with unparalleled views of Barcelona's city center.
Residences by Mandarin Oriental
In 2020, Mandarin Oriental will open 34 luxurious residences housed in a 20-storey tower, with a prime location at the intersection of Passeig de Gràcia and Avinguda Diagonal. The spacious apartments will be designed in a contemporary style and will provide panoramic views of the city's landmarks. Owners will have access to a private, serviced lobby, a club lounge, a variety of meeting and entertaining spaces, fitness facilities and a luxury spa suite. A connecting footbridge will lead to an outdoor recreation deck and swimming pool. The building will also provide high-end dining options and private parking. The project is a redevelopment of an existing office building. OAB architects under Carlos Ferrater, has been appointed as lead architect and the interior design is being created by London based MUZA Lab.
Amidst this growth, more restrictive yet more sustainable and integrated policies are being developed and enacted to support this without compromising the local values and citizens' well-being.
Cover Image © OAB Ferrater Studio
> via Luxury Trip Advisor ; Cubickbcn & Ajuntament de Barcelona Turisme