Nek Chand's Rock Garden in Chandigarh Is The Most Visited Destination In City
Chandigarh owes much to the two geniuses - Le Corbusier and Nek Chand for its popularity and global image. Le Corbusier, as everybody knows, has planned the capital city of Chandigarh and designed some major building complexes including the Capitol Complex, and Nek Chand conceived and built Rock Garden in the vicinity of Capitol Complex.
One similarity between the two was that both were not formally trained for the job for which they are internationally acclaimed. One dissimilarity between the two was that Le Corbusier used to draw his plans on paper prior to the execution at site. One the other hand, Nek Chand used to conceive plans in his mind and translate them directly on ground. Le Corbusier's designs usually follow strict geometric order while Nek Chand's plans were organic in character and in sync with the locale and its topography.
Nek Chand's Rock Garden which he conceived and built on the bank of a seasonal rivulet on the north-east edge of Chandigarh, was formally inaugurated in 1976 and is thus now 42 years old. It is perhaps the most visited destination in Chandigarh.
Unlike Chandigarh which was formally built in brick and concrete, Rock Garden has been built with waste materials like broken china, electric insulators, broken bangles, fused bulbs, tube lamps, pebbles, and various other kinds of left-overs.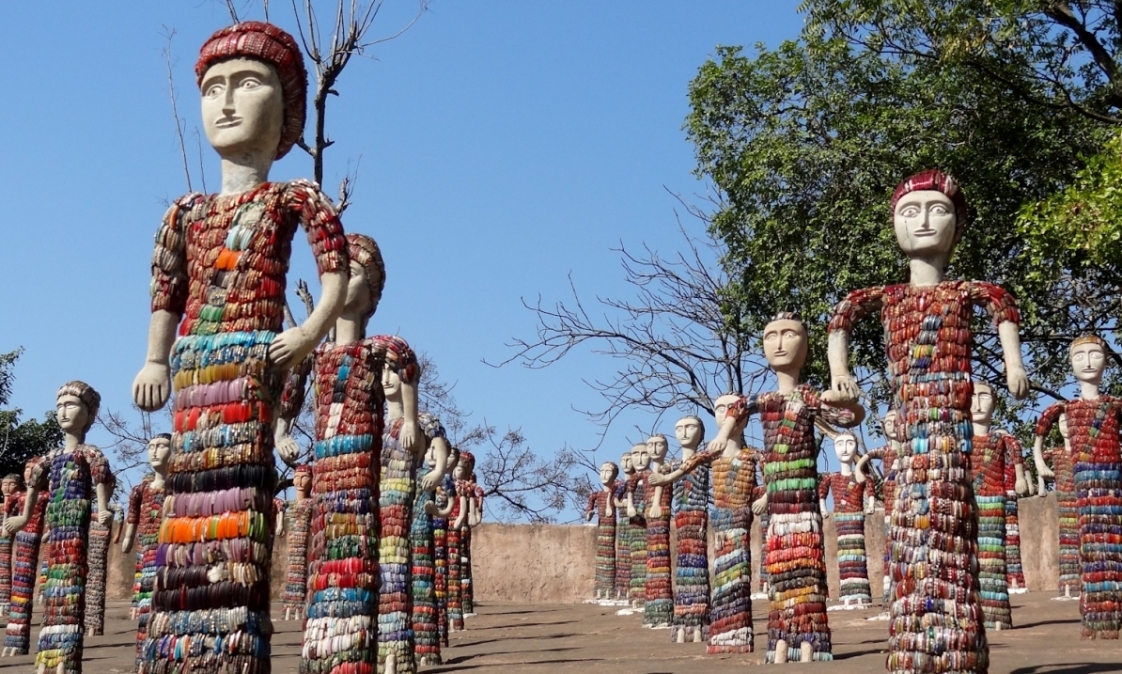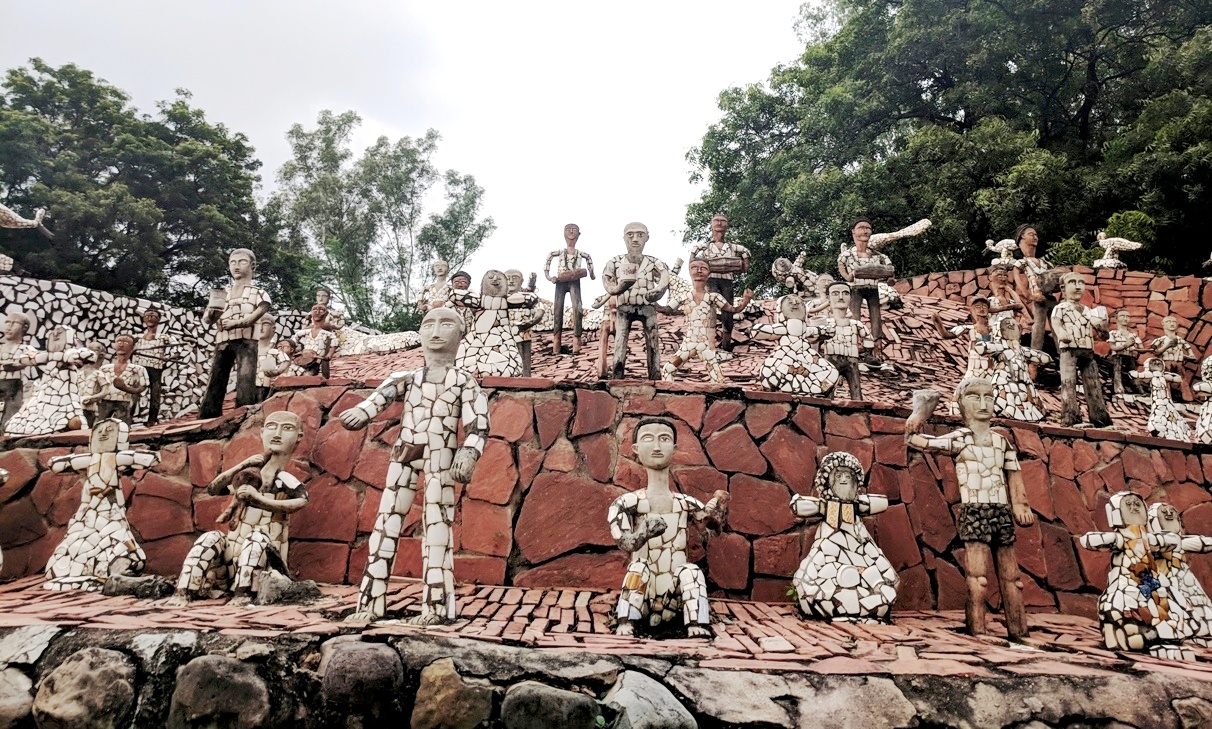 Nek Chand was of opinion that there is no waste material which cannot be turned into something beautiful. He beholds beauty in each particle of God's creation as he himself said, "I see God in everything; I found stones, rocks, pottery, clay, metal and I want to make all that into something that will make others aware of Him. Thus all my work is Prayer."
In the initial years of the construction of Chandigarh, Nek Chand was employed by the Public Works Department as Road Inspector in 1951. He was posted as in charge of a dump yard of waste materials. This dump yard was set in a low lying area amidst thick vegetation and was thus cut off visually from the main city.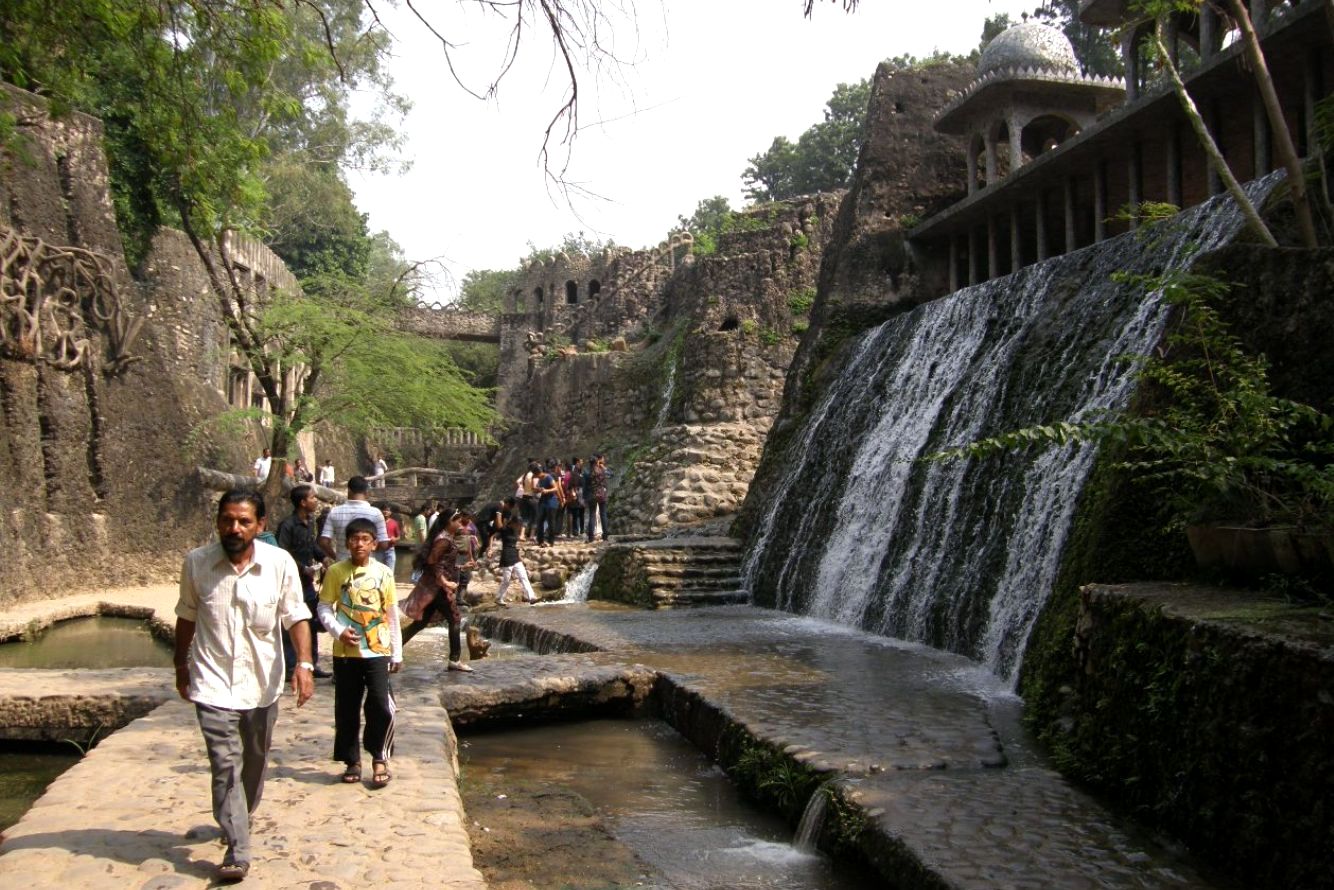 By working in such an environment for long period, Nek Chand struck an idea to convert this dump yard into a thing of beauty. It is said that Nek Chand had a dream in which he saw a king and a queen, their glory and subsequent fall of their kingdom. Inspired, he decided to rebuild a beautiful kingdom in the memory of the king and queen and planned the Rock Garden on a similar mythological theme.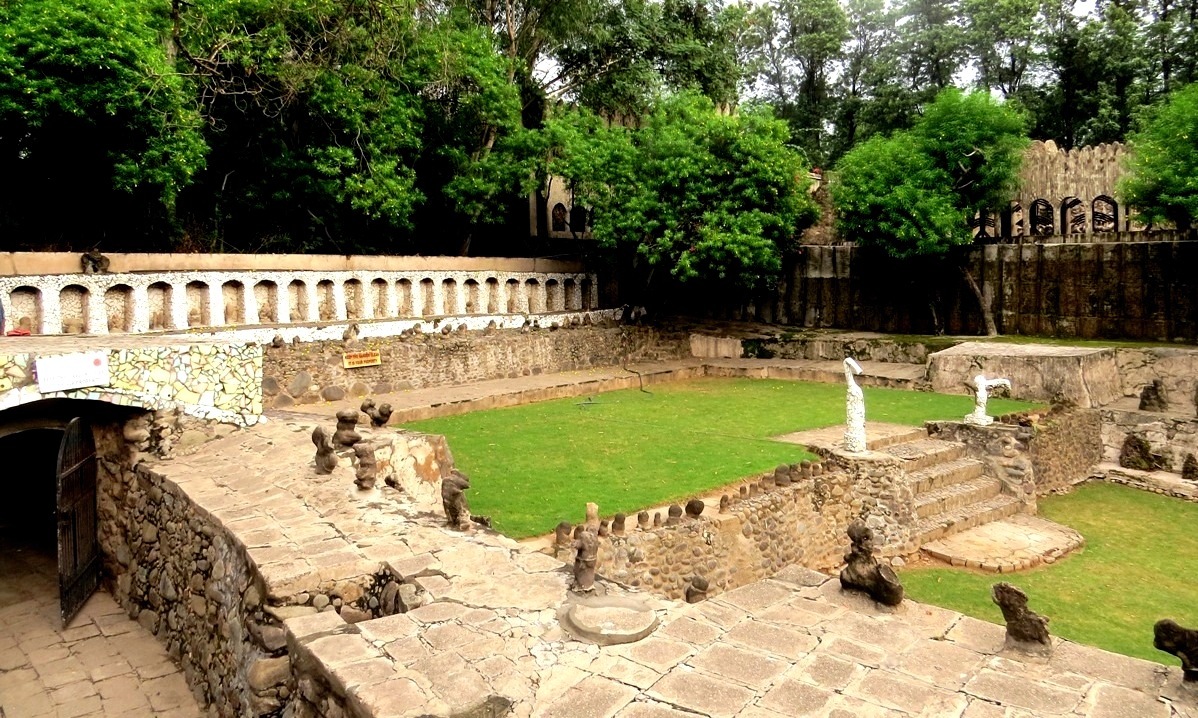 The garden has been planned without disturbing the existing topography, landscape and environment of the site. The main entry is through a low porch connected with a passage with embankments on both sides. Pieces of stones and rocks, evoking images of animals and humans, are displayed here. Beyond this is a panel fashioned out of porcelain electric insulators and a fence built entirely of earthen pots. A shallow pool enhances the beauty of this part of the garden. Then there is a hut on a lower level from where Nek Chand made a modest beginning of constructing the Rock Garden. Beyond the hut there is a valley, which is accessible through a narrow passage flanked by artificial hillocks on both sides.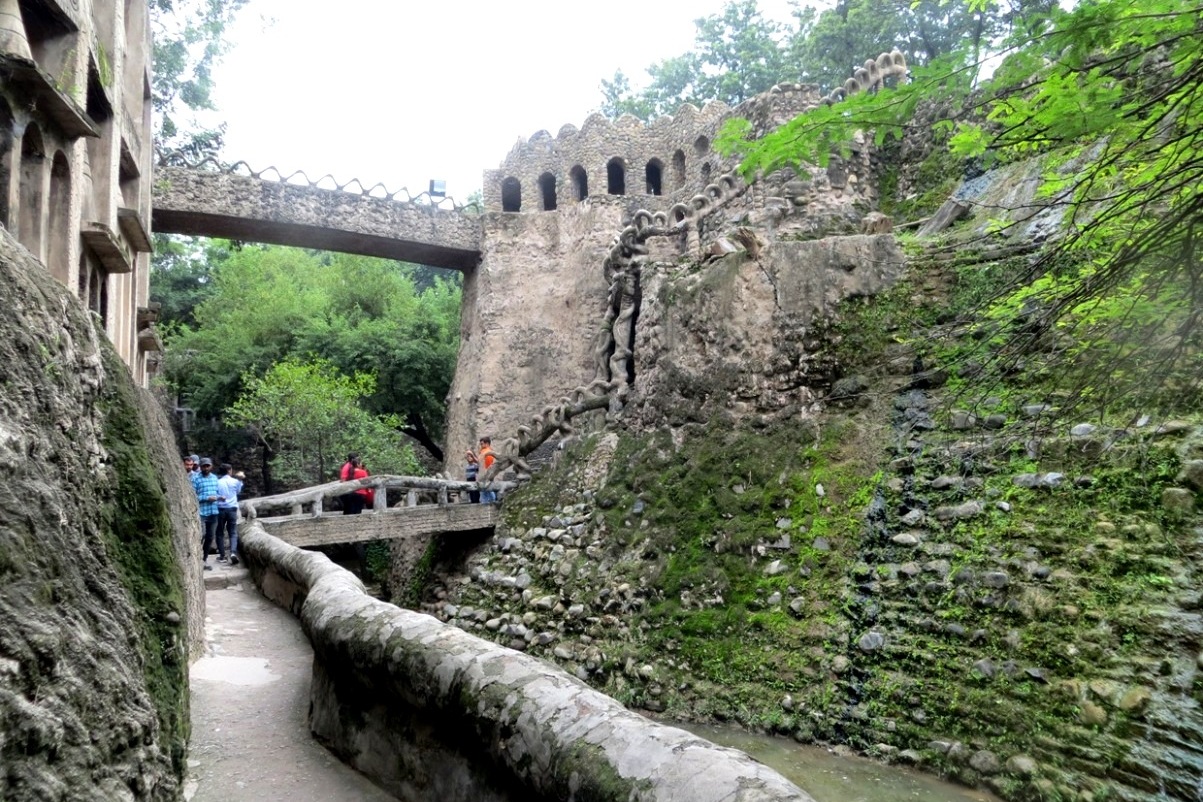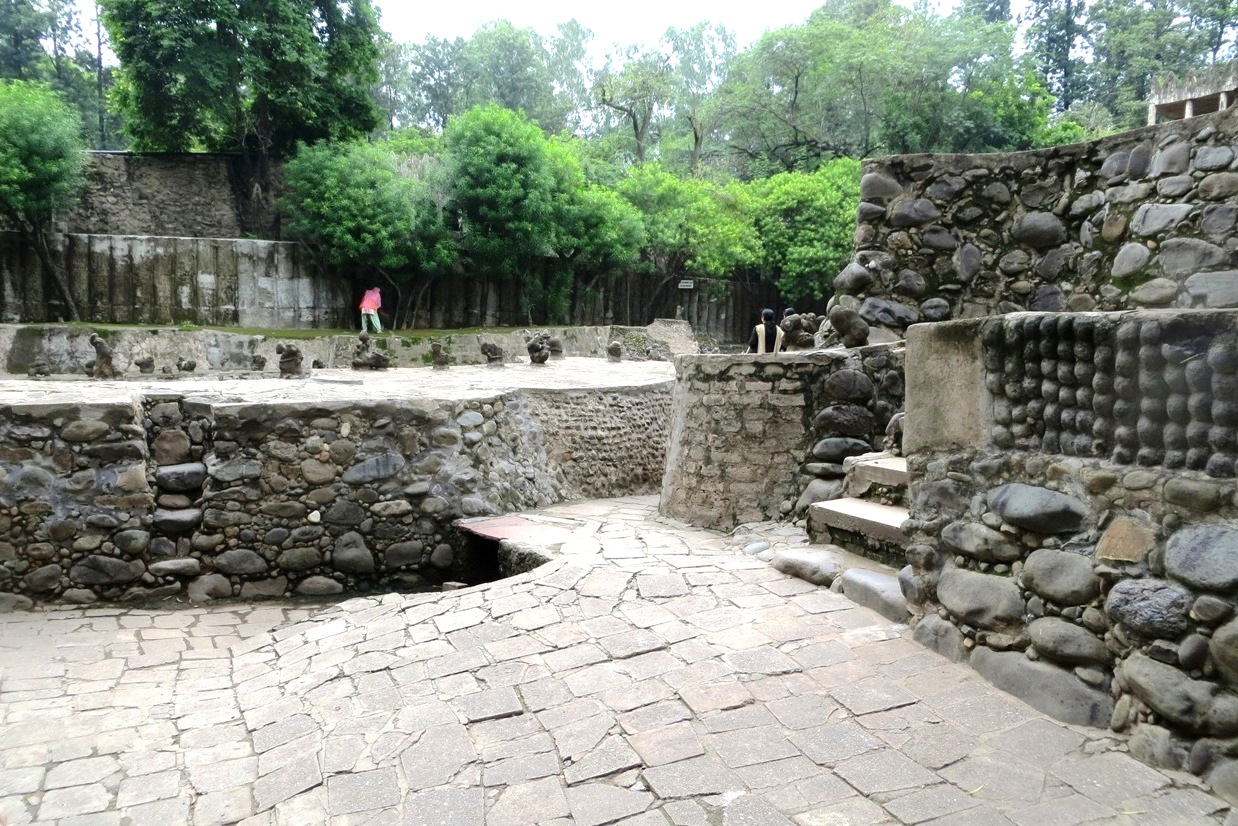 The valley contains an open-air theatre for 500 persons, waterfalls and exquisite sculptures. In this valley Nek Chand's art of sculpture finds expression in a superb fashion. An up-rooted tree which once existed at this site has not only been preserved but has been transformed into a unique piece of sculpture. Sculptures of fossils are also on display. The railings, parapets, columns, waterfall and bridges in the valley have a unique artistic touch. Tar-drums have been used horizontally all along the passage to make a railing. To symbolize the traditional art of constructing bridges over rivers, another railing has been sculpted to appear as logs being carried by human beings.
Adjacent to the valley is a symbolic village which is accessible through a narrow path between man-made hillocks. It is located on the south-east of the garden and symbolizes the dwelling place of an imaginary king's subjects. It includes a shrine. Some of the hillocks appear to be snow-capped; white cement has been used on them. An attempt has been made to create an authentic Indian village.
The king's durbar area has a variety of spaces. The skyline has small kiosks on the top with their roofs resembling a throne. Here two grassy terraces at different levels are linked together by a flight of steps. Two unusual sculptures set with pieces of porcelain flank the steps. The next scene is the queen's bath with a shallow pool in the centre.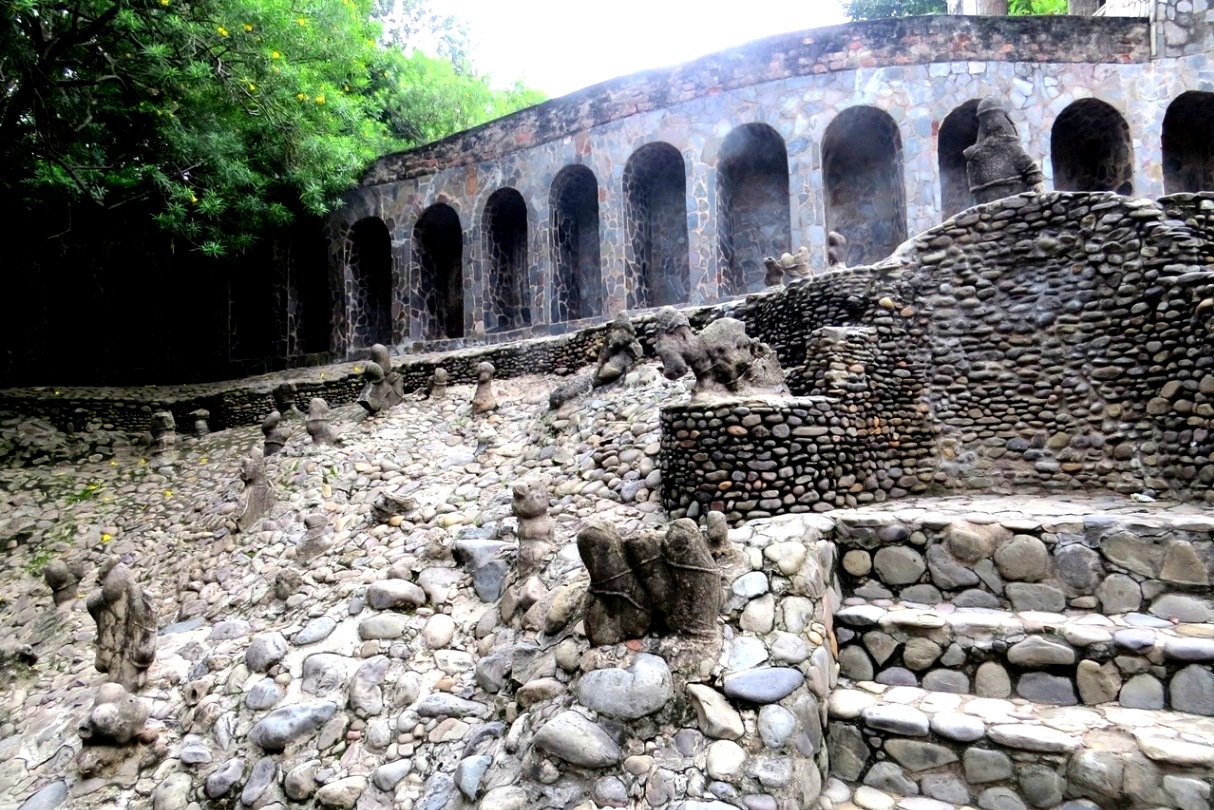 Then there are numerous chambers which are connected with each other by narrow passageways and a series of low arches. Each chamber has its own identity without losing its relation with the overall scheme. Thousands of sculptures are displayed in these chambers. There are bullocks, monkeys, peacocks, party scenes, soldiers and dancers and ordinary village folks. The trees and the shrubs have been carefully set so as to complement the contents of each chamber.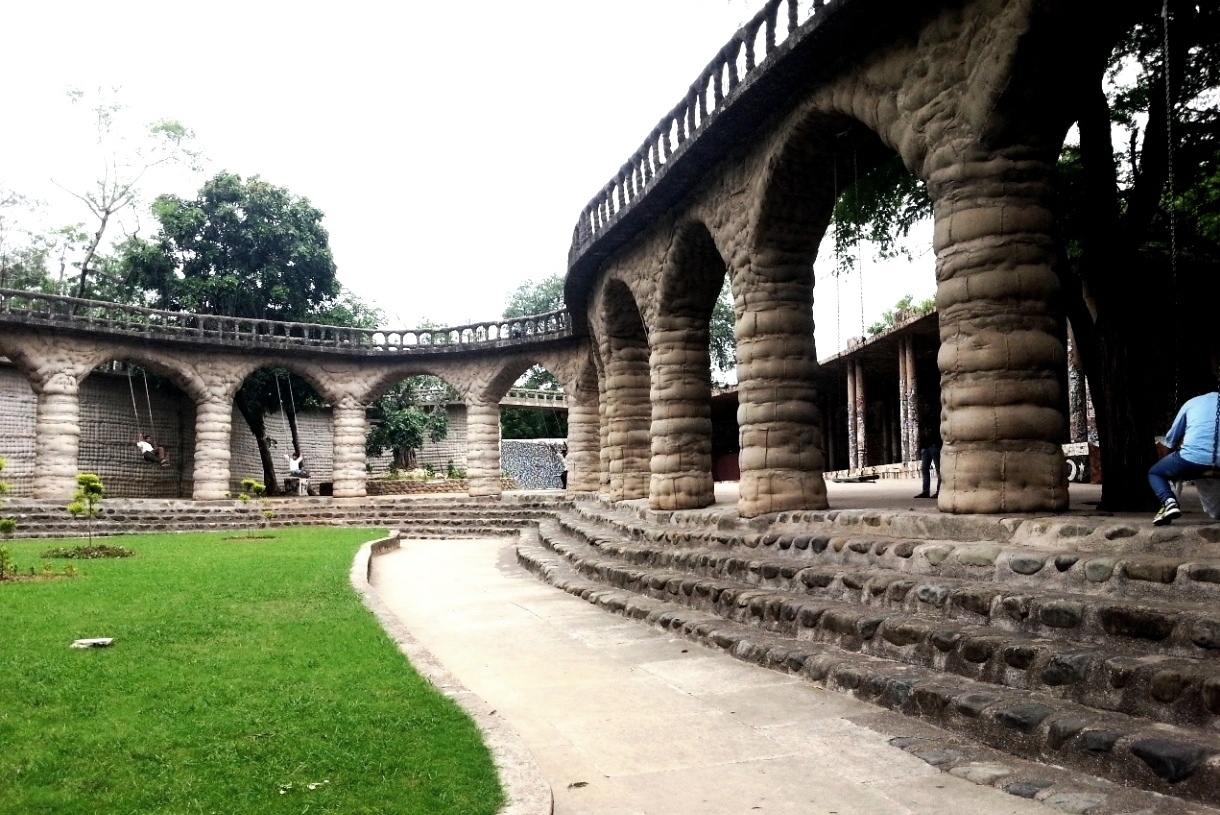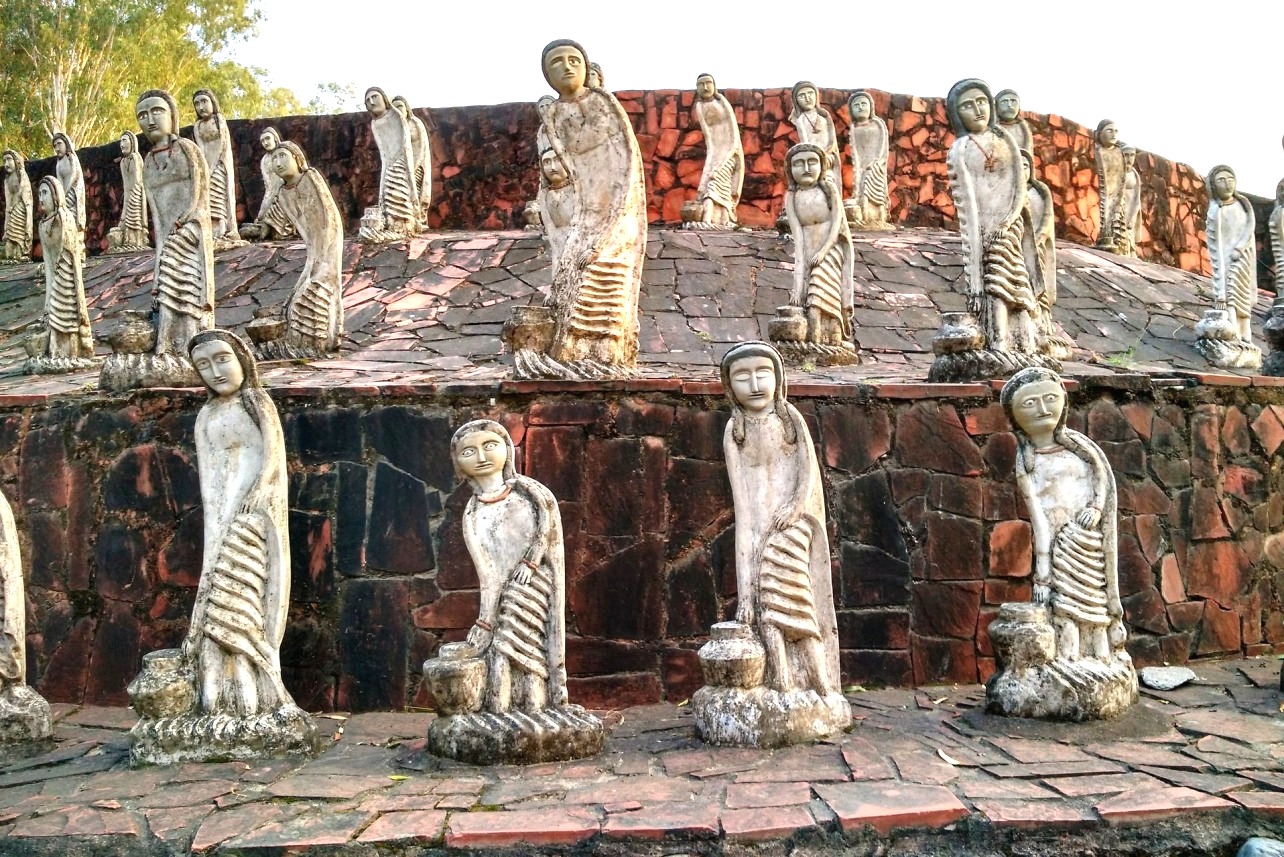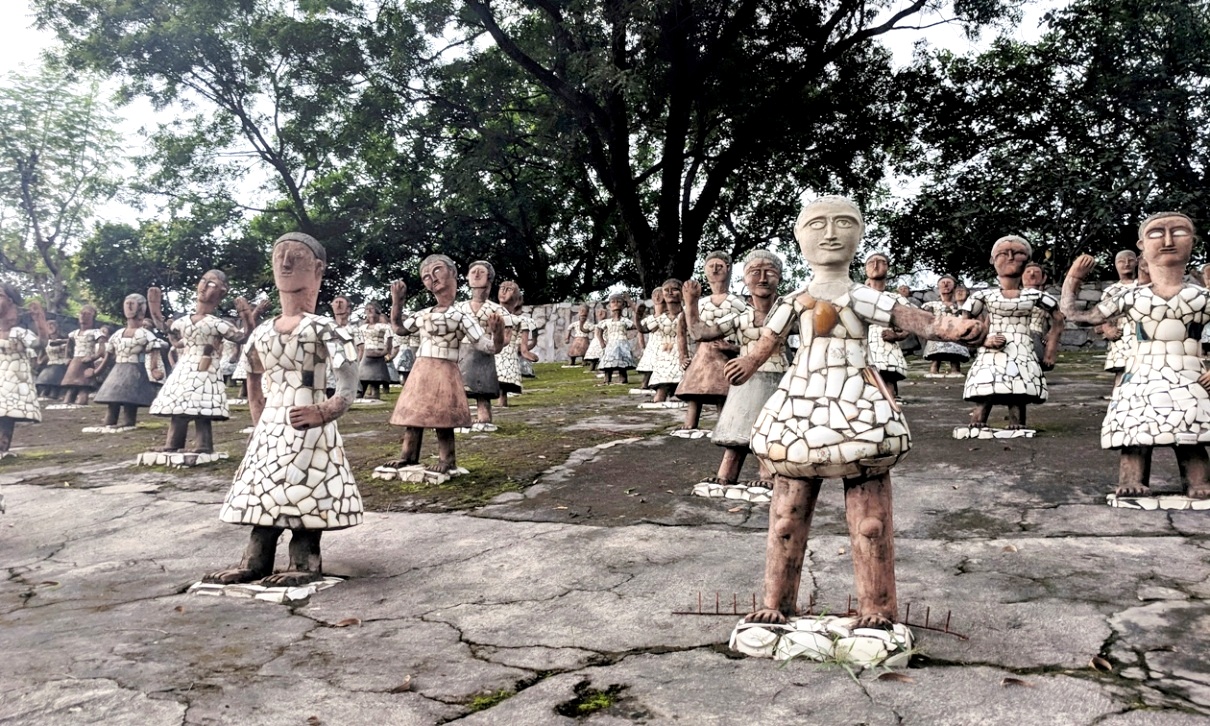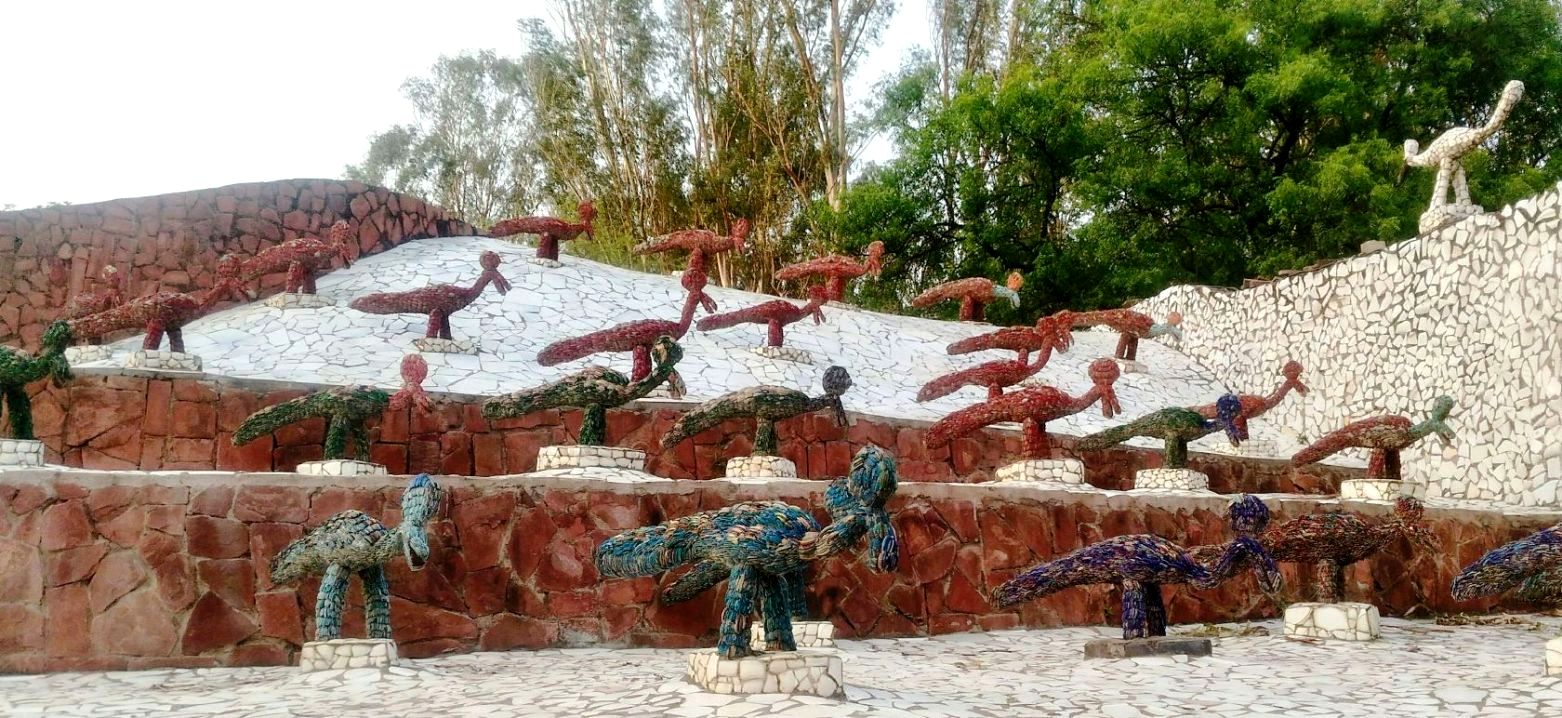 All images courtesy of commons.wikimedia.org