Timber Offsite Construction 2022 Conference & Exhibition on 21-22 June in Melbourne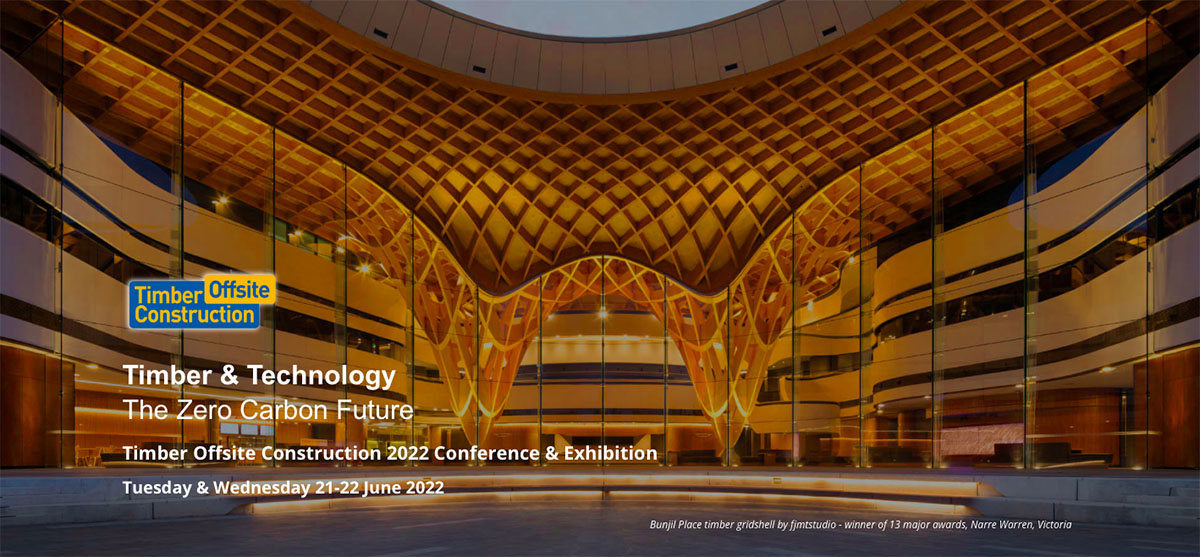 Timber Offsite Construction 2022 Conference and Exhibition will be held as a 'hybrid' event organised by Frame Australia. The event will be held on Tuesday & Wednesday 21-22 June at Crown Promenade Melbourne, Australia.
The conference, themed as "Timber & Technology. The Zero Carbon Future", will focus on current trends that are changing the way we build our homes and cities for a more sustainable world.
Sessions will feature 'on-line' international expert presenters and leading local speakers, to provide interactive global coverage of topics by world-renowned experts.
Topic themes will provide a pathway through the design and construction process in sessions titled Building design influences, Construction productivity, Manufacturing & technology, and Global wood building projects.
Project Panel presentations will provide insight into construction of timber buildings with designers, builders and timber suppliers explaining their major challenges and solutions to impart practical knowledge to delegates.
Australia is embracing mass timber tall buildings
Innovative builders and developers are increasingly embracing modern methods of construction that's redefining and advancing the case for tall timber buildings in Australia. From high strength to a lighter environmental footprint than concrete or steel, the benefits of mass timber buildings are proven with their ability to create unique, visionary and carbon-neutral outcomes.
Two major mass timber buildings currently underway in Sydney and Melbourne will be presented at the Timber Offsite Construction conference next month.
The world's tallest hybrid timber building for Atlassian in Sydney is designed by SHoP and Australian firm BVN. Image courtesy of SHoP Architects and BVN.
Jo Lees, Hines Australia Construction Manager will present on the 36 Wellington St Melbourne project, and Ninotschka Titchkosky, co-CEO, BVN Architects will present on what will be the world's tallest timber tower, the Atlassian building in Sydney.
The Hines Collingwood project
Global investment manager Hines have begun construction of a $200 million, 14 level prefabricated timber office tower at 36 Wellington St Collingwood. It acquired the 2,120 square metre corner site in 2019 and is set to become the tallest of its kind in Melbourne.
It will be built in accordance with their 'Timber Transit & Technology' (T3) strategy. The strategy is a unique and highly successful global program where their construction methodology replaces traditional systems such as concrete and steel with prefabricated solid wood systems to create best in class projects in a fast, clean and sustainable manner
Designed by Jackson Clements Burrows Architects, the tower will offer 18,200 square metres of net lettable area and floor plates ranging from 900 to 1500 square metres.
Hines expects to complete the prefabricated timber building by the third quarter of 2023, and is targeting five-star NABERS and 5.5-star Green Star ratings as a minimum.
Interestingly, a key consideration for the development is to create a 'biophilic environment', which according to studies found that employees in offices featuring natural wooden surfaces reported higher personal productivity, mood, concentration, clarity, confidence and optimism. What's more, over 80 per cent of workers exposed to eight or more wooden surfaces in their workplaces reported being 'satisfied or very satisfied' with their work.
The Atlassian Sydney project
The tallest mass timber building will be the 40 storey Atlassian in Lee Street, Sydney, with project design lead Ninotschka Titchkosky, co-CEO of BVN Architects presenting at the conference.
When the development was announced in June 2021, Atlassian co-founder and co-CEO Scott Farquhar said if you want to work in tech, "this is the place you will want to be".
"Technology can turbo-charge Australia's recovery. That's why we're building this precinct. We want to create jobs, ideas and innovation," Farquhar said at the time.
The building was designed by the same New York-based architects that designed Uber's headquarters - SHoP - with Australian practice BVN as the design team.
"It's an amazing design. We've searched the world to find the best architects and engineers to put it together," Farquhar said last year.
It will be built using mass timber construction, and the tower is scheduled to be the tallest hybrid timber structure in the world at 40 storeys tall, and will target a 50 percent reduction in embodied carbon and energy compared to conventional construction.
They've also committed to operating on 100 percent renewable energy with zero emissions, by using energy efficient design, such as natural ventilation and planted terraces throughout the building, as well as generating green power on site through solar panels integrated into the building's facades, which will be a glass and steel exoskeleton tied to the structure.
In March this year, Australian-based real estate group Dexus announced it will fund 100 per cent of the project, oversee development, and will retain a long-term equity interest in the asset. The total project costs are expected to be $1.4 billion, and it's due for completion in 2026.
For more information or book your on-line or in-person registration for Timber Offsite Construction 2022 Conference & Exhibition click here.
Top image courtesy of Timber Offsite Construction 2022 Conference and Exhibition.
> via Timber Offsite Construction 2022 Conference and Exhibition