SHoP and BVN to design world's tallest hybrid timber building for Atlassian in Sydney
New York-based architecture practice SHoP and Australian firm BVN have unveiled design for the "world's tallest hybrid timber building" which will be a new headquarters of Atlassian in Sydney, Australia.
Set to be built next to Sydney Central Station in New South Wales, the tower will reach 40 stories heigh and made up of a mass timber structure for its internal skeleton, while its outer structure will be built from glass and steel which will include a mix of outdoor and indoor spaces and will use an energy-efficient approach that features natural ventilation and large planted terraces giving access to nature.
The tower's facade will enable the project to leverage Sydney's temperate climate to help reduce carbon emissions and generate on site energy, as SHoP highlights.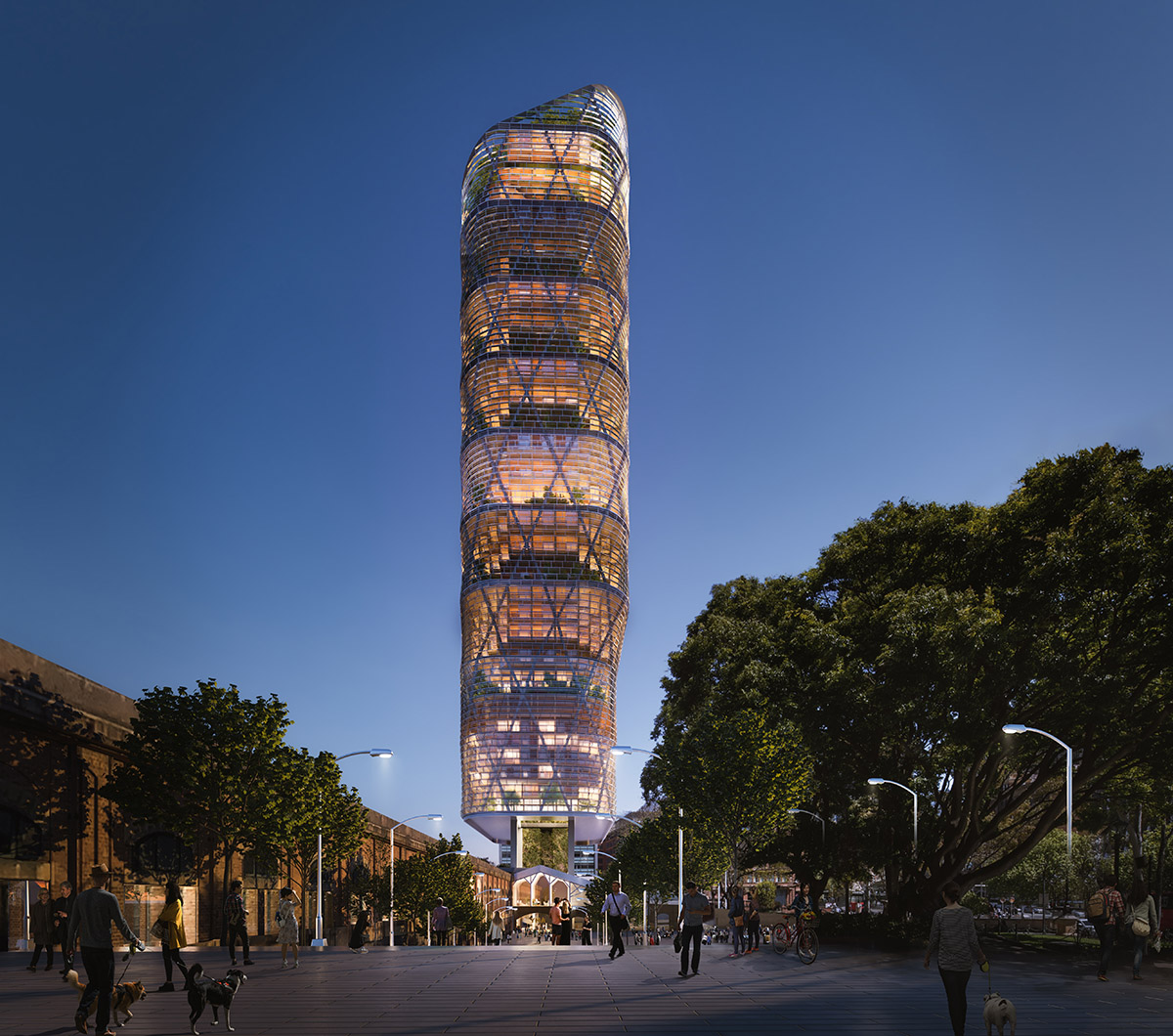 The new headquarters will be built over an existing YHA at the site, it will be revitalised and incorporated into the lower levels of the new building.
The existing heritage parcel shed will also be incorporated into the development. The new building will be home to thousands of technology workers when complete in 2025.
Atlassian aims to operate on 100% renewable energy and reach net zero emissions for the project. The project is aimed to target 50 per cent less embodied carbon in construction compared to a conventional building and 50 per cent less energy consumption compared with a new conventionally operated building and solar panels in the vertical facades, to generate green power on-site.
"The building will operate on 100% renewable energy from day one and include solar panels built into the facade," said SHoP Architects.
"It will completely regenerate Central Station as part of the NSW Government's plan to build a new tech precinct attracting 25,000 workers."
"Our collective work around the world focuses on elevating the experience of the public realm in urban environments, so we really welcome this opportunity to work with such wonderful partners to create a high-performance landmark for Sydney's new tech district, at ground level and in the skyline," said Bill Sharples, Founding Principal at SHoP.
"Atlassian brought together an amazing team of global leaders in innovation to develop the criteria for this project, and we SHoP and BVN are thrilled to be able to play a part in contributing the iconic architecture that will complete that vision," said Coren Sharples, SHoP Founding Principal.
"The building is leading edge in its application of Mass Timber Construction (MTC). MTC is one of the most hopeful technologies in moving the construction industry toward real solutions to the global climate crisis," added SHoP Architects.
The novel hybrid timber structure is significantly lower in embodied carbon and offers a substantial reduction in the building's carbon footprint. This is assisting Atlassian's goal of achieving net zero carbon emissions by 2050.
As the architects explain, the timber provides a warm and inviting environment for Atlassians and visitors. Measuring at approximately 180 metres / 590 feet high - this will be the tallest commercial hybrid timber building in the world.
SHoP/BVN found an elegant way to tie a structural element of the building to one of the building's most aesthetic attributes – the façade will be a combined version of the use of mass timber with steel and glass.
The tower includes a steel exoskeleton that supports the mega floors between neighbourhoods. The current design also incorporates an electricity-generating facade system with self-shade capabilities to reduce direct heat gain internally.
SHoP is an interdisciplinary architecture firm founded in 1996. SHoP has modeled a new way forward with our unconventional approach to design. The firm is currently working on 111 West 57th Street skyscraper in New York. SHoP is known for Barclays Center opened in 2012 in Brooklyn.
BVN is an architecture studio with origins in Australia. The firm's 90 year old heritage has allowed the studio to create a broad portfolio of built work internationally.
All images courtesy of SHoP Architects and BVN.
> via SHoP