ADP Architecture and O'Donnell + Tuomey to design tapered student center for The University of York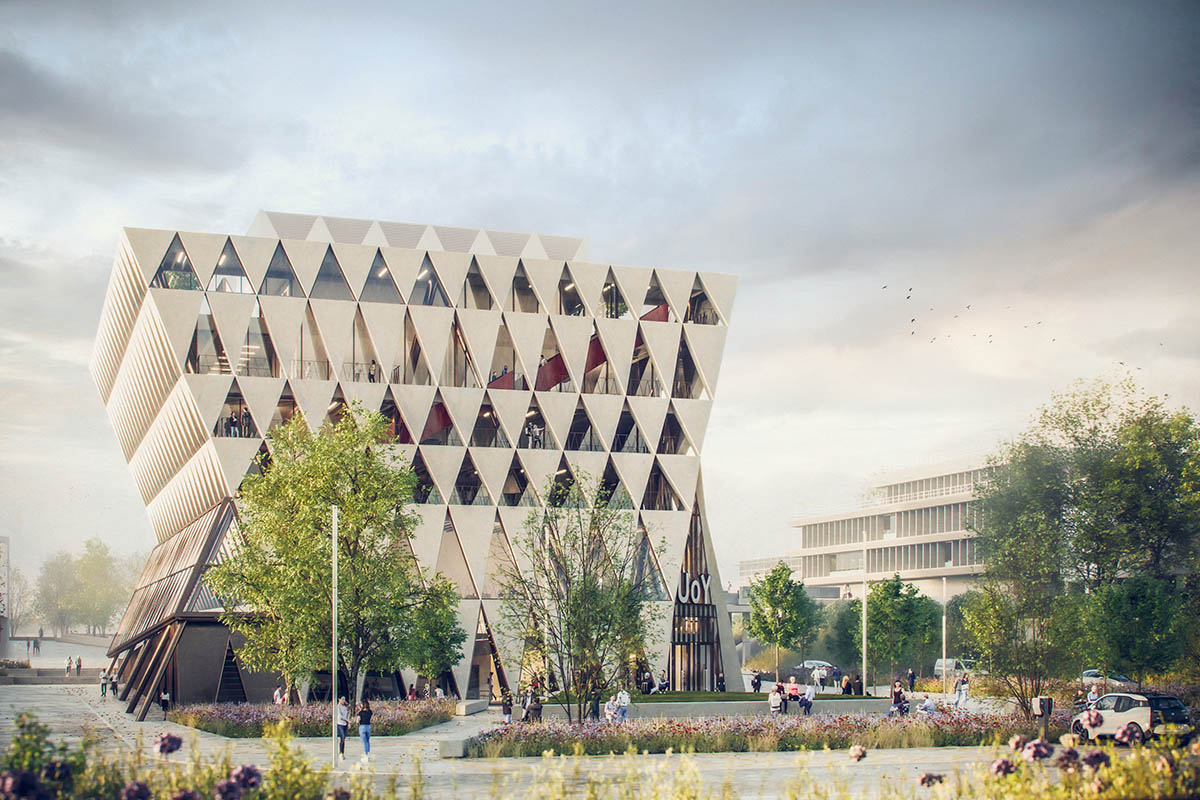 ADP Architecture and Dublin-based architecture firm O'Donnell + Tuomey have won an international design competition to design a new flagship student centre building and University Square neighbourhood at the heart of The University of York in the city of York, England.
The building is conceived as a tapered and sculptural form to stand as a new landmark at The University of York. Façade elements are also shaped in triangular pieces to reveal a distinctive "beehive" character.
The design scheme was selected from other shortlisted architects' proposals in the competition, which included Herzog & De Meuron, Hawkins Brown, Adjaye Associates and Dorte Mandrup.
West Elevation. Image © Infinite 3D, courtesy of O'Donnell + Tuomey
ADP Architecture will serve as Lead Consultant Architect, while O'Donnell + Tuomey will act as Architectural Design Lead Partner in the project.
Covering a total of 500-square-metre area, the design is conceived as an iconic building, located within a striking natural landscape, set to deliver an inspiring, engaging and welcoming heart to the campus.
Aiming to propose a light-filled beacon of student activity and student life, the building will consist of roof gardens, winter gardens, lively social spaces and an active ground level connecting it to the campus.
Waterside View. Image © Infinite 3D, courtesy of O'Donnell + Tuomey
The building's sculpted form is characterized according to its role as the hub of student life, while taking its place in the context of other York campus landmarks, including the Library, the Central Hall and the lake.
"We are honoured to have been appointed by the University of York in collaboration with O'Donnell + Tuomey and LDA Design, to deliver the exciting new student centre and adjacent public realm," said ADP Higher Education Director Jon Roylance.
"The new centre and surrounding landscape will be a welcoming and supportive place for students, staff, and visitors, reflecting the University's values, and celebrating its unique character," added Roylance.
View from the Bridge. Image © Infinite 3D, courtesy of O'Donnell + Tuomey
Inside, students will be welcomed with the dynamic design that is connected to its surrounding, with open views, and stairs and walkways passing freely through light filled voids.
Drawn on a singular structure, the layout features a flexible plan with interconnecting multifunctional spaces, a south-facing winter garden and a walled orchard garden on the roof.
Proposed student centre interior. Image © Infinite 3D, courtesy of O'Donnell + Tuomey
"We are delighted to have been selected alongside ADP Architecture and LDA Design to design this special project for the University of York," said O'Donnell + Tuomey Founding Director John Tuomey.
"The brief asked for a welcoming front door for the University, a new space at the heart of the action, a new Student Centre at the crossroads of connection between city and campus."
"The architectural form, employing modern methods of construction and principles of environmental responsibility, responds to the material characteristics of the place," Tuomey added.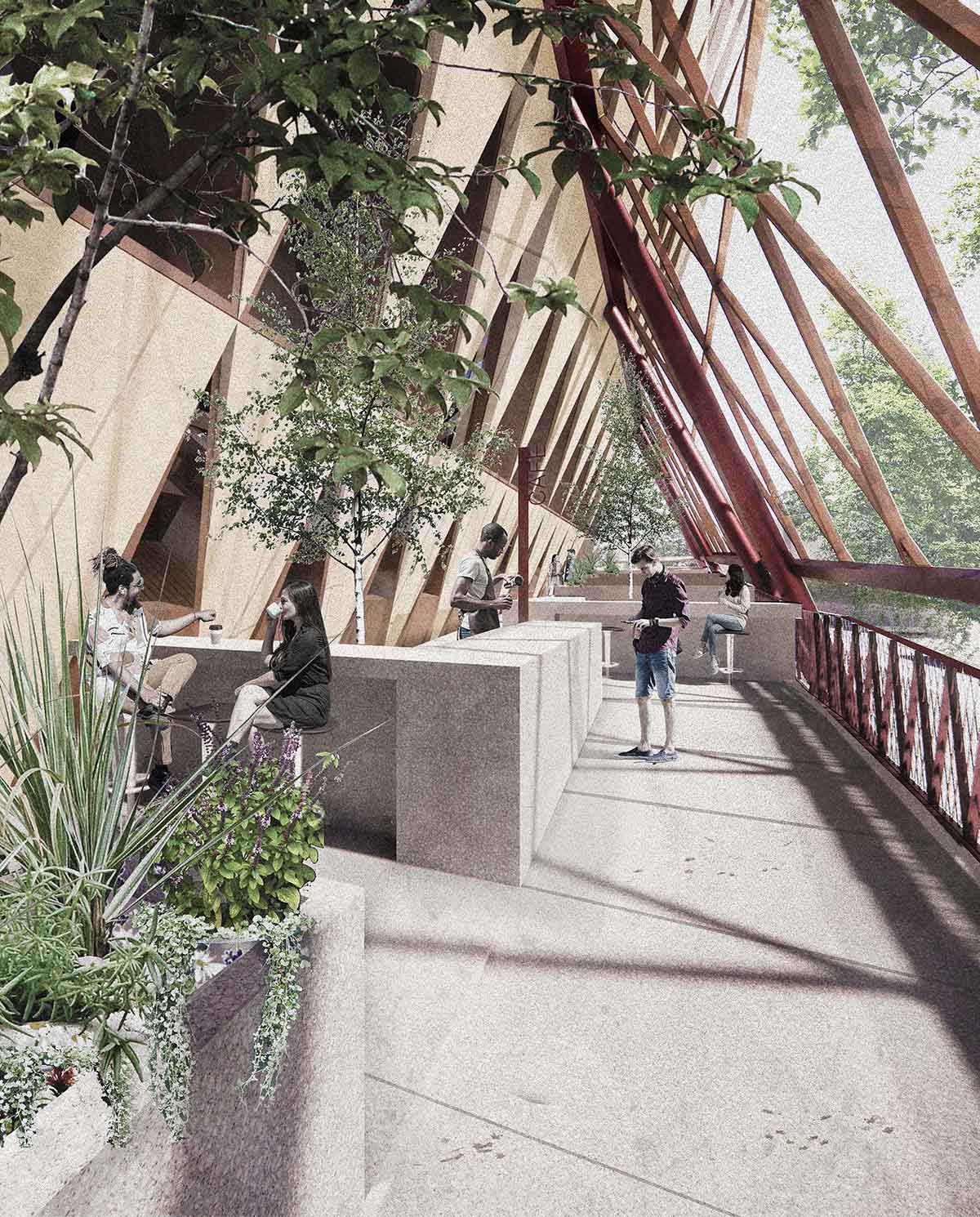 Proposed winter garden. Image © O'Donnell + Tuomey
"A key aspect of the design has been to create a carbon negative sustainable development, in which the technology will be intuitive and integral, to offer a digital experience to match the physical one," said the design team.
The project also includes integrated landscaped grounds, designed to create a sense of discovery between the built and the natural. To ensure the very best student experience, the design reflects principles around sustainability, inclusion, internationalism, and collaboration, linking with city communities and students, past, present and future.
View from foyer. Image © O'Donnell + Tuomey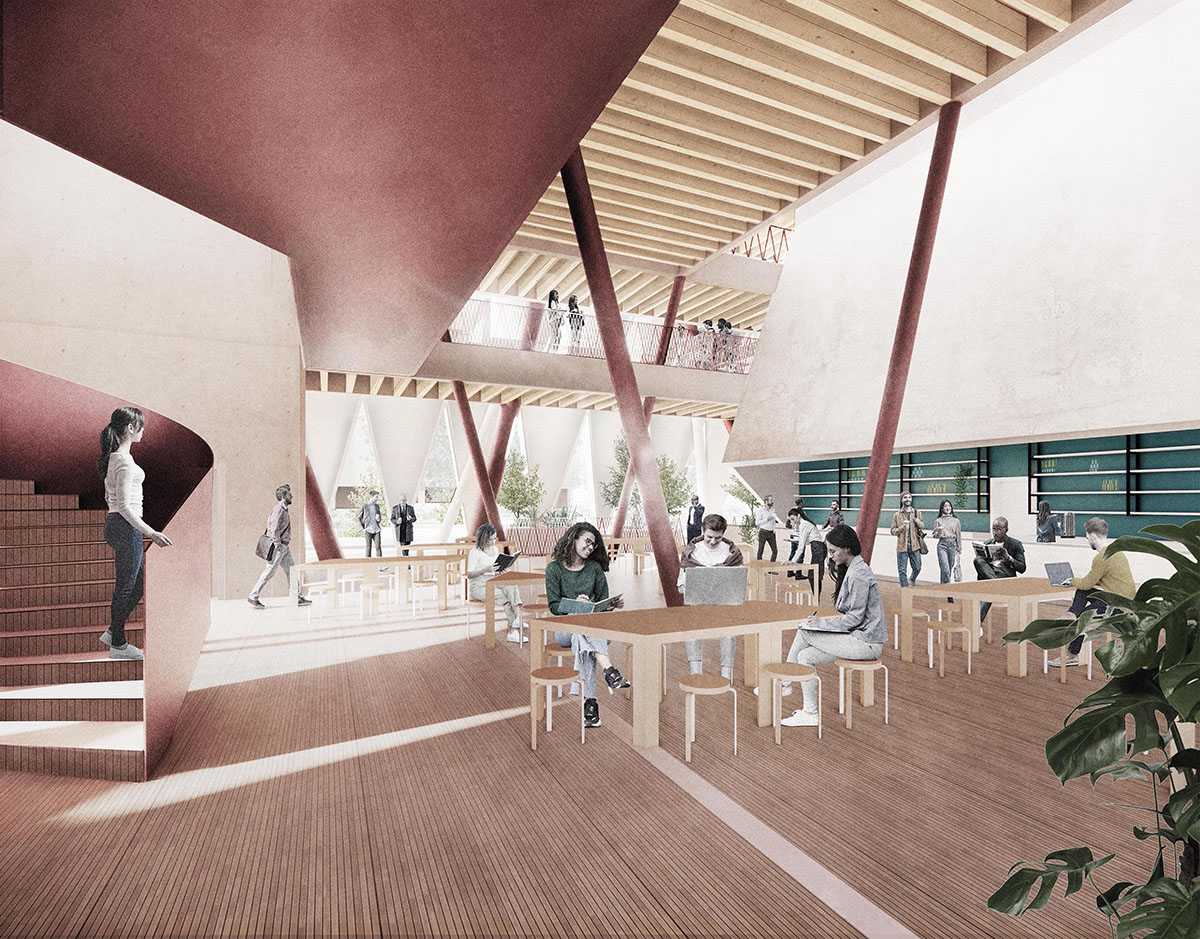 View from cafe. Image © O'Donnell + Tuomey
View from rooftop. Image © O'Donnell + Tuomey
Student Street. Image © O'Donnell + Tuomey
ADP Architecture recently completed the Sir William Henry Bragg Building at The University of Leeds and has worked with over 30 universities across the UK.
O'Donnell + Tuomey has completed buildings for many Universities in Europe and the UK, including a campus for CEU Budapest and the LSE Student Centre and is currently working on the University of Liverpool's new School of Architecture.
Project facts
Lead Consultant Architect: ADP Architecture
Architectural Design Lead Partner: O'Donnell + Tuomey
Landscape Architects: LDA Design
Quantity Surveyor: CPC
MEP, Sustainability, Acoustics: Max Fordham
Structural and Civil and Façade Engineering: AKT II
Fire Engineering: OFR
Top image: East Elevation. Image © Infinite 3D, courtesy of O'Donnell + Tuomey .
> via O'Donnell + Tuomey