Canadian winter home designed by Atelier L'Abri looks like it is covered in snow in the forest
Montreal-based architecture firm Atelier L'Abri has built a family home that looks like it is covered in snow in the forest outside of the village of Morin-Heights in Quebec, Canada.
However, the house has not been covered in snow, the façade of the home is clad in white wood panels, installed vertically, aiming to create a camouflage for the building in the winter landscape.
Named Schnee-Eule, the home has a simple layout and drawn on a square plan minimizing the footprint of the construction on the land.
The goal of the house was provide a minimal house for occupants to escape from the city to enjoy the calm of nature.
Atelier L'Abri borrowed the design language of the building from Austrian Alpine architecture, and reflected its inspiration to the project and its name.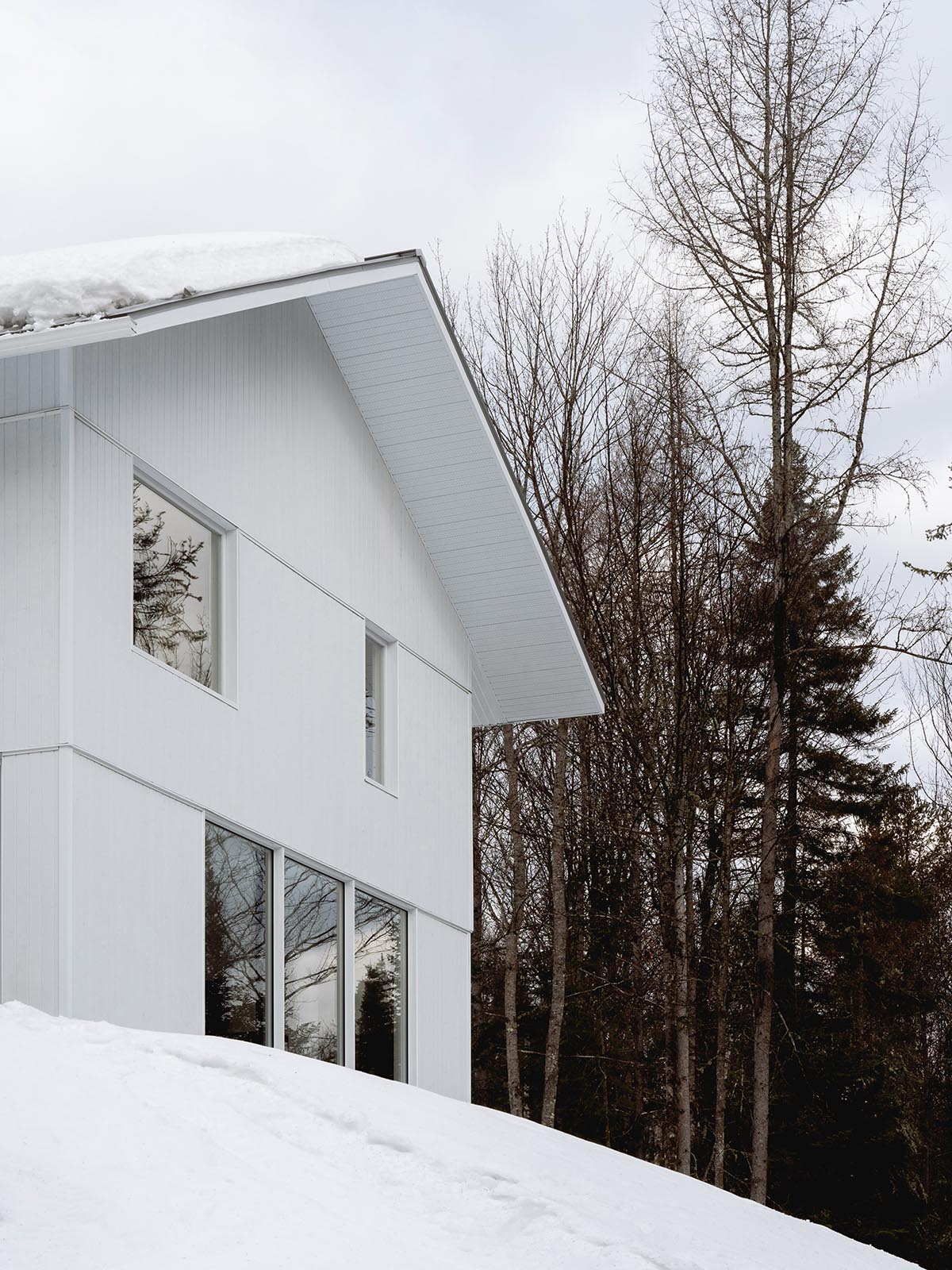 As the studio explained, Schnee-Eule is the German word used for the snowy owl, a white bird of prey that is particularly well adapted to winter. From afar or close, the house exactly looks like "a white bird" in the snow, no one can perceive that it's appearance comes from its materiality.
During concept development, the studio gave a great importance to the compactness of the square plan, aiming to minimize the footprint of the construction. The vertical volume nests the upper floor bedrooms in the treetops.
"With outdoor activities at the heart of the family's life, a gear-room has been fitted out on the lower floor to provide direct access to cross-country skiing and mountain biking trails," said the firm.
"A spacious terrace and screened veranda face south to allow for a smooth transition between the living spaces and the outside."
For the façade, the studio used the white wood cladding, but installed vertically, to camouflage the project in the winter landscape.
Its horizontal subdivisions represent the reminiscent of traditional alpine huts, as is the double-pitched roof with its large overhangs.
While the interior is characterized by a calm and warm atmosphere, large bay windows provide the contemplation of nature and plays of light.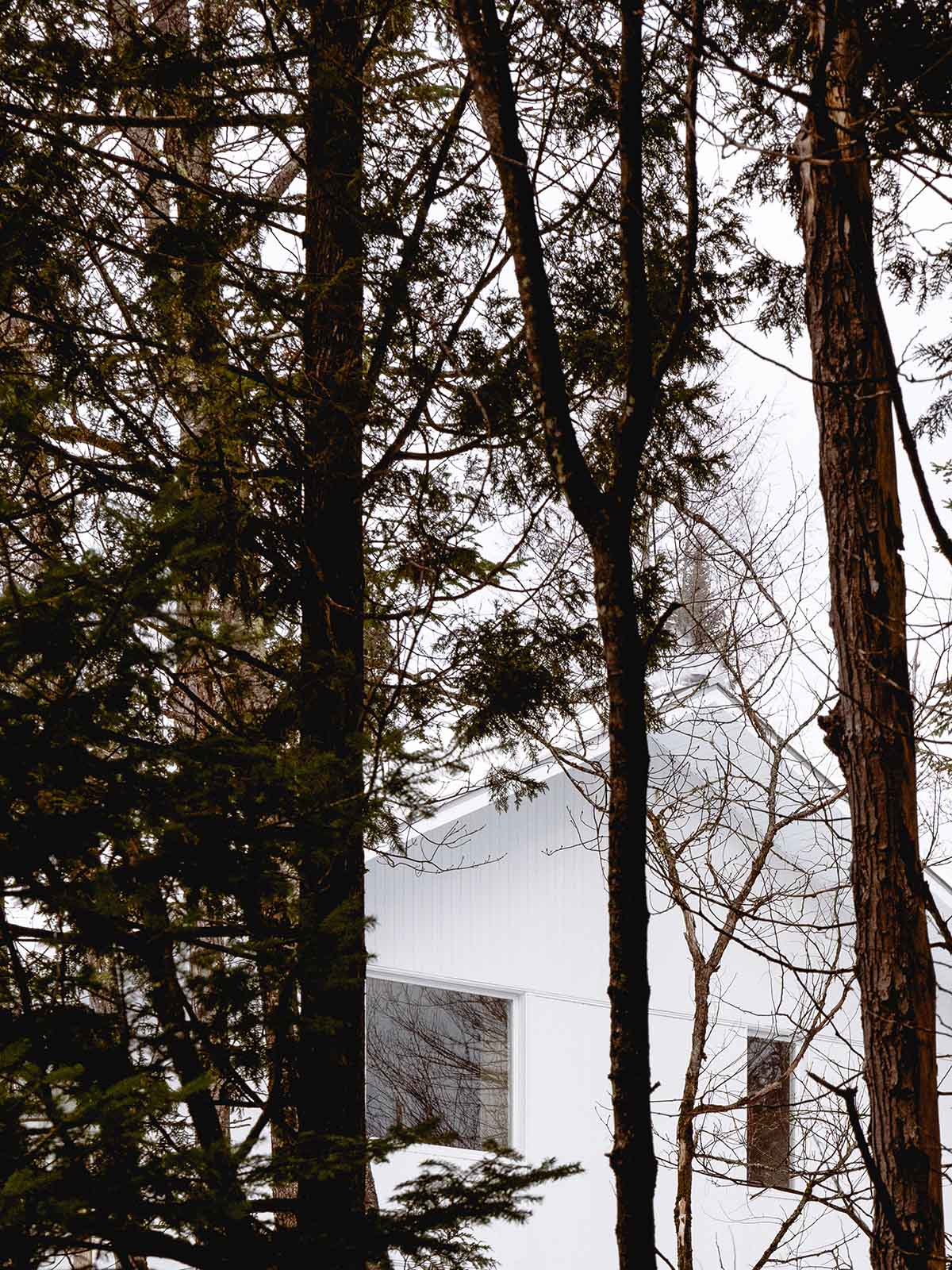 There is a woodstove at its heart, the living area invites relaxation. Small moments complete the picture, including a reading nook in the master bedroom.
The furnitures pieces are custom-made and handmade for the house by Inat, giving the sense of special touch.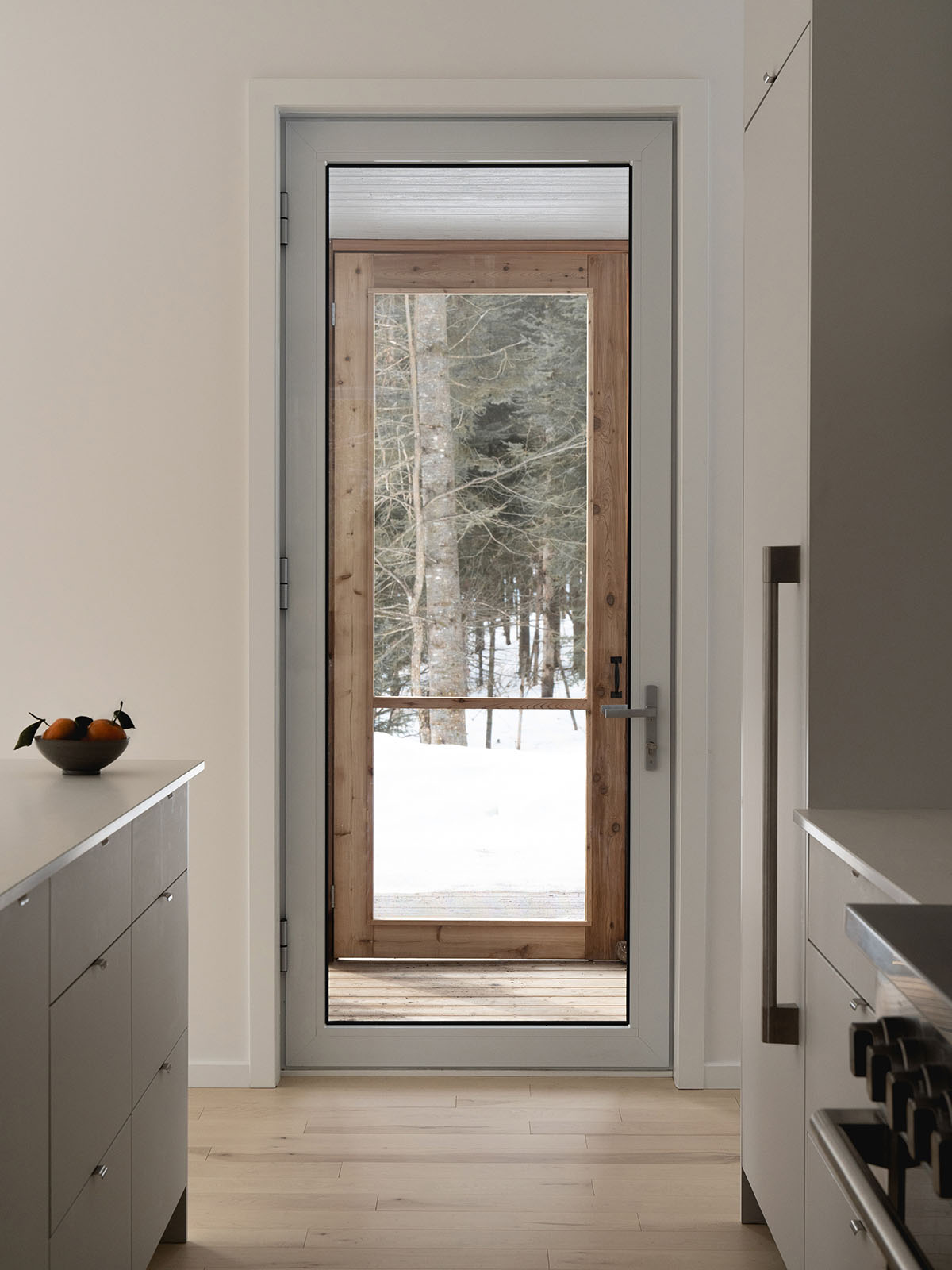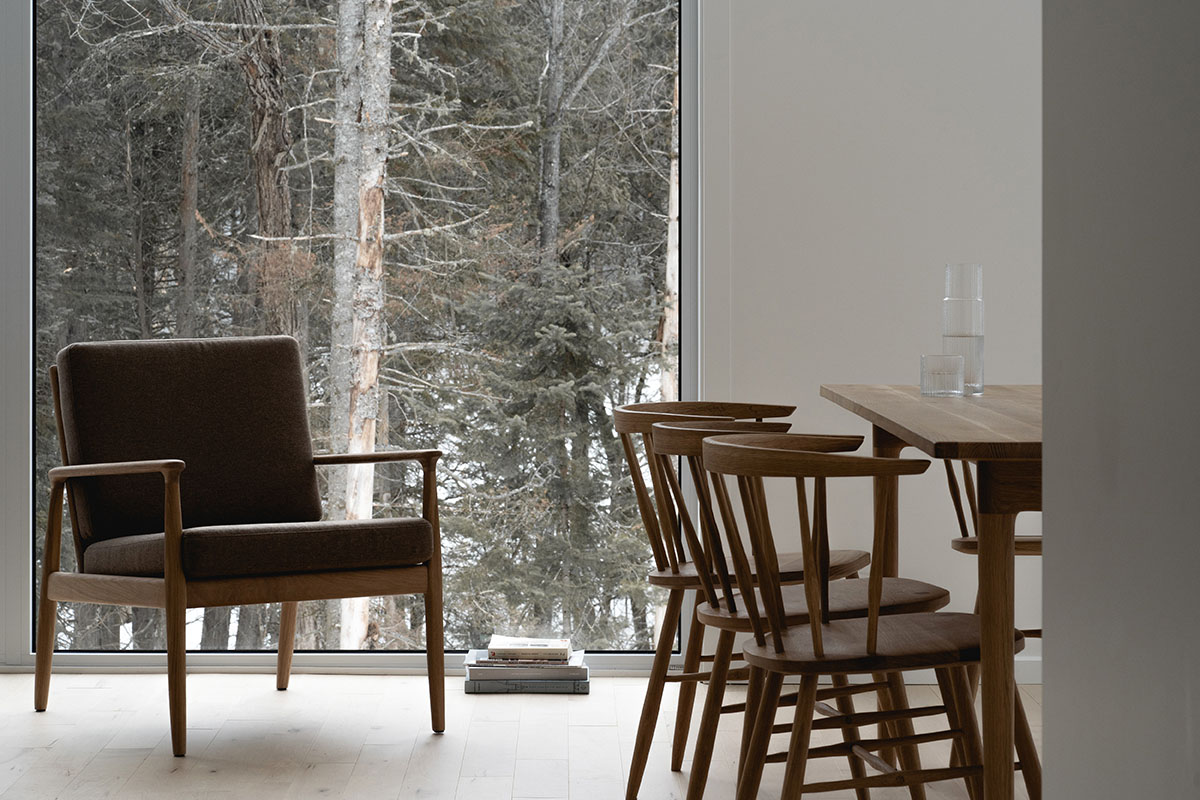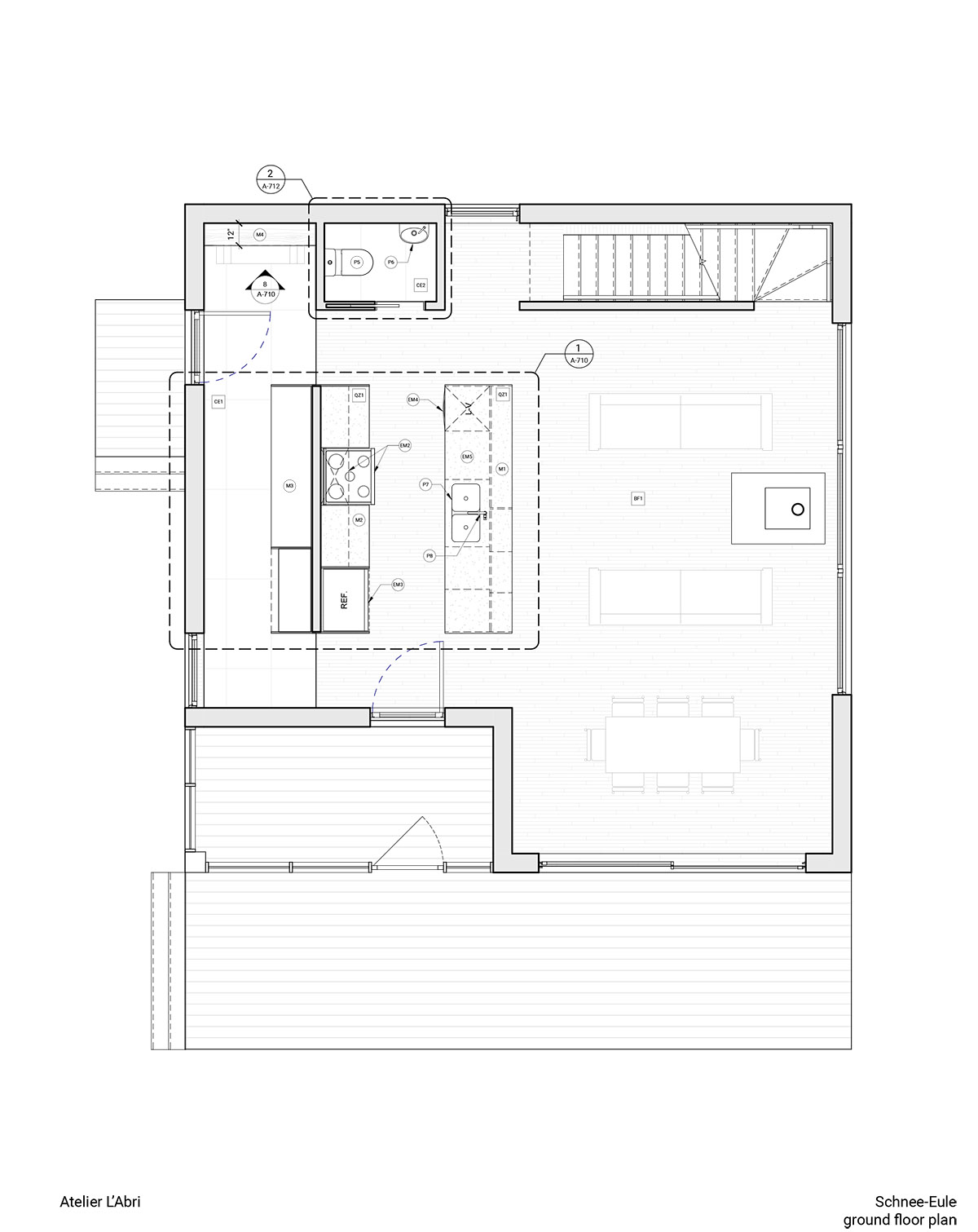 Ground Floor Plan
Second Floor Plan
Section
Elevation
Atelier L'Abri also designed four small A-framed cabins in Québec, Canada.
Project facts
Project: Schnee-Eule
Architecture: Atelier L'Abri
Site: Morin-Heights, Québec, Canada
Area: 2400pi2 (730m2)
Construction: Invesco Habitation
Project Team: Pia Victoria Hocheneder, Nicolas Lapierre, Vincent Pasquier, Francis Martel-Labrecque
Suppliers: Inat, Fabelta, Mac Metal, Maibec, Bois Mirage, Luminaire Authentik
Delivery: 2021
All images © Raphaël Thibodeau.
All drawings © Atelier L'Abri.
> via Atelier L'Abri