Submitted by
Giant Sienna-Colored Meteor Rock Is Suspended From The Ceiling Of Flagship Store In Kuala Lumpur
A giant sienna-colored meteor rock is suspended from the ceiling of a flagship store designed by Shanghai and Kuala Lumpur-based architecture practice Spacemen.
Named Between Worlds, the 128-square-metre flagship store was designed for Braun Buffel, a premium leather handbags and accessories.
The interior space is wrapped by mirrored surfaces and display shelves, with a sienna-colored installation evoking a meteor rock at the heart of the store to create an illusionary experience.
Located at the first floor of the Gardens Mall, Lingkaran Syed Putra in Kuala Lumpur, Malaysia, the store merges a maximal and minimalist approach that crosses the boundaries between two very different worlds: luxury retail and experimental art.
Similar to the office's previous project Urban Bloom in Putrajaya, Malaysia, the studio creates a visually-appealaing balance in colors, combining reflections with bold colors.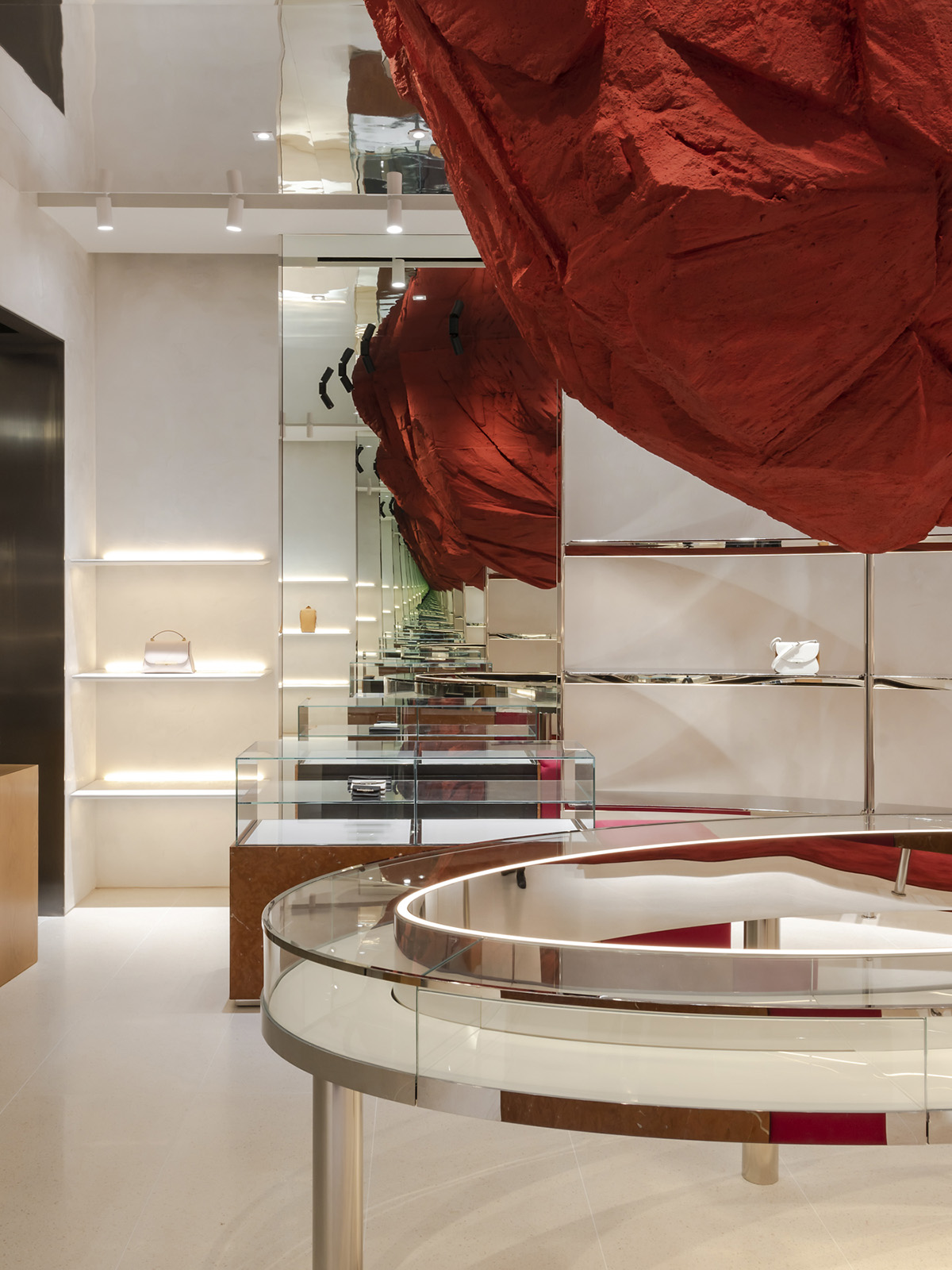 "The sienna-colored installation's jagged edges and angular grains adds a stark contrast to the sleek aesthetic of the store that aims to merge architecture and sculpture," said Spacemen.
"The sense of intrigue behind the intention of this floating rock innately draws passerby's into the space," the studio added.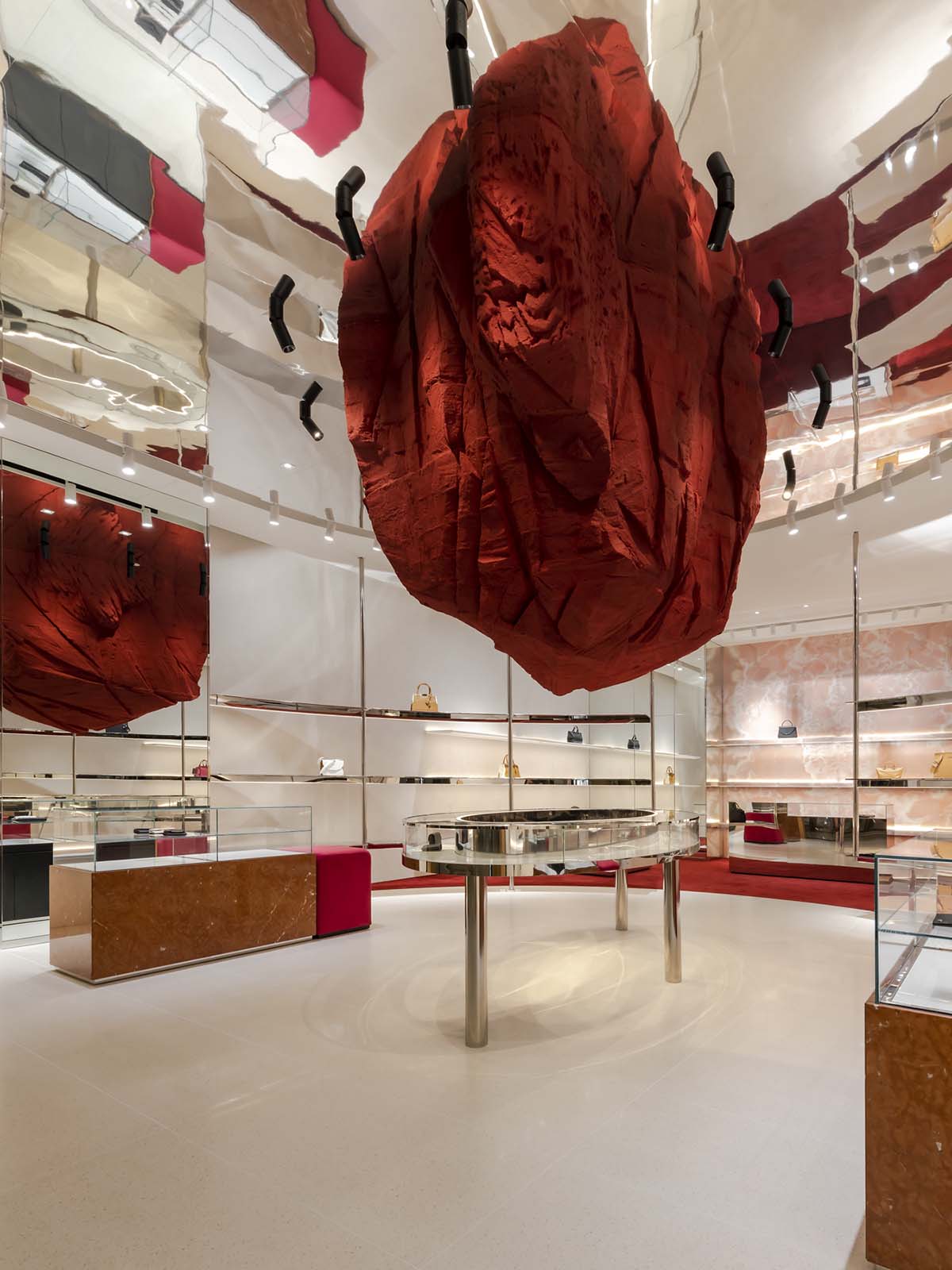 The studio used a coherent material palette, including stainless steel, white terrazzo, mirrors, and glass with a base of mineral plaster walls come together to create a minimalist and futuristic composition for the store.
The studio added a pair of red marbled display counters that flank the floating rock at the front of the store.
As the studio explained, "as customers make their way to the second half of the store, the flooring transitions into a deep burgundy carpeted area that is anchored by an exquisite pink onyx display wall where they can customize their items at the personalization station."
Inside, another interesting design components are multi-tiered counters made entirely out of clear glass, which allow products on display take centre stage to shoppers.
According to the studio, the concept store blurs the boundaries allowing an encounter between two very different worlds, that of experimental art and luxury retail, thus redefining the brand's in-store experience into an immersive, and memorable journey.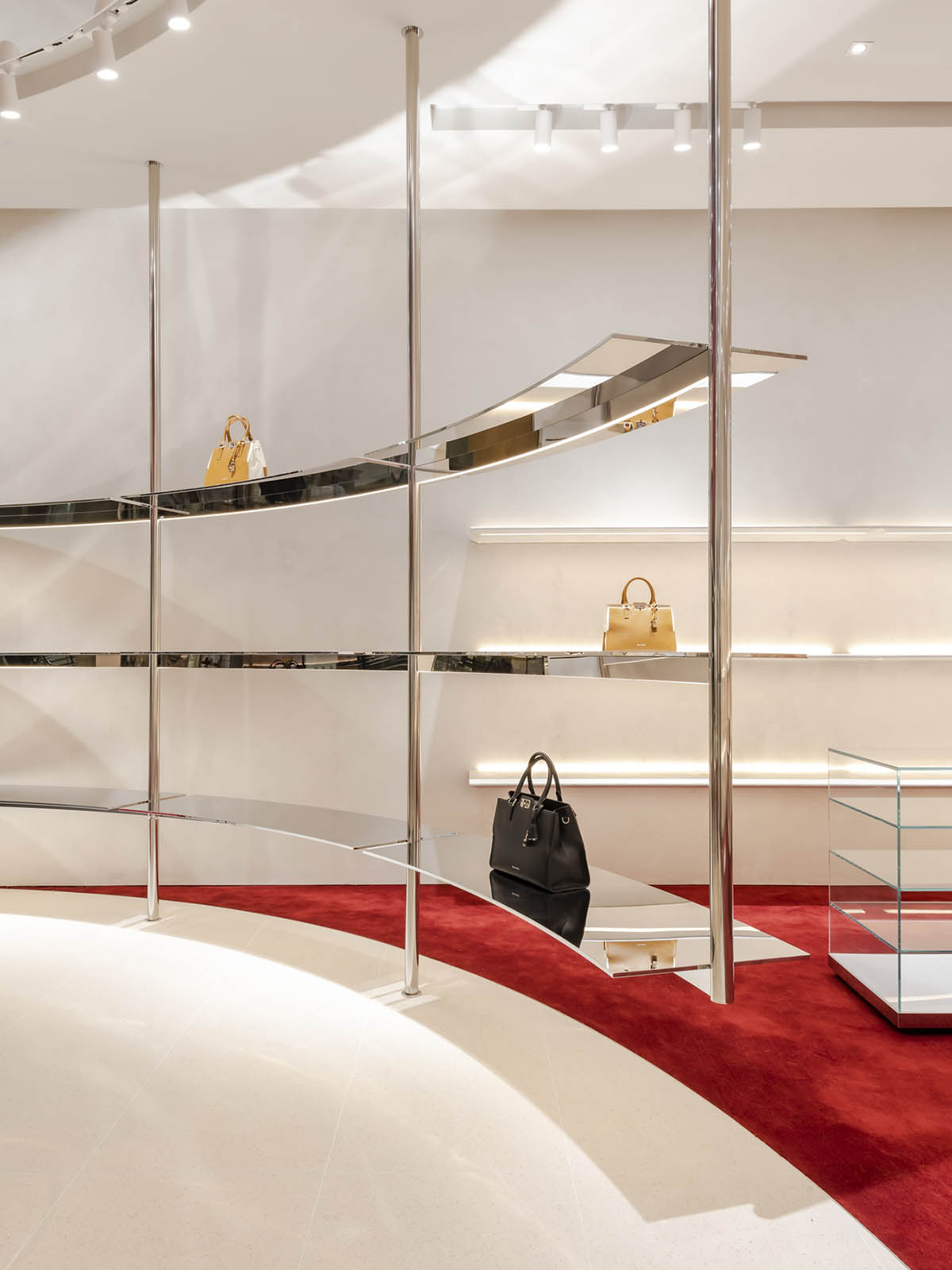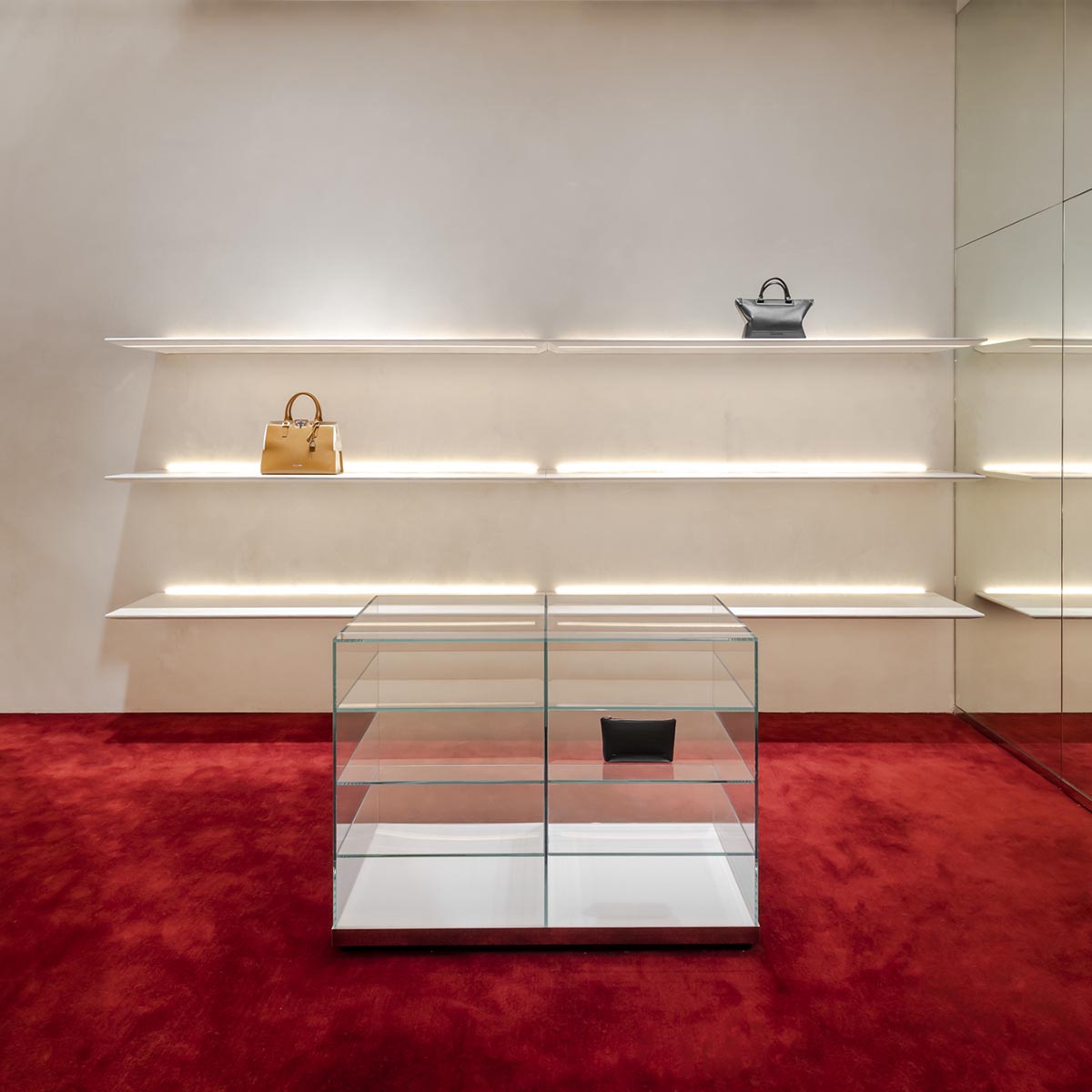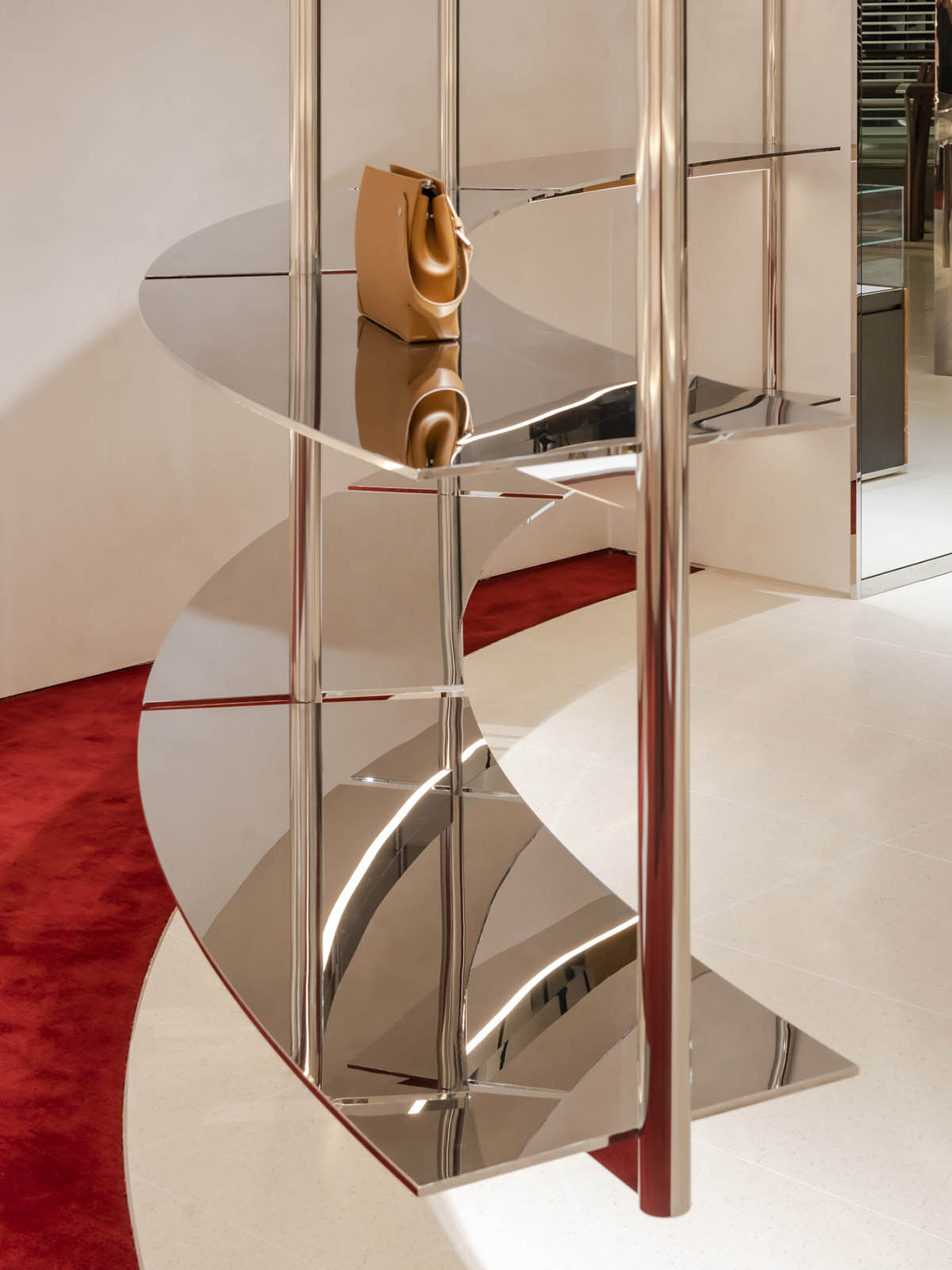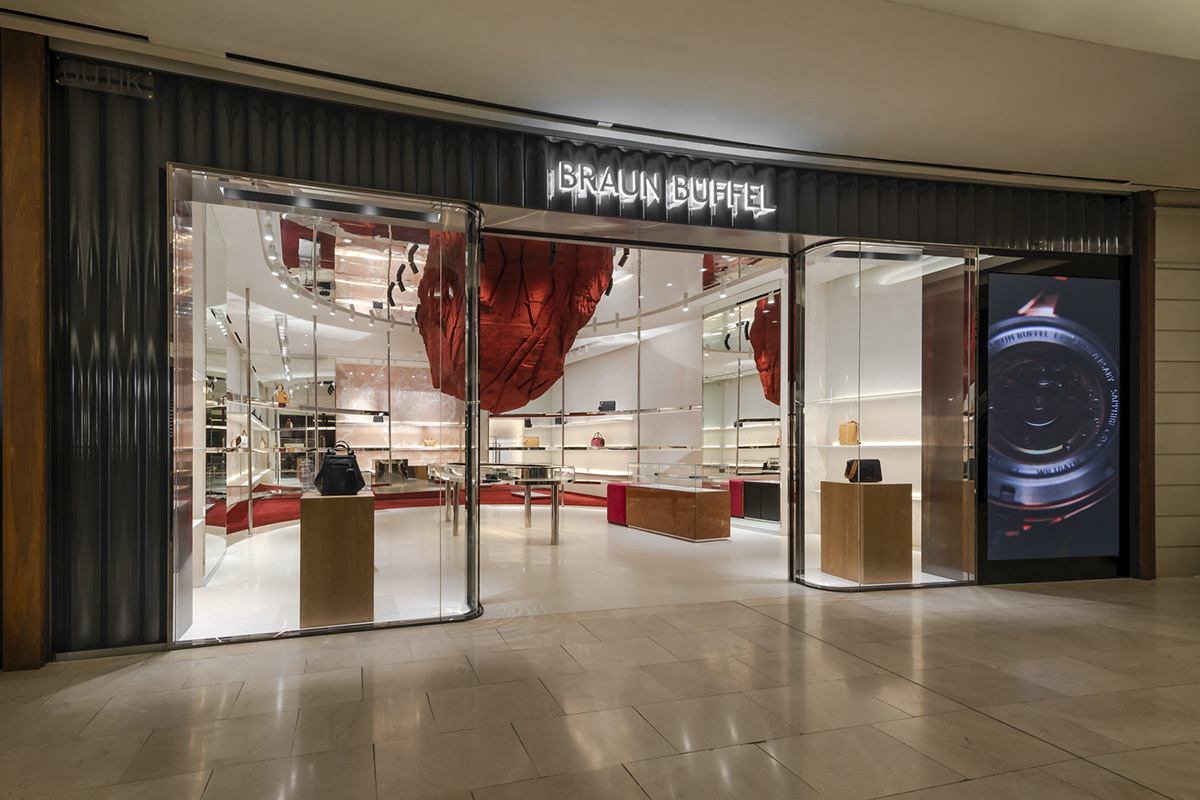 Floor plan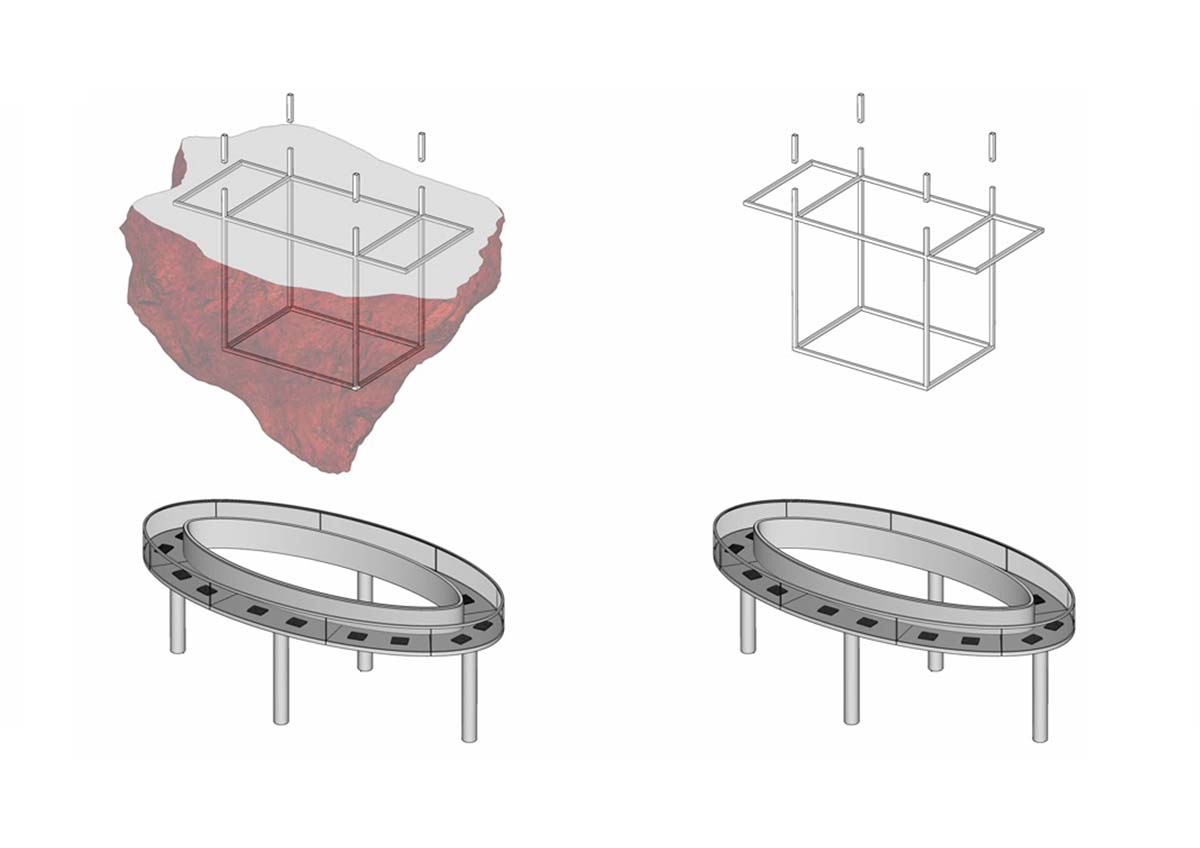 Red Rock Structure
Project facts
Project name: Between Worlds
Client: Braun Buffel
Architect's Firm: Spacemen Studio
Lead Architects: Edward Tan
Team: Edward Chan, Raymond Tang, Phyllis Zhang, Kuma Ni, Alvin Zhou
Project location: Unit F-228, Level 1, The Gardens Mall, Lingkaran Syed Putra, Kuala Lumpur, Malaysia.
Completion Year: 2022
Type of project: Retail Store
Gross Built Area (square meters): 128sqm
Suppliers
Rock Art Artist: Ohsum Mossum
Pink Onyx: Levo Art Stone
Red Marble: JK Concepts
Terrazzo Floor: Feruni Ceramiche
Natural Wall Plaster: Vasari Malaysia
Metal Fabrication: JK Concepts
All images © David Yeow Photography.
All drawings © Spacemen Studio.
> via Spacemen Studio