UNStudio completes colorful, warm and humanising medical centre in Beijing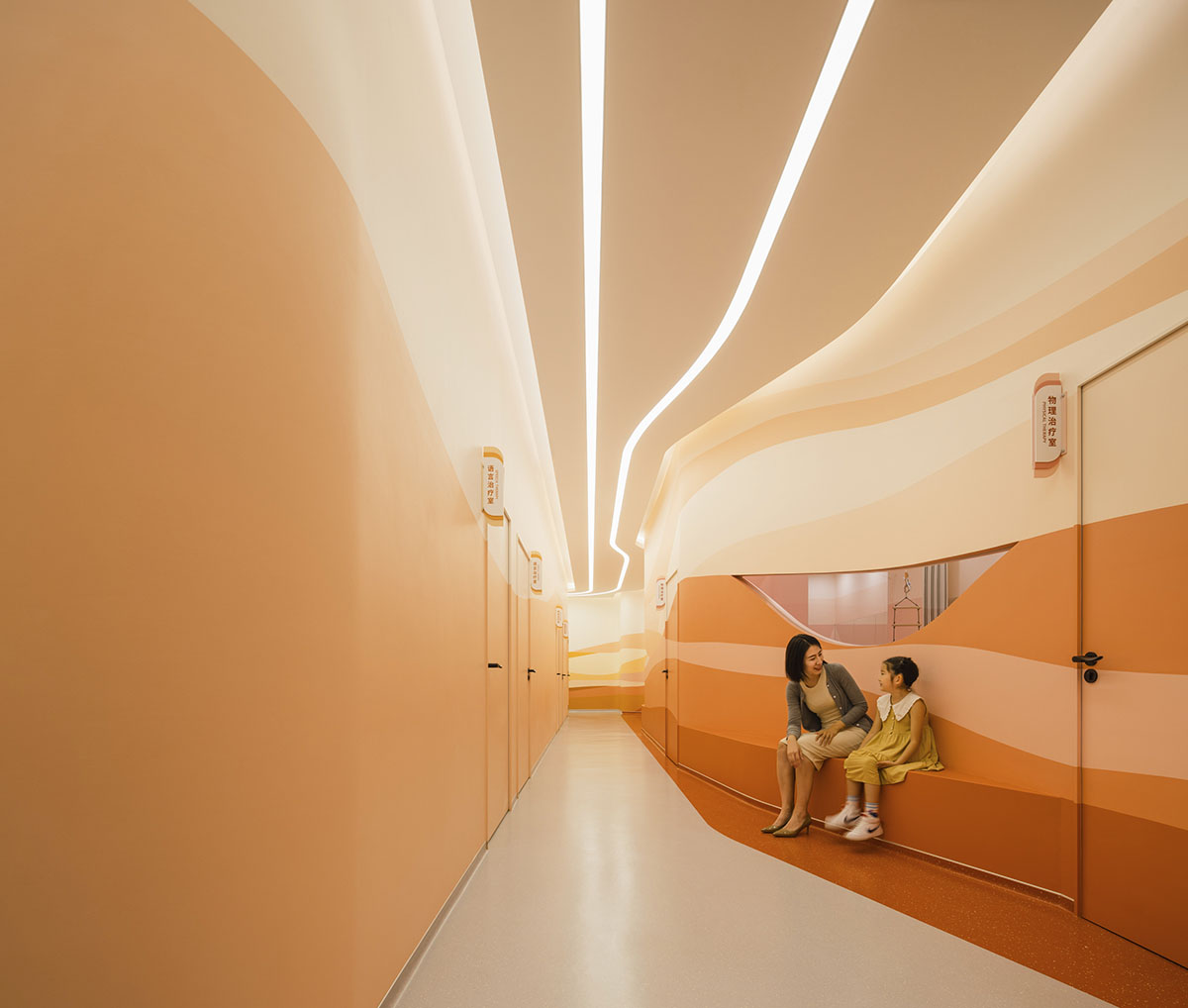 UNStudio has completed a medical centre with colorful, warm and humanising spatial configuration, enhancing playful design approach for children, in Beijing, China.
Designed for pediatric rehabilitation center FlySolo, founded in 2016, UNStudio completed the facade and interior of a new FlySolo Rehabilitation Medical Centre in Beijing.
The design is inspired by FlySolo's mission to empower children of all abilities to take an active role in society, and as part of UNStudio's diverse efforts to give back to the community, UNStudio worked with FlySolo to create the design for a dedicated pediatric medical centre in Beijing; a unique approach to rehabilitation in China and one that reimagines the healthcare experience from the perspective of both children and their parents.
In order to promote mental health, the interiors feature a soothing palette of colours and sweeping gestures, inspired by nature and favorite children's book illustrations.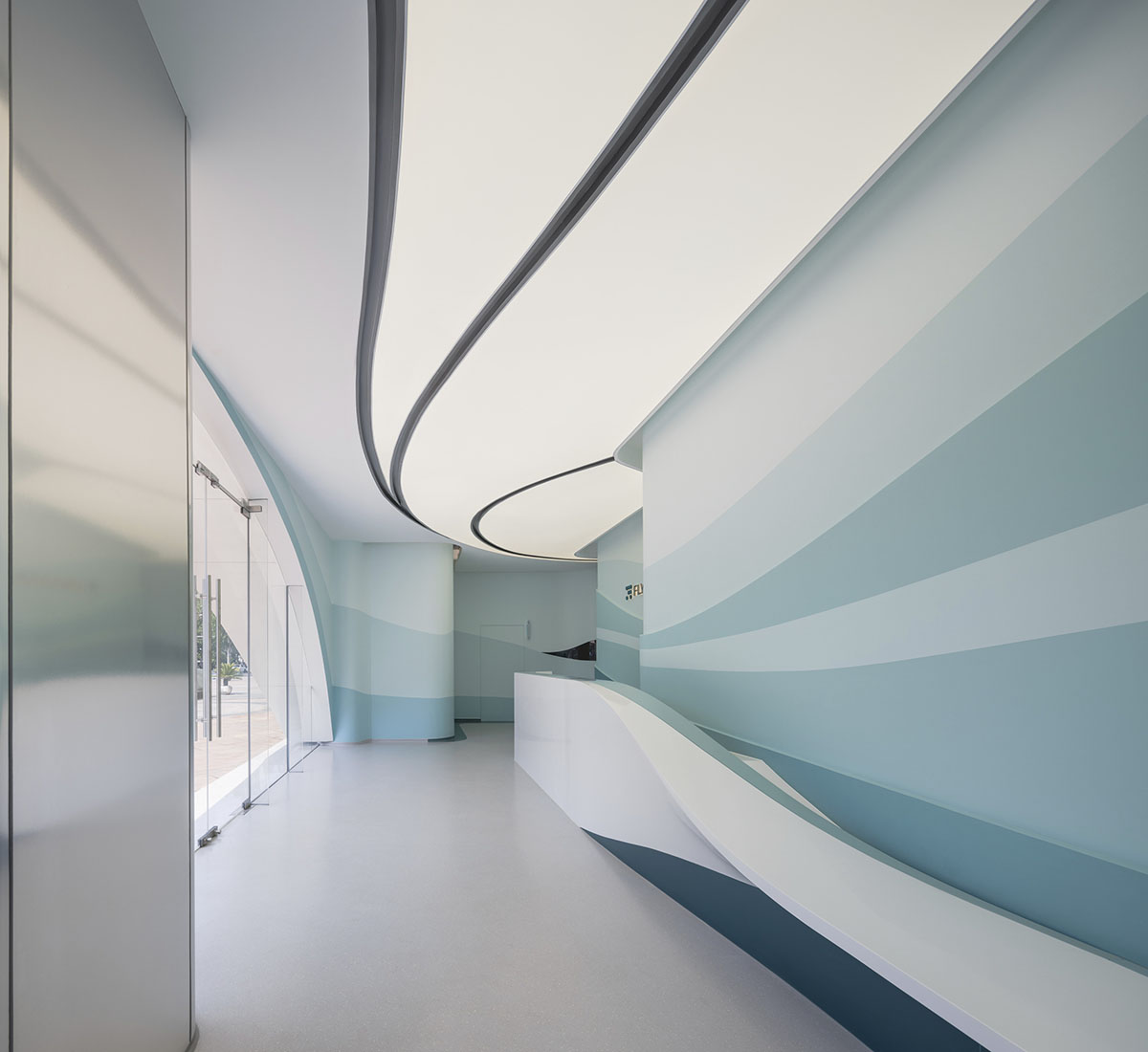 "Whilst visiting the Centre, children can use their imaginations to enter vast landscapes and skylines," according to UNStudio.
Founded in 2016, FlySolo aims to be a world leader in pediatric rehabilitation and has forged partnerships with Harvard Medical School's primary pediatric teaching hospital, Boston Children's Hospital, and premier rehabilitation medicine experts from the United States and Taiwan.
The FlySolo Rehabilitation Medical Centre will provide children between the ages of 0-13 with comprehensive rehabilitation services, treating speech, language, cognitive, motor, sensory, social and emotional developmental disorders.
Located near the heart of Beijing's CBD, FlySolo seeks to empower the extraordinary and support children of all abilities through the dedicated and passionate care of clinicians, partners and parents.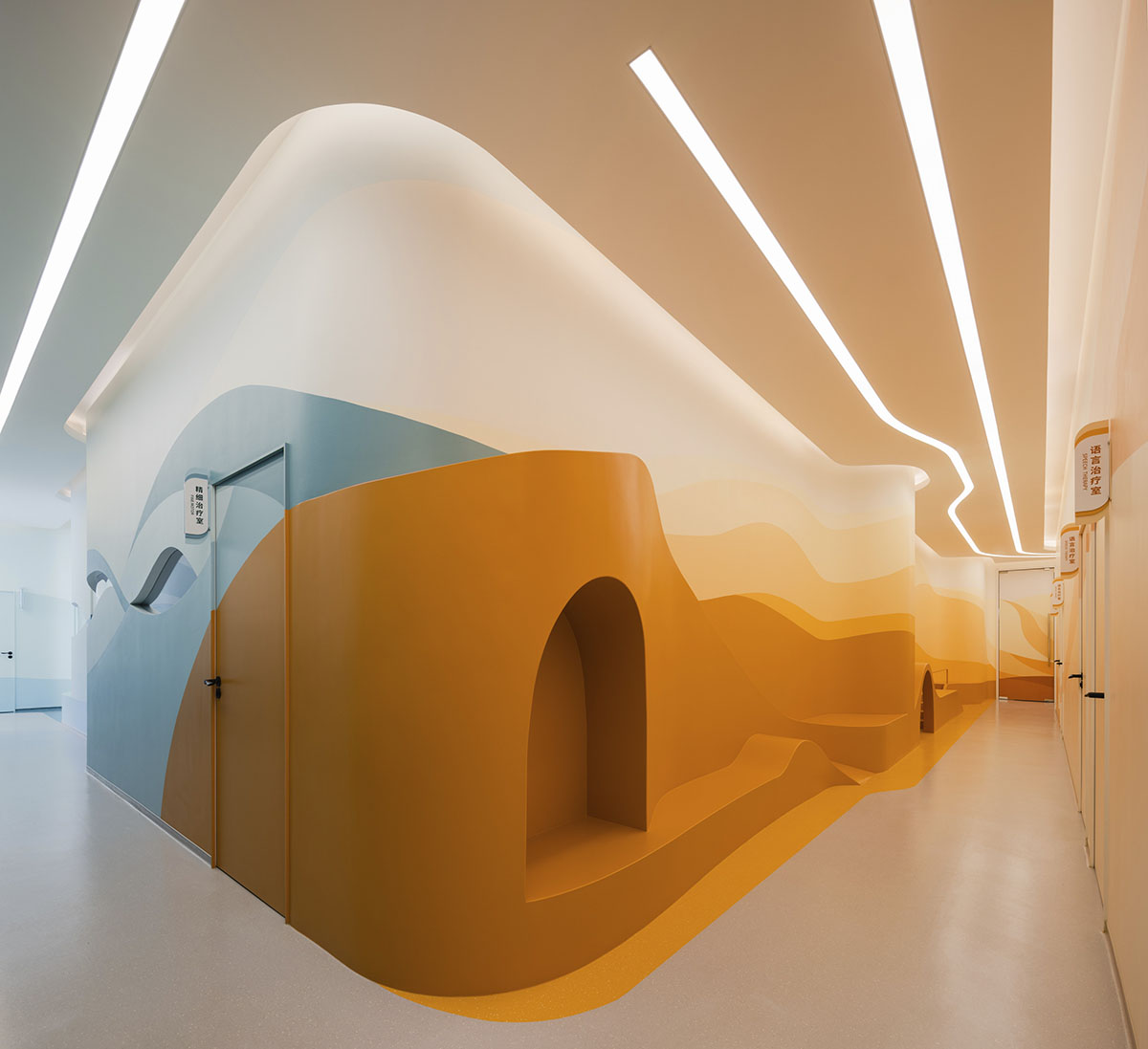 As a clinical and translational research centre, FlySolo provides patients the best opportunity for recovery by integrating clinical practice with the latest advances in innovative technologies and research. FlySolo's focus on pushing the boundaries of rehabilitation medicine through scientific breakthroughs will contribute to the standards of care in the community and beyond.
Adopting a flexible configuration, the 550-square-metre space incorporates occupational and speech therapy rooms, as well as shared doctors' and consultation offices.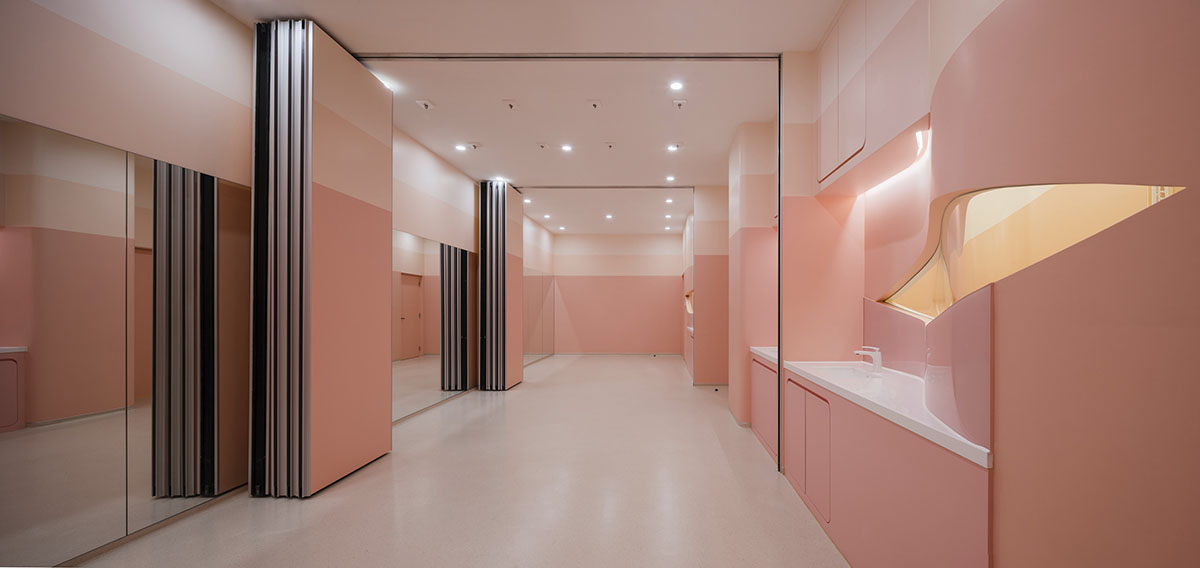 UNStudio stated that the design focuses on the "human experience in rehabilitation medicine to help patients gain access to a diverse range of innovative therapies."
Functional therapy rooms such as the Activities of Daily Living (ADL) Therapy Suite and Virtual Care Centre are structured to accelerate the attainment of functional outcomes for each patient.
According to the studio, both the interior design concept and the circulation is shaped around sustainability and flexibility.
Most materials used in the interior of the FlySolo Rehabilitation Medical Centre are LEED certified building materials. A warm and humanising rehabilitation experience is fostered with a strong focus on the individual patient and family journey from diagnosis to treatment.
Flexible functionality was a central design component of the project, as the Centre needs to accommodate groups and individuals, and varying services.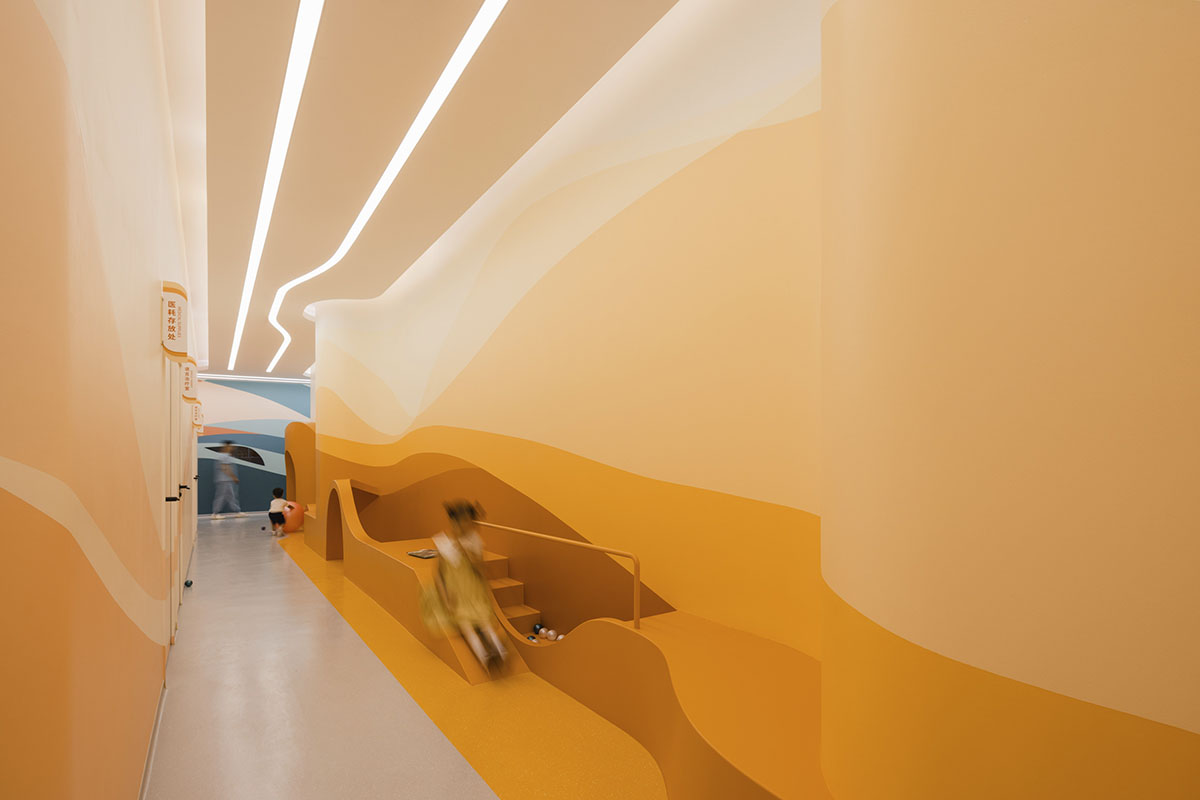 To achieve this, UNStudio, alongside FlySolo's doctors, therapists, and family advisory committee, considered numerous possible layouts based on maximising the required uses of the overall space, with the aim of striking a balance between the physical, the psychological and the social.
The design features curved walls and wide corridors that are enough to double as therapy spaces enable intuitive frictionless movement to ease navigation, especially for those with functional impairments or using wheelchairs.
Furthermore, UNStudio implemented flexible partition walls so that the room layouts can be adjusted over time and customised for the changing needs of the Centre in the future.
"The needs of the child patient are central to the design for the FlySolo Rehabilitation Medical Centre," said UNStudio.
"At times, visiting medical facilities may cause a degree of anxiety in children, which may be exacerbated if waiting is not aided by positive distraction. For this reason the design of the Centre incorporates the child's need to play, explore, move and discover," added the office.
In the waiting areas outside of the treatment rooms, mini slides and interactive seating are incorporated in order to engage and energise. Small nooks are also provided for children to play in and to provide privacy for waiting parents and families.
UNStudio's key focus is placed on materials, space, scale, light, and circulation, while soft, bright and natural colours work to add another layer of engagement.
"The wave-like wall graphics shift between three colour palettes that correlate to the functions within the therapy rooms. As such, colour is used throughout to aid in wayfinding and inspiration," added the office.
A further possible cause of discomfort for the child patient and their parents can be the separation experienced whilst therapy sessions are taking place.
For this reason, wave-shaped windows that mimic the undulating wall graphics are inserted at a certain height in the walls of the therapy rooms to ensure that while the parents can see in, the child does not feel overly observed.
For the façade design, UNStudio designed a sweeping facade derived from FlySolo's identity as a place for uplifting children.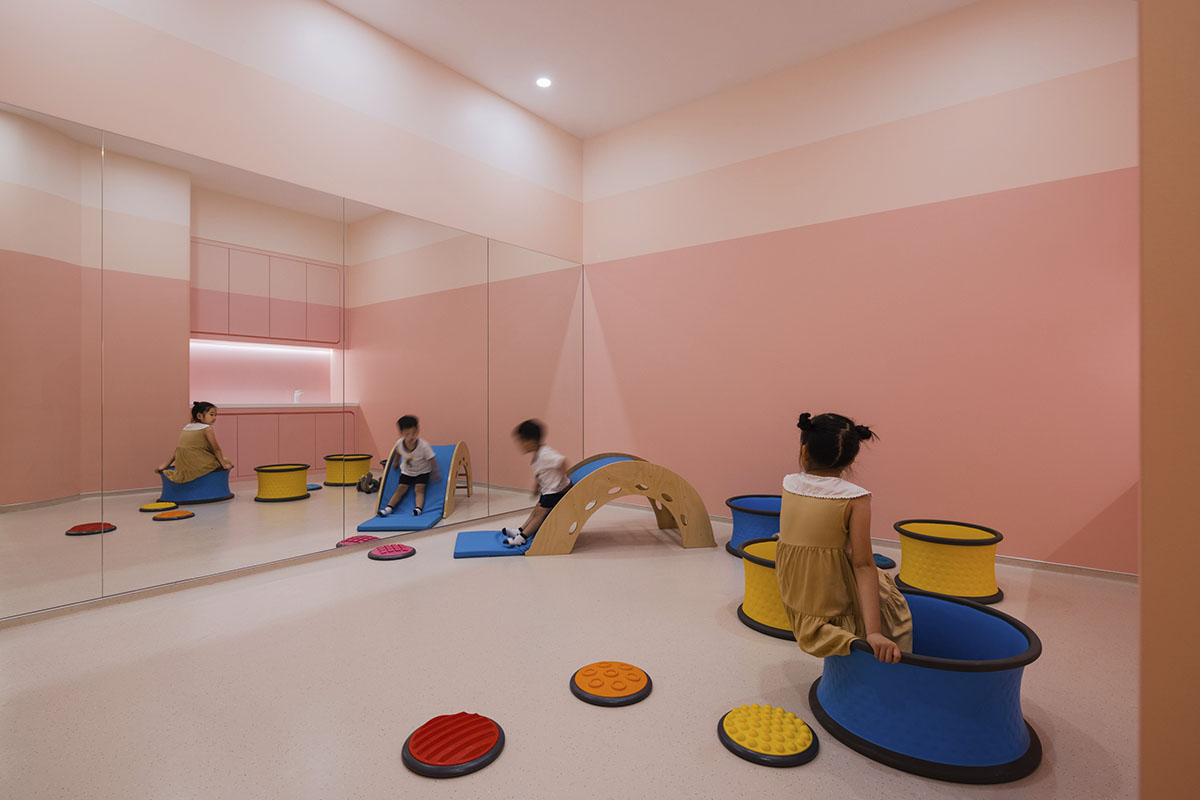 The wave-like graphics of the interior are mirrored in the curves of the facade that frame the entrance. Here, a pearl white aluminum frame composed of intricately fabricated curved panels conveys an inspiring message of new possibility to families embarking on an emotionally challenging journey, and a welcoming gesture to the children.
Design and construction of the FlySolo Rehabilitation Medical Centre was completed during the Covid-19 pandemic despite global travel and supply chain obstacles.
"The implementation of digital solutions and stringent construction management guidelines including use of protective equipment, occupational safety trainings, frequent disinfecting and daily Covid-19 testing enabled continuity of work with zero injuries or infections in spite of unprecedented challenges," added UNStudio.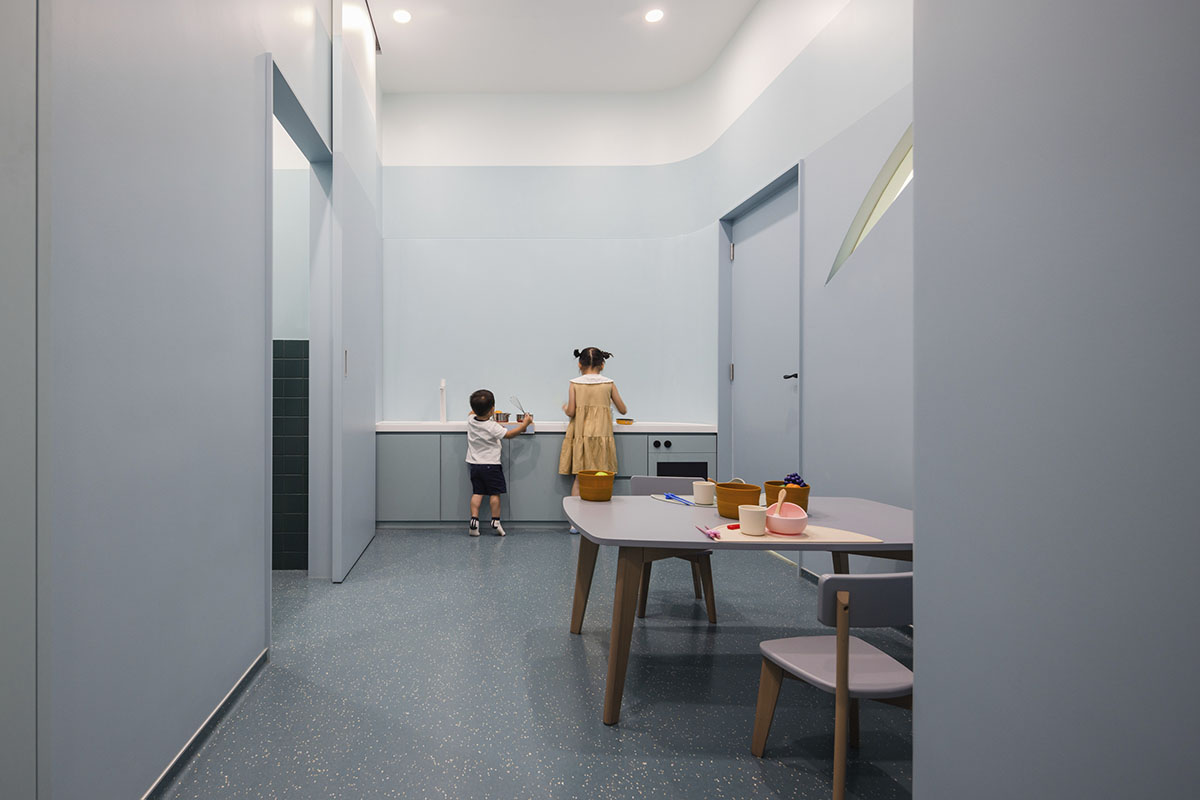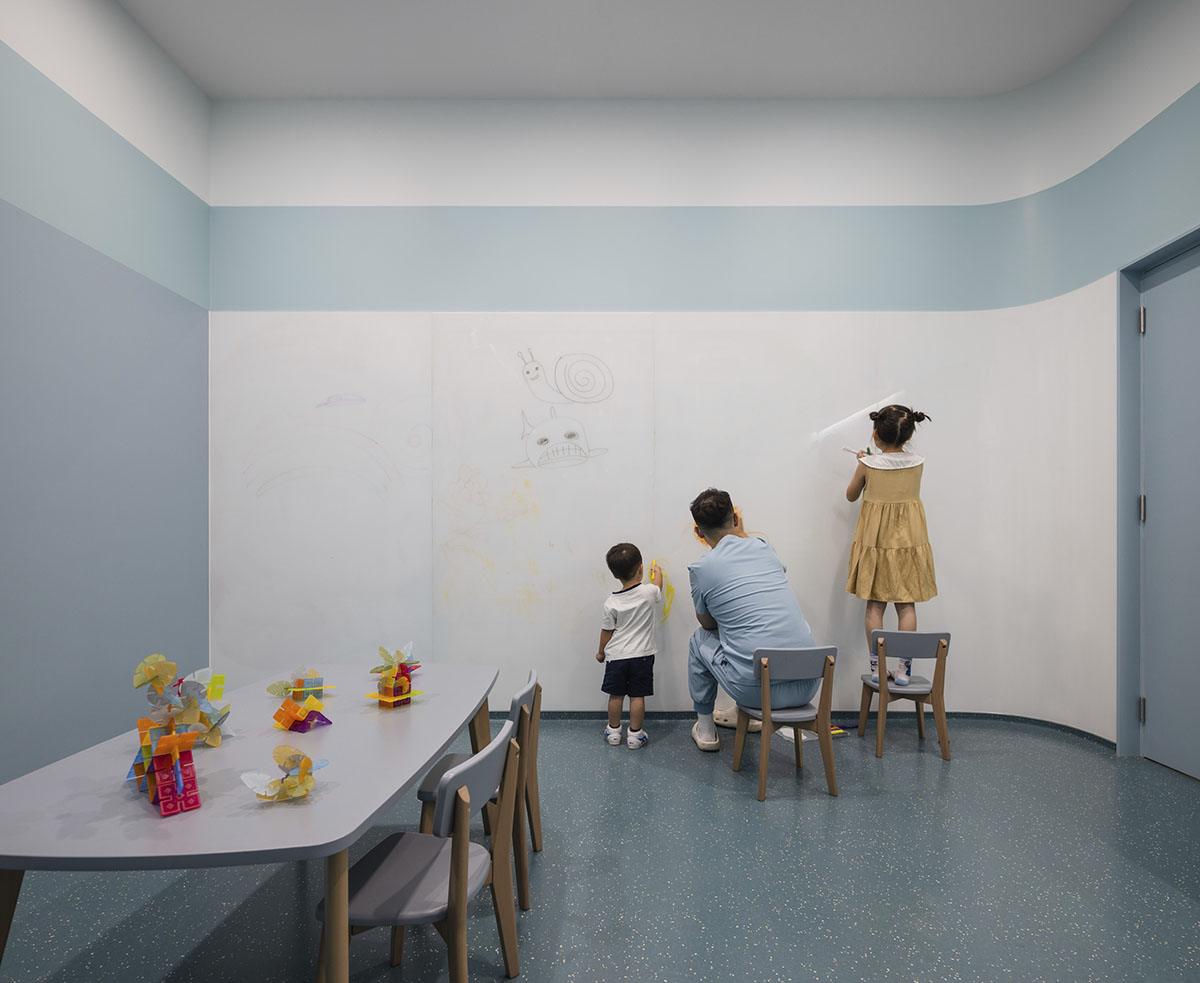 Axonometric diagram
Diagram Waves
UNStudio recently completed the "most sustainable interfaculty teaching building" at TU Delft. The studio won a competition to design a new mixed-use urban regeneration project in Romania.
UNStudio was founded by Ben van Berkel founded with Caroline Bos in 1988 in Amsterdam. In 2018, Ben van Berkel founded UNSense, an arch tech company that designs and integrates human-centric tech solutions for the built environment.
Watch Ben van Berkel's live talk on WAC's IG as part of WAC's Live Instagram Series.
Project facts
Location: Beijing, China
Programme: Healthcare
Client: FlySolo
UNStudio: Ben van Berkel, Hannes Pfau, Garett Hwang with Tony Hu, Cheng Tan, Joy Li
Construction Management: China Academy of Building Research
Consultants: Shanghai CIMA Engineering Consulting Co. Ltd.
Design Year: 2020-2021
Construction Year: 2021
Completion Date: June 2022
Opening: July 2022
Contractors: Bang Tai Construction Co. Ltd., InDeco, Zhi Shang Construction Co. Ltd.
Building Information
Floor Area: Gross: 550 m2
Facade: aluminium / glass
Interior Materials / suppliers
Flooring: Interface
Wall finishes: Benjamin Moore
Other: 3M, Carrier, Dormakaba, DuPont, Panasonic, PPG, ROCKWOOL, Siemens, TOA
Furnishings: (type and manufacturer)
Bathroom appliances: Kohler, Jomoo
Sustainable features: Most materials used in the interior of the FlySolo Rehabilitation Medical Centre are LEED certified and low-VOC or VOC-free, including the shock absorbing natural rubber flooring.
All images © Wen Studio.
All drawings © UNStudio.
> via UNStudio