i29 converts neglected 17th century canal house into a bright home with colorful interiors
Architecture and interior design studio i29 has converted neglected 17th century canal house into a bright home with colorful interiors and unexpected views for discovery.
Named Canal House, the house is located along the canals near Amstelveld, the Netherlands, was originally built in 1675.
As the studio explained, over the years, the neglected house had fallen into a state of near total ruin, and the renovation took more than 2 years to execute in collaboration with a team of specialists.
The newly-renovated house creates a sharp contrast with its wooden details, all-white backdrop and green glass volume detail, while the feeling of cleanness and comfort dominate the space.
The new interior spaces are highlighted with different colors in different areas in color, which provides a new perspective on the monument. The studio hides or expose original details of the house in colorful rooms.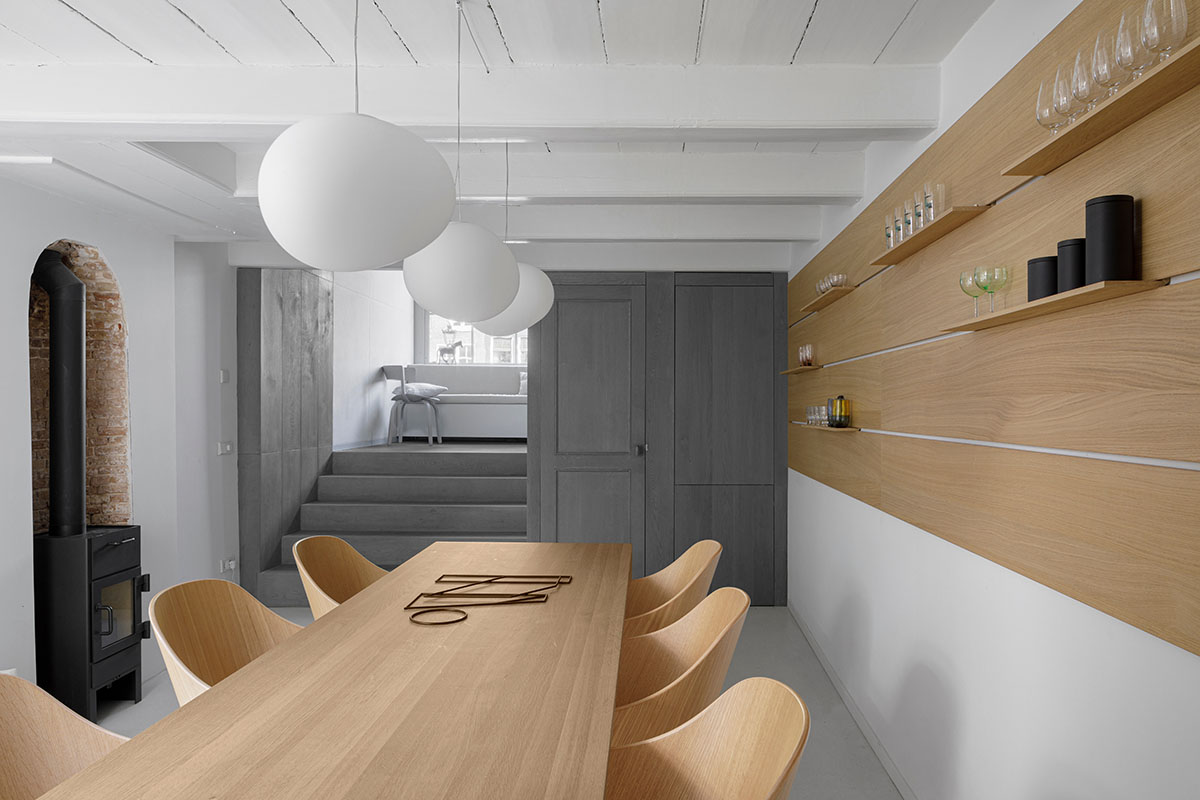 To create unexpected sight-lines and to create a spatial experience, the studio connects different spaces by using colors or finishes that seamlessly blend from one space to another.
Aiming to create a contrast with the existing structure, i29 creates new interventions and finishes to be recognizable.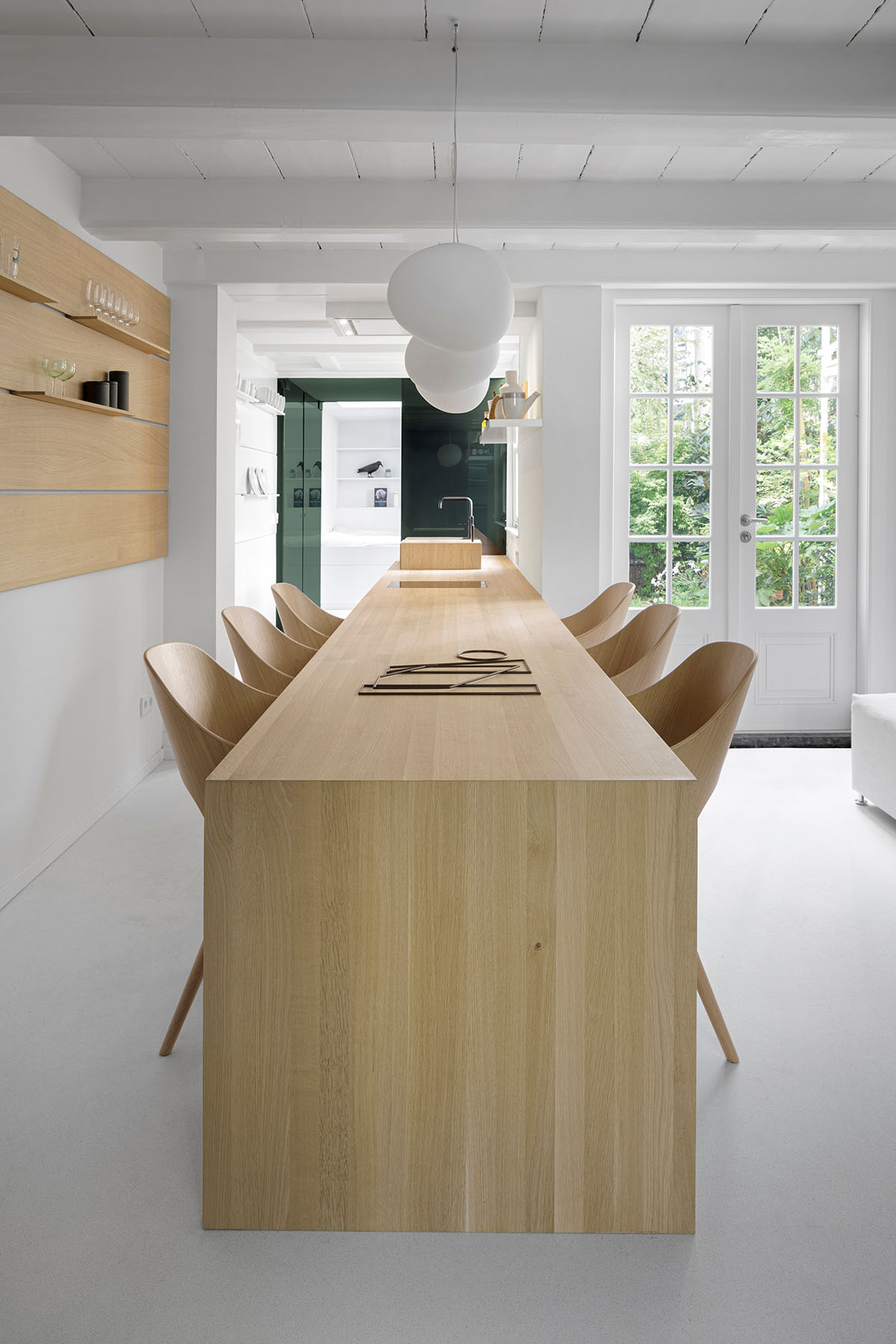 On the ground floor, there is a kitchen space clad in white concrete and features light walls and a custom-designed oak kitchen and dining table. Passing through it, a green glass volume marks a hidden, fully-equipped guest room with an en-suite bathroom and garden access.
The kitchen is visually connected to the study room above through a gray stained oak wall, which also forms a beautiful entrance to the rooms above.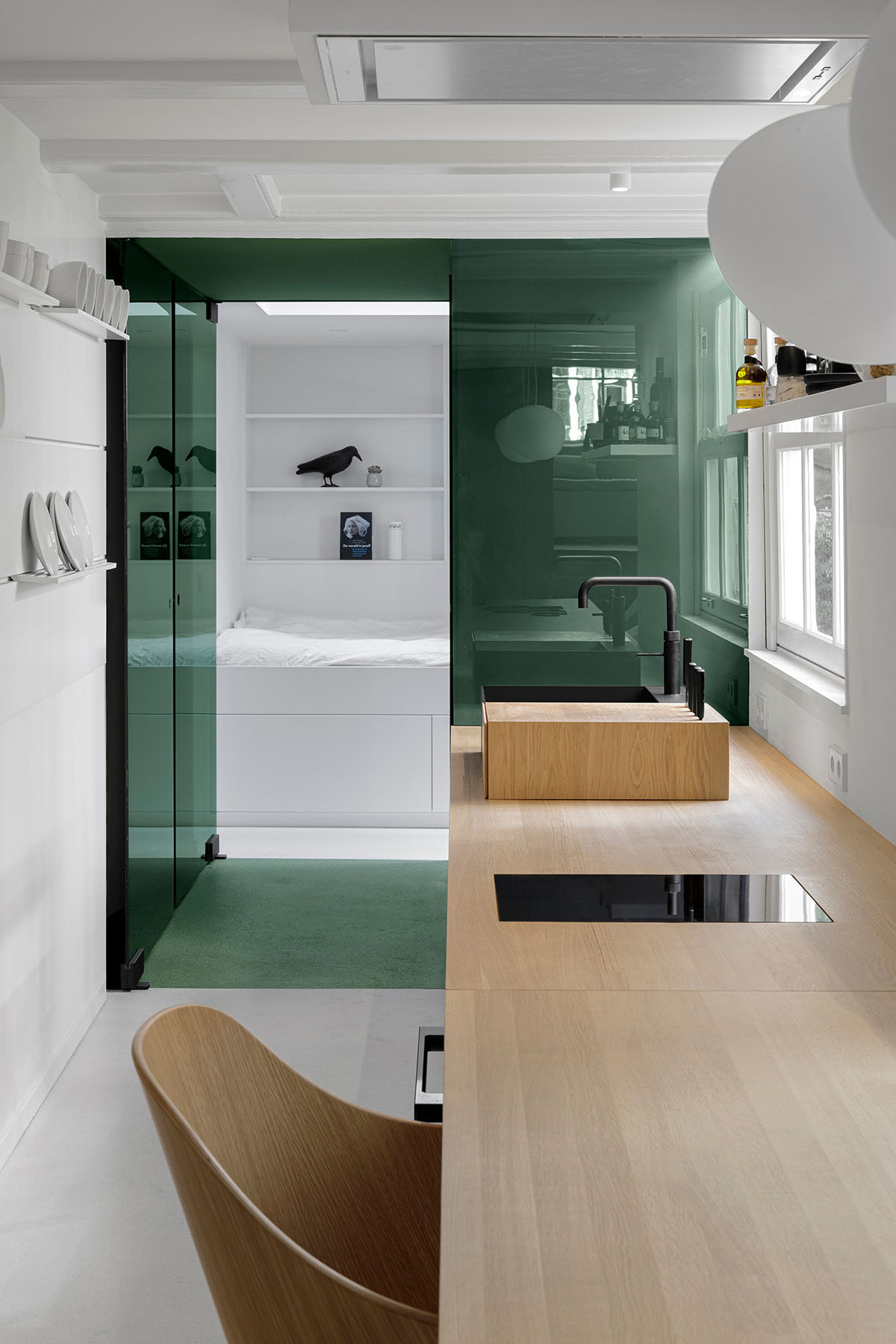 That same gray continues into the living room, but in the form of a fabric wall covering for acoustics. Behind the rotating book wall in the living room, another hidden area reveals a reading or relaxation space, engulfed in a calming blue finish.
The design of the upstairs sleeping quarters radiates comfort and luxury like a true hotel experience. The master bedroom, with its original roof construction, is separated from the bathroom by a mirrored volume that encloses both the stairwell and the shower area.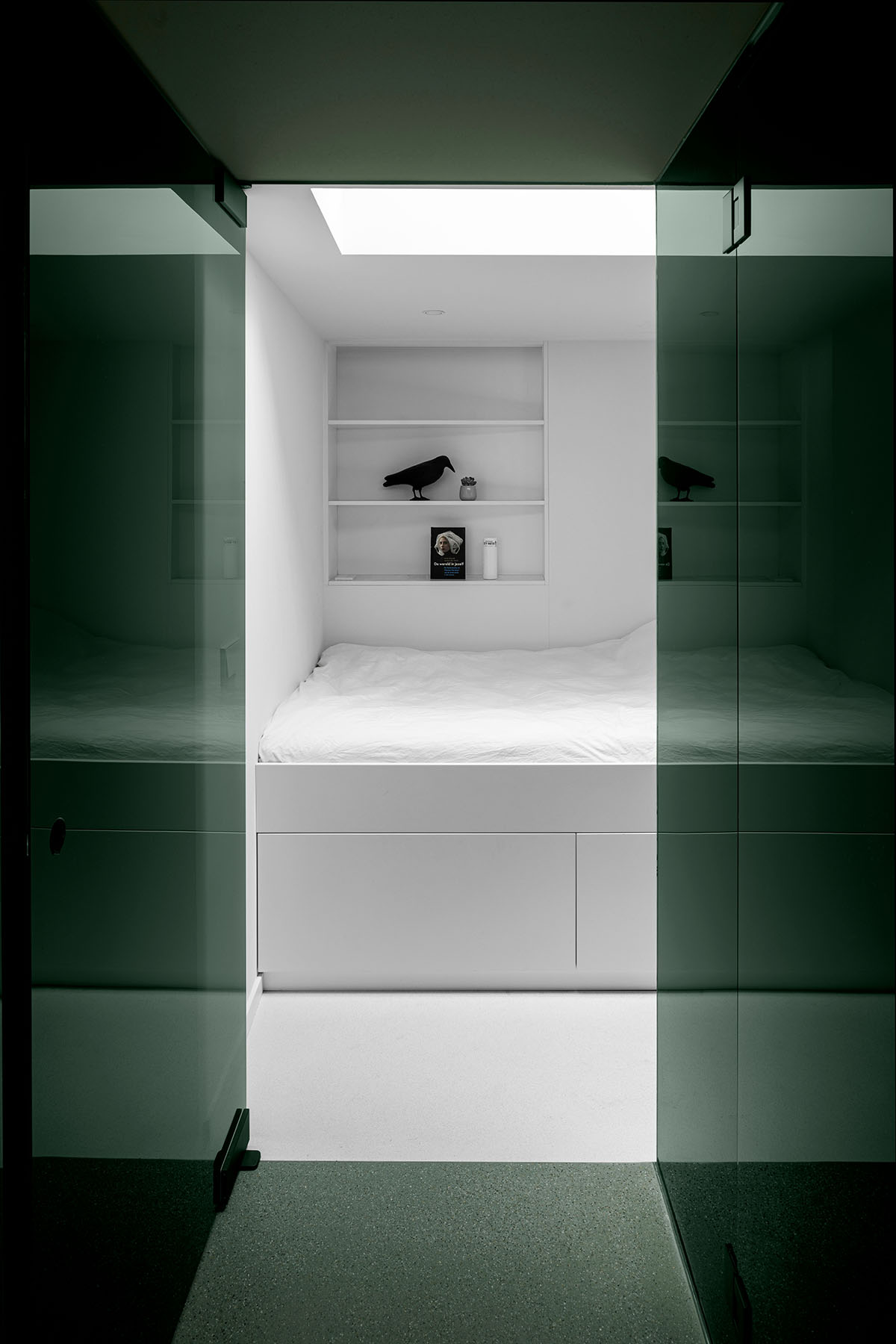 The shower walls are constructed with two-way mirrors, enhancing direct views of the canals. The adjacent bathroom features a traditional Japanese bath and freestanding matching sink, both in wood.
All of the new and clearly-designed interventions are tailor-made for this 17th century house and blend into the existing environment, yet also raise the quality of the house to a higher level that is ready for the next generation.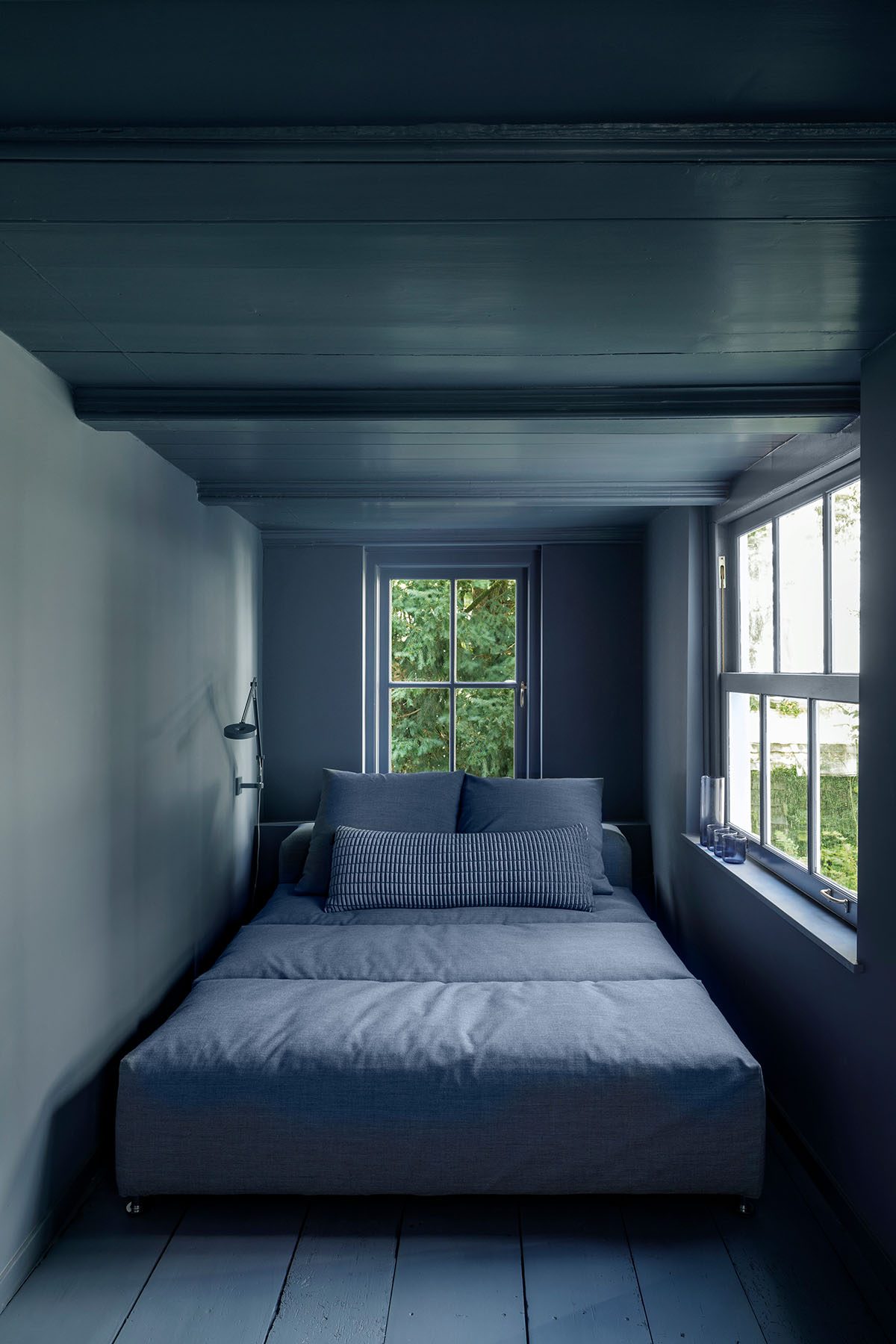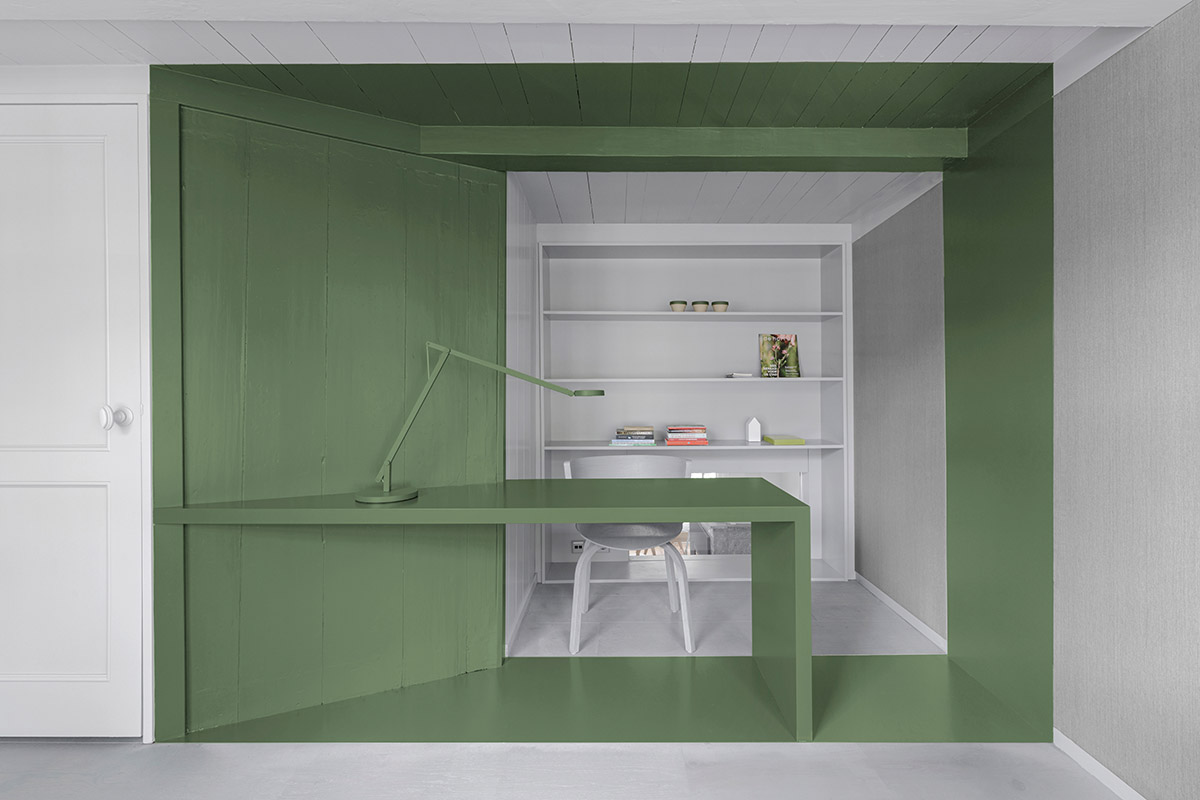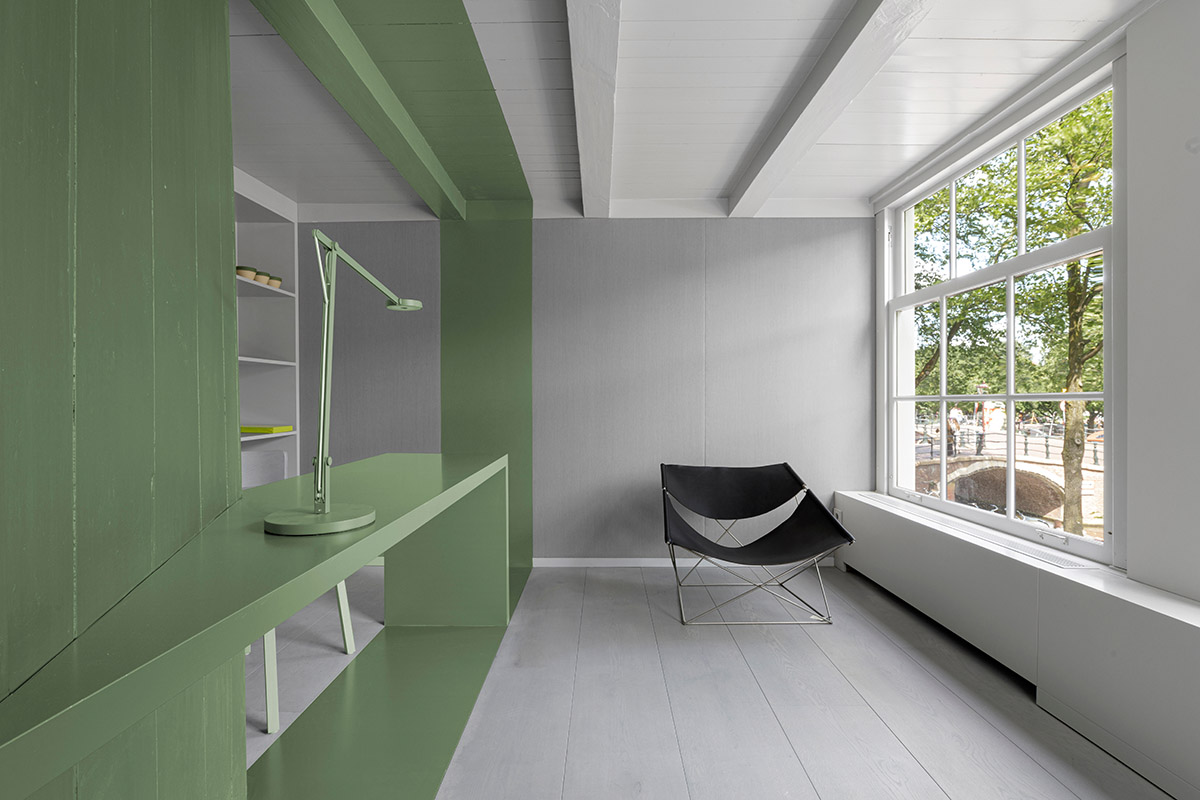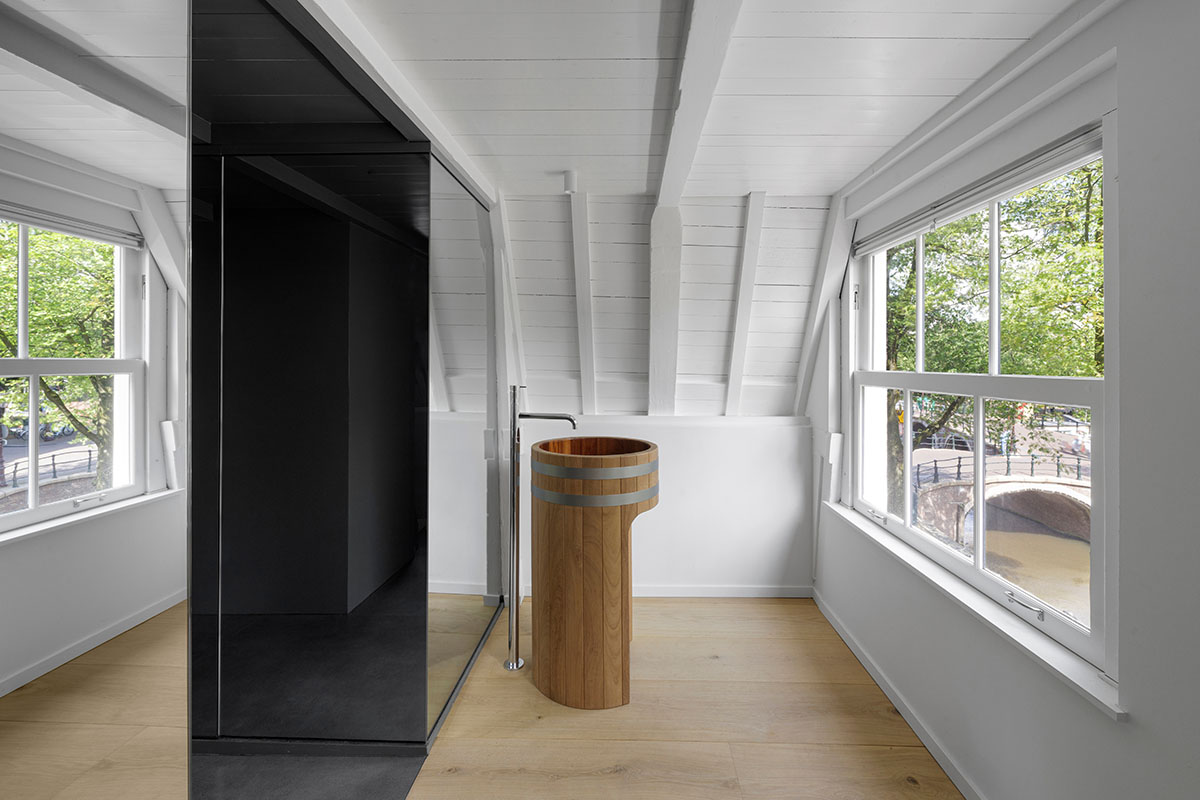 i29 also designed a sustainable and eco-friendly floating home on a disused canal of Amsterdam. Based in the Netherlands, i29 is an award-winning interior design and architecture office.
i29 designs architecture and interior design projects that are based on simplicity, with clean and contemporary materials.
Project facts
Project name: Canal House
Design: i29
Client: private
Floor area: 115 m2
Completion year: 2021
All images © Ewout Huibers
> via i29