Morphosis completes Orange County Museum of Art with sweeping form in California
Pritzker Prize-winning architect Thom Mayne's office Morphosis has completed the Orange County Museum of Art (OCMA), featuring a sweeping form and high-performance façade in California, United States.
Located on the campus of Segerstrom Center for the Arts in Costa Mesa, California, the project, led by Thom Mayne and Partner-in-Charge Brandon Welling, offers flexible exhibition galleries, dedicated space for educational programming and areas for public gathering.
The new building also provides expanded access to the museum's permanent collection, which comprises important works of modern and contemporary art, and to its world-class special exhibition program.
The new building is a new home to OCMA's thought-provoking works of art across a wide range of mediums, by artists of diverse backgrounds in its new location.
OCMA moved its former Newport Beach location on June 17, 2018, following a celebrated 41-year history at its current location. Morphosis revealed its conceptual design for the new OCMA in 2018 and construction began in September 2019.
Although the opening of the building was scheduled for 2021, the project was officially opened on October 8, 2022.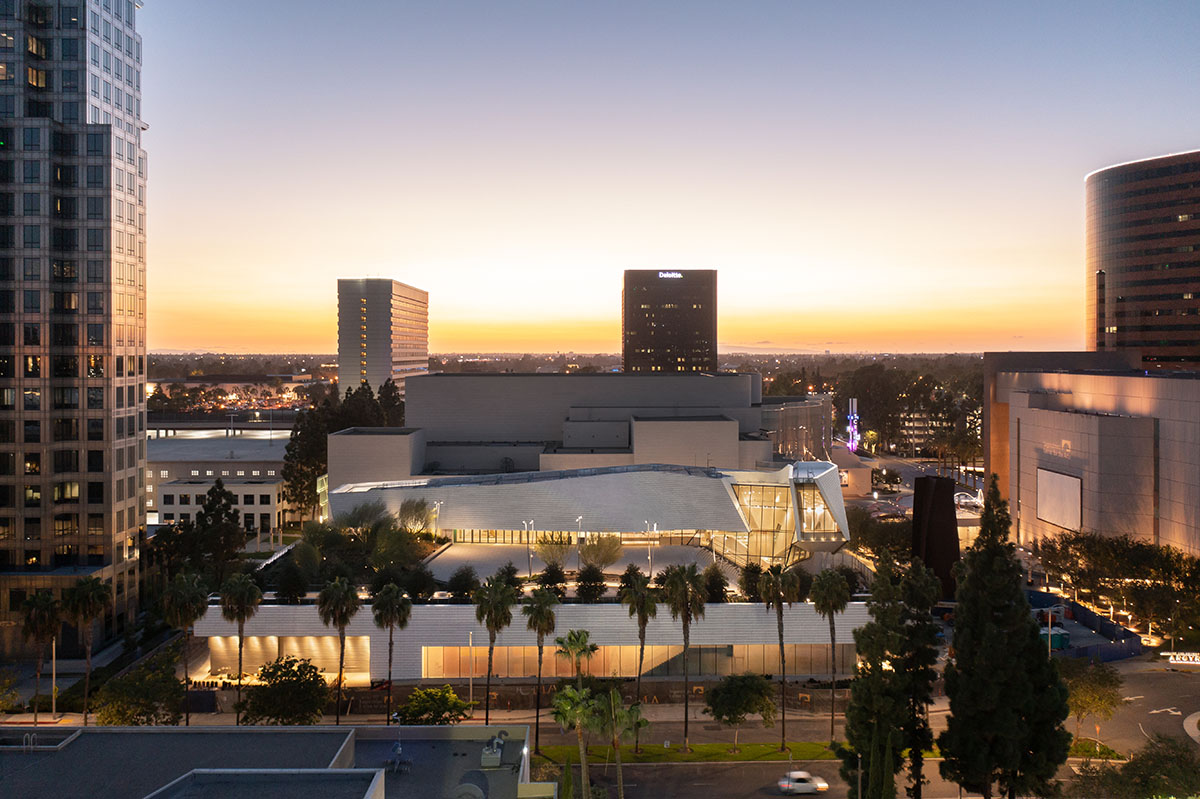 The two-storey building consists of nearly 25,000 square feet (2,322 square meters) reconfigurable gallery spaces, and 10,631 square feet (988 square meters) upper terrace.
Encompassing a total of 53,000-square-foot (4,924-square-metre) area, the museum comprises a main floor dedicated to open-span exhibition space, a mezzanine floor dedicated to The James B. and Rosalyn L. Pick Gallery, and The Upper Plaza, a spacious roof terrace equivalent in size to 70 percent of the building's footprint.
The main floor includes two main pavilions: The Muzzy Family Special Exhibitions Pavilion and The Anton and Jennifer Segerstrom Permanent Collection Pavilion, with each comprised of four flexible galleries – to accommodate artworks of a variety of scales and mediums.
A storefront gallery, housing The Avenue of the Arts Gallery in Memory of Yvonne de C Segerstrom, is located along Avenue of the Arts.
It provides passers-by a view into the exhibition space, and The Visionaries Gallery is another smaller and intimate space that connects to the mezzanine galleries via a skybridge.
The Upper Plaza, serving a spacious roof terrace, is designed to host exhibitions and events, as well as a grand stair, a day-lit performance and education hall, administrative offices, a gift shop, and a café.
Another link is created at the ground level via a stadium seating that connects the museum to Segerstrom Center for the Arts, and its Julia and George Argyros Plaza, offering an inviting public gathering space.
"A memorable and striking environment"
"The overall design of the building addresses the need for museum space to be both flexible and functional as well as inviting and memorable," said Morphosis.
"It choreographs a rich and diverse visitor experience, from approach and entry to procession through the galleries, and finally, an invitation to linger on the steps, in the café, or in the museum shop."
"By creating a gradient of architectural intensity, from complex forms at the museum's entry to rectilinear and flexible forms within the galleries, the building is a memorable and striking environment for formal and informal experiences with art," the office added.
The building has strong relationship between indoor and outdoor space so that it can encourage visitors to immerse themselves in the celebrated climate of Southern California, where light, air, and space have influenced generations of artists.
In the building's outer skin, Morphosis has created a high-performance façade with undulating bands made of white terracotta tiles.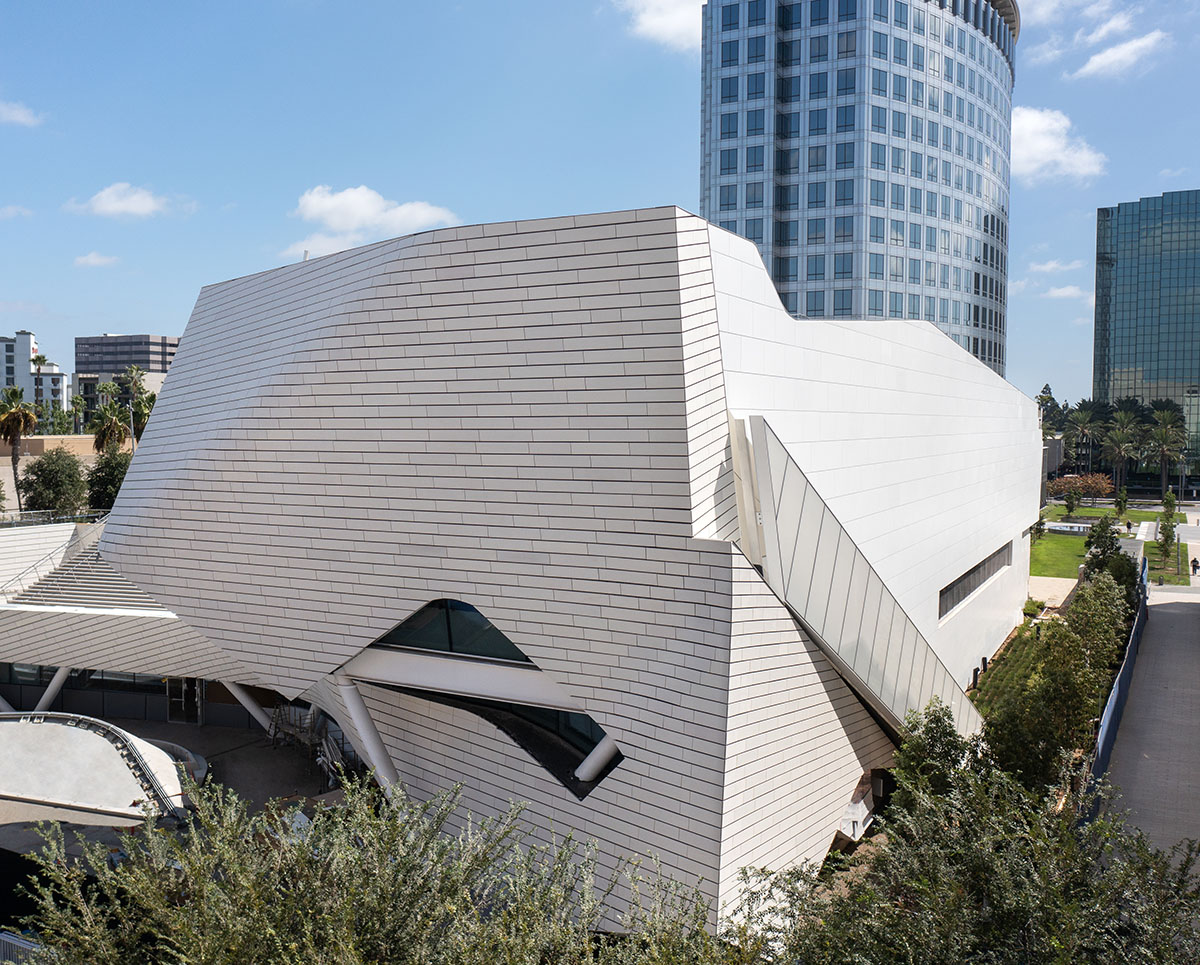 Thanks to the nature of these panels, the building offers a sweeping form that wraps from exterior to interior and references the forms and palette of neighboring works of architecture.
Another key feature of the building is its outdoor public stair that serves as an inviting gathering space for pedestrians and visitors at the museum's entrance.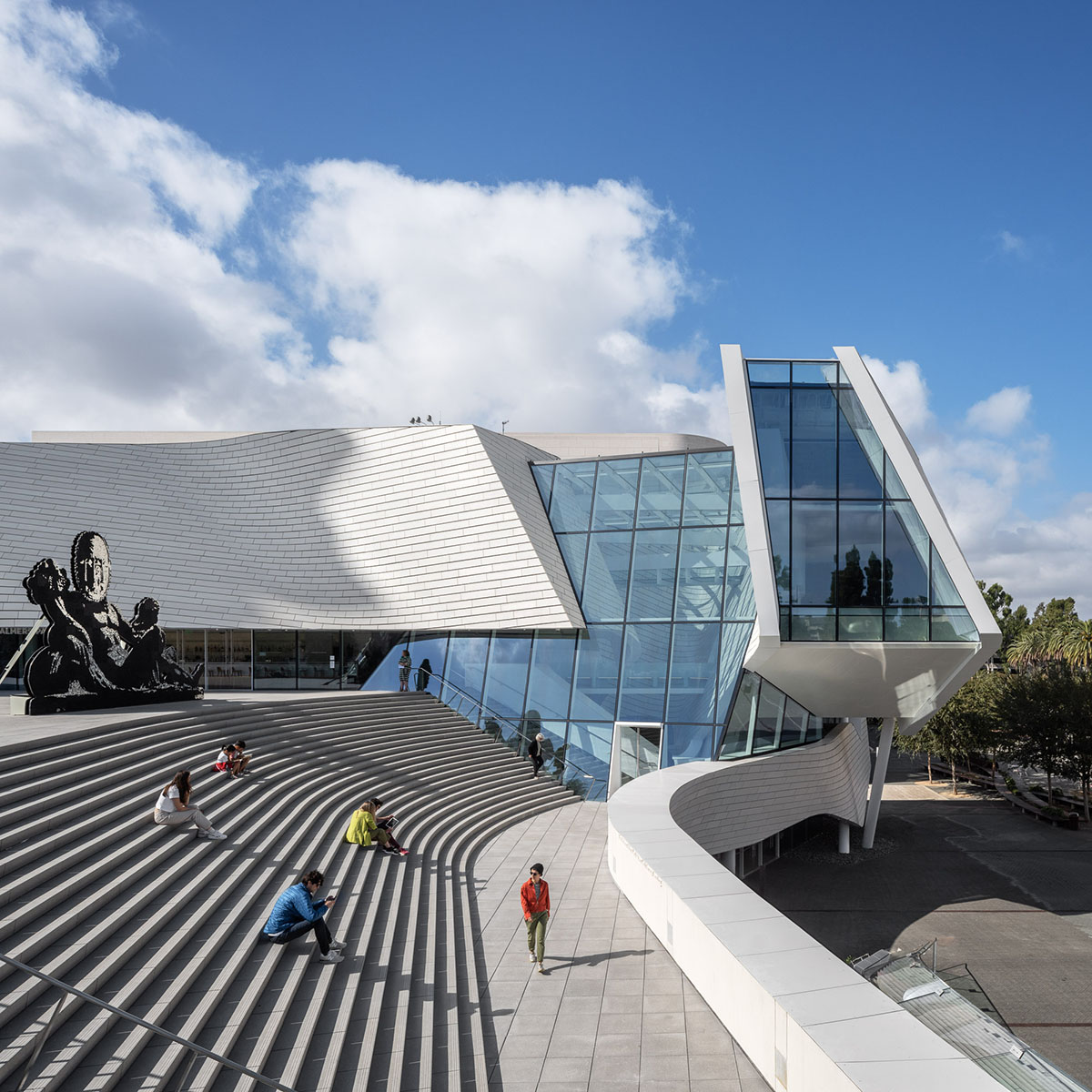 According to the studio, this outdoor public stair creates a dialogue with Connector, the monumental sculpture by Richard Serra at the heart of Segerstrom Center for the Arts.
The Education Pavilion, a dynamic architectural space for education activities and performance that hovers over the soaring, light-filled lobby atrium, is illuminated by a full-height window from which The Croul Family Education Seating overlooks the terrace.
On the museum's terrace level, visitors meet the Verdant Café and the Chalmers Pavilion event space, providing visitors with a chic dining experience in a bright and creative setting. The Sweet James Bergener Bar also complements the Fueling Station coffee bar located on the museum's first floor.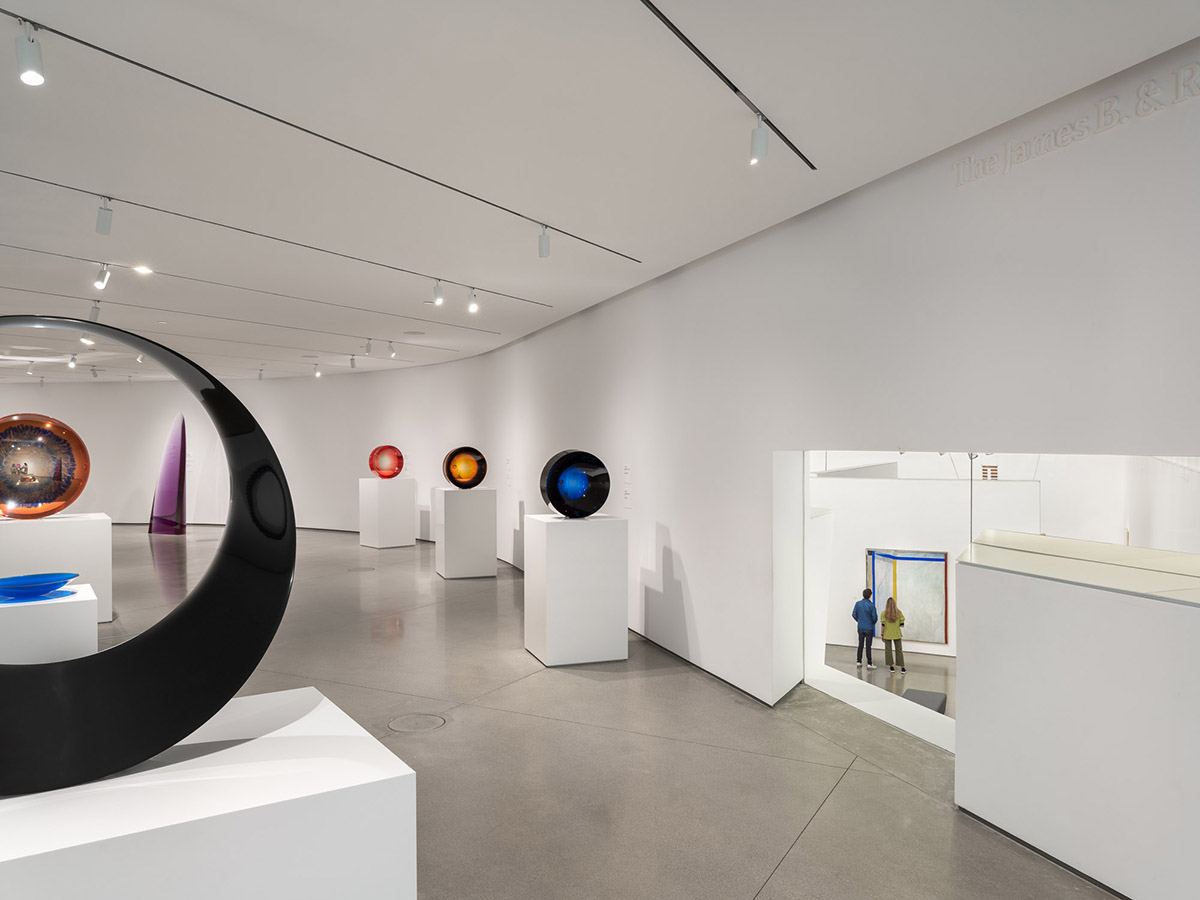 The museum's store, called The MIND, is located within the lobby in a retail space named for OCMA donors Bill Witte and Keiko Sakamoto. Administrative spaces are located on the mezzanine level.
While the primary structure is built from structural steel and concrete, white terracotta tiles, glazed curtain wall, exposed concrete, metal panels, pre-cast concrete, and landscaped roof terrace are the main materials and elements that make up the building's high-performance façade.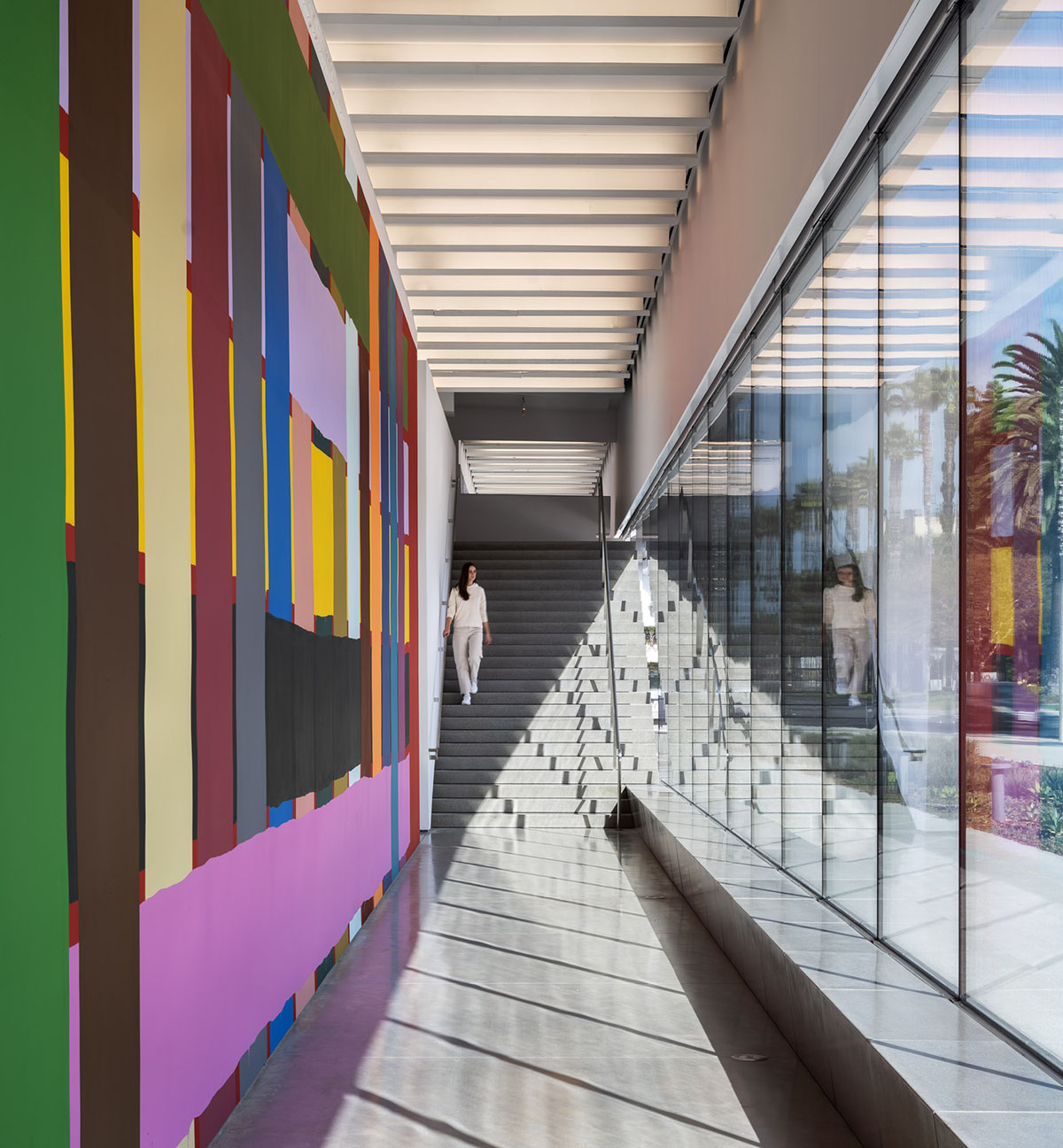 OCMA is known as an innovative art museum with a history of actively discovering and engaging with living artists at pivotal points in their careers. The museum's collection comprises more than 4,500 objects, with a concentration on art produced during the 20th and 21st centuries.
In its new permanent home located on the campus of Segerstrom Center for the Arts in Costa Mesa, California, OCMA will continue to champion the transformative possibilities of art.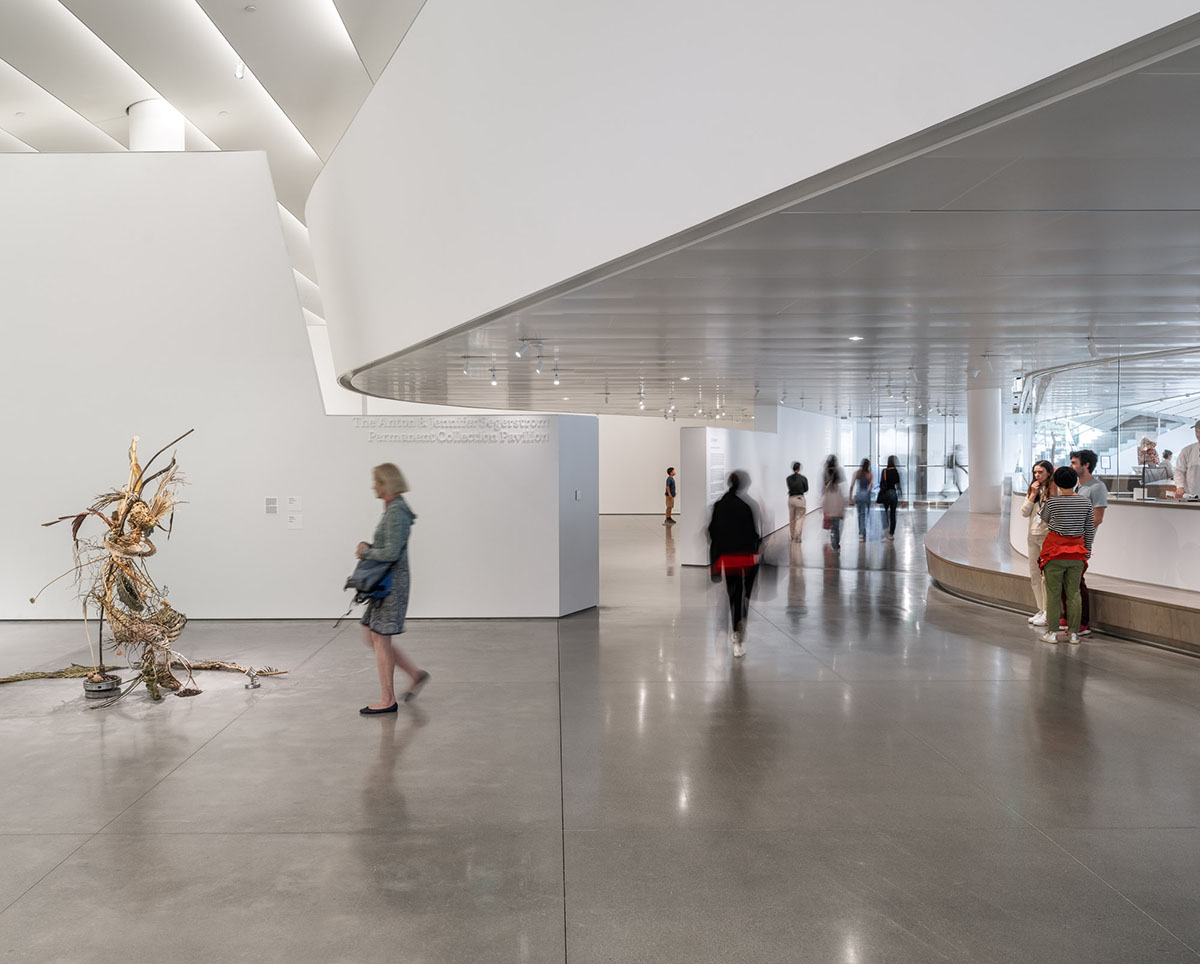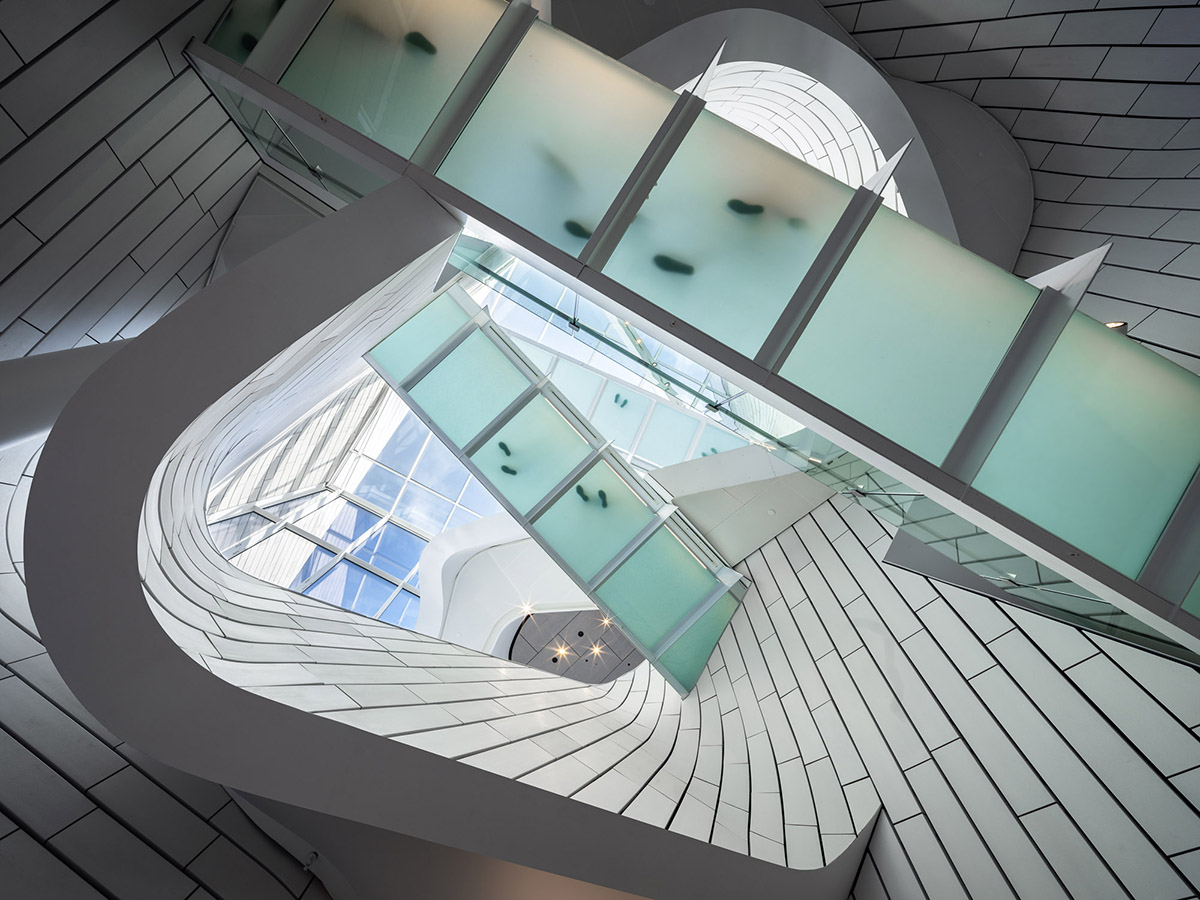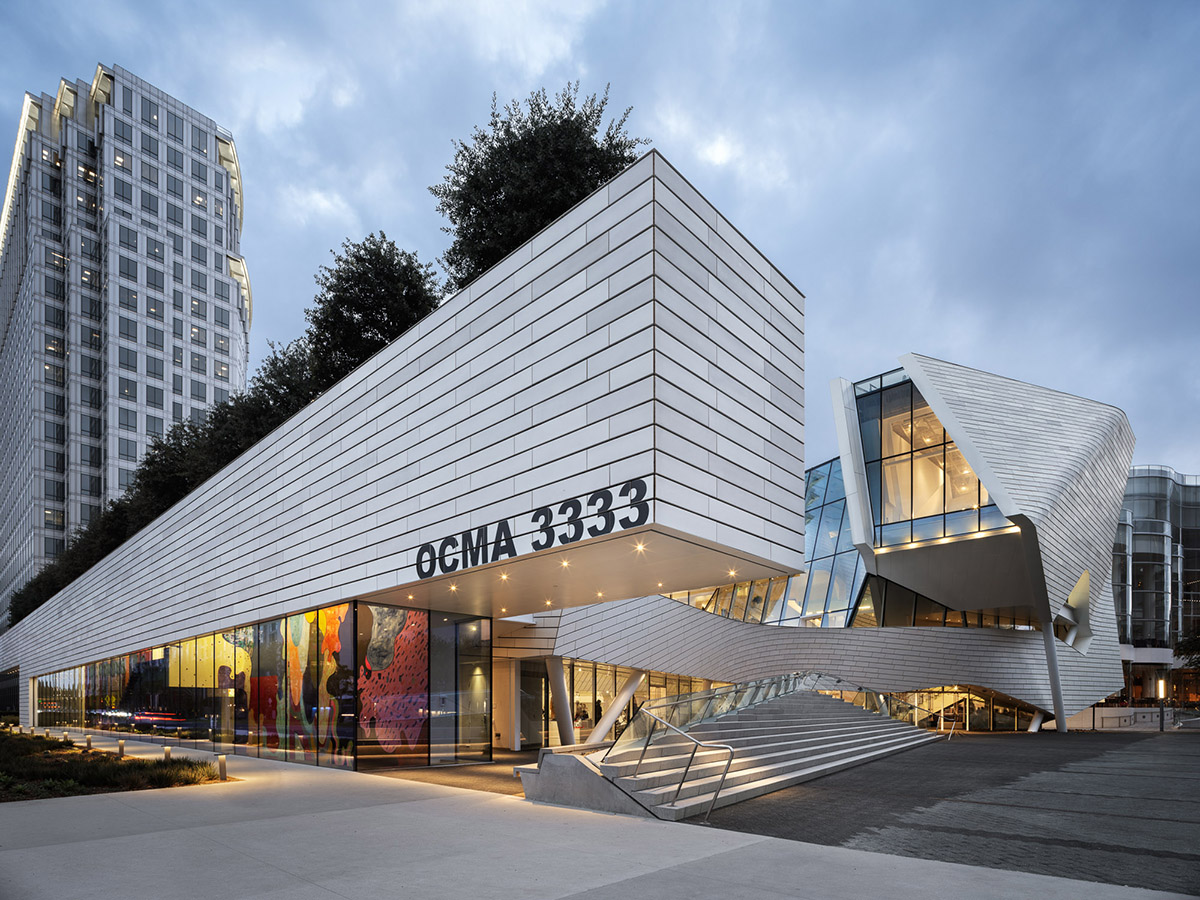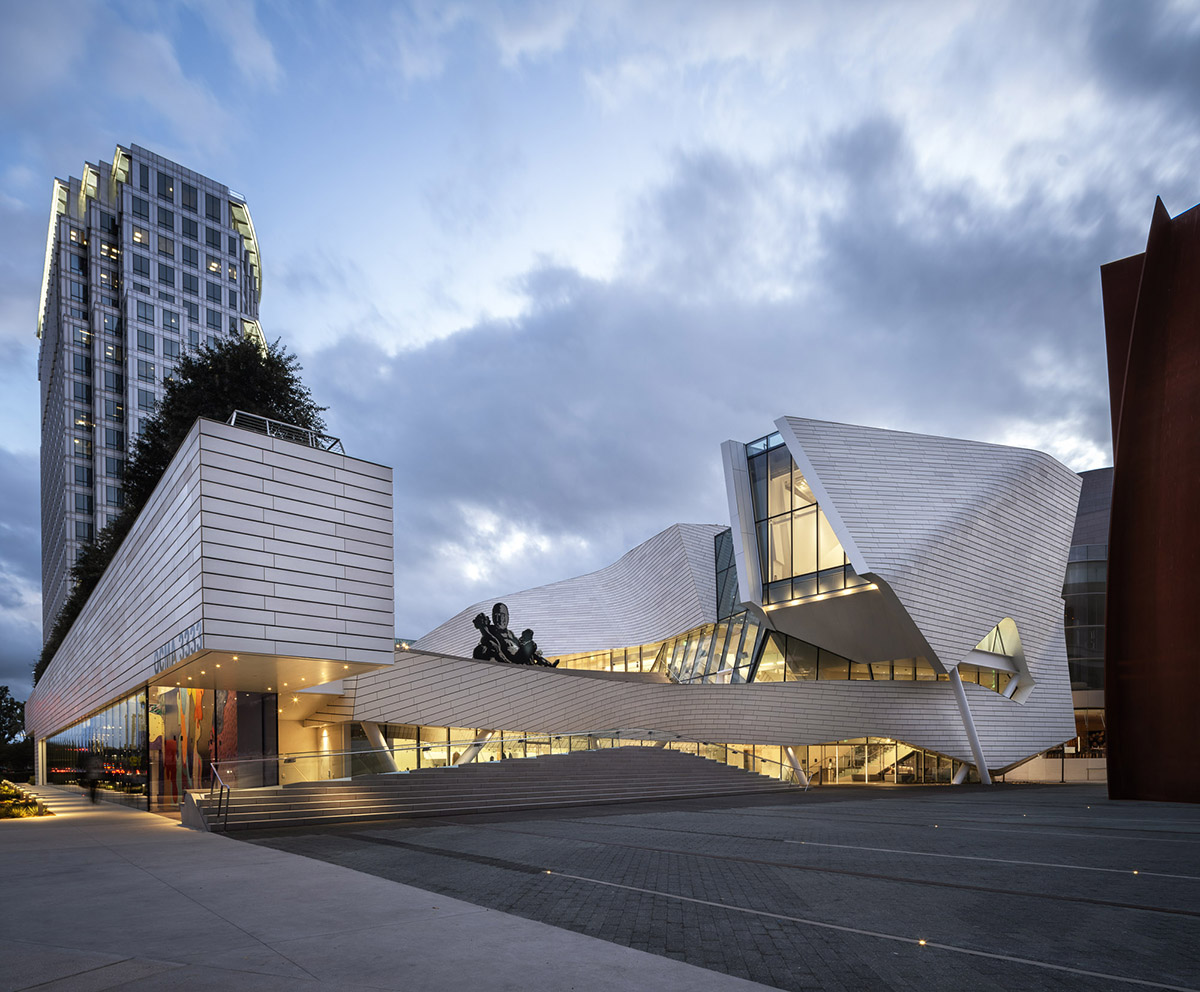 Site plan
Plan level 1
Plan mezzanine level
Plan level 2
Section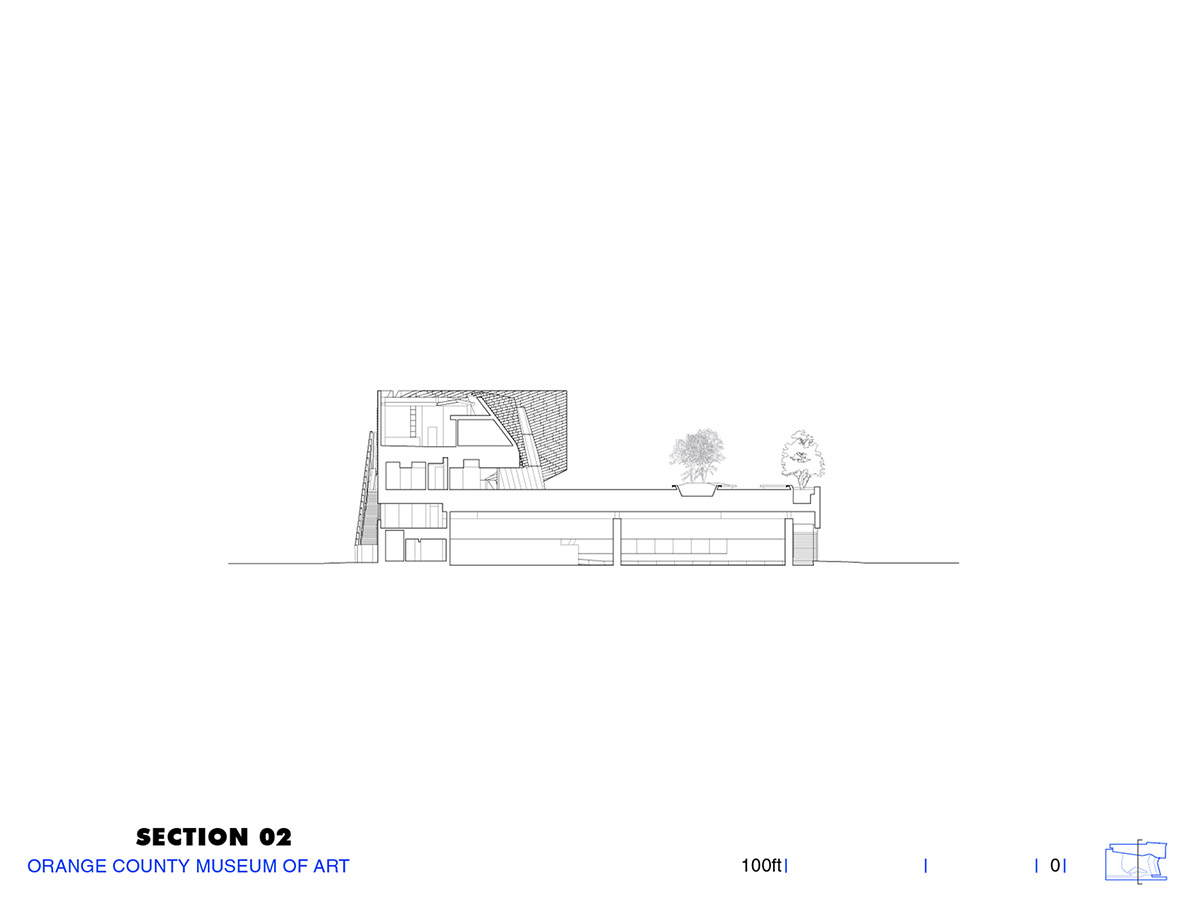 Section
East elevation
West elevation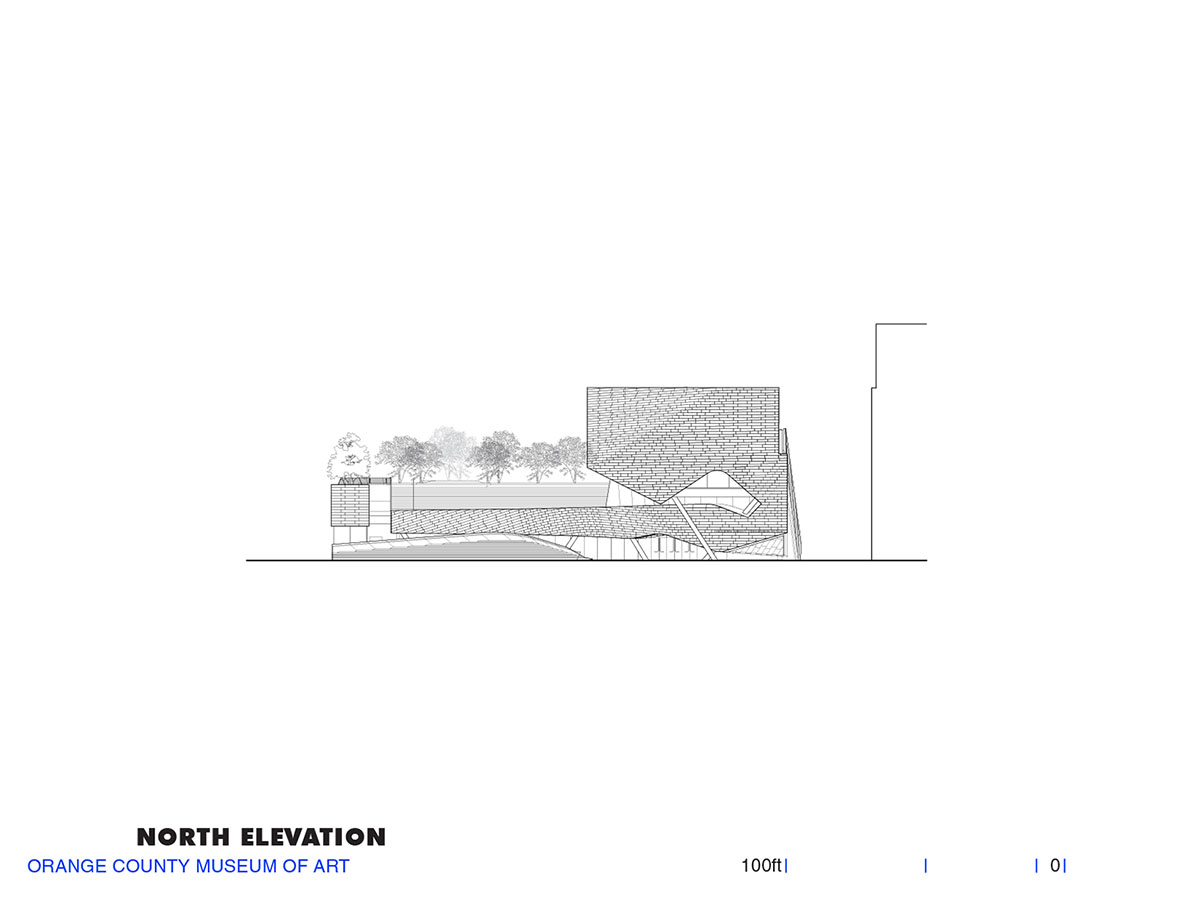 North elevation
South elevation
Based in Los Angeles, Morphosis is a global architecture and design firm, creating compelling work that is intelligent, pragmatic, and powerful.
Morphosis produces projects at the intersection of architecture, urbanism, and design, including civic, academic, cultural, commercial, retail, residential, and mixed-use; urban master plans; and original publications, objects, and art.
The studio is currently designing the University Of Texas, a new arts campus broke ground at Dallas. The studio completed Yangtze River International Conference Center in China.
Project facts
Project name: Orange County Museum of Art (OCMA)
Architects: Morphosis
Location: Costa Mesa, California, United States
Morphosis Team
Design Director: Thom Mayne
Partner-in-Charge: Brandon Welling
Project Architects: Aaron Ragan, Crystal Wang
Project Designers: Tom Day, Daniel Pruske
Project Team: Ilaria Campi, Austin Griffis, Salvador Hidalgo, Zach Pauls, Stan Su, Natalia Traverso Caruana, Abagael Warnars
Advanced Technology: Cory Brugger, Joseph D'Oria, Kerenza Harris, Atsushi Sugiuchi
Project Assistants: Lily Bakhshi Sheppard, Lauren Buntemeyer, Stanley Cho, Jerome Deck, Rachael Dippel, Val Fan, Colleen Fellows, Fredy Gomez, Mauricio Gomez, Marie Goodstein, Alessio Grancini, Maria Herrero, Ibrahim Ibrahim, Darlene Ifeorah, Ilko Iliev, Eric Meyer, Nicole Meyer, Elizabeth Miller, Samuel Naylor, Carolyn Ng, Rory Noble-Turner, Liana Nourafshan, Danny Ortega, Max Ostrow, Madelyn Rosen, Colton Stevenson, Patrick Witthaus
Visualization: Jasmine Park
Team
General Contractor: Clark Construction Group
Structural Engineer: John A. Martin & Associates MEP
Engineer & Sustainability: Buro Happold
Civil Engineer: KPFF
Landscape Architecture: OJB Landscape Architecture
Lighting Designer: Horton Lees Brogden Lighting Design & TM Light
Fire Life Safety Engineers: Simpons Gumpertz & Heger
Cost Estimator: Dharam Consulting
Signage / Graphics: Follis Design & Weidner CA
Acoustics Engineer: Newson Brown Acoustics
Audiovisual / IT: Waveguide
Security: Exante 360
Façade: Walter P Moore
Specifications: Construction Specifications Inc.
Commissioning: Integrated Commissioning Solutions
Projection: VT Pro
Geotechnical Engineer: Leighton Consulting
All images © Mike Kelley.
All drawings © Morphosis.
> via Morphosis