Zaha Hadid Architects reveals its "cyber-urban" metaverse city
Zaha Hadid Architects has revealed its proposal for a "cyber-urban" city in the metaverse world, offering a high-degree of freedom, movement and interactions for residents who want to set up a business in this virtual world.
The proposal, called Liberland Metaverse, is derived from a disputed land known as the Free Republic of Liberland - a micronation claimed by the Czech right-libertarian politician and activist Vít Jedlička that covers an uninhabited parcel of disputed land on the western bank of the Danube, between Croatia and Serbia.
Video courtesy of ZHA
Residents can buy a plot of lands in Liberland Metaverse through cryptocurrency and access digital building as avatars. Liberland Metaverse is powered by Mytaverse, a 3D immersive platform to bring the Liberland virtual city into life.
Render © ZHA
According to Liberland Metaverse website, the project is work in progress and developed by Zaha Hadid Architects, Mytaverse and ArchAgenda a.o.
A virtual cyber-urban city, where all building are designed by Zaha Hadid Architects, is envisioned to be a "networking and collaboration" hub for metaverse developers, crypto companies, crypto events or projects, aiming to accommodate over 600,000 citizens.
Render © Mytaverse
The virtual campus, strongly referencing to the architectural language of Zaha Hadid Architects, consists of fluid and organic-formed individual buildings.
The campus consisting of a Liberland City Hall, a plaza - called DeFi Plaza, an incubator building - called DeFi Incubator, NFT Plaza, and Exhibition Building.
Render © Mytaverse
"While the Liberland Metaverse is meant to spearhead the development of Liberland as a libertarian micro-nation it will also function as free standing virtual reality realm in its own right with the ambition to become the go-to-site for networking and collaboration within the burgeoning Web 3.0 industry, i.e. the metaverse for metaverse developers and the crypto ecosystem at large," said ZHA principal Patrik Schumacher.
"The two communities - the community of libertarians who understand that the technology powered prosperity potentials of our times require a revolution in the degree of entrepreneurial freedom and the community of blockchain empowered Web 3.0 developers who realise that their amazing innovative flourishing depends on a permissionless realm of interchange – are congenial and overlap to a significant degree," he added.
DeFi Plaza. Render © Mytaverse
Since the scheme is designed by using parametricism - a type of architectural style based on computer software technology and algorithms, it will remove all prescribed urban planning rules and zoning regulations, as typically set in the physical world, and will allow the "idea of a differentiated, evolving, multi-author urban field".
According to Schumacher, in the Liberland Metaverse, "the parcels of land will be sold with covenants in accordance with a nested system of different planning regimes."
They will be "a central curated urban core, surrounded by a layer of districts where the studio encourages urban self-governance," and the second one are "zones where the absence of urban planning allows for a spontaneous order via a free-wheeling discovery process."
City Hall. Render © ZHA
The architect believes that "the development of the metaverse will boost parametricism," and he underlines that "this will also feed back into physical architecture because most organisations and clients will have both real and virtual venues."
The architect, who never believed that physical spaces would actually disappear in the physical world, explains the advantages of virtual environments: "The key advantages of virtual environments are their global accessibility and their adaptive, parametric malleability," Schumacher added.
"We foresee the interweaving of virtual and physical spaces. This is also anticipated in our conception of the Liberland metaverse."
Plaza. Render © ZHA
"Its land is a one-to-one digital twin of the physical land mass of Liberland (beautifully situated at the Danube river between Serbia and Croatia). Our conception of the metaverse is based on realistic design and photo-realistic rendering," Schumacher added.
"We believe this, at least in the initial stages of metaverse development, allows for the fullest exploitation of the city analogy, utilising our innate and learned intuitive cognitive capacities with respect to orientation, wayfinding and the reading of subtle aesthetic social atmospheres and situations."
"This realism in our cyber-urban conception also allows for the later physical realisation of the designed metaverse spaces in the physical Liberland, to any desired extent," he continued.
City Hall. Render © ZHA
The Free Republic of Liberland is an unrecognized micronation - an uninhabited land was proclaimed on 13 April 2015 by Vít Jedlička as a country. However, it has now its own flag, coat of arms and a cryptocurrency - called Liberland merit.
Schumacher emphasizes that "the metaverse is the future of the internet and it is architects rather than graphic designers who will design its sites and spaces."
"The key analogy is no longer the magazine with separate pages but the city and its seamless web of spaces."
According to him, "co-location synergies will unfold and order the distribution of sites and enable an intuitive browsing navigation full of discoveries and serendipitous encounters, as well as vivid crowd interactions."
Exhibition space. Render © ZHA
"Virtual environments are as real as physical environments"
He argues that "as long as we have physical bodies we'll need physical environments."
"Virtual environments are as real as physical environments and social reality exists and continues seamlessly across this divide. (For us the metaverse has nothing to do with escape into a video game fiction.) Virtual and physical environments are ideally designed together."
"Two powerful innovations are coming together in the metaverse we envision: the immersive internet allowing for a new level of life-like spontaneity in social interactions and the internet of value allowing for truly global economic collaboration without gatekeepers, no matter which passport participants hold," he added.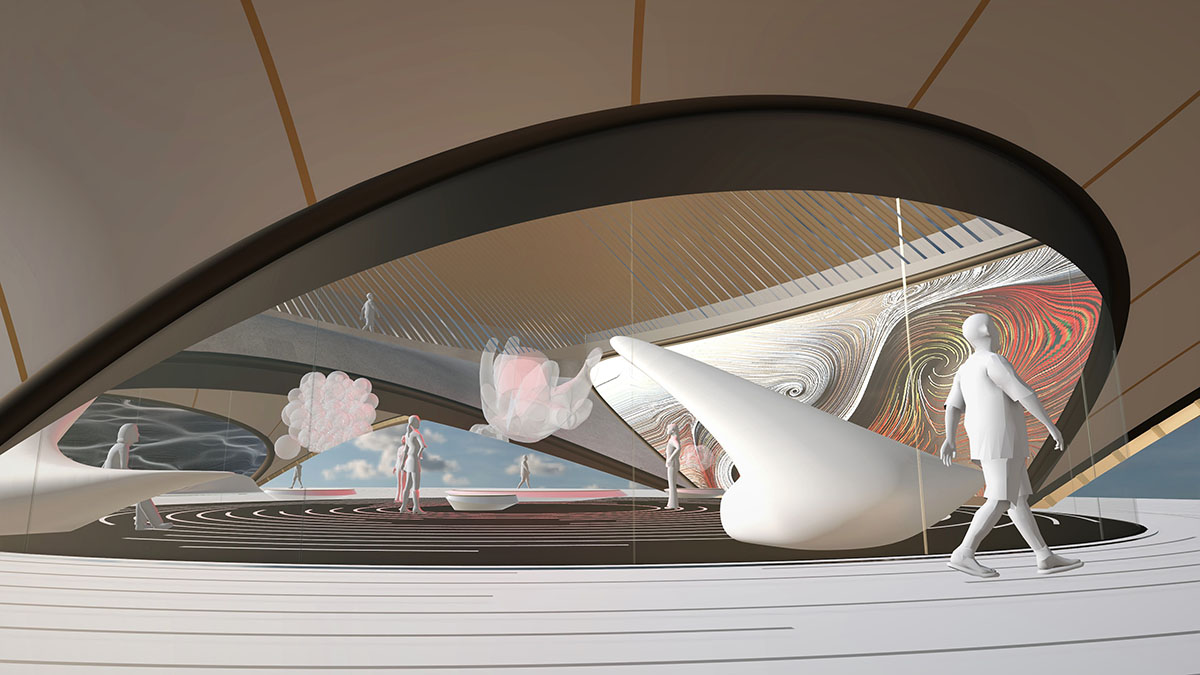 Exhibition space. Render © ZHA
"We conceive of the metaverse as an open platform, based on freely circulating open source insights and technologies, building on and participating in the culture of permissionless innovation that has fuelled the crypto ecosystem in recent years."
"As Vitalik Buterin has insightfully argued, the most crucial currency for crypto platform projects is legitimacy within the wider ecosystem and community of participants," the architect continued.
Exhibition space. Render © ZHA
"That is why we believe that the open, decentralised, community owned versions of the metaverse - organised as transparent DAOs - will win out over centralised corporate ventures. This fits into an emerging world where the end to stagnation and a boost to prosperity for all requires that centralised power blocks give way to global markets and discourses."
"The metaverse will in turn accelerate this larger transformation," Schumacher added.
Incubator space. Render © ZHA
Architects and designers heavily started to design projects in the metaverse, similarly, BIG designs a virtual office building in the metaverse for Vice Media Group.
Dubai-based interior design studio Roar has also purchased two plots of digital land for a new showroom in Decentraland earlier this year.
Meanwhile, Grimshaw was commissioned to design first "Metaserai'" in Metaverse for Pax.world.
Patrik Schumacher previously spoke to WAC on WAC's Instagram channel as part of WAC Live Interview Series. Watch WAC's talk with Patrik Schumacher here.
Project facts
Client: Liberland
Client representative: Vit Jedlicka, Liberland President
Design: Zaha Hadid Architects (ZHA)
ZHA Principal: Patrik Schumacher
ZHA Project Team: Jianfei Chu, Edward Meyers, Taizhong Chen, Cesar Fragachan, Taeyoon Kim, Heba Eiz, Ivan Hewitt, Binru Wang, Vishu Bhooshan, Henry David Louth, Shajay Bhooshan
ZHA Documentation & Multimedia: Edward Meyers, Jianfei Chu, Taeyoon Kim, Vishu Bhooshan, Henry David Louth, Shajay Bhooshan
Metaverse Application & Web Service Development: Mytaverse
Mytaverse CEO: Kenneth Landau
Mytaverse Chief Technology Officer: Jaime Lopez
Mytaverse Project Manager: Abraham Kim
Mytaverse Director of Environments and Level Design: Felipe Soares
Mytaverse Level Designers: Bannaker Braulio Dacosta, Gustavo Henrique
Mytaverse Unreal Engine Developers: Herik Rezende, Tiago Do Santos, Marcos Misurini
Mytaverse Documentation & Multimedia: Micah Bond, Nick Lacroix
Strategy and Project Management: Daniela Ghertovici, Director, ArchAgenda LLC
Top image © Mytaverse.
> via ZHA
metaverse parametricism Patrik Schumacher technology Zaha Hadid Architects