Highlights show how "the city of Tokyo was turned into a museum" during Designart Tokyo 2022
A series of highlights show how "the city of Tokyo was turned into a museum" during Designart Tokyo 2022, one of Japan's largest design and art festivals in Tokyo, Japan.
Designart Tokyo, hosting a wide variety of exhibitions across various genres - from design, art, interior design to fashion, took place from October 21 to October 30, 2022 across multiple venues in Tokyo.
Once more, this year the event has been filled with several encounters and excitement, which has recorded over 200,000 visitors for ten days.
Nearly 300 creators, companies and brands, including artists, designers, architects, showcased their works under the theme of "Together" with 92 exhibitions in 65 locations, alongside multiple discussions.
Sustainable & Technology, New Platform with Asian Design, Regeneration and circulation, interior goods to cutting-edge art, fashion and art, Experience of Technology and Art were among the sub-topics of the event.
"The unique exhibitions from both Japan and abroad provided lots of inspiration, encounters, and emotions," said the organizing committee of Designart Tokyo.
World Architecture Community is media partner of the 2022 Designart Tokyo and is highlighting the key works from the exhibition, showing that how the city of Tokyo was turned into a museum.
---
Next Circulation - Sustainable & Technology (Main Exhibition)
Venue: WORLD Kita-Aoyama Building. Image © the design labo
The sustainability and technology-themed main exhibition, Next Circulation, contemplated "beyond" recycling and upcycling. In accordance with the theme, Satoshi Itasaka took charge of the venue's spatial design and materialized an impressive space evoking the shades of large trees, which used to be abundant in the once-forested Kita-Aoyama.
PANECO's upcycled fiberboard, made from waste clothing, was used for fixtures including the display stands. They were colored with bio-based paint that reduces the carbon footprint, resulting in a colorful space. In addition to Materials & Design excellence, the need for relations and education was put forward.
Taiwan Design Research Institute - the SP!RAL. Image © Daisaku OOZU
The special exhibition the SP!RAL, presented by the Taiwan Design Research Institute (TDRI), showcased seven circular design brands, including CRYSTN, crystal cluster-shaped objects made from recycled glass using mouth blown molds, and Duolog Design, ultra-lightweight eyewear made from discarded fishing nets.
TREE STONE/OKURAYAMA STUDIO × KAARON STUDIO. Image © Nacasa & Partners
Tree Stone is a collaborative work of art by France-based Kaaron Studio and Okurayama Studio, a quarry and processor of rare Daté Kan Stone that is internationally known for its one- of-a-kind appearance. The peerless design exploiting the traditional "kumiki" woodworking technique, combined with the color and expression of the stone's cross sections, resulted in dynamism and prominence.
The exhibition presented international works, taking into account sustainability and circulation of materials, as well as traditional craftsmanship and design that cherishes nature.
---
Works by Featured Asian Creators
quantum × Stratasys Japan. Image © Nacasa & Partners
A number of up-and-coming creators who were selected for the UNDER 30 gathered at Hz SHIBUYA, including messagingleaving (Chialing Chang) and Karyn Lim. messagingleaving presented lighting and mirror collections that uncovered diverse expressions of brass and stainless steel, accompanied by Japanese poet Hikari Osanai's poems. Reality and reflection between the seen and unseen, as well as the transient perception between light and sight were explored.
Karyn Lim presented the "Transformation Bags" series, which transforms from a flat object to a sculptural volume made of various patterns of geometric shapes. The exhibition also featured collaborative works with Indonesian designer Fani Atmanti, as well as a special edition using Fine Flute colored corrugated cardboard by TAKEO Co. Ltd.
In the mitate project by quantum x Stratasys Japan, images of unique bowls were generated with an AI likening everything to a bowl. 3D data was then created from the images, and 24 bowls were 3D printed in full color for the exhibition. The project welcomed visitors to touch the bowls and attracted much interest, with graphic materials showing the process of generating bowls from the images input into the AI.
Nina Nomura. Image courtesy of the artist
At Hibiya OKUROJI with its impressive century-old brick arches, UNDER 30 artist Nina Nomura exhibited "Life Through Holes". The elaborate and delicate works with their surfaces covered with tiny holes invite viewers into a mysterious world.
---
Sustainability and SDGs have Become Universally Shared Themes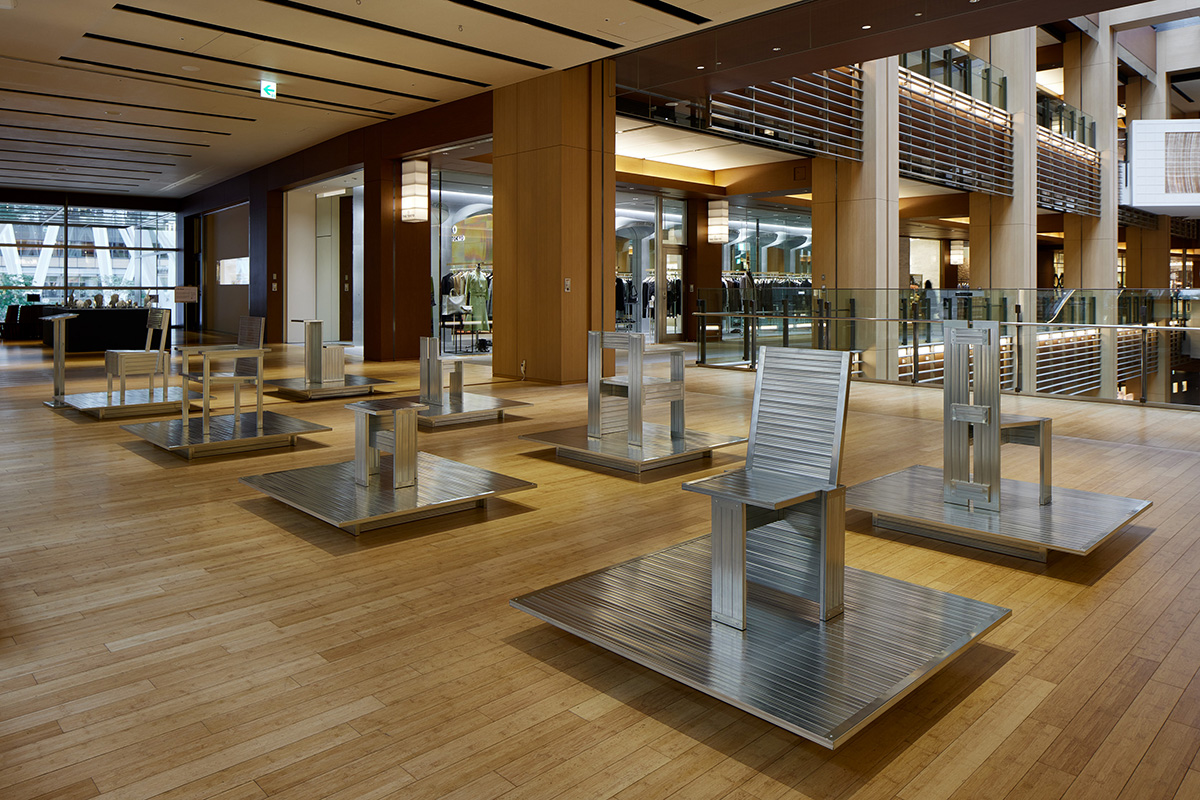 Daisuke Yamamoto. Image © Nacasa & Partners
Tokyo Midtown
Exhibition of works of two creator groups featuring "Design for Sustainable Future"
At Tokyo Midtown, Interior designer Daisuke Yamamoto presented FLOW, a fluid material cycle, focusing on LGS (Lightweight Gauge Steel), one of the most commonly disposed materials. This was an attempt, on the premise of destruction after building a structure, to repurpose the material after demolition for making furniture—an initiative to establish a zero-waste, fluid material cycle.
A total of eight exhibited products attracted great attention not only for their performance but also for their outstanding designs.
Studio POETIC CURIOSITY. Photo by Mina Asaba
ITOCHU SDGs STUDIO "Regeneration and circulation"
Works by three creators that were born from the concept of regeneration and circulation were exhibited at ITOCHU SDGs STUDIO, located in Gaienmae in the vicinity of the main venue.
Ao. Image © Nacasa & Partners
Featured works included: QUON by Konel, geta made from used clothes that processed into hard panel board; Ao.Re: by Ao., an indigo-dyed furniture upcycled from discarded wooden furniture and solid wood lumber; and Fabric Record by Studio POETIC CURIOSITY, a phonograph record made from used and discarded textiles for enjoying diverse sounds. The use of sustainable materials brought about even more beauty along with fun experiences.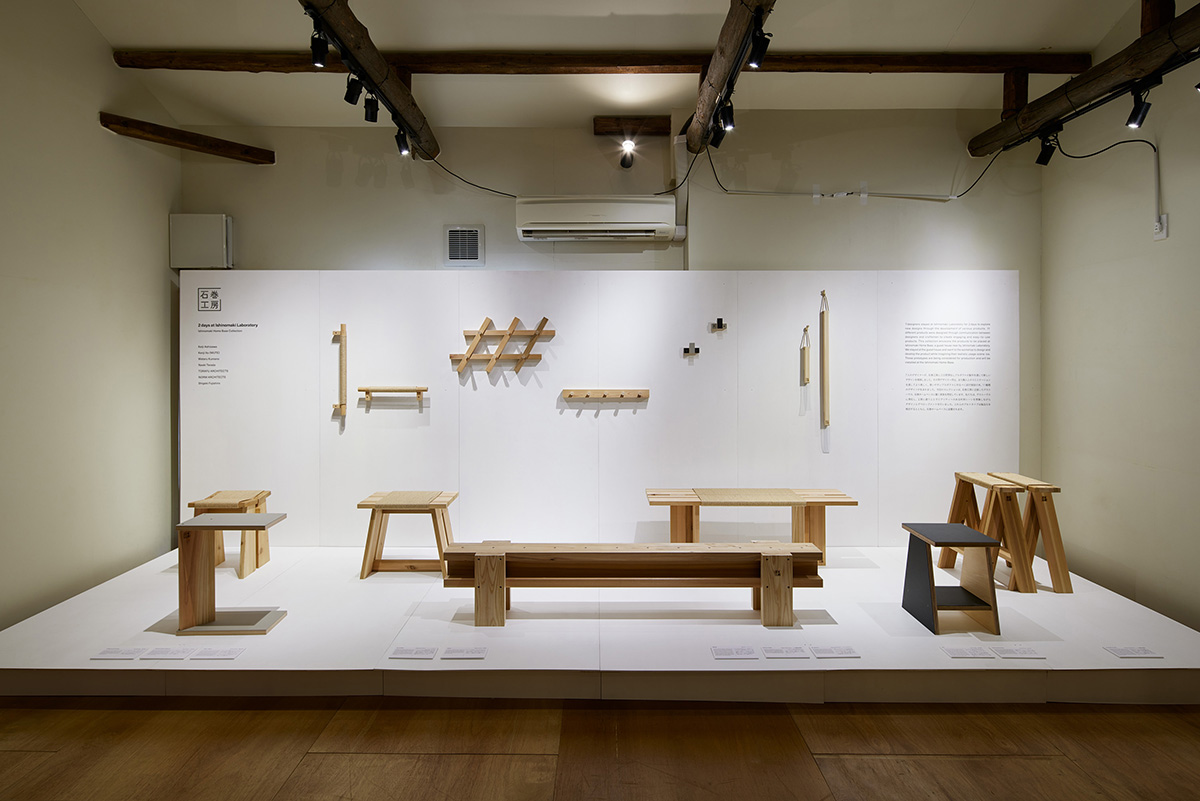 Ishinomaki Laboratory. Image © Nacasa & Partners
Sustainability and SDGs have Become Universally Shared Themes
At the KAISU venue in Akasaka, 2 days at Ishinomaki Laboratory was exhibited by Ishinomaki Laboratory (founded by architect Keiji Ashizawa), featuring 11 furniture pieces by seven designers including Ashizawa.
The furniture was designed during a 2-day workshop in Ishinomaki Laboratory for Ishinomaki Home Base, a nearby guesthouse. Using the skills and spirit of DIY, the works achieved beautiful appearances and demonstrated the expanding potential of DIY.
Mai Suzuki. Image © Hinako Yoshida / Mai Suzuki
Other exhibitions included three portable tables (CHOCHIN STOOL / Array Polar / flex) by three designers (Shinnosuke Harada / Junichi Ishigaki / Ryo Suzuki), created under the theme of "ibasho," or creating a comfortable place in a house to spend time.
Mai Suzuki, who organizes the namaiki project, presented works using the traditional kumiko craft, featuring kohana spherical- and semispherical-shaped works and three dimensional konomai dresses that transcend the framework of kumiko as conventional 2D fixtures. Her impressive works integrate even the shadows into the designs. Including the venue in a renovated 60-year-old building, the exhibit showcased an attempt to attentively inherit and update traditional Japanese techniques and lifestyles.
---
Inspirational Installation with a Beautiful Worldview
Perrier-Jouët & Garance Vallée. Image courtesy of the artist
Perrier-Jouët & Garance Vallée
"Planted Air," a collaboration artwork, was exhibited in Japan ahead of the world
At ISETAN SALONE in Tokyo Midtown, Perrier-Jouët, the French prestige Champagne maison, released the world premiere in Japan of the collaborative artwork Planted Air, created for Perrier-Jouët with French artist, architect, and designer Garance Vallée. This work expresses the dialogue between the two pillars that support the Maison Perrier-Jouët: art and nature. Reinterpreting the ecology of the Perrier-Jouët vineyard, the work's extensive use of curves and arabesques represents Art Nouveau from a contemporary perspective. A limited-quantity collaboration giftbox of Perrier- Jouët Blanc de Blancs by Garance Vallée and rare ice bucket stands designed by Vallée were also exhibited and for sale at this glamorous venue.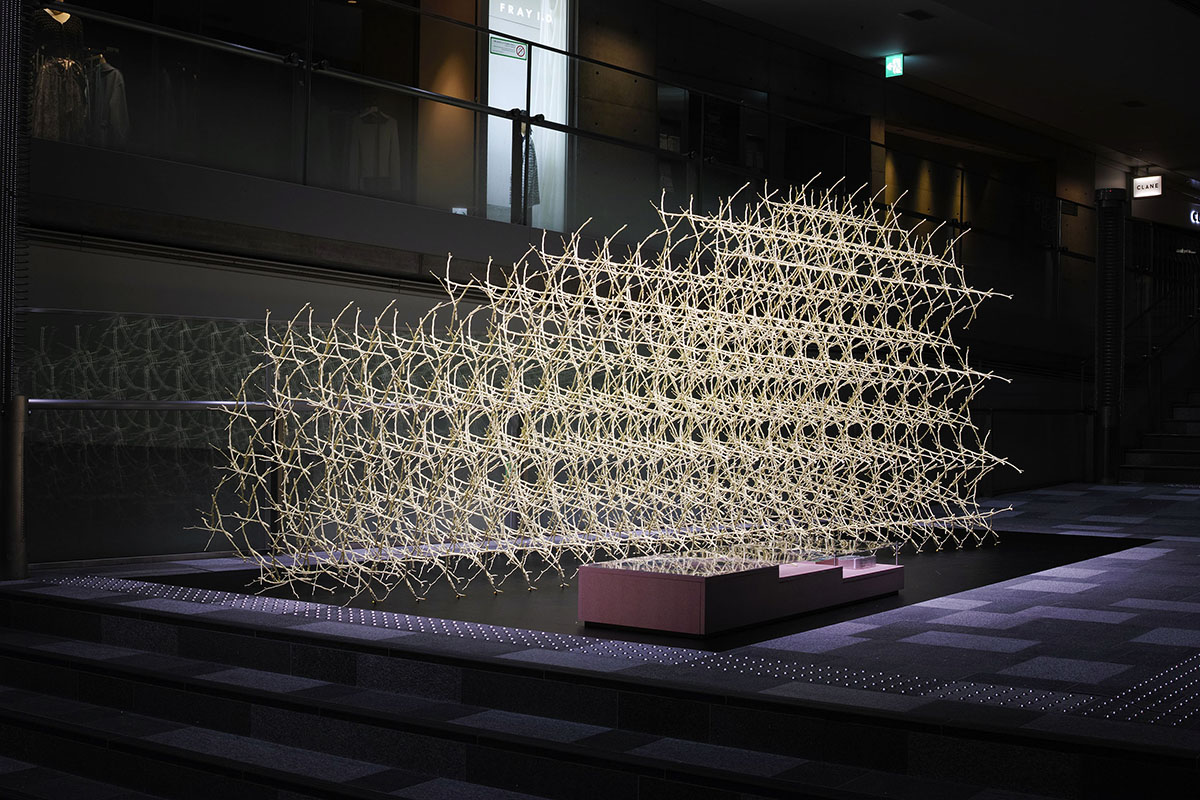 Image © Yu Matsuda
OMOTESANDO REPLICA by UO
OMOTESANDO REPLICA, a large-scale work by Yu Matsuda and Yuichiro Tani's design studio UO, was exhibited in the grand stairwell of the Omotesando Hills main building. The creators collected branches from roadside plantings in front of Omotesando Hills (35°39'59.6"N, 139°42'35.6"E) at 10:48 AM on August 10, 2022, and replicated them. By connecting the 2,000 replicated branches, this work of art highlighted the uniqueness of a single point in an infinite space and a single point in an ever-changing time. In the airy grand stairwell, this fantastic and impressive work grabbed the attention of many passersby.
---
Design- and Art-infused Living
FLEXFORM TOKYO. Image © Nacasa & Partners
FLEXFORM TOKYO "Pursuit of the beauty in ephemerality"
FLEXFORM TOKYO showroom presents the FLEXFORM NEW COLLECTION, which has evolved further via a tireless pursuit of beauty in the ordinary and a refinement of its elegant aesthetics, unaffected by trends. It also holds a collaborative exhibition, Pursuit of the Beauty in Ephemerality, featuring works of three young artists, Mafune Gonjo, Mine Tanigawa, and Hiroki Uemura, curated by Yukari Suzuki of Lights Gallery.
Lladró's porcelain art. Image courtesy of the artist
Poltrona Frau Tokyo Aoyama meets LLADRÓ
Lladró, Spain's leading porcelain art brand, unveiled its latest collaboration "Embraced" with Jaime Hayon from Madrid for the first time in Japan at Poltrona Frau Tokyo Aoyama, a luxury furniture brand.
This rare collaborative exhibit offered opportunities to enjoy the beautiful combination of Poltrona Frau's interior and Lladró's porcelain art.
---
Design-and Art-infused Living / Artistic lighting works
Image © Yume Takakura
The DISSECT exhibition organized by Ambientec and directed by Nao Tamura. TURN+ lamps designed by Nao Tamura that adorned the Gala dinner of the Salone del Mobile. Milano 2022 were presented in the space styled by plant artist Satoshi Kawamoto, who took charge of table-top decorations for the dinner.
Their first collaborative exhibit was held using three levels of LIGHT BOX STUDIO AOYAMA, including the rooftop, presenting TURN CRAFT(a special edition of TURN, unveiled at DISSECT only for Japan at the moment), the X talseries by Ryuichi Kozeki, hymm by Hiroto Yoshizoe, Cachalot by Yoshiki Matsuyama, and a replica of SAMBA-M by Shiro Kuramata (1934-1991). The exhibition fully showcased the beautiful world view, particularly from evening to night. (Organized by Ambientec, in collaboration with Satoshi Kawamoto, directed by Nao Tamura, and venue provided by SEMPRE DESIGN).
FOCUS by YUJI OKITSU
FOCUS / YUJI OKITSU at ROYAL FURNITURE COLLECTION
The Royal Furniture Collection's Aoyama showroom exhibited the FOCUS lighting piece, designed by Yuji Okitsu and commercialized by the French lighting brand DCW éditions PARIS. It continually creates new scenery reflecting subtle ambient changes, by re-focusing on and re-composing the existing components of the surrounding environment (e.g., light, air, and landscape). Light filled the venue as the work gently swayed like a mobile, creating a space for people to be immersed in the world view of FOCUS.
Image © USAMIRYO
After about three years of absence, creators, companies, and brands worldwide visited Japan to participate in Designart Tokyo. In order to avoid over-crowding, the reception party was held in two parts at the main venue, the World Kita-Aoyama Building.
In addition, the Asia Design Relation talk session was held, aiming to lay the groundwork this year for a new platform for building a friendlier and more constructive relationship with Asian countries.
President Chang of the Taiwan Design Research Institute, architect Keiji Ashizawa, and other panelists exchanged opinions on a new platform development for the future.
---
Top image in the article: Perrier-Jouët & Garance Vallée. Image courtesy of the artist.
> via Designart Tokyo