Bondh E Shams: An Answer to the on-going Water Crisis
Pakistan is facing the worst-case scenario of climate crisis; the 2022 inundation has not only made millions homeless but have increased the health crisis within the country as well. While there are numerous factors contributing to health crisis, the most common is the consumption of contaminated water. Even before the deluge, the crisis of water scarcity was looming over the country. Pakistan being an agricultural country, with more than 24% of its GDP dependent on the agronomy and 42% of the labour sector associated with it, water scarcity would be a blow on the socio-economic sector of the country. Being the 14th out of the 17th most at risk for water crisis countries of the world, it is blatant reality that the country wastes one-third of its water and only reuse 1% of the waste-water. The situation is so dire that the country is 160th in the world pertaining to the ratio of water withdrawal to availability of water resources. Such conditions require immediate and efficient solutions which are long lasting and sustainable. Though on governmental level, little efforts are made to address the issue, young organizations are adamant to turn the tables. One such venture is Bondh E Shams - "droplets from the sun".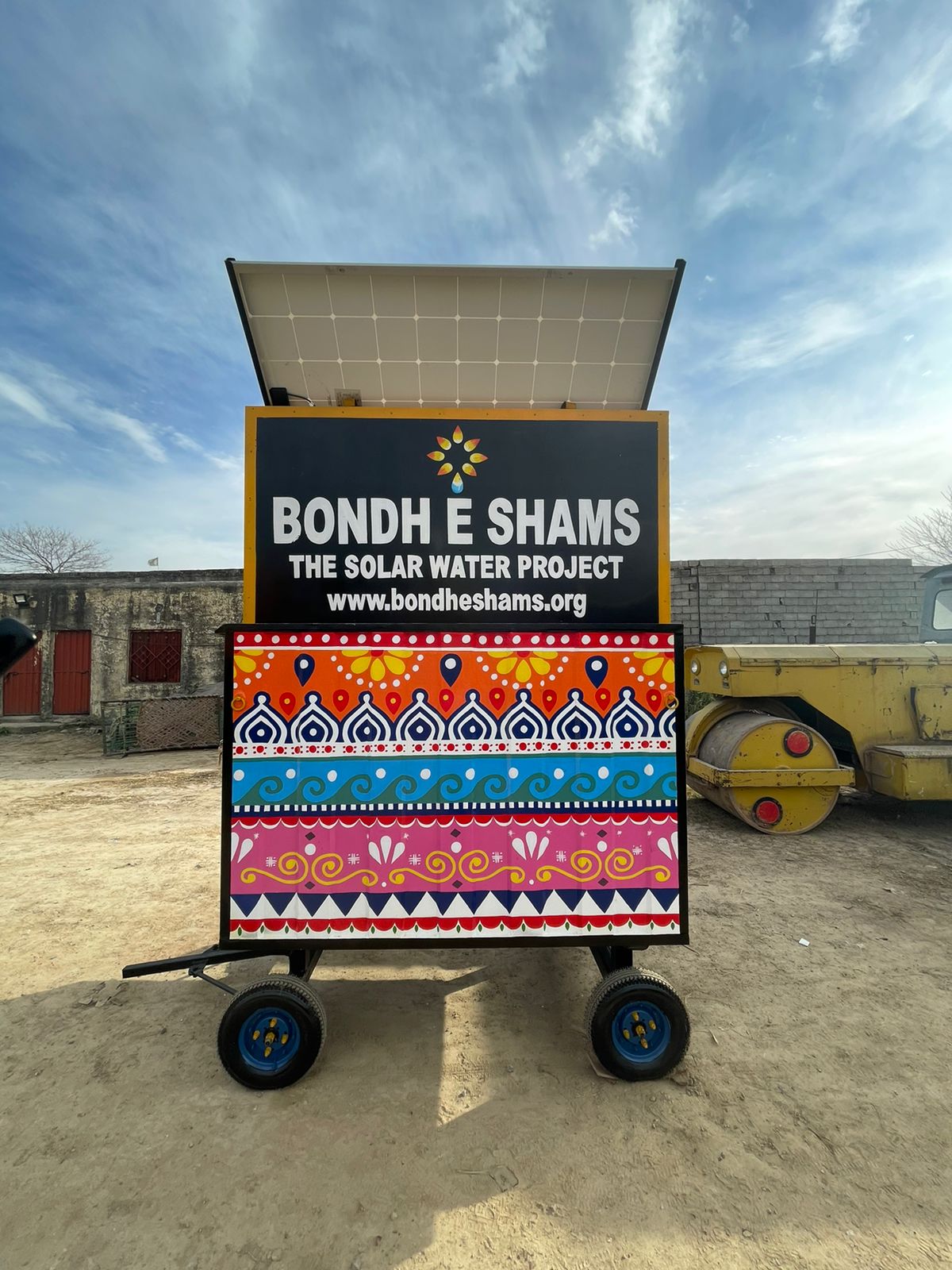 Solar Water Project was developed by Bondh E Shams. Image © Bondh E Shams
Started as a "global water charity", the founder, Hamza Farrukh realized at a very young age how crucial it is to have easy access to clean drinking water. With more than 80 percent of Pakistan's population suffer at the hand of water scarcity, access to clean and safe drinking water has become a luxury. Bondh E Shams not only is striving to provide water to every individual, the Oasis Box is environmentally ethical, socially sustainable and economically feasible, considering the fact that it can provide clean-drinkable water for 25 years! The venture works globally, determined to provide sustainable solutions, with more than 75 sustainability ambassadors and offices in 4 different countries which include USA, UK, Malaysia and Pakistan.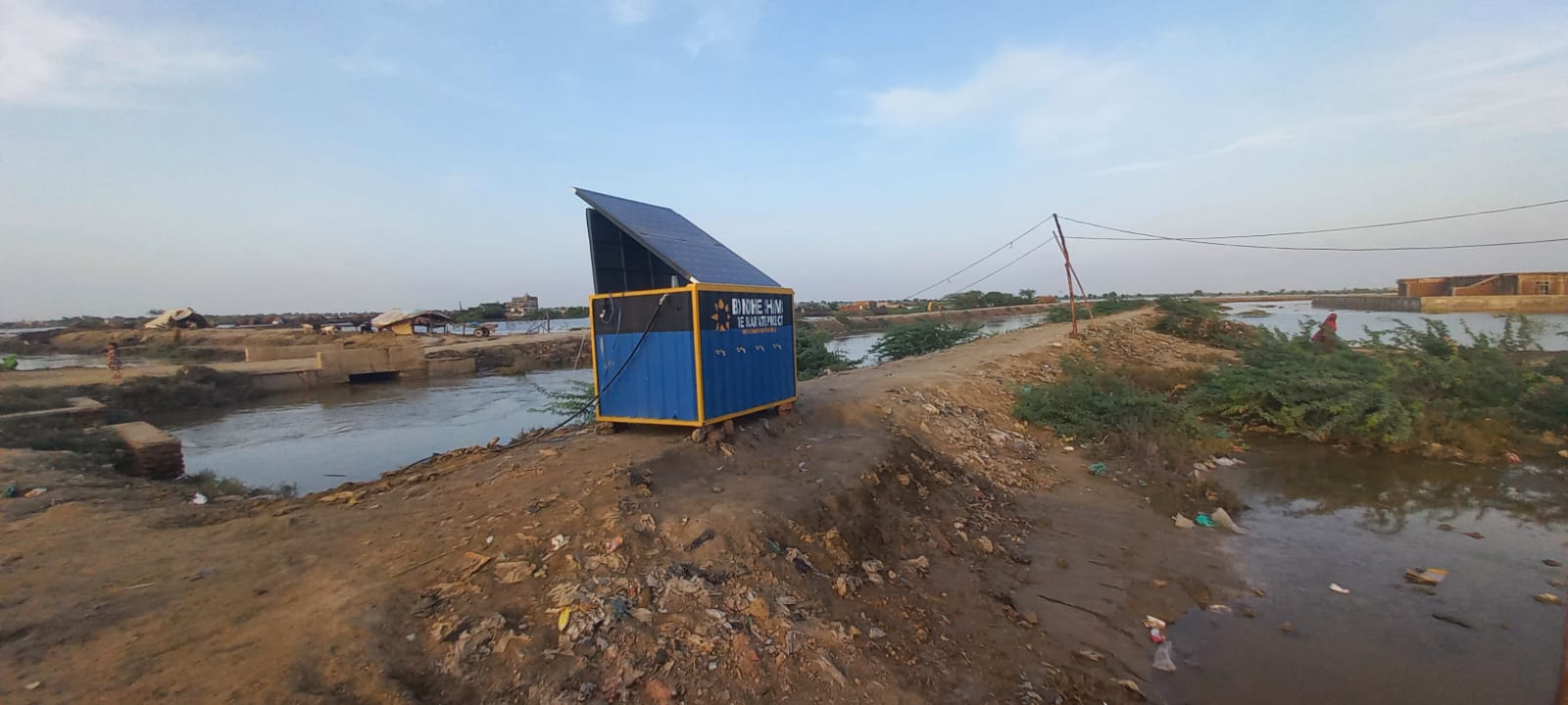 The Oasis Box is environmentally ethical, socially sustainable and economically feasible. Image © Bondh E Shams
In this interview, WAC's Pakistan Country Reporter Sadia Siddiqui decided to learn about the project from its founder, Hamza Farrukh. The full interview can be read below.
---
Sadia Siddiqui: What compelled you to cater to this very basic of human need-the access to clean drinking water?
Hamza Farrukh: I was 9 years old when I contracted typhoid in my village. I remember the cold, sweaty nights in my mother's lap as my father (who had then recently qualified as a doctor) slowly nursed me back to health. I also vividly remember that I was not the exception but the norm in my village where several children fell ill each year due to our contaminated water sources. 15 years later as a junior at Williams College, I won the $10,000 Davis Projects for Peace Prize. I decided to bring that money to my village and in collaboration with my friends, we developed the first-ever solar water extraction system and we saw first-hand how transformational safe access to clean water can be for a community. As a Pakistani, the water crisis is a such a historical problem and has exceeded a critical point – it's a fight that resonates with so many Pakistanis. Imagine, UNICEF reported that over 53,000 children die annually in Pakistan alone due to preventable water-borne disease. It's extremely difficult to even begin to process this and finding an effective and life-saving solution became a priority. And it doesn't start and end in Pakistan for us – the daily reality of a child in Pakistan, can be found across the world. This is why we created a product that is sustainable and scalable, so we can continue to bring clean water to under-resourced communities globally.
Sadia Siddiqui: It is predicted that Pakistan will face absolute water scarcity by 2025, while Bondh E Shams provides clean drinking water to the masses, does it plan to expand to cater to the sanitation needs of the communities as well in future?
Hamza Farrukh: As a nonprofit that also develops its own technology, we are always focused on R&D and evolving our solution. We started with a solar-water pump and this evolved into an all-in-one solar water filtration and storage unit that can provide upto clean water 10,000 litres of clean water daily – this was a considerable stride. R&D is a staple of what we do, and gives us the autonomy and insight to decide what our next direction will be. Our entry into the WASH sector very much started with safe access to clean water as a critical first step. As we plan ahead and contemplate the future of this sector and our work within it, we are always open to dive into the next part of the challenge.
Water Crisis. Image by MrGauravBhosle / Wikimedia Commons (CC BY-SA 4.0)
Sadia Siddiqui: It is commendable that ventures now seek sustainable, clean energy sources but though Solar Energy is a clean energy, the manufacturing process of the panels have comparative adverse effects for the environment. Do you plan to experiment with other source of energy for the Oasis Box, in future?
Hamza Farrukh: Clean energy is extremely important to us and yes we do hope to experiment with other alternative sources. We first have to inspire a culture of change and encourage the countries, where we work, to reduce their use of fossil fuels, particularly where water purification is concerned.
Right now and where we are at geographically, solar energy is the most suitable source of clean energy and of course at times it can feel like there is a trade-off. Pakistan for example, experiences severe solar rays for over six months of the year and sunlight all year round – the nation is finally coming around to the use of solar energy. To limit our impact of solar panels to the environment, firstly we opt for panels with a guarantee of 25 years (=lower rate of disposal). We have reduced the no. of panels per project to just two and as an organization we will think meticulously about reusing, safe disposal and recycling the panels when at the end of their lifespan. This is work that begins now.
The image shows the Sadpara Lake how it looks like in the winters without snow and water in Pakistan. Image © ADIL RIAZ / Wikimedia Commons (CC BY-SA 4.0)
Sadia Siddiqui: Bond-e-Shams have managed to provide access to clean water to remote villages and underprivileged communities, significantly impacting the lives of many people, mainly women who had to face the brunt of the situation. Do you also educate/train people to understand the technology to ensure smooth running of the Box? Are women part of the workshops/training sessions?
Hamza Farrukh: Yes, ultimately we approach this work as a collaborative process, between us and the local communities where our projects are deployed. We develop a close relationship with each community prior to deploying a project, to better understand the needs and challenges they face. During and after deployment, we train key/nominated local contacts to understand the technology and take responsibility of the Project. Incredibly, the technology and deployment is now so user-friendly, that after training, our partner communities overseas have even deployed the Solar Water Box over video calls and demos with our team.
Women are always encouraged to be part of this collaborative process and we have seen some wonderful initiatives in the communities where we work. In Jurr, the women who we trained about our work also recognized the value of excess solar water energy from the Solar Water Box – and so we facilitated a women-run solar-powered sewing workshop. A women's NGO, was a key stakeholder in our first project in Nowshera, Khyber Pakhtunkhwa, Pakistan. Their representation was an important message to the community and how crucial gender inclusion is in the water space. They are also taking the lead on flood relief distribution in the community. We have now delivered five Solar Water Boxes to communities in South Sudan in collaboration with our partner Water is Basic. Here, women are now running an all-female water well repair and water delivery service (using water from our Solar Water Box). This is incredible and important and we hope to facilitate and see more and more of these female-led initiatives.
The Satpara Lake is a source of water supply for the town of Skardu. Satpara Lake at Skardu (nearly 2500m, 8,200 feet) is one of the highest lakes of Pakistan. Image © Waqas Usman / Wikimedia Commons (CC BY-SA 2.5)
Sadia Siddiqui: It says that the Box is customizable, can you elaborate in what aspects?
Hamza Farrukh: The Box can be customized with different filter types, tank sizes, and add-ons to meet the specific requirements of a community based on population size, the depth of the water source, and the prevalence of water contamination of the area. That said, the standardized model we have worked hard to develop, has been an effective solution across Pakistan and our overseas communities.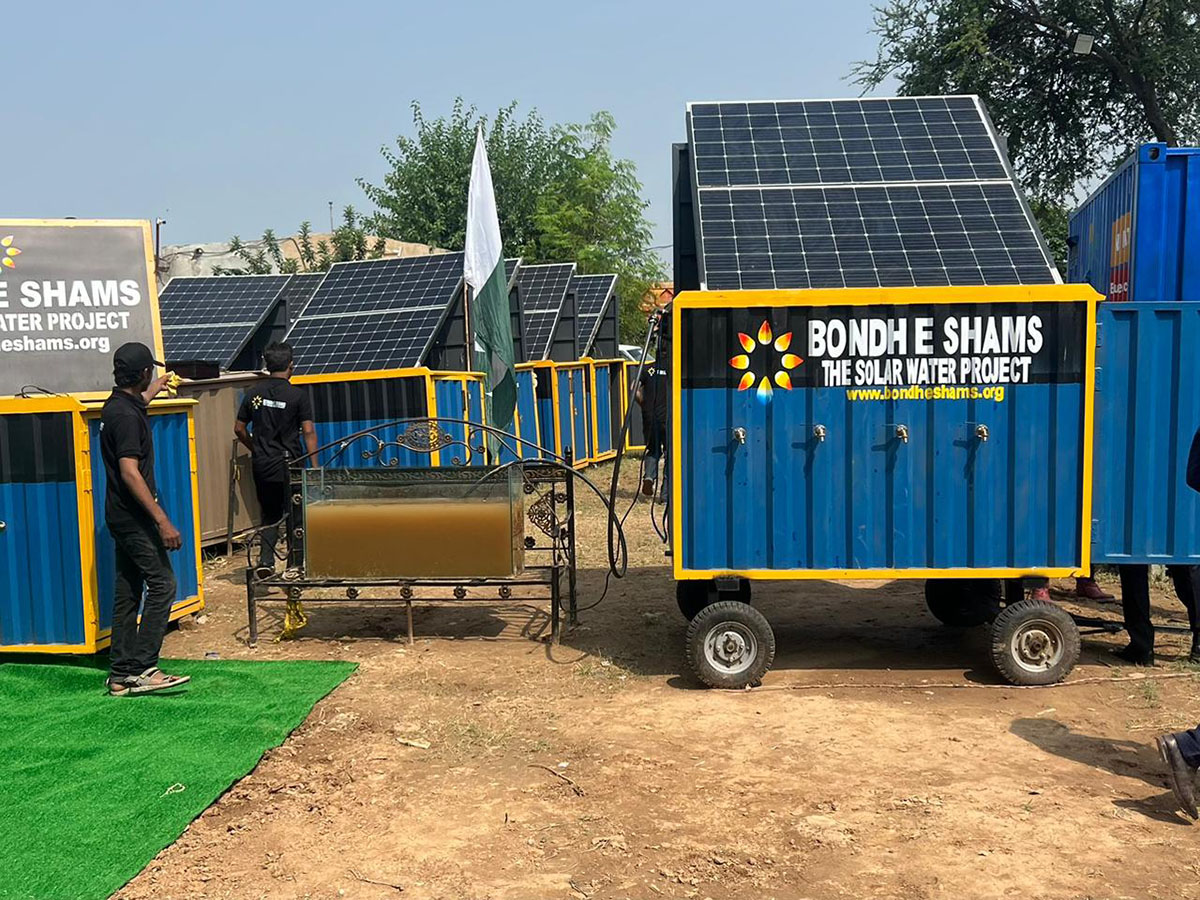 Solar Water Box technology is used in Pakistan to provide clean water to communities. Image © Bondh E Shams
Sadia Siddiqui: The prevalent conditions due to flooding in Pakistan have displaced millions, escalating the need to clean water for consumption and sanitation, what role can Bond e Shams play in such scenarios?
Hamza Farrukh: The important thing about our Solar Water Box technology right now is that it can provide immediate flood relief by literally filtering flood water into filtered safe drinking water or provide clean water to displaced communities. This was immediately actioned in Sindh at the peak of the crisis. Importantly, once the flooding subsides, each Box can then be permanently relocated to a nearby community where it will provide sustainable and safe access to clean water for 10+ years. At present, we have not seen a solution like ours providing this double layer of immediate + long-term impact. The World Health Organization (WHO) has said the "wave of disease and death" has a "potential for a second disaster" following the flooding. Water-borne disease was a pandemic that already affected the nation, with children always being hit the hardest. The following months are crucial to limit the severity of water-borne disease and save lives, across Pakistan.
Sadia Siddiqui: Did you start individually or was it always a team effort?
Hamza Farrukh: I've been incredibly lucky to have supportive friends and family around me since day one to help Bondh E Shams reach the point where it is today. This work takes considerable individual effort but as part of a unit. To go from a grass-roots volunteer led-project to a non-profit with 40+ projects in 5 countries (Pakistan, Yemen, South Sudan, Bangladesh, Afghanistan (undergoing deployment) is something that can only be achieved with a socially minded, committed and passionate group of change-makers. Our team consists of doctors, engineers, designers, bankers, lawyers, development professionals to name a few and of course an incredible network of partners and representatives in local communities wherever we work. We have been extremely grateful to have created the global platform we set out to, truly demonstrating that you can play an integral part in creating incredible impact from wherever you are in the world.
Project facts
Location: Pakistan, Malaysia, Yemen, Sudan, UK, USA
Project Founder: Hamza Farrukh
Project Completion Date: On-going
Top image: Women filling water from a reservoir on the way to Mubarak Village in Sindh, Pakistan. Image by Shabbir Siraj / Wikipedia (CC BY 2.0).
All images © Bondh E Shams.
> via Bondh E Shams