OMA and Potato Head open exhibition that explores potential of waste in hospitality in Singapore
OMA and Indonesian hospitality and lifestyle company Potato Head have opened a new exhibition at the National Design Centre during Singapore Design Week which took place from 16 to 25 September 2022 in Singapore.
Titled N*thing is Possible, the three-month-long exhibition examines the concept of waste and explores its different potentials by looking at the concept of waste from new perspectives.
The exhibition, shaped around waste materials, explores the potential of waste and uncovers new possibilities in achieving zero waste within hospitality through cross-disciplinary collaboration.
N*thing is Possible will be on view until 25 December, 2022 at the National Design Centre in Singapore.
N*thing is Possible exhibition emerges as a continuation of collaboration between OMA and Potato Head, following OMA designed a local resort Potato Head Studios in Bali in 2020.
Initiated by Potato Head, the exhibition is co-curated by OMA Partner and Managing Partner David Gianotten with project architect Shinji Takagi.
"Sustainability is an ongoing exploration of new ways of creating and living"
The core statement of the exhibition is based on a mutual relationship between zero waste and the needs of hospitality. According to OMA, "the experience of comfort and enjoyment are not mutually exclusive, and creative efforts across disciplines can transform materials at the 'end' of their lifecycles into a reservoir of resources."
"There is not a single global standard for sustainability."
"Sustainability is an ongoing exploration of new ways of creating and living based on available local resources and knowledge sharing," OMA explains in its project description.
"The traditional model of hospitality encourages instant comfort. With the wide usage of single-use products, is there any chance to achieve zero waste in hospitality? OMA and Potato Head have been working together since 2012," said David Gianotten, OMA's Managing Partner – Architect.
"We have been experimenting with ways to reduce waste going to the landfill through creative hospitality management, cross-disciplinary collaboration, and engagement with the local community."
"In N*thing is Possible, we share our ongoing investigation in the meaning of sustainability in hospitality and how it can be achieved," Gianotten added.
Spanning 1,000-square-metre area, the exhibition invites visitors to journey with photographs and videos that capture the overwhelming volume of refuse generated by our daily habits.
The team creates an immersive landscape, called Waste Landscape - that forms natural materials and waste with bamboo, timber, plastic, textile, glass, Styrofoam, cooking oil, oyster shells at the main atrium. Above, objects made with the landscape materials – designed by Potato Head's collaborators – are on display.
The main purpose of this part of the exhibition is to show "how refuse can be transformed into valuable and beautiful items through experimentation and knowledge sharing."
A circular installation, made with discarded shutters, makes the central piece of the exhibition.
"A timeline showcases Potato Head's journey since 2010 in creating an environmentally conscious hospitality business, highlighting its zero waste initiatives in Bali from 2017," said OMA.
The exhibition features also a Blueprint, where the ongoing waste management program at Desa Potato Head – a resort in Bali – is presented as open-source information.
In 2017, Potato Head, in collaboration with Bali-based environmental engineering consultancy Eco Mantra, initiated a series of government-independent efforts to achieve zero-waste at the Desa.
Since then, Eco Mantra has measured the volume of refuse going to landfill, revealing that it is approaching zero. Documentation of Potato Head's zero-waste initiatives in Bali is showcased alongside macro-scale studies on Bali and Singapore's nation-wide waste issues as conducted by Eco Mantra, National University of Singapore, and OMA.
Top-down, government driven zero-waste incentives, public responses and awareness, and landfill capacity are among the topics examined in the initiative.
"A key observation is: fundamental changes in the general public's waste management practices hinge not only on government-level directions; private sectors are able to initiate small-scale, yet progressive measures with potential long-term effects," OMA added.
In the exit of the exhibition is a circular-shaped gift shop. Displayed products are encouraged for a zero-waste lifestyle through installations built using woven panels made of recycled plastic waste.
"The exit becomes part of the exhibition, prompting critical responses to the questions: is recycling the best solution to the waste problem? How can we reduce waste in the first place?," OMA added.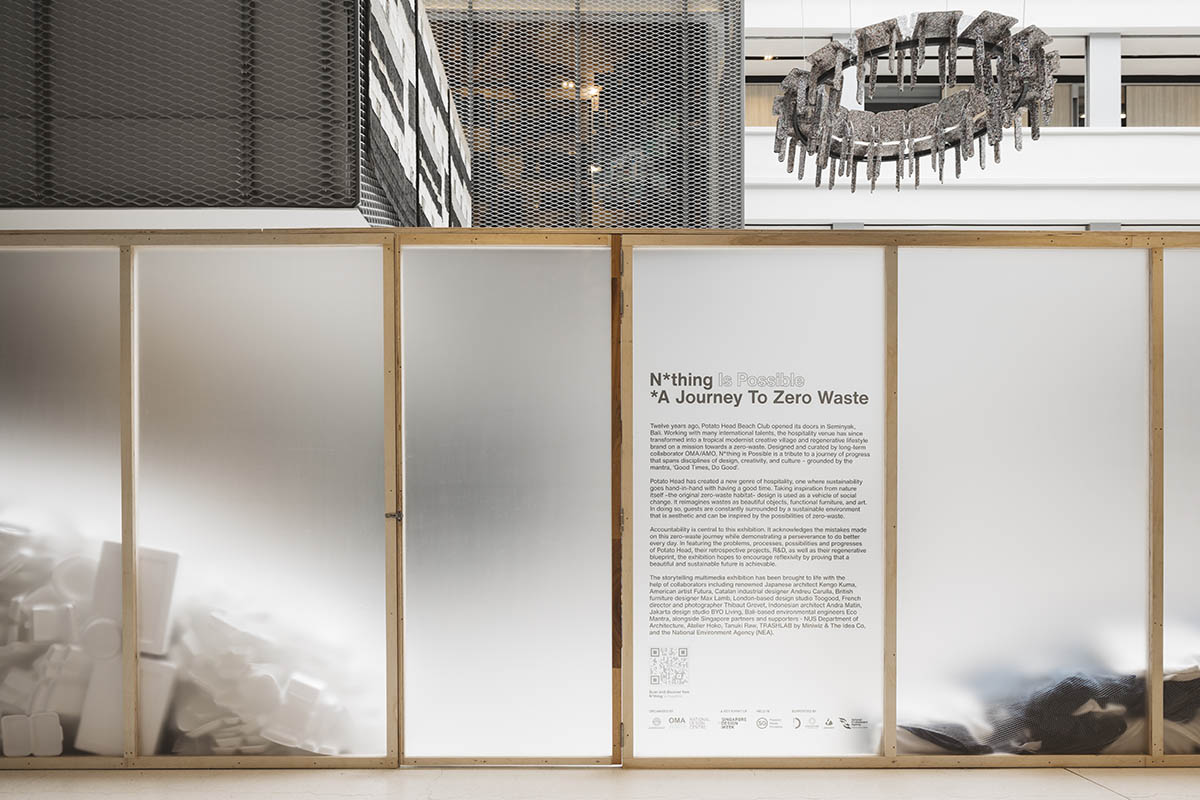 Potato Head's long-term collaborators are also featured in the exhibition, including Indonesian architect Andra Matin, Catalan industrial designer Andreu Carulla, Jakarta design studio BYO Living, Bali-based environmental engineers Eco Mantra, American artist Futura, Japanese architect Kengo Kuma, British furniture designer Max Lamb, French director and photographer Thibaut Grevet, London-based design studio Toogood and the National University of Singapore.
Image courtesy of Potato Head and OMA
OMA designed its first hotel in Bali for Potato Head in 2020. The project, named Potato Head Studios, is raised from the ground to feature an open platform to accommodate curated cultural events and daily leisure activities for Balinese community and visitors of all kinds.
Since 2010, OMA and Potato Head have been collaborating on a number of hospitality and tourism projects in South-East Asia.
Project facts
Exhibition name: N*thing is Possible
Project by: David Gianotten, Shinji Takagi, Potato Head
Client: Potato Head
Location: National Design Centre, Singapore
Site: 1.000 m2
Year: 2022
Curators: David Gianotten, Shinji Takagi, Potato Head
Team: Marina Bonet, Helena Gomes, Raffaele Guercia, Tijmen Klone, Alisa Kutsenko, Arthur Wong, Suet Ying Yuen
Collaborators: Andreu Carulla, Atelier Hoko, BYO Living, DesignSingapore Council, Eco Mantra, National University of Singapore, Kingsmen, Kengo Kuma & Associates, Kharma Studio.
All images © Studio Periphery, courtesy of Potato Head and OMA unless otherwise stated.
> via OMA