Sydney Opera House reopens its largest Concert Hall after extensive period of renovation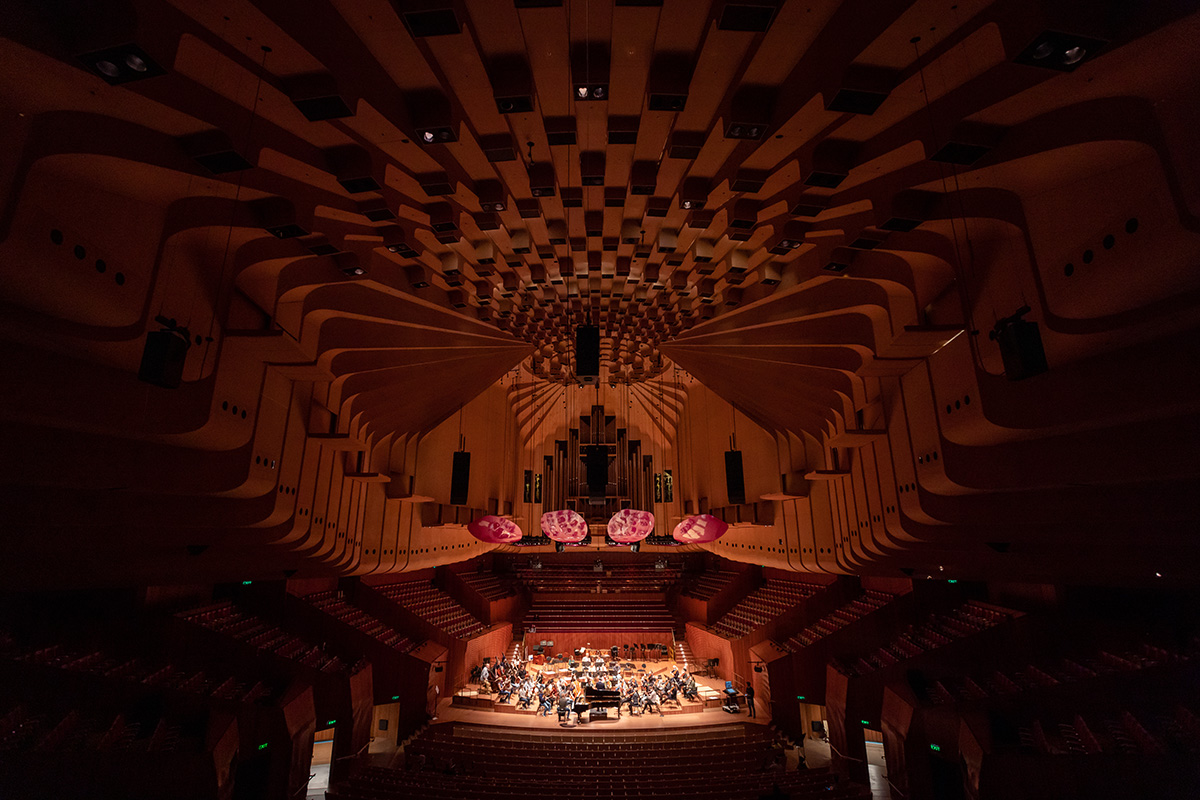 The Sydney Opera House has reopened its largest concert hall after an extensive period of renovation, which has started in 2015, with a five-year design process and a two-year construction in Sydney, Australia.
Officially opened in 20 July, the overhaul is the largest and final project of the Opera House's Decade of Renewal, comprising a ten-year program of renovation works totalling almost $300 million to upgrade the World Heritage-listed masterpiece ahead of its 50th anniversary in 2023.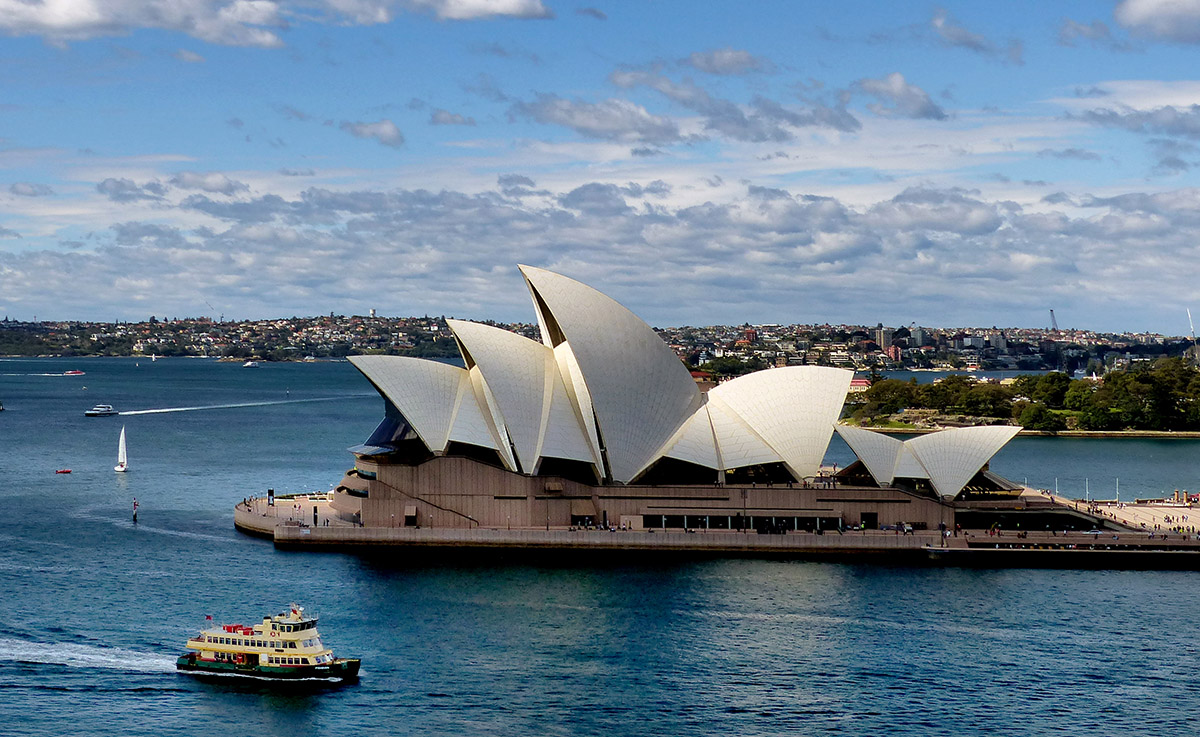 Sydney Opera House. Image © Bernard Spragg. NZ from Christchurch, New Zealand / CC0
The extensive upgrade included the refurbishment of its concert hall, enhancement of acoustics for artists and audiences, improvement of functionality and accessibility for visitors and audience for better mobility needs and safer venue.
Located on the banks of Sydney Harbour, the Sydney Opera House was designed by Danish architect Jørn Utzon and completed by an Australian architectural team led by Peter Hall. The multi-venue performing arts centre was officially opened in 1973.
One of the most distinguished and famous buildings of Jørn Utzon, the building is one of the most iconic structures of modernist architecture with its expressive forms made of concrete.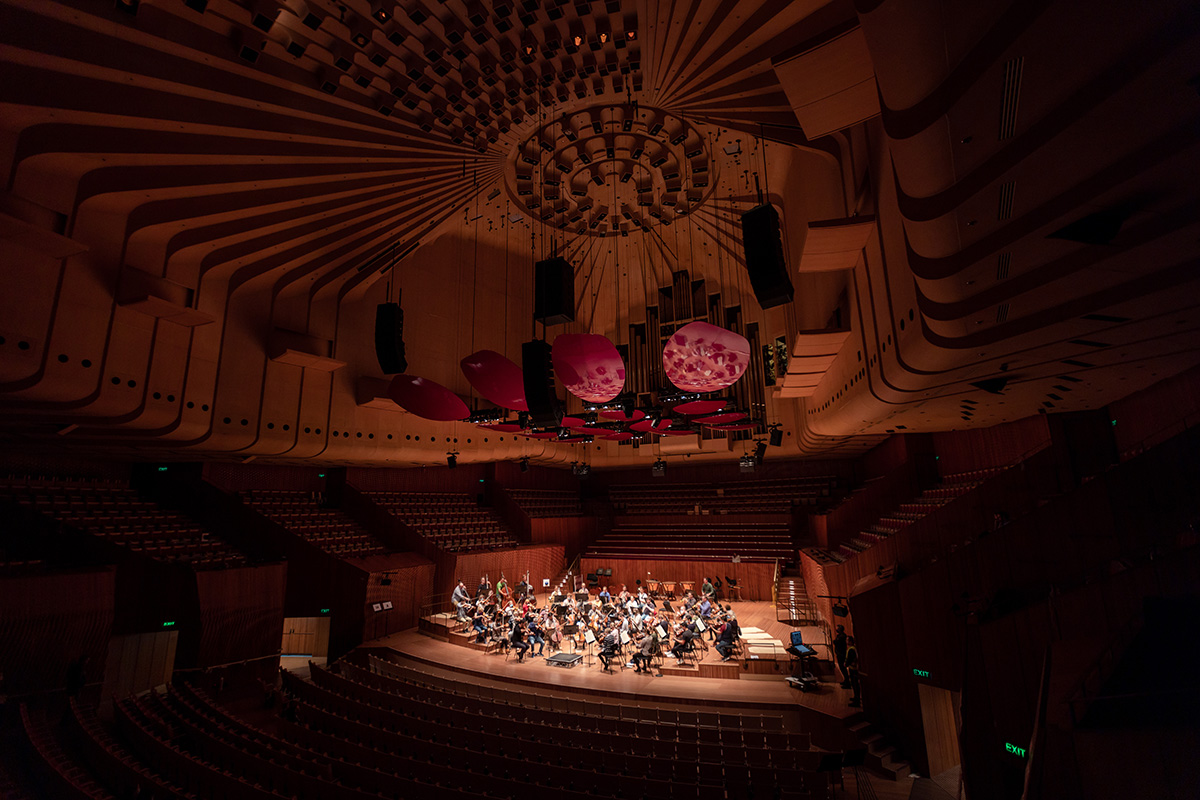 Image © Daniel Boud
While the renovation was led by Australian architecture firm ARM Architecture and global engineering firm Arup, Design 5 served as heritage advisors, Theatreplan served as theatre consultants, Taylor managed construction on the project.
Waagner Biro served as specialist theatre machinery contractor, Steensen Varming worked as building services engineers, Müller-BBM worked as acousticians and included the Opera House's renewal project team.
ARM Architecture was commissioned to upgrade the iconic building's Concert Hall in 2015. The project brief included a series of modifications that should be "sensitive and respectful" to the heritage building, while elevating its acoustics to a world-class standard.
"Our overarching aim was to upgrade the Concert Hall interior and acoustics to match the brilliance of Jorn Utzon's exterior and Peter Hall's interior," said ARM Architecture.
Image © Daniel Boud
Renovation was based on the three principle goals
ARM Principal Andrew Hayne described the three principal goals on the project they led: "First and foremost, the goal was to improve the acoustics of the Concert Hall."
"Second, was to improve the functionality of the room itself, to be able to cater for different types of performances and make the changeovers between different types of performance less human-dependent and more automated."
"And the third was making it more accessible for people – because it was obviously built in a different era when accessibility wasn't front of mind," Hayne added.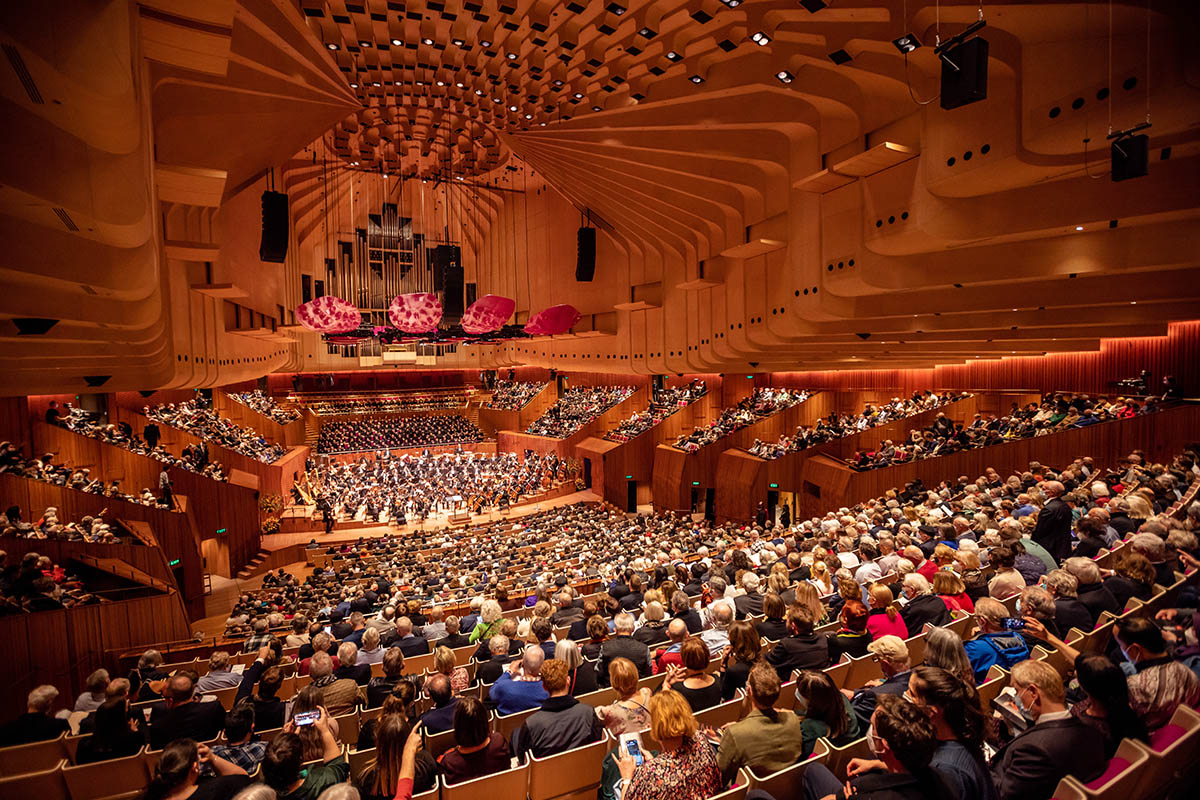 Image © Daniel Boud
To improve acoustic conditions inside, the team replaced the old clear acrylic 'donuts' with 18 new acoustic reflectors above the stage. These "petals-shaped reflectors" are set in a range of different positions, depending on the music being played. They were finished in a semi-gloss magenta – matching the colour of the Concert Hall seats chosen by architect Peter Hall.
"There are 12 acoustic petals immediately over the orchestra that are there specifically for the musicians themselves, to reflect that early energy back to them so they can hear each other and themselves… and then there are four larger ones at the front which will be angled out towards the audience, and their role is very much to push that acoustic energy up and to the very far reaches of the hall," said Hayne.
"There are also two at the southern end which are designed to reflect energy to the choir."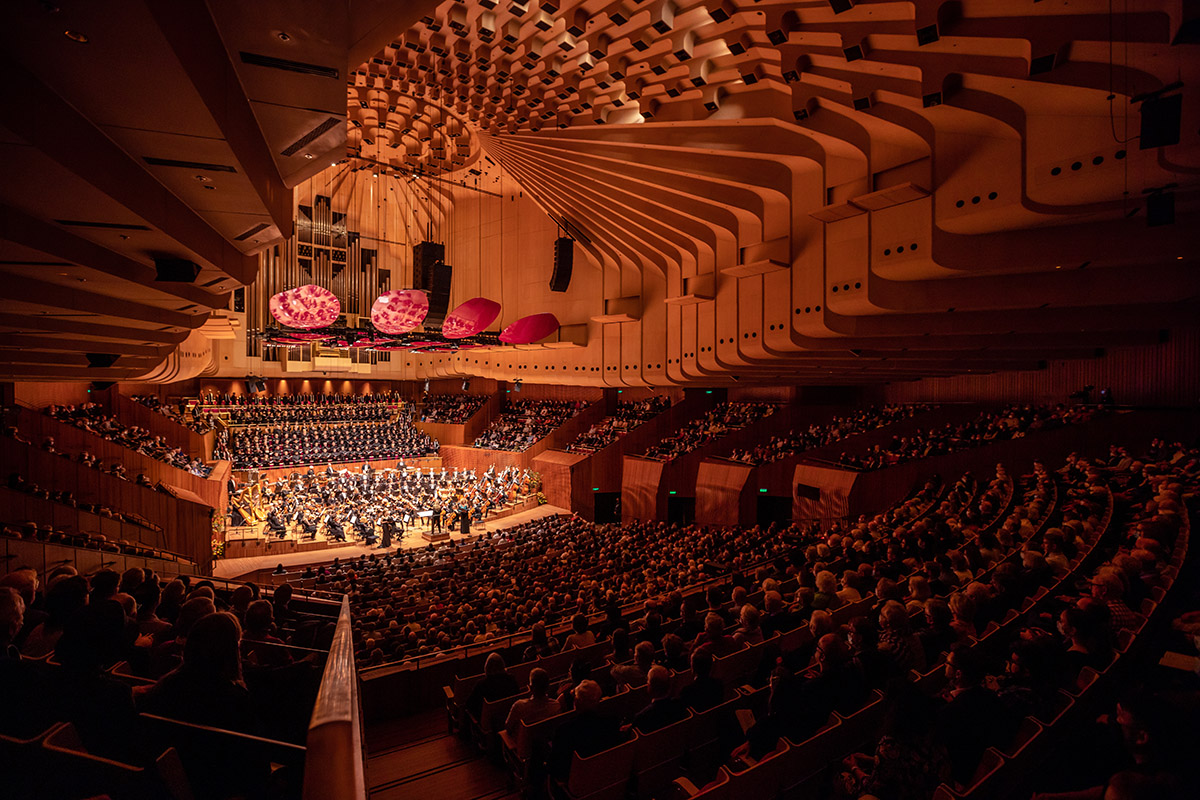 Image © Daniel Boud
The team added special acoustic diffusion panels to the venue's timber box fronts, allowing for a more balanced and true sound for non-amplified performances. Thanks to a newly-added state-of-the-art sound system, it was aimed to increase the venue's capability for amplified performances.
Due to automated stage risers now allow musicians, particularly classical musicians, who typically sit in a horseshoe formation, to hear each other more clearly. A new automated draping system now makes it easier to switch from orchestral to amplified mode, and to dampen reverberation and create a fuller, richer sound for amplified music.
Image © Lisa Maree Williams, Getty Images for Sydney Opera House
A new theatre flying system was installed above the ceiling to make it easier and safer to fly a greater range of lighting and scenery, enabling larger-scale, more ambitious performances.
The team lowered the stage by 40 centimeters to greatly improve the sight lines of everyone sitting at the benches and assist in the projection of sound. Backstage areas were also been enlarged.
As ARM explained, everyone should have experienced an equal accessibility. To achieve this, the team installed a new lift in the northern foyer, along with a new passage that connects to the southern foyer.
Image © Lisa Maree Williams, Getty Images for Sydney Opera House
This was aimed to greatly improve access for people, particularly the elderly and the less mobile, allowing an independent access all levels of the Concert Hall, including its spectacular Northern Foyer, some for the first time.
The location of the passage aligned with Utzon's original intent, as Hayne describes, "I have been to plenty of concerts here and watched the elderly struggle up those stairs."
"The fact that Utzon had a concept for a passageway meant that there was something we could latch onto as an idea," Hayne continued.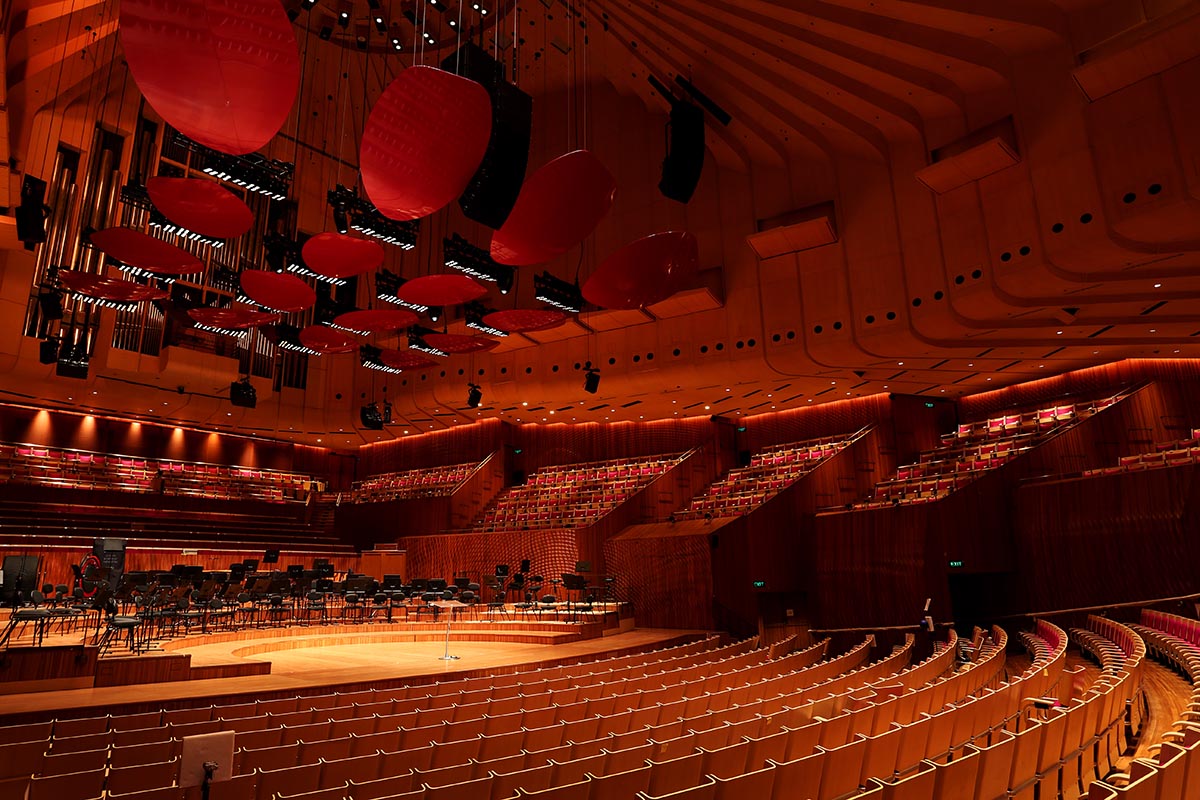 Image © Lisa Maree Williams, Getty Images for Sydney Opera House
The number of accessible seating positions were doubled, including options in both the stalls and boxes. The team also added two new rehearsal rooms, funded by the late Peter Weiss AO, for artists who use the Concert Hall.
"Artists and audiences are set to experience world-class acoustics"
"We're thrilled to be welcoming the community back to the renewed Concert Hall. Artists and audiences are set to experience world-class acoustics in a venue that is more accessible, safer and better equipped to present the full breadth of 21st century performance," said Sydney Opera House CEO Louise Herron AM.
"We have been working towards this moment for a long time and are incredibly grateful to the NSW Government and to everyone else involved in making this once-in-a-lifetime project possible," Louise Herron AM added.
Image © Lisa Maree Williams, Getty Images for Sydney Opera House
According to Sydney Opera House's report, during construction, 91 per cent of demolition waste was recycled, which was above their initial target of 80 per cent.
First Nations composer and didgeridoo performer William Barton has had 60 pairs of clapsticks made using brushbox timber salvaged from the Concert Hall's old and new stages.
To source the timber for the clapsticks, William visited the Opera House's storage facility where construction material is warehoused for repurposing or recycling.
Image © Lisa Maree Williams, Getty Images for Sydney Opera House
"It shapes the way we sound"
"Every great orchestra around the world has a symbiotic relationship with their home venue – they become synonymous with the space," said Andrew Haveron – Concertmaster, Sydney Symphony Orchestra.
"The place that an orchestra performs in is just as important as the instruments and musicians that are on stage – it shapes the way we sound and how an audience experiences live performances with us."
"The extraordinary acoustic improvement of the Sydney Opera House Concert Hall – which has far exceeded any of our expectations – means that finally, the Sydney Symphony Orchestra can be heard at its finest!," Haveron added.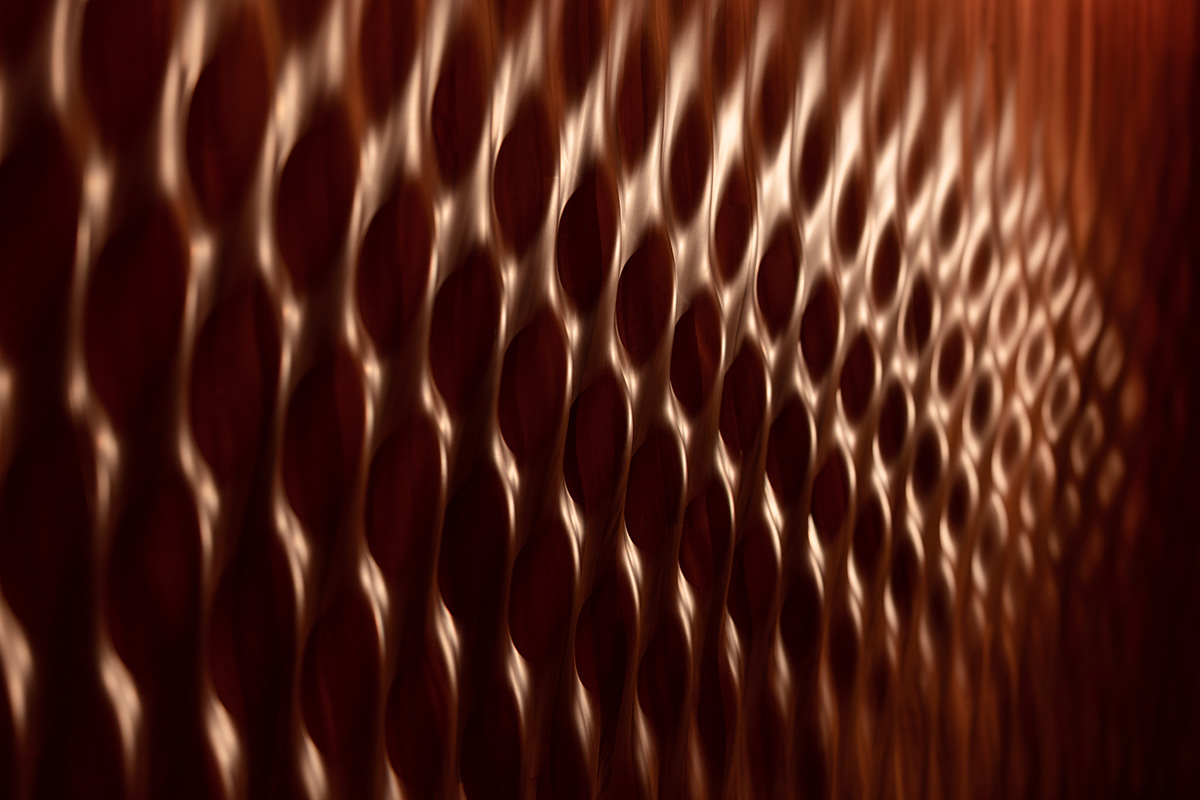 Image © Daniel Boud
The Concert Hall is one of the world's largest with its 2600-seat capacity and longest - reaching at 45 metres - performing arts halls in the world.
Measuring 25 meters from the stage to the crown above, it enhances the sound across this space which were a highly technical challenge for acousticians. The hall also provides a perfect sound quality for both acoustic and amplified performances.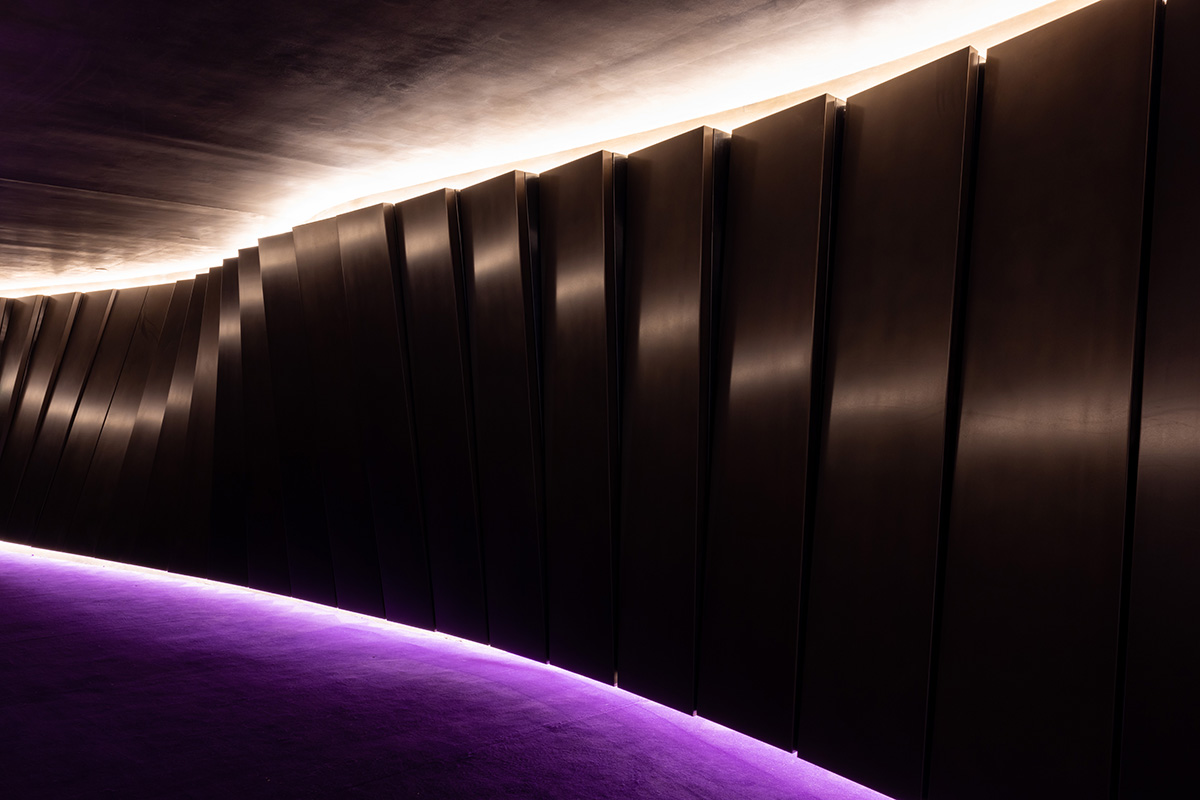 Image © Daniel Boud
Image © Daniel Boud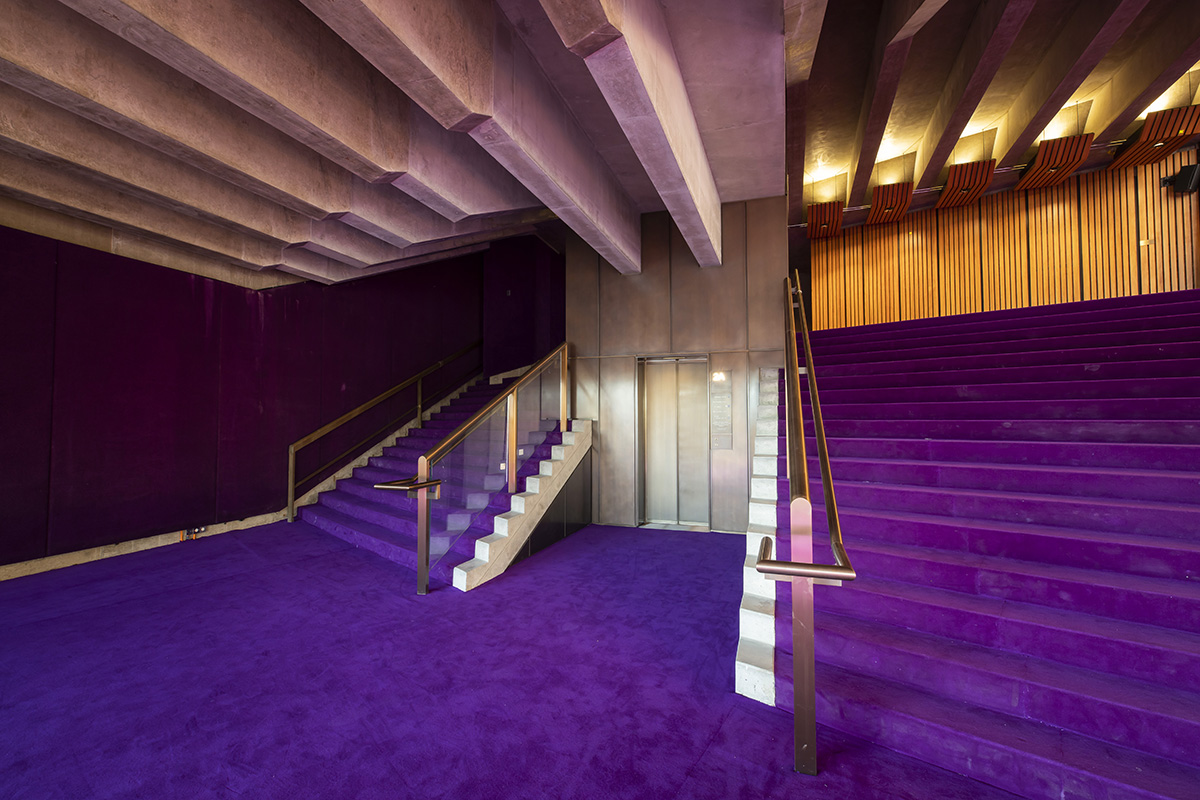 Image © Anna Kucera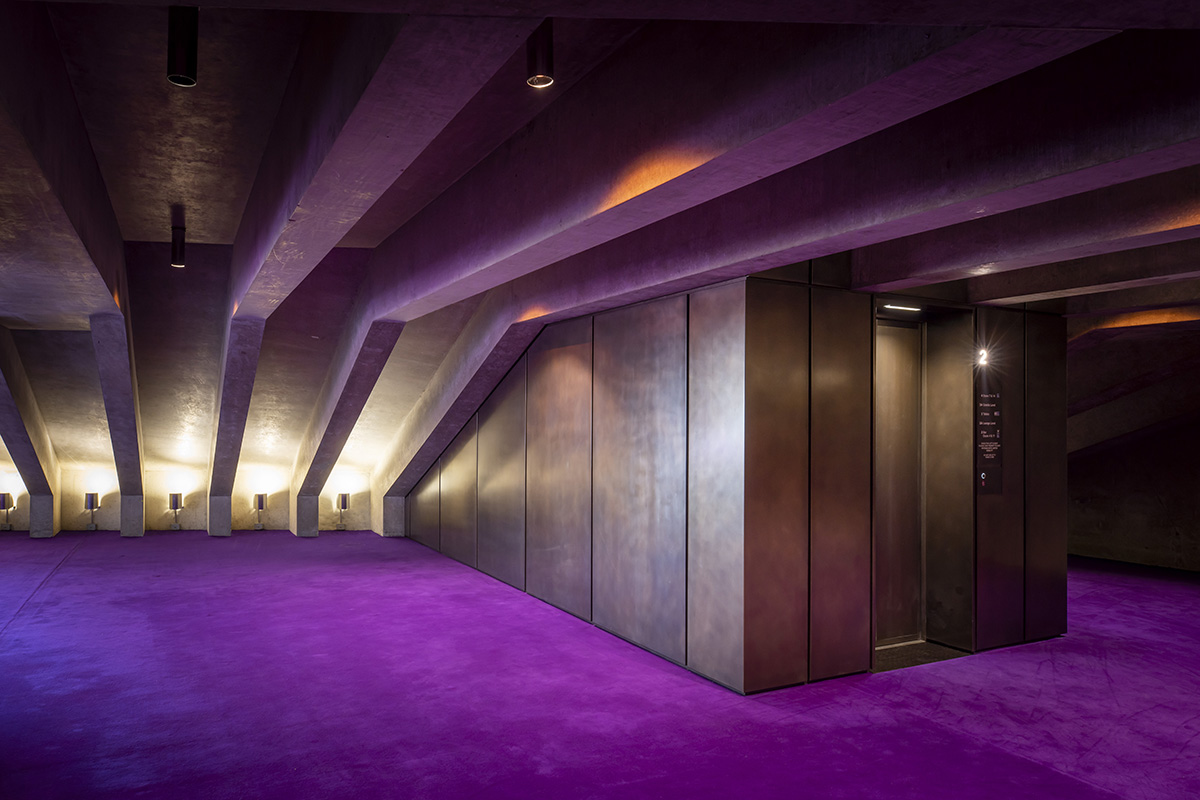 Image © Anna Kucera
Image © Anna Kucera
Image © Daniel Boud
Decade of Renewal project is funded by the NSW Government. As Sydney Opera House stated, all renovation works have been carried out in line with the Opera House's Conservation Management Plan to ensure the upgrades respect the original interiors, designed by Peter Hall.
Top image © Daniel Boud.
All images © Daniel Boud unless stated otherwise.
> via Sydney Opera House