Clap Studio mimics sunset on the beach in the interiors of Baovan restaurant in Valencia
Valencia-based design practice Clap Studio has designed the interiors of a restaurant that mimics a sunset on the beach with colorful components, materials and colors.
Called Baovan Restaurant, the restaurant was designed for a company, Nacho and his partners, who created the first home-delivered artisanal bao company in their hometown and had the dream of opening the first bao restaurant in Valencia, Spain.
The company's partners, know for their adventurous spirit, were inspired by the surfing and exploring lifestyle, which was a key aspect that shapes this project, according to the studio.
The studio's aim was to reveal that spirit and personality that could also be connected to the sea and beach elements, like "beers, beach and baos".
The colors and combination of the interiors make the guests feel like they are on the beach.
"Our goal was to transport the user to a beach from where to watch the sunset and enjoy some handmade baos, so we created a whole experience around it," said Clap Studio.
The design team divides the space into three distinct areas that the user discovers as he or she enters the space.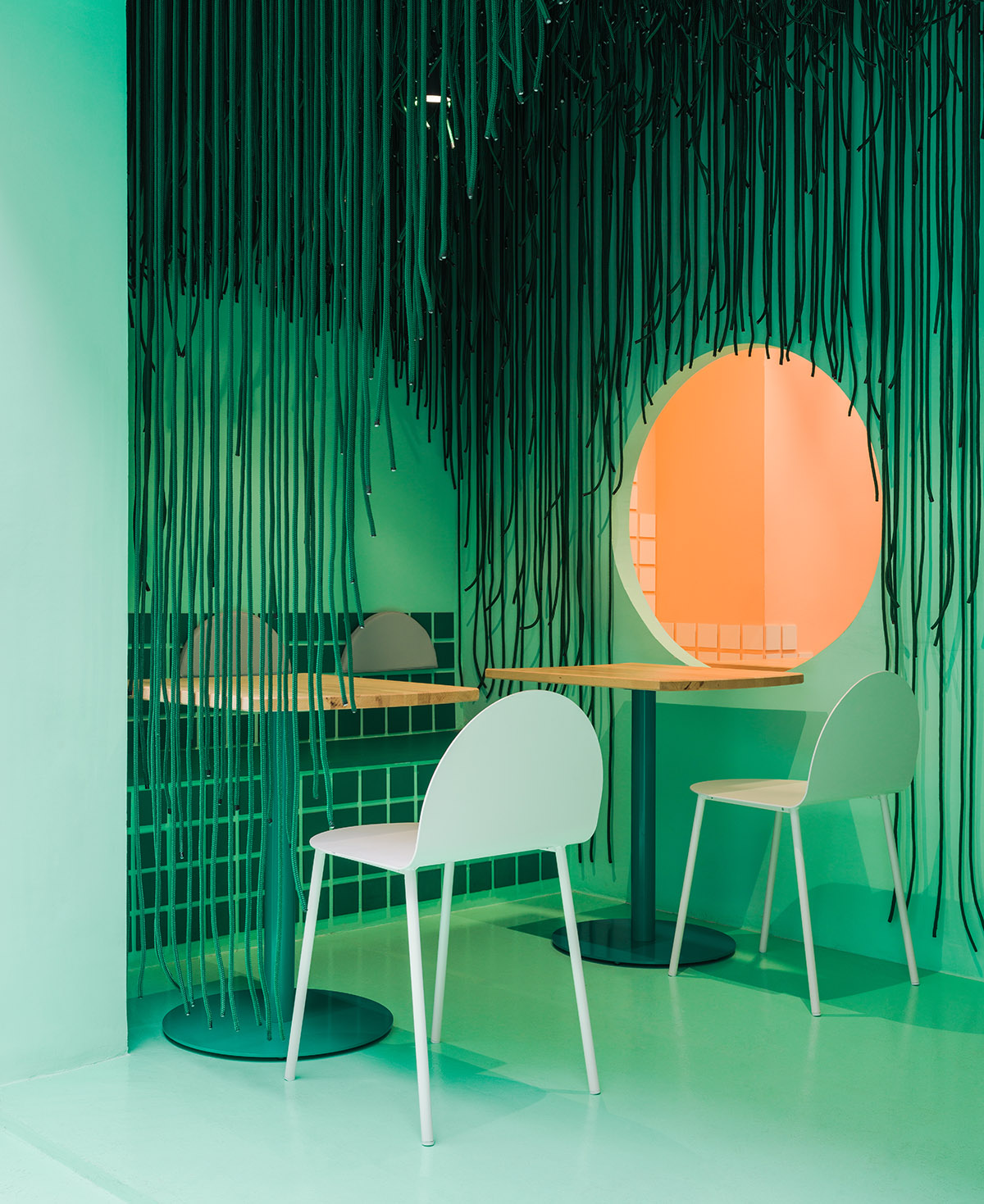 From the outside the interior can be discovered like "a forest", a porch full of ropes that fall from the ceiling representing a dense vegetation. This provides an intense tension between the reality and imitation elements.
According to the studio's imagination and guidance, once the user crosses the forest guests discover the beach and its sunset.
There is a screen in the shape of a half-moon to attract the user's eyes. This screen, programmed by Vitamin Studio, recreates the colors of a sunset and is programmed to match its duration to a dinner service.
"The interior shows a constant duality of colors that takes us in and out of the water," added the studio.
"On the ceiling we recreate a blanket of clouds that brings a magical atmosphere to the interior reflecting the lights of the sunset that is in constant movement."
"Baovan hides one more area, a reserved area for 10 people where you can have dinner in the moonlight," the studio continued.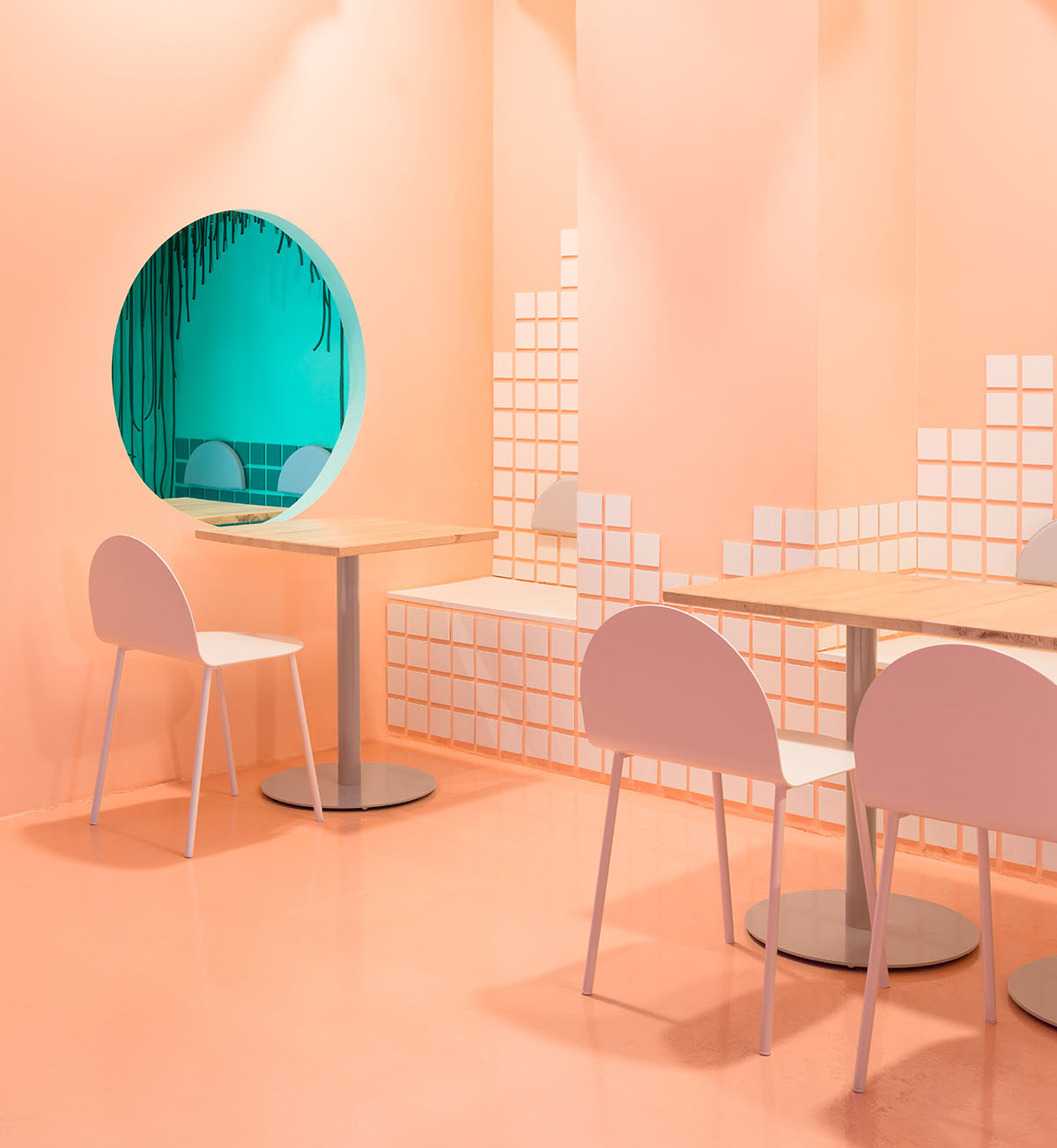 Inspired by the shape of the bao bread, the studio adds rounded and crescent shapes throughout the space. From the windows that connect the exterior to the interior, to the lighting installation, to the Baovan chairs designed exclusively for the restaurant that represent the shape of an open bao bread.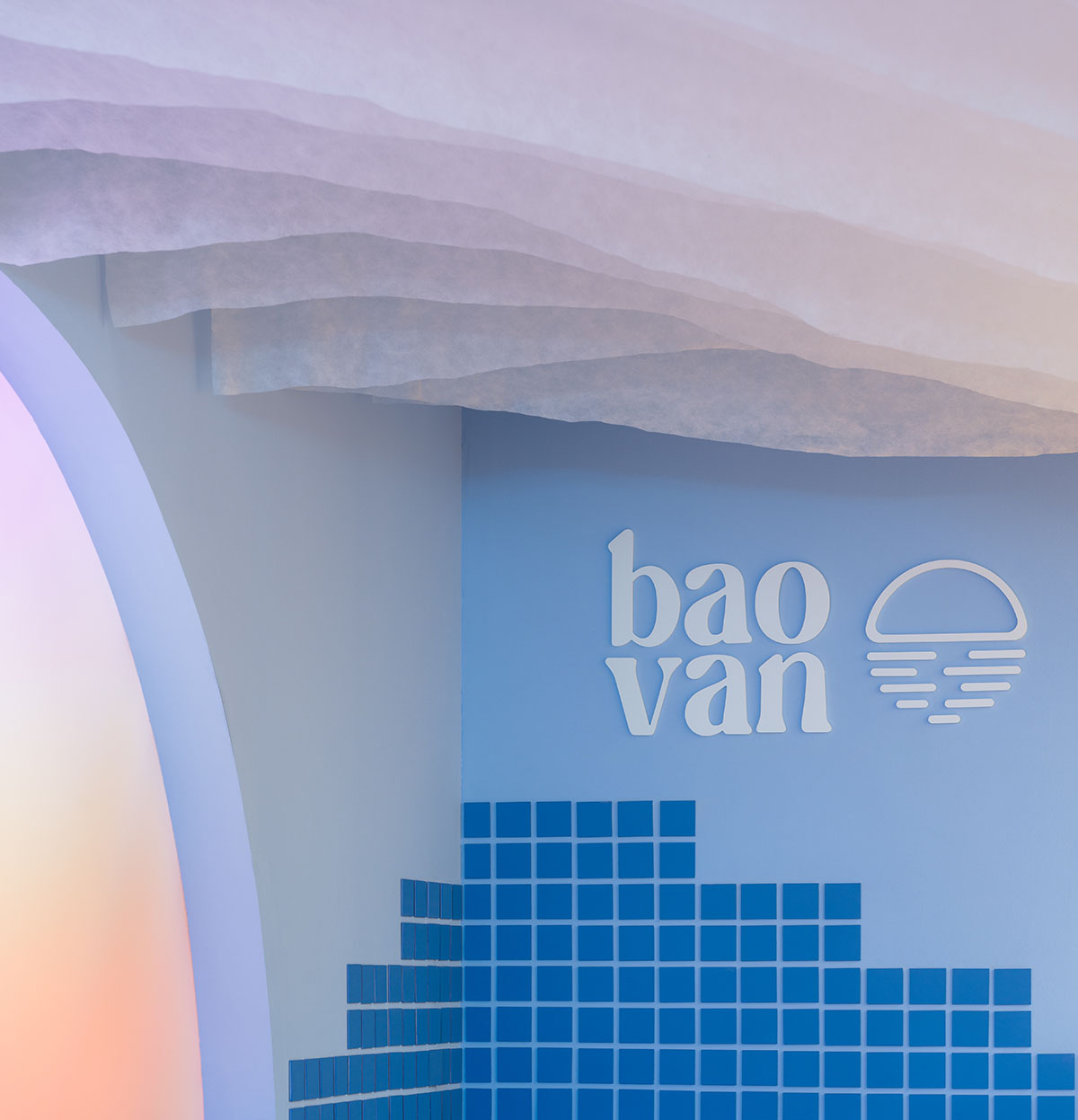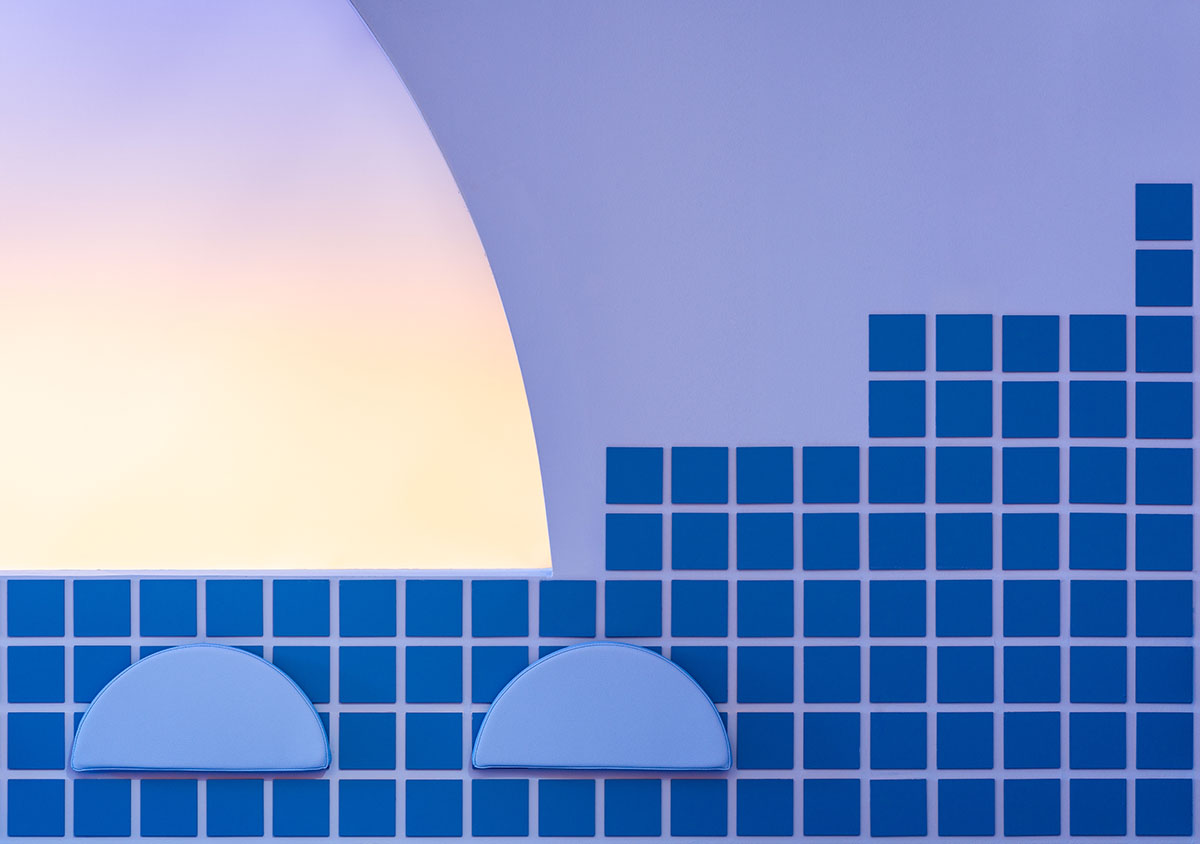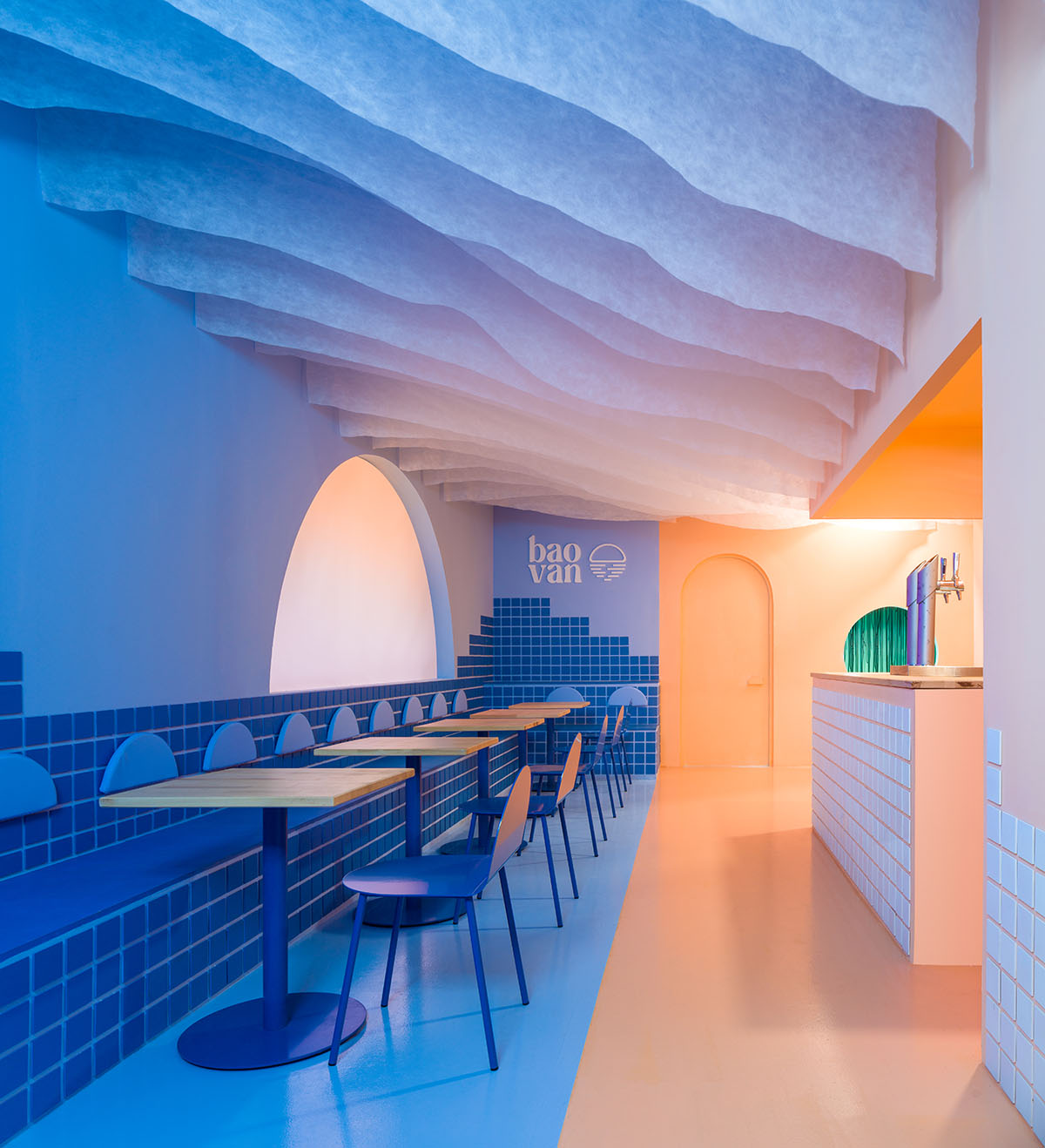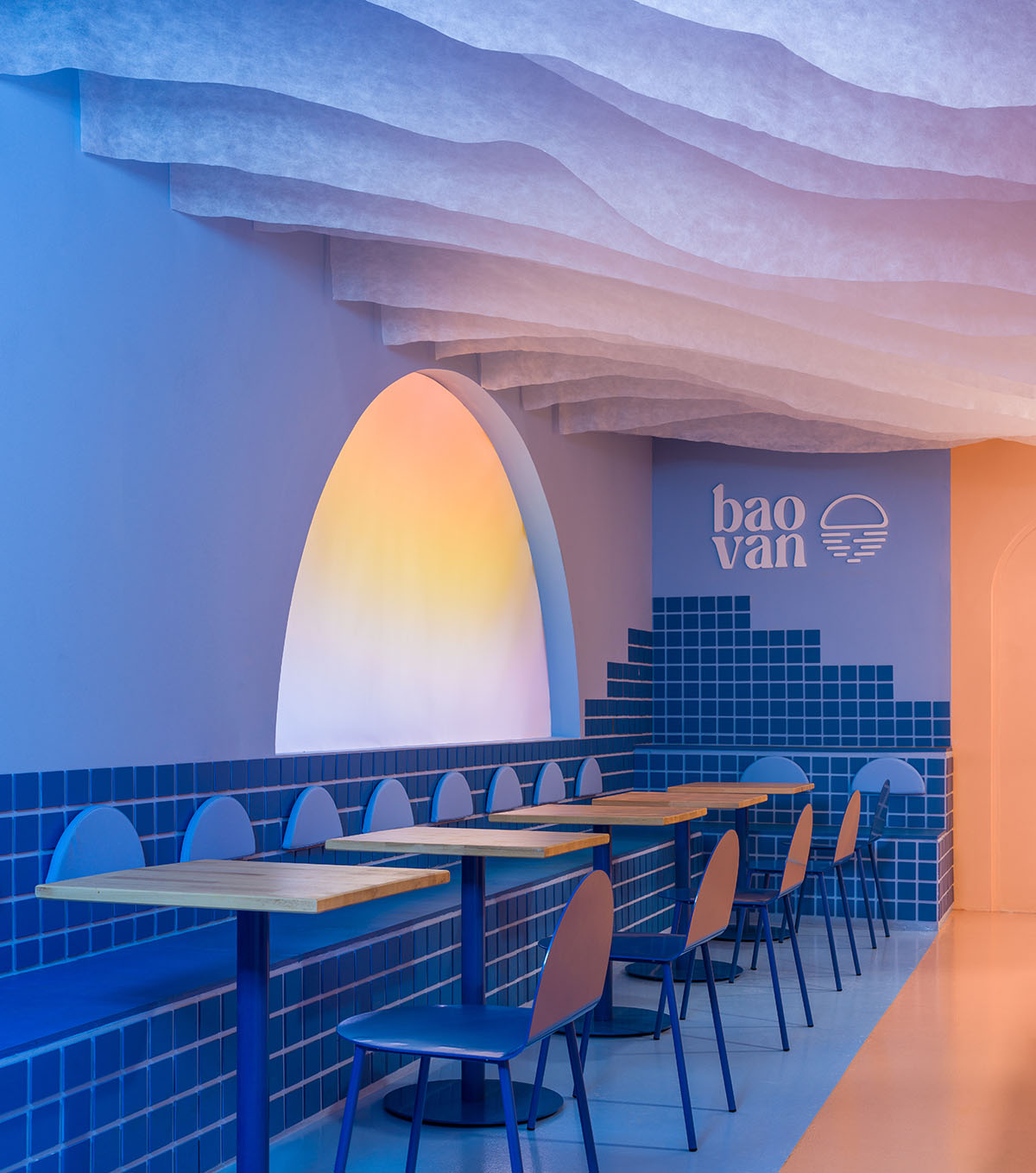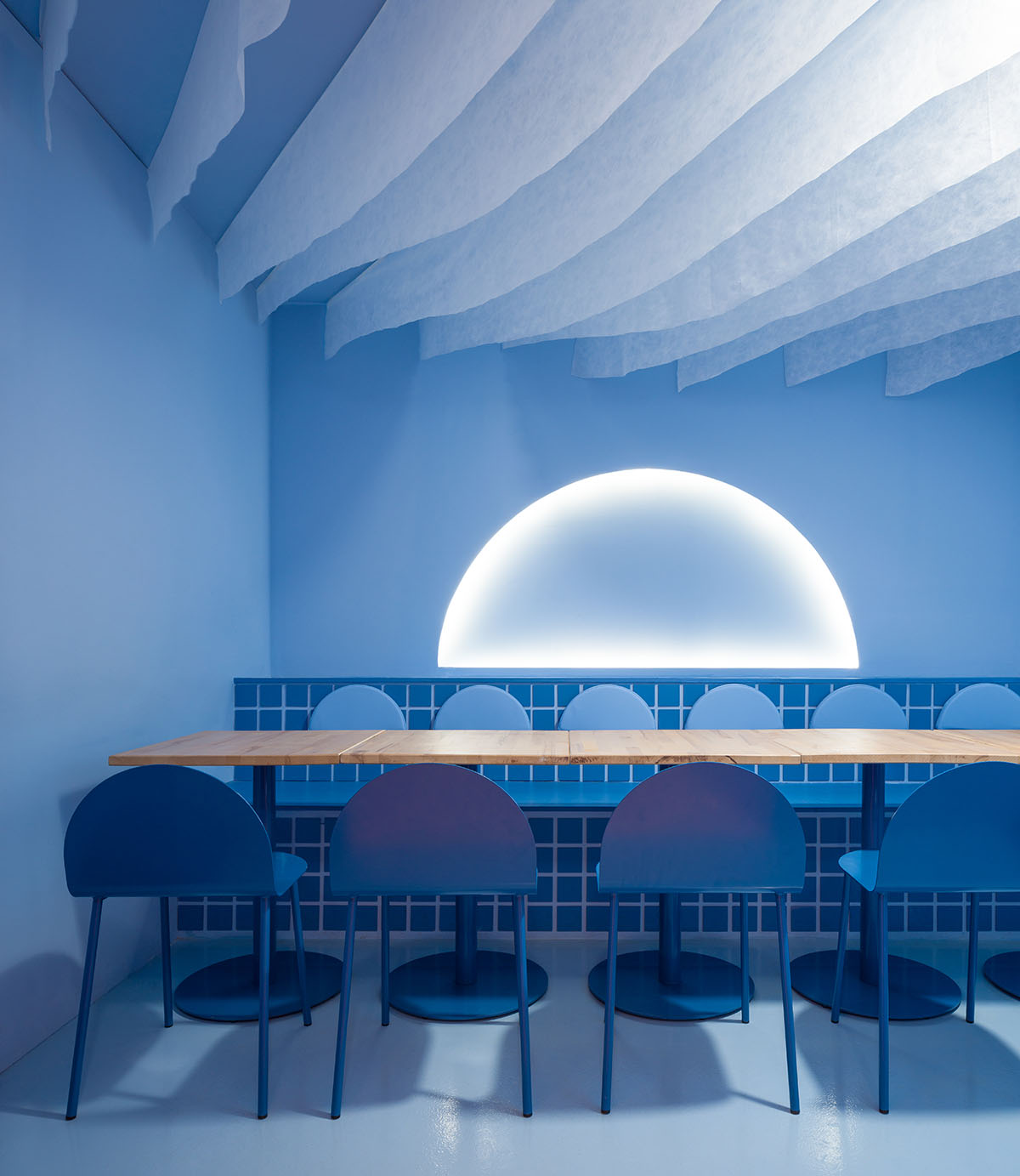 Clap Studio, led by Jordi Iranzo and Àngela Montagud, was founded in 2017 based in Valencia but working worldwide.
The young studio is focused on the design of experiences through interiors, product and artistic installations.
Project facts
Project name: Baovan Restaurant
Architects: Clap Studio
Location: Valencia, Spain
Client: Baovan
All images © Daniel Rueda
> via Clap Studio