HENN wins competition to design Brainergy Hub office building in Jülich, Germany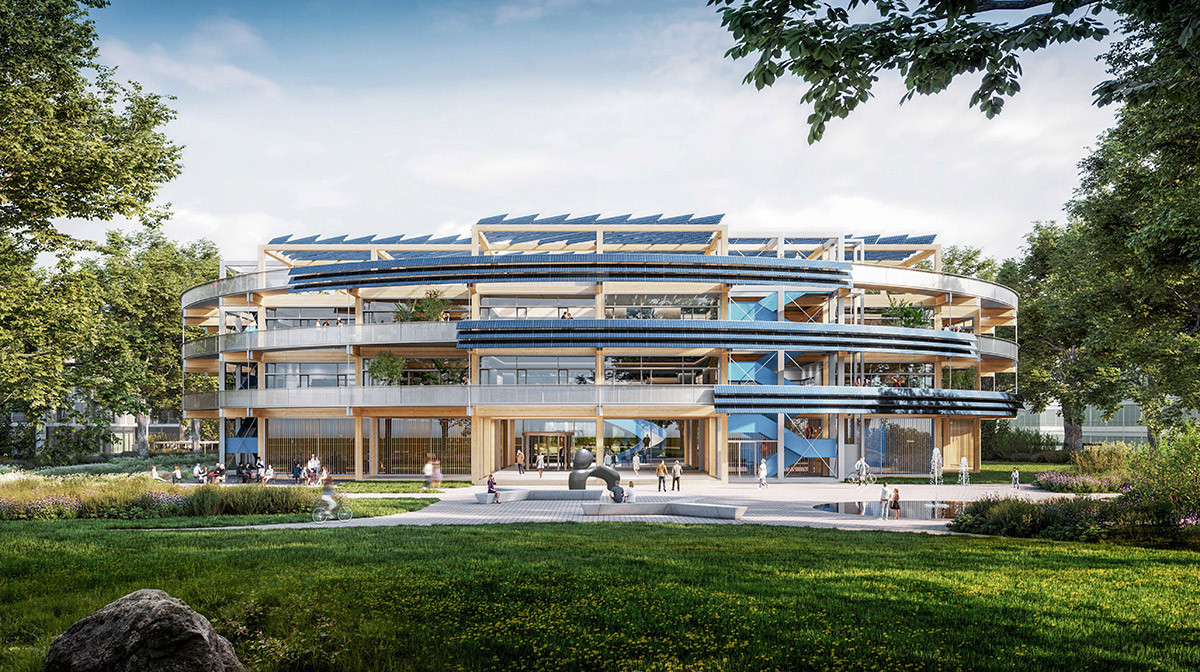 Munich, Berlin and Beijing-based architecture practice HENN has won a design competition to design an office complex in Jülich, Germany.
Called Brainergy Hub, the 9,450-square-metre circular building will be located at the heart of a new knowledge park dedicated to sustainable and renewable energy research.
HENN will use innovative materials, form and renewable technologies to create the Brainergy Hub which will not only use passive energy, but will produce extra energy for the building. The building will function as the the brain and battery of the Brainergy masterplan.
Located along the Autobahn, HENN's distinctive, circular design acts as a lighthouse, symbolizing Germany's shift towards renewable energy and a green future.
The Hub's circular form is conceived as symbolic as well as pragmatic: as the Brainergy's central building, the circle is omnidirectional, a democratic shape that never turns its back on the other buildings.
The circular footprint and balcony inscribe a pixelated cloud of highly rational structural elements. Drawn on a modular system, this layout also allows for easy subdivision and a playful infill of solid and void spaces.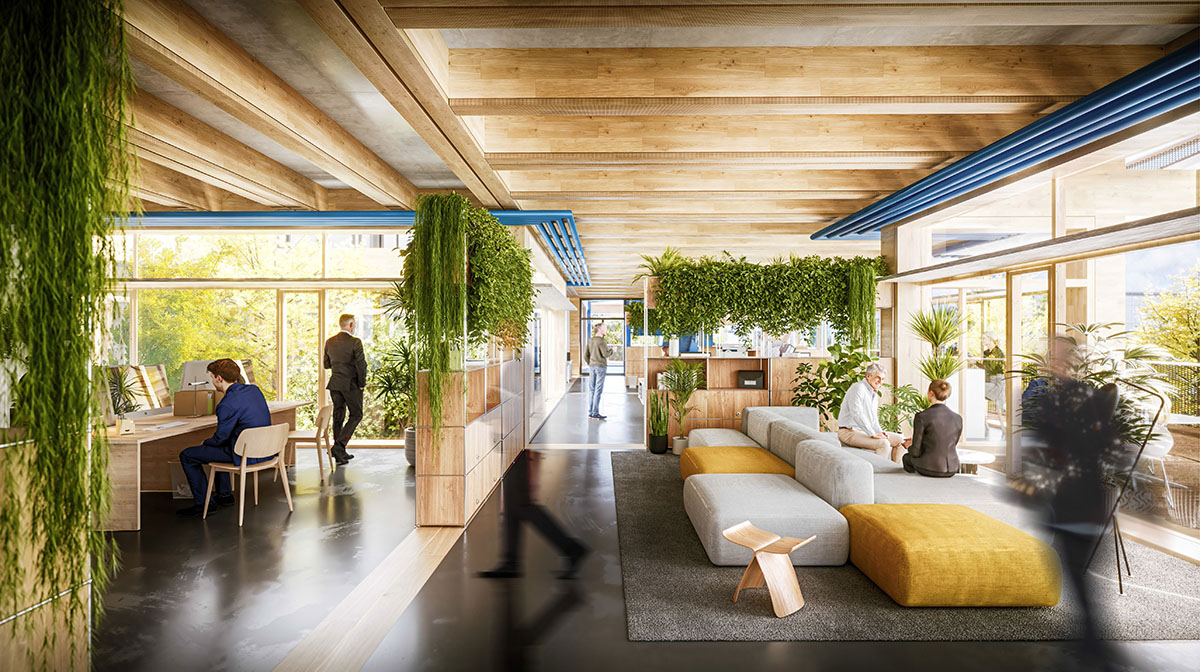 The grid is punctuated by a large central atrium and four smaller courtyards that vary from single height to triple height, providing fresh air and daylight to the building's occupants.
HENN's flexible system will contain spaces for seven companies, with collaboration spaces and communal programs located around the central atrium.
The main spiral staircase will lead visitors through this extroverted space, while the circular balcony and external staircases will act as shortcuts for employees and allow the office modules to operate independently. The recessed ground floor of the Hub creates a strong north-south axis on the site, linking a lake to the north and an existing orchard to the south.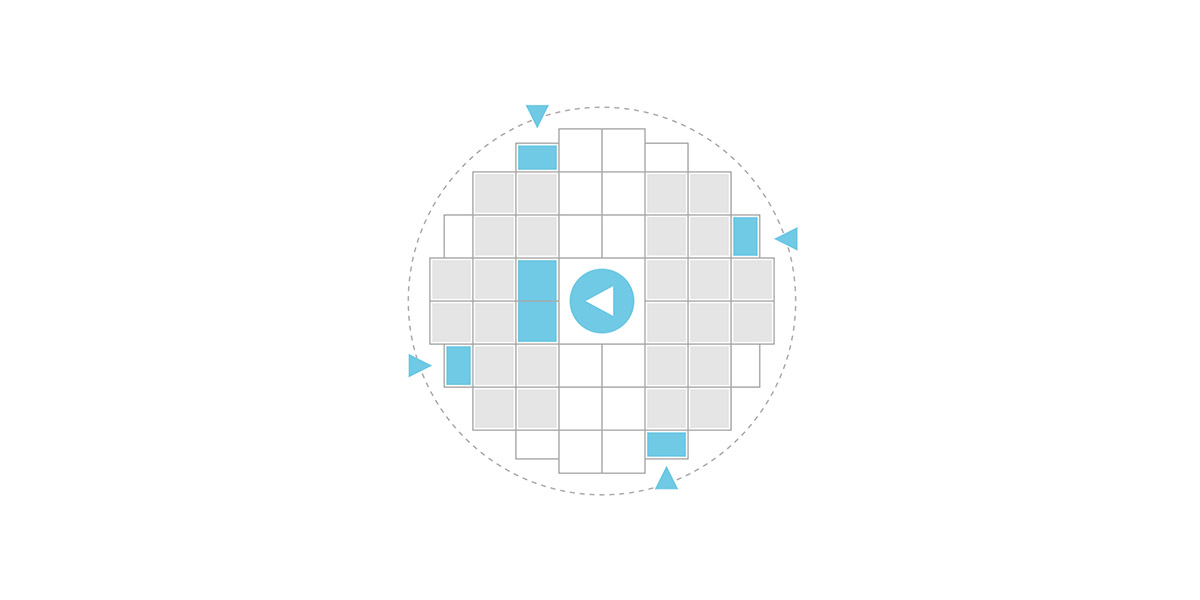 Circulation Access
Brainergy Hub will be made of a hybrid structure of timber, concrete, and steel. HENN will use warm wood for interior cladding, while timber will be used for columns and beams. In addition, concrete slabs will offer efficient spans and thermal mass for passive heating and cooling strategies and the steel balcony and exterior stairwells will offer stiffening structural support.
Energy Verkehrsherz
Solar panels will be deployed on the roof and the facade: photovoltaics rotate with the sun along the Hub's circular balcony, transforming the building into an energy-producing sundial. The Hub is a cog in the master plan's network of passive buildings, any excess energy produced is given back to the network.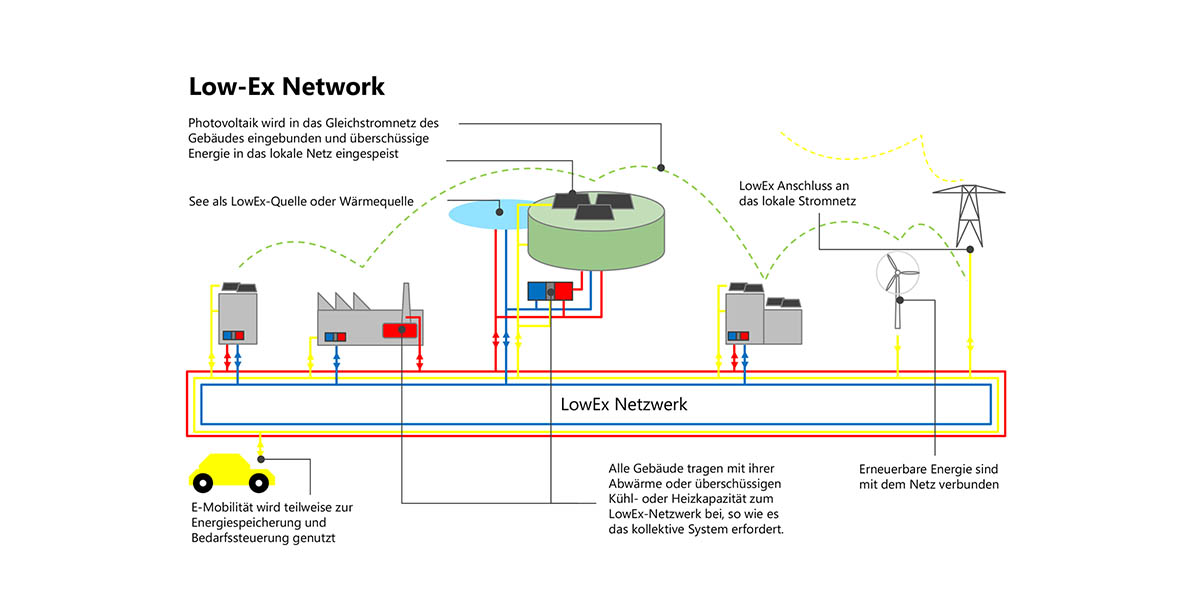 Diagram of Low-Ex Network
Diagram of Module Walls Structure and Cores
Office Modules
Photovoltaik Analysis Summer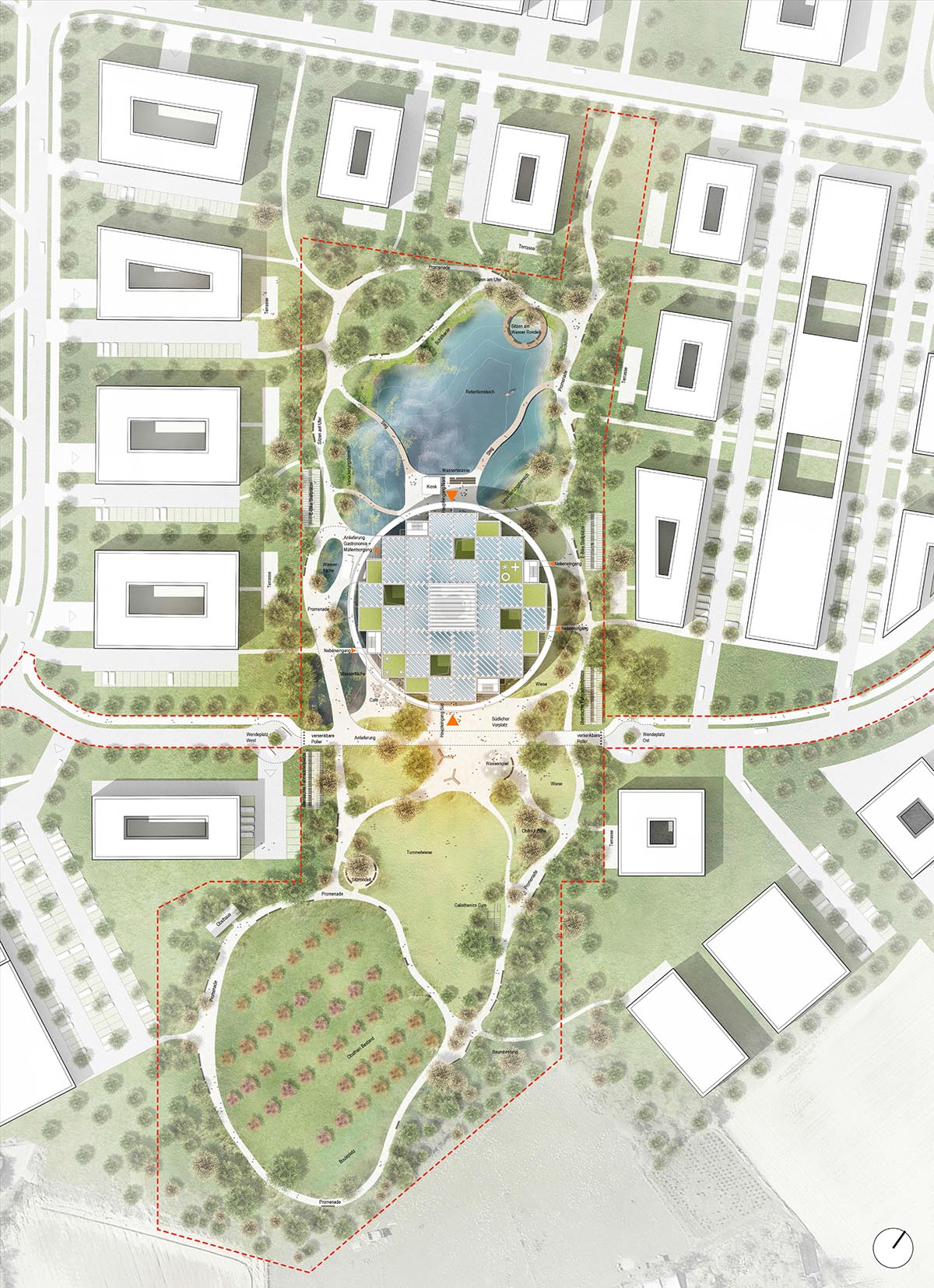 Site plan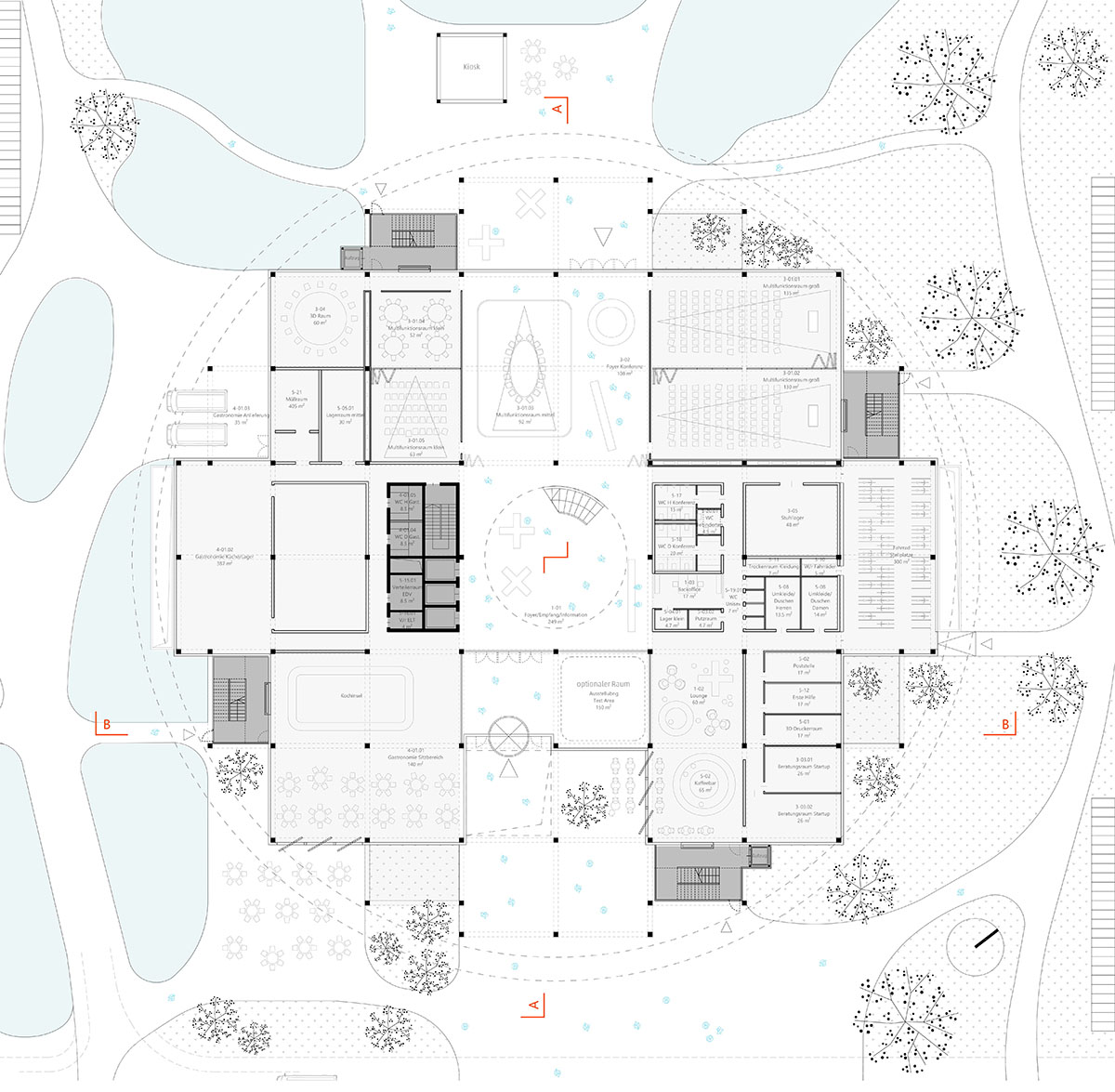 Floor plan 1
Floor plan 2
Section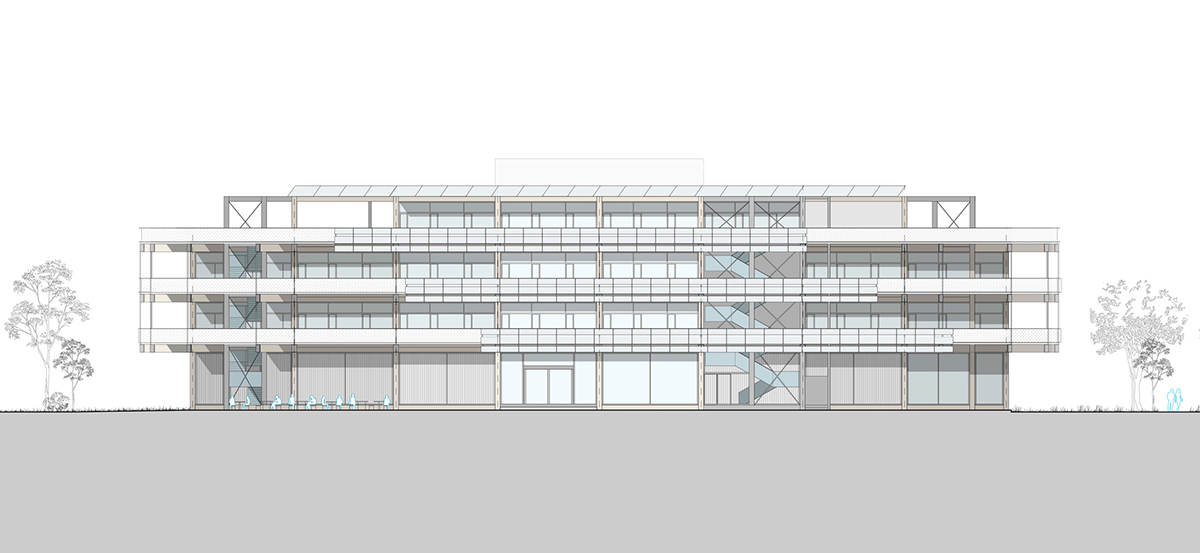 Elevation
Model
HENN is also working on the transformation of the Gasteig in Munich, which is expected to complete in 2025. HENN was founded in 1979 by Gunter Henn.
With 350 employees, HENN produces projects in the fields of work space, culture, health, education and research as well as production and master planning.
Project facts
Year: 2021
Typology: Office
Client: Brainergy Park Jülich GmbH
Location: Jülich, DE
Area GFA: 9,450 m2
Status: Competition, 1st Prize
Consultants: Buro Happold (Structure, Facade, Technical Building Services), Latz + Partner, nees Ingenieure GmbH (Fire Protection)
Team
Partner in Charge: Hans Funk
Project Director: Marcin Kropidlo
Design Director: Leander Adrian
Team: Klaus Ransmayr, Sam Weston, Ferdinand Fleckenstein, Oliver Koch, Carlota Gomez Touet, Andre Serpa
All images courtesy of HENN.
> via HENN