Carlo Ratti designs Italian Pavilion made of three boat hulls and multimedia facade at Expo Dubai
Carlo Ratti Associati has designed the Italian Pavilion that explores reconfigurable architecture and circularity at Expo Dubai 2020 which opened to the public 1 October 2021 in Dubai, United Arab Emirates.
Designed by CRA-Carlo Ratti Associati and Italo Rota Building Office, with Matteo Gatto and F&M Ingegneria, the pavilion is comprised of three boat hulls that make the structure's roof, a multimedia facade made with two million recycled plastic bottles and a natural climate mitigation system that substitutes for air conditioning.
The Italian Pavilion brings forward an all-encompassing vision emphasizing reconfigurable architecture and circular design involving some of Italy's most innovative companies.
The pavilion features a multimedia façade made with two million recycled plastic bottles, the team uses new types of building materials - from algae and coffee grounds to orange peels and sand - and an advanced system for climate mitigation that constitutes an alternative to air conditioning.
The team drew attention to the concept of "reusing" which is also fundamental to how the structure was conceived. The roof of the pavilion is made up of three real-sized boat hulls, which could potentially set sail after the event.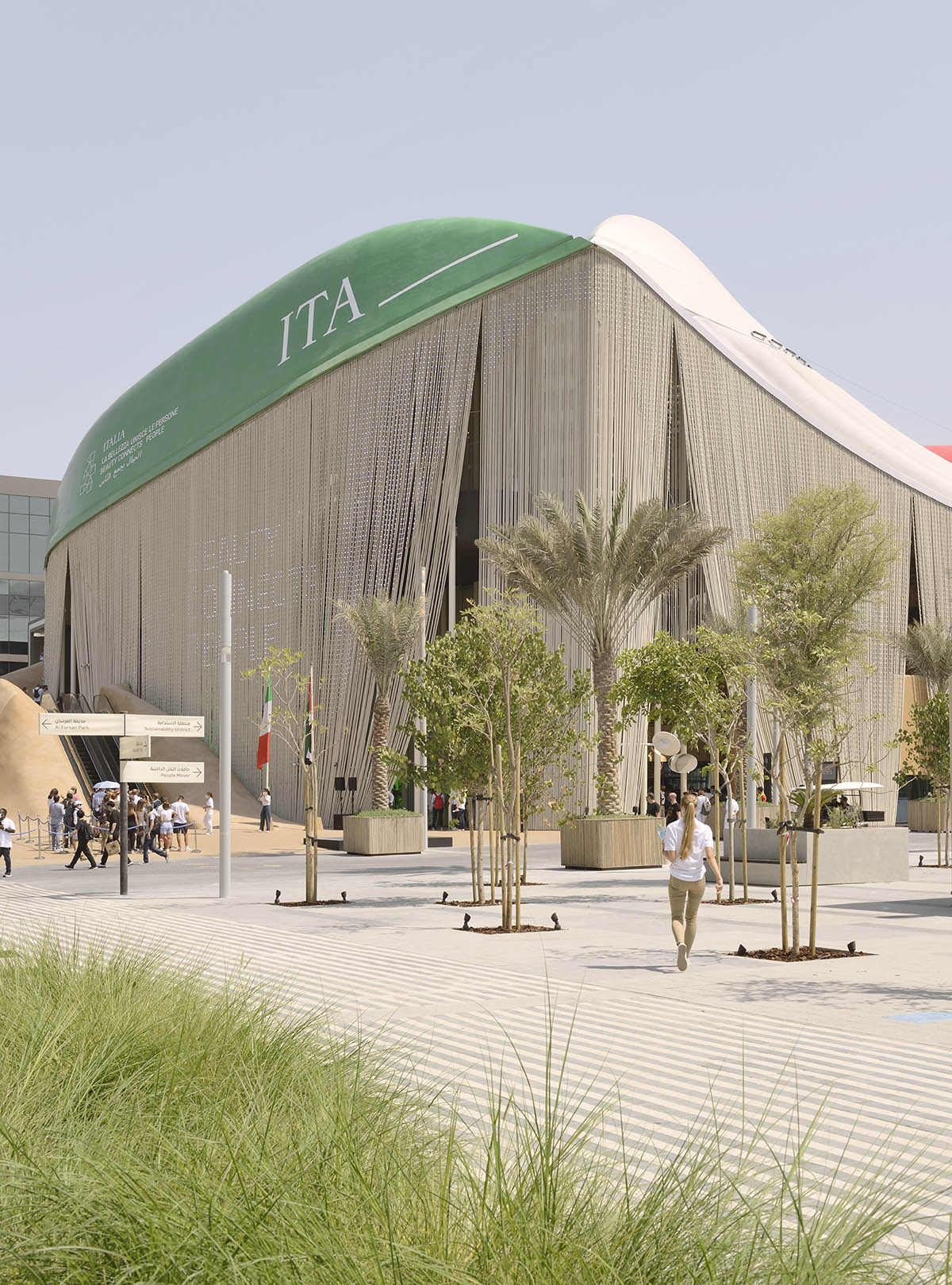 Covering a total of 3,500 square meters (38.000 square feet), the pavilion is open to the public until March 31st, 2022, the end of the Expo Expo 2020.
"Our design for the Italian Pavilion deals with what I believe is architecture's most important challenge today: advancing the double convergence between the natural and the artificial. It anticipates issues and suggests strategies that will be increasingly crucial for the future of our cities as we address the consequences of the current climate crisis," said Carlo Ratti, founding partner of CRA practice and director of the MIT Senseable City Lab at the Massachusetts Institute of Technology (MIT).
"The pavilion keeps mutating into different forms. It speaks about reconfigurability both in the long term, because of its circularity, and in the short term, thanks to its use of digital technologies," Ratti added.
The Italian Pavilion envisions an architecture which challenges how buildings are usually developed for temporary events such as a World Expo, in which a lot of newly-built structures end up as landfill after just a few months.
As the team emphasizes, "contrary to that approach, the Italian Pavilion was conceived as an architecture that is able to transform itself through time, in a sustainable fashion."
Three hulls, arrived in Dubai, become the roof of the pavilion, and after Expo, they could set sail to new destinations. The boat hulls also refer to the historical connections between the Italian and Arabian Peninsulas, thus hinting at the themes of both Italy's participation in the Expo, with the theme of "Beauty Connects People", and Expo Dubai 2020 as a whole "Connecting minds, creating the future".
The three boat hulls that form the pavilion's roof vary in length from 40 to 50 meters. They were produced with the contribution of Fincantieri, the largest shipbuilder group in Europe.
The hulls are supported by more than 150 slender vertical steel pillars, each 27 meters high. In turn, they support a wave-shaped roof membrane made of ETFE pillows and a layer of perforated thin metal sheets that filter the sunlight. Seen from above, the hulls are coated in an innovative paint developed by paints and coatings company Gruppo Boero. They are the three colors of the Italian flag - green, white, and red - and form what might be the biggest 'tricolor' in Italy's history (2100 square meters - 22.600 square feet).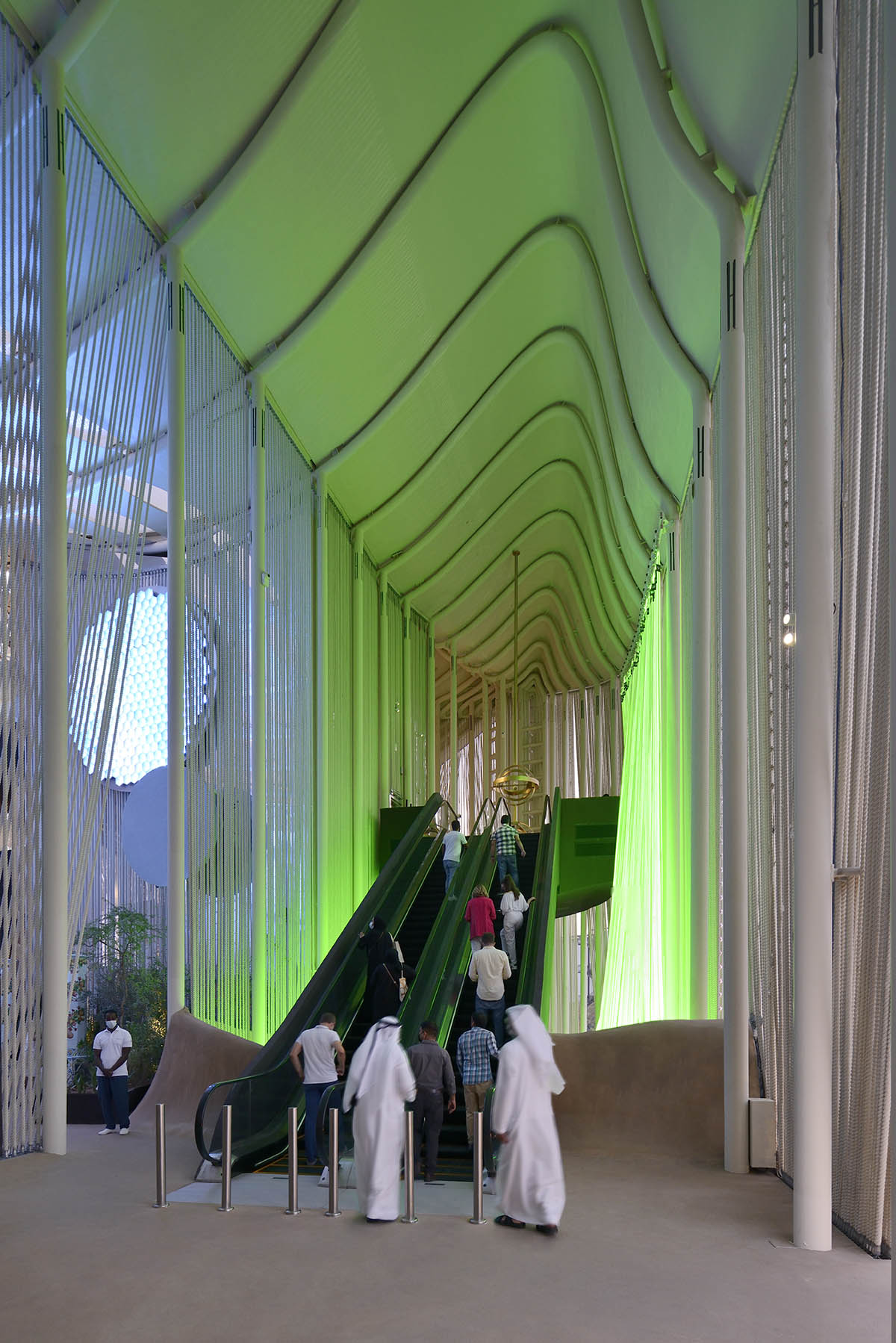 The pavilion has no conventional walls, however instead, the team created a curtain facade made of nautical rope, which also incorporates LEDs that can be lit to transform the facade into a multimedia surface, delineates the exhibition space.
The nautical ropes are produced in recycled plastic, using the equivalent of roughly two million bottles, and form an intricate vertical meshwork that stretches almost 70 kilometers (43,45 miles) in length.
The studio explained that "at the close of the Expo, they will be reused again, in accordance with the logic of the circular economy."
"The use of the nautical ropes and a localized cooling system integrated with misting allow for extensive shading, natural ventilation, and better thermal comfort. The project strives to showcase more sustainable ways to cool our buildings and cities in the future."
"The Italian Pavilion has large dimensions and a very sophisticated structure, but more than an architecture in the canonical sense it is a large experimental installation focused on the increasingly blurred boundaries between the natural and the artificial. Its construction is equally inspired by natural biotypes and the most advanced technologies that come from space research," said Italo Rota, founder of Italo Rota Building Office.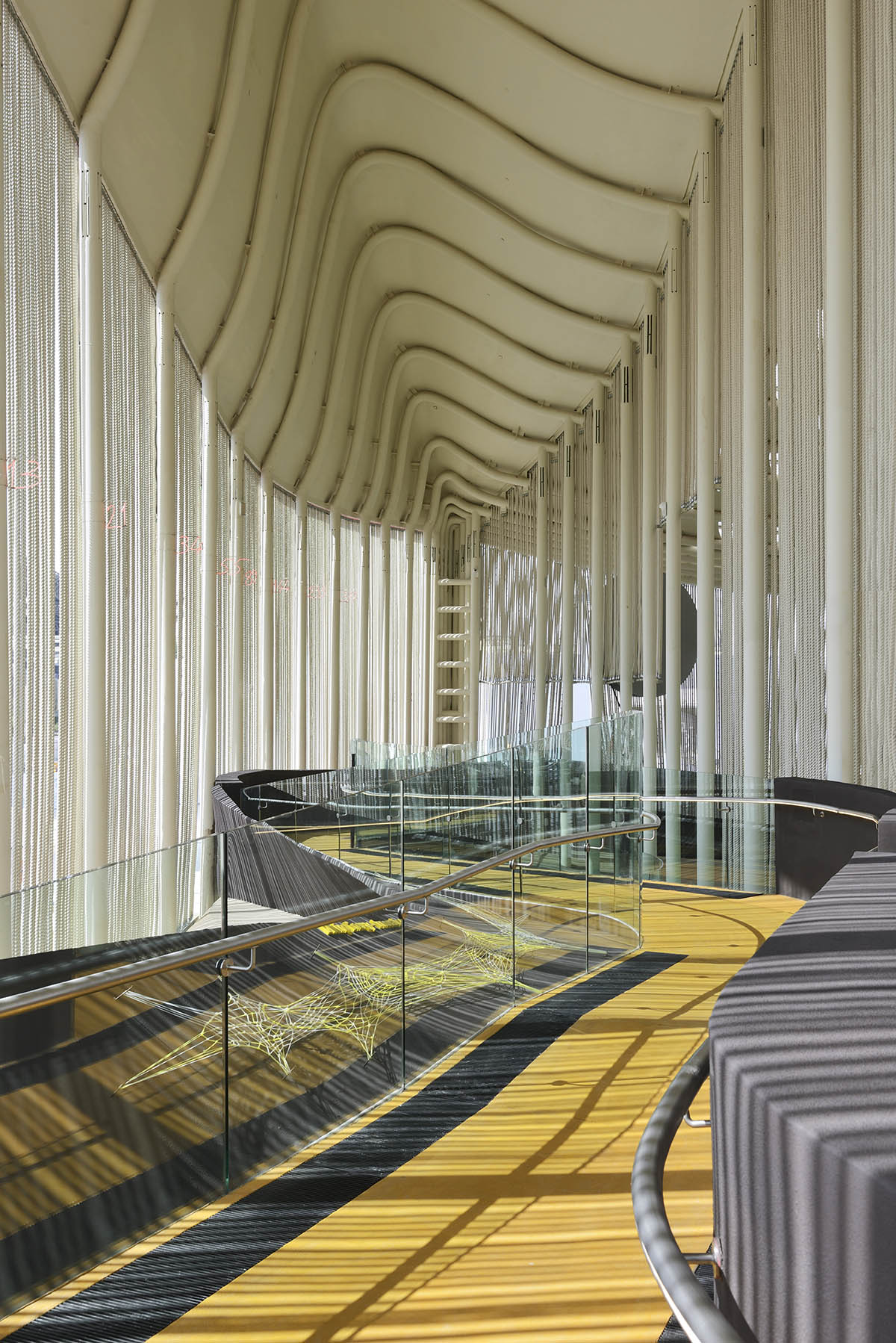 "On the one hand, the building looks at the organization of tropical forests, where light filters through a high canopy and life is organized accordingly. On the other hand, a crucial theme is the production of neo-materia: new construction materials that have an organic and biological origin, whose technological production is not to be mistaken with recycling."
"Since the pavilion was conceived in a circular way, one can think of this neo-materia as materials that one can potentially be reused anywhere, in different forms and with different purposes. The Italian Pavilion represents almost a sort of 'architectural banking': a catalog from which to choose the elements of future architecture," Rota added.
Visitors enter the Italian Pavilion's interior path via an escalator that takes them to a skywalk suspended 11 meters above ground level, right below the first hull's nave.
From this panoramic point, they can overlook the entire pavilion from a walkway that floats above the exhibition spaces and installations. Among the main spatial features are the Belvedere, a round structure topped by a dome, covered by wild herbs of the Mediterranean maquis, which evokes Renaissance gardens.
Here, spirulina microalgae, cultivated by renewable energy company TOLO Green, enables the ecological treatment of air through the biofixation of the carbon dioxide emitted by visitors.
The path also includes an Innovation Space dedicated to technological research, the Second Sun and Second Moon digital installations by Enel X which create a crescendo of light effects closely linked to the visitors' emotions in real-time, and the Theatre of Memory with a 3D-printed copy of Michelangelo's David developed by the Museum of the Galleria dell'Accademia of Florence and the Ministry of Culture in partnership with the Department of Civil and Environmental Engineering at the University of Florence. The ground floor of the pavilion features the "Solar Coffee Garden", a cafe designed by CRA and Italo Rota for leading coffee company Lavazza.
The rest of the Italian Pavilion also includes materials that were chosen in line with the circular approach, developed in collaboration with Mapei, which manufactures chemical products for the building industry. Coffee and orange peels left to dry and reduced to powder, are used to coat the suspended pathways and walkways.
"After the design of the Expo Milan site in 2015, it was very interesting for me to participate in the design of a national pavilion for Expo Dubai," said architect Matteo Gatto.
"Representing Italy is never easy, but I believe that the theme of travel and the technology that we developed to execute the concept, and then for the project itself, have managed to well represent the complexity of our country, which is rooted in its history and projected towards the future," Gatto added.
The pavilion itself rests on a dune five meters above ground level, made out of locally sourced sand. Moreover, the path inside the Italian Pavilion is enriched by a series of green elements from more than 160 different species that live inside the building.
Developed in collaboration with Italy's National Research Council (CNR) and botanist Flavio Pollano, this natural landscape pays tribute to the biodiversity and ecological beauty of the Italian and Mediterranean territories. The team paid particular attention to the role that plants play in stopping desertification.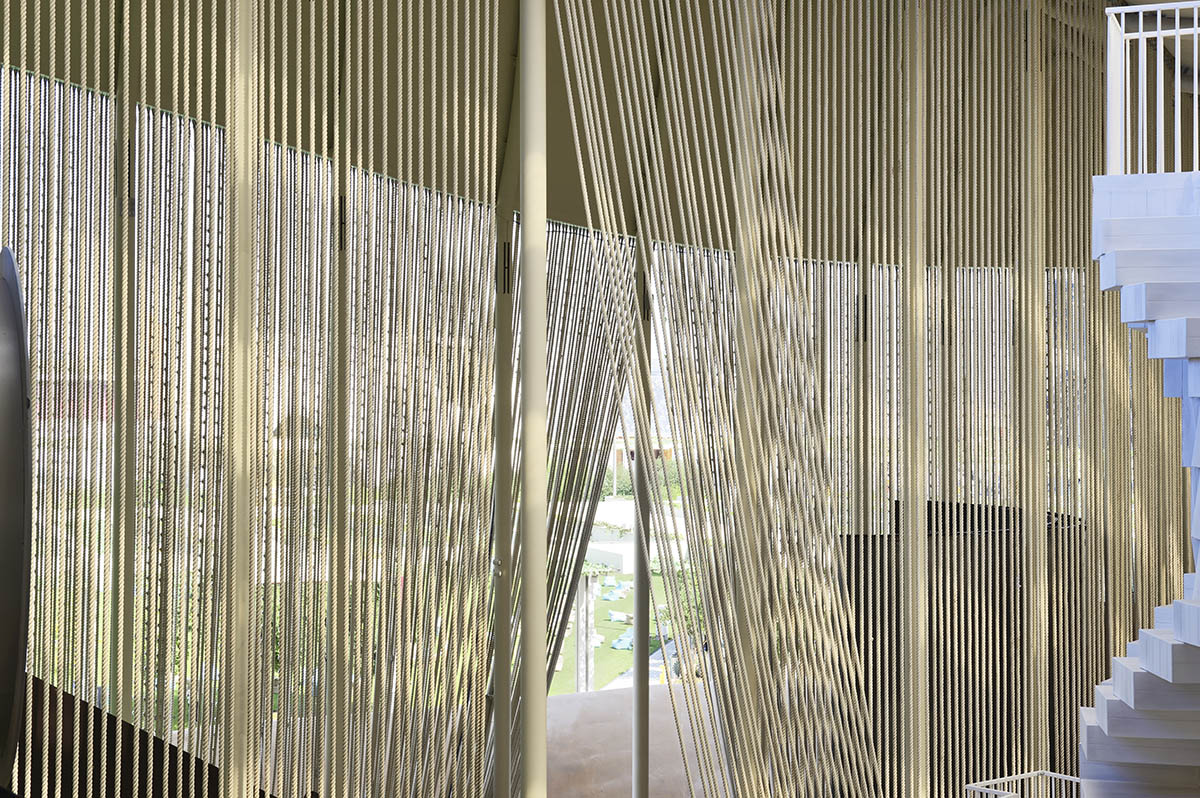 Expo 2020 Dubai has opened today, 1 October and will be on view until 31 March 2022 in Dubai. You can see other pavilions on WAC's United Arab Emirates Country Page.
Project facts
Project name: Italian Pavilion at Expo Dubai 2020
Architecture design: CRA-Carlo Ratti Associati and Italo Rota Building Office, with Matteo Gatto and F&M Ingegneria
Location: Dubai, UAE
Date: 1 October 2021-31 March 2022
CRA team: Carlo Ratti, Francesco Strocchio (Project manager), Monika Löve (Project manager), Luca Bussolino, Mario Daudo, Serena Giardina, Ina Sefgjini, Nicola Scaramuzza, Giovanni Trogu
CRA Graphic Team: Gary di Silvio, Pasquale Milieri, Gianluca Zimbardi
Past team members: Saverio Panata, Andrea Fasolo, Alberto Geuna, Gerolamo Gnecchi, Francesca Marino, Lucia Miglietta, Marco Maria Pedrazzo, Davide Ventura
Italo Rota Building Office team:
Italo Rota, Francesca Grassi
Past team members: Francesco Lato, Omid Mohammad, Gilberto Piano, Sammy Zarka
Matteo Gatto team:
Matteo Gatto, Stefano Monaco, Barbara Corli, Valentina Rizzo
Past team members: Paolo del Toro, Edoardo Perani
F&M Ingegneria team:
Sandro Favero, Federico Zaggia, Luigi Ranzato, Lorenzo Colarusso, Nicola Ros, Federico Moro, Antonio Nuzzo, Mauro Baessato, Davide Pizzolato, Dino Casagrande, Marco Furlanetto.
Past team members: Francesca Favero, Luca De Antoni, Dhebora Gambaro, Francesco Mason, Alessandro Palamidese, Luca Sangiorgi, Paola Zisa, Mirco Zuin, Alessandro Bonaventura, Marco Bonaldo, Francesca Bertuzzo.
Scenography design consultant: Alessandro Camera
Video and Multimedia Consultant: AGMultivision (Tiziano Alessandro Testoni)
Lighting Design Consultant: Luminae Lighting Design (Lorenzo Bruscaglioni)
Sound Design Consultant: P2A Design (Alessandro Pasini, Simone Fagnani, Paola Renda)
Wayfinding Consultant: 100km studio (Luigi Farrauto)
Graphic Consultant: studio FM milano
Landscape Consultant: CNR (Silvia Fineschi, Roberto Reali, Francesco Carimi), GMP Studio (Flavio Pollano, Rachele Griffa)
Braiding the Future
An installation: Eni by CRA-Carlo Ratti Associati and Italo Rota Building office
CRA team: Carlo Ratti, Antonio Atripaldi (Partner in charge), Chiara Borghi, Luca Giacolini, Nicola Scaramuzza
CRA Graphic team: Gary di Silvio, Pasquale Milieri, Gianluca Zimbardi
Past team members: Saverio Panata
Italo Rota Building Office team: Italo Rota, Francesca Grassi
Fabricator: Carli Produzioni S.r.l.
Solar Coffee Garden
An installation: Lavazza by CRA-Carlo Ratti Associati and Italo Rota Building office
CRA Team: Carlo Ratti, Andrea Cassi (Partner in charge), Luca Giacolini, Nicola Scaramuzza, Giovanni Trogu
CRA Graphic team: Gary di Silvio, Pasquale Milieri, Gianluca Zimbardi
Past team members: Saverio Panata, Alessandro Tassinari
Italo Rota Building Office: Italo Rota, Francesca Grassi
Past team members: Francesco Lato
Fabricators:
Eurofiere s.p.a. (Luca Bertoletti, Fabio Capelli)
Makr Shakr (Alessandro Peretti Griva, Carlo Turati, Luca Cianfriglia)
All images © Michele Nastasi
> via Carlo Ratti Associati