RVAD Studio proposes commercial tower featuring vaults and arches inspired by Iranian bazaars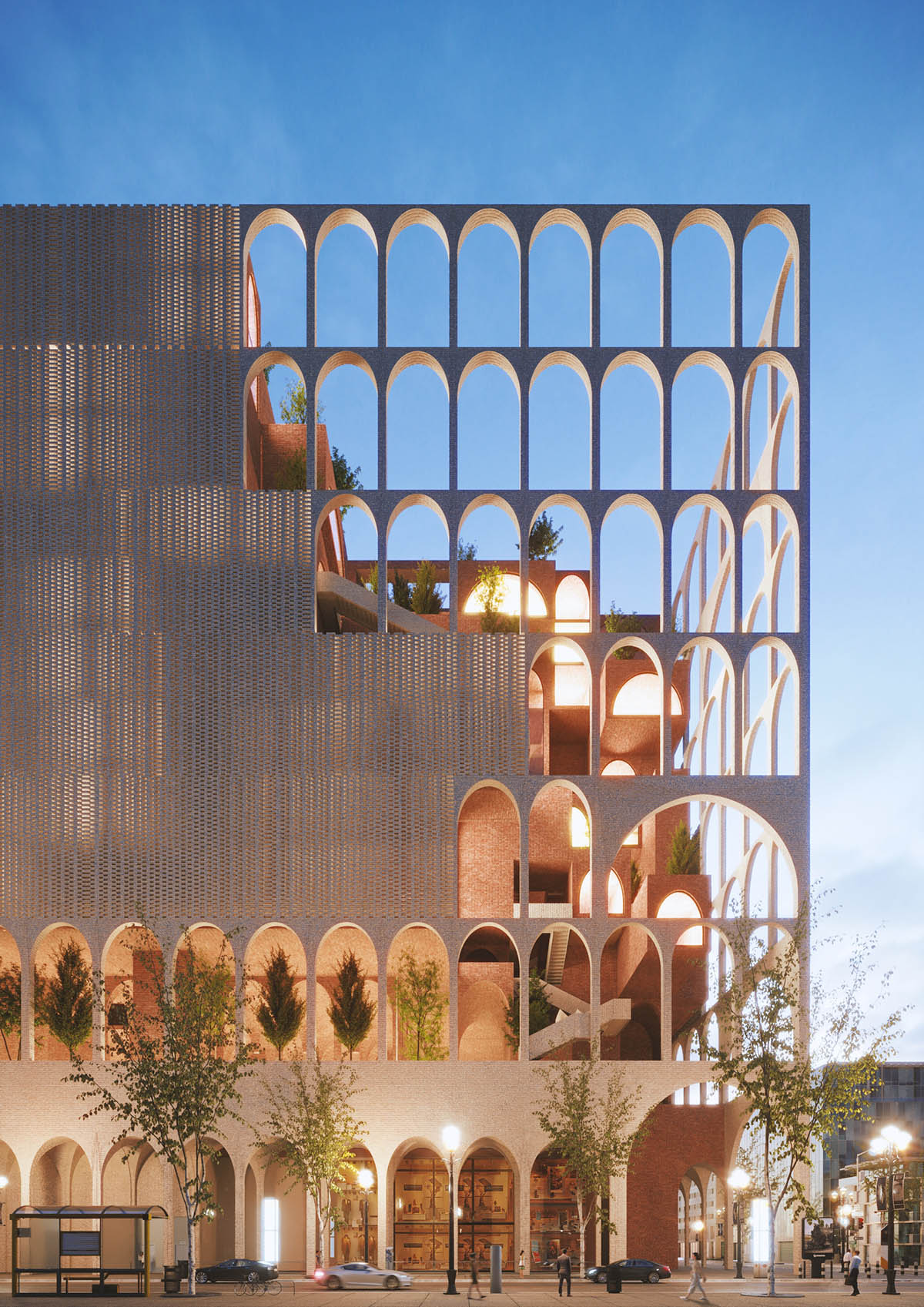 Tehran-based architecture firm RVAD Studio has proposed a commercial tower that features a series of vaults and arches inspired by Iranian bazaars and the city of Mashhad, Iran.
The proposal, called Tagh Behesht, uses the characteristics of bazaars such as Sar-Shoor, Farsh, and Reza as the principal morphology of the design by creating a second shell in the façade.
Located in Mash-had, Iran, the language of the tower references to "unbreakable bond between the city bazaars and the foundations of the economy has led to bazaars taking on an important and consistent role in people's daily lives."
With this proposal, the architects aim to bring a new perspective on public urban spaces, of which many Iranian cities, such as Mash-had, are in desperate need.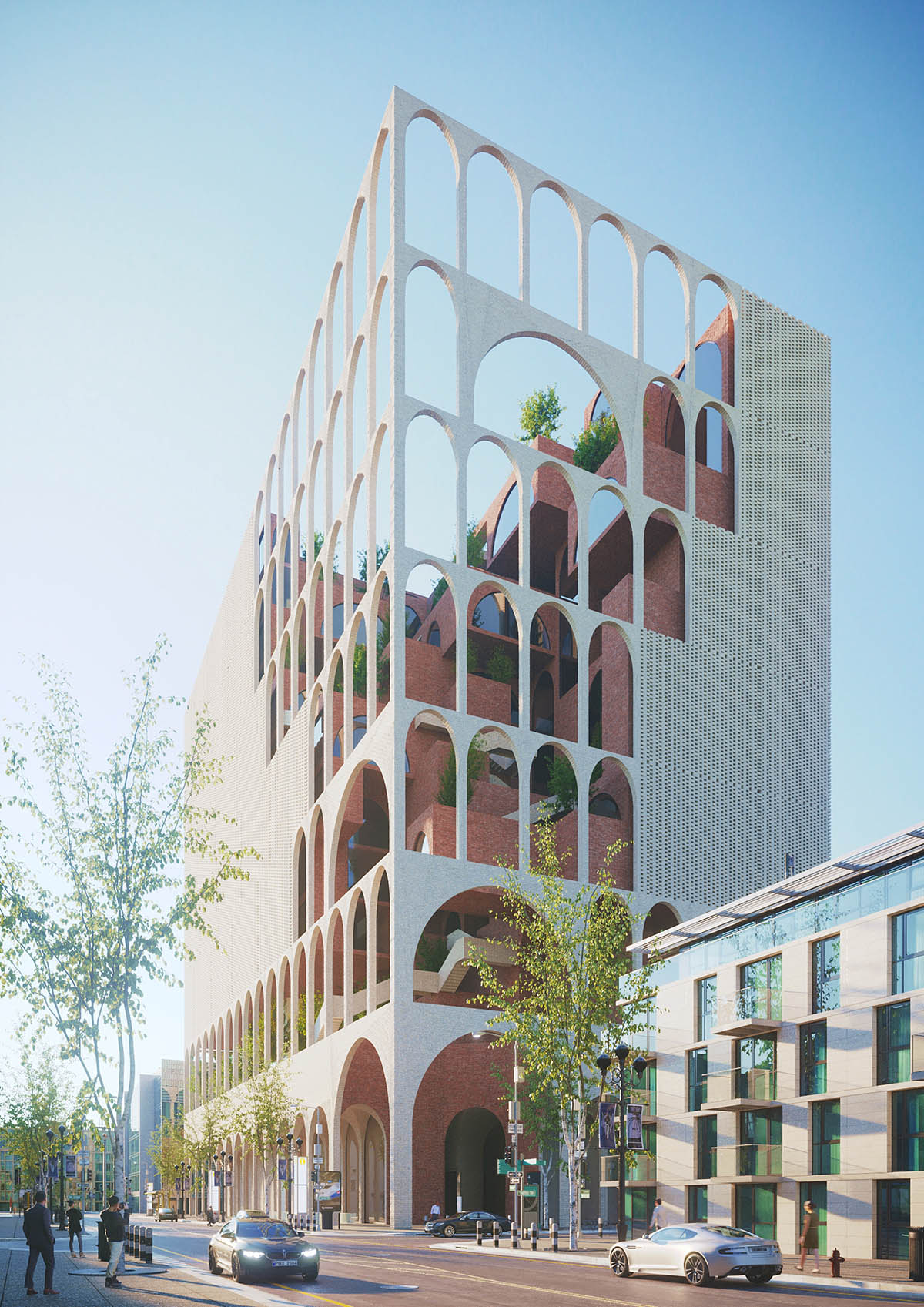 Overall Street View
"Among the key characteristics of such bazaars is the porch-like entrance hall that, similar to the main portal, guides the pedestrians inside," said RVAD Studio.
"Individual arches and porches all ultimately lead to the bazaar's main entrance. Using vaults and arches to cover large openings is yet another visual characteristic of bazaars."
The Kang village un suburban Mash-had was also studied for its historical significance and its notable staircase structure, which takes after the geographical position of the village in the mountain hillsides. The formation of balconies in each house on the mountain slopes, chained together in a layered fashion, has greatly contributed to the core foundation of our layered garden design.
Street View (Back)
"Our everyday lives today largely involve social functions and activities in which we participate on a daily basis," the studio added.
"To improve an individual's social life and collaboration with others, one of the most important city design structures deals with producing accessible and appropriate public spaces."
In the absence of such spaces in Iran, the architects decided to put public and social spaces to a challenge and attempt to conceptualize an ideal possible option.
The project's site has great potential to become an urban hub, given its proximity to one of Mash-had's largest public parks, which encourages and invites visitors of all ages. At the same time, its strategic geography allows for it to become a major attraction for tourists and visitors of nearby countries, given that Nation Park is among Mash-had's first tourist attractions, inviting many travellers and tourists every year.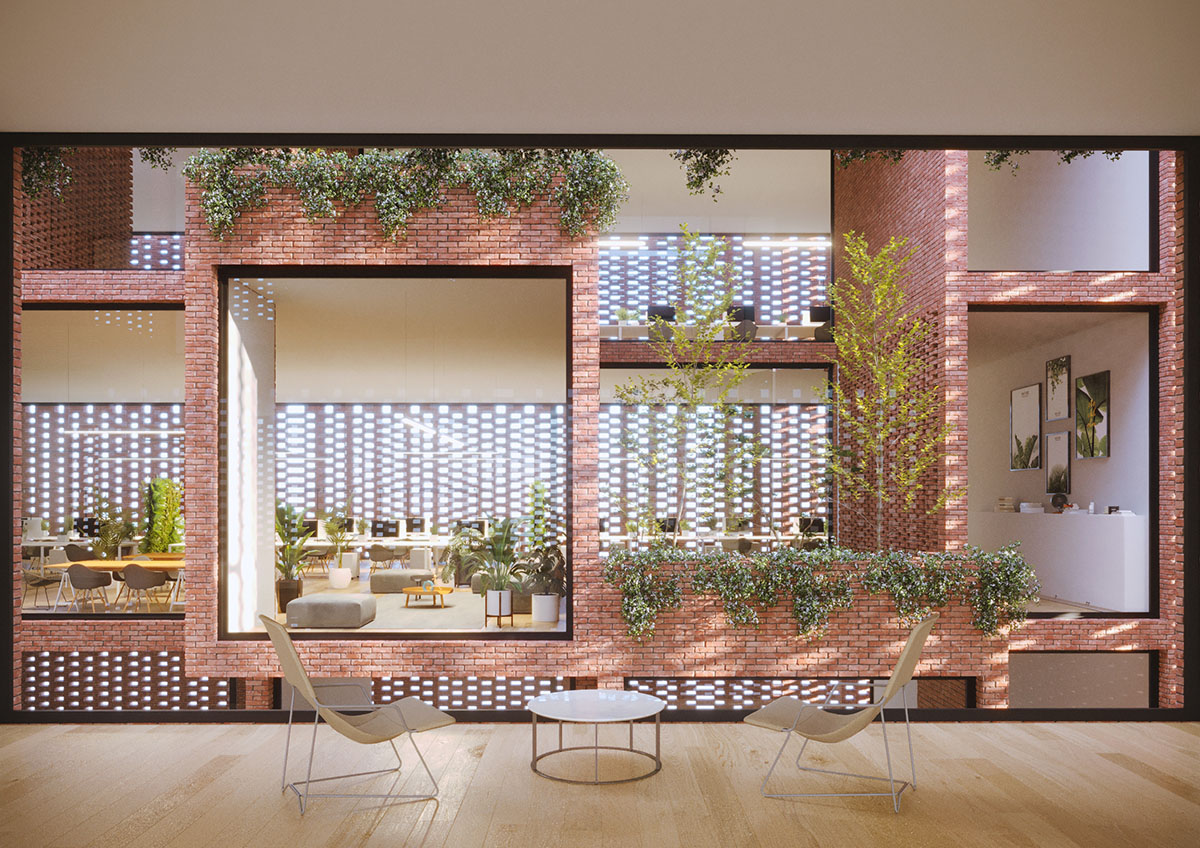 Office Interior - View into the courtyard
In light of the project site's analysis, Mash-had has only a few green spaces, given its area. As the main social hubs, the city's public bazaars and its business districts are concentrated in the city center, away from green spaces. Therefore, the studio decided to design a new type of "Commercial Complex" with a more serious outlook towards Mash-had's public spaces.
The presence of adjacent Mellat Park allowed us to clear a visual path to the park in order to create better views and more accessible gateways for visitors. This opening, so-called layered park, is inspired by the Kang village near Mash-had, where ground floor layers are connected to the upper layers using a walking pathway.
Office Interior - View into the courtyard
One of the main ideas in the project's future design is connections to the city, using pedestrian bridges to create safe and enjoyable walkways. The important principle behind the design of such bridges is to incorporate nature and green spaces as platforms situated in different areas around the project, resulting in a more pleasant experience and a net positive environmental effect.
These bridges, acting as pedestrian footpaths, present a new city experience for visitors by creating a different perspective of the city, away from traffic.
The flat middle garden, much like a city junction, is the intersection between all suspended pedestrian bridges, which invites the city in and eventually connects the remaining business floors and bazaars. This garden acts as the project's main connection hub and is the promenade ultimately enabling circulation between the project and the bridges. The public garden floors, much like the bridges, extend available views, improving the relationship between business units and visitors.
Courtyard View
One of the more interesting components of this project is the suspended courtyards, situated between the office areas and providing a green space for all floors and business units, as well as sufficient and direct light for office spaces.
"Our main concern in designing such green spaces was to ensure the proper distance between current business units to allow for a beautiful and open landscape; a design concern that has never been considered in any of Iran's current office building designs," said the studio.
"The general typology and shape of this void are such that it is in continuation of the main layered garden, without providing direct public access."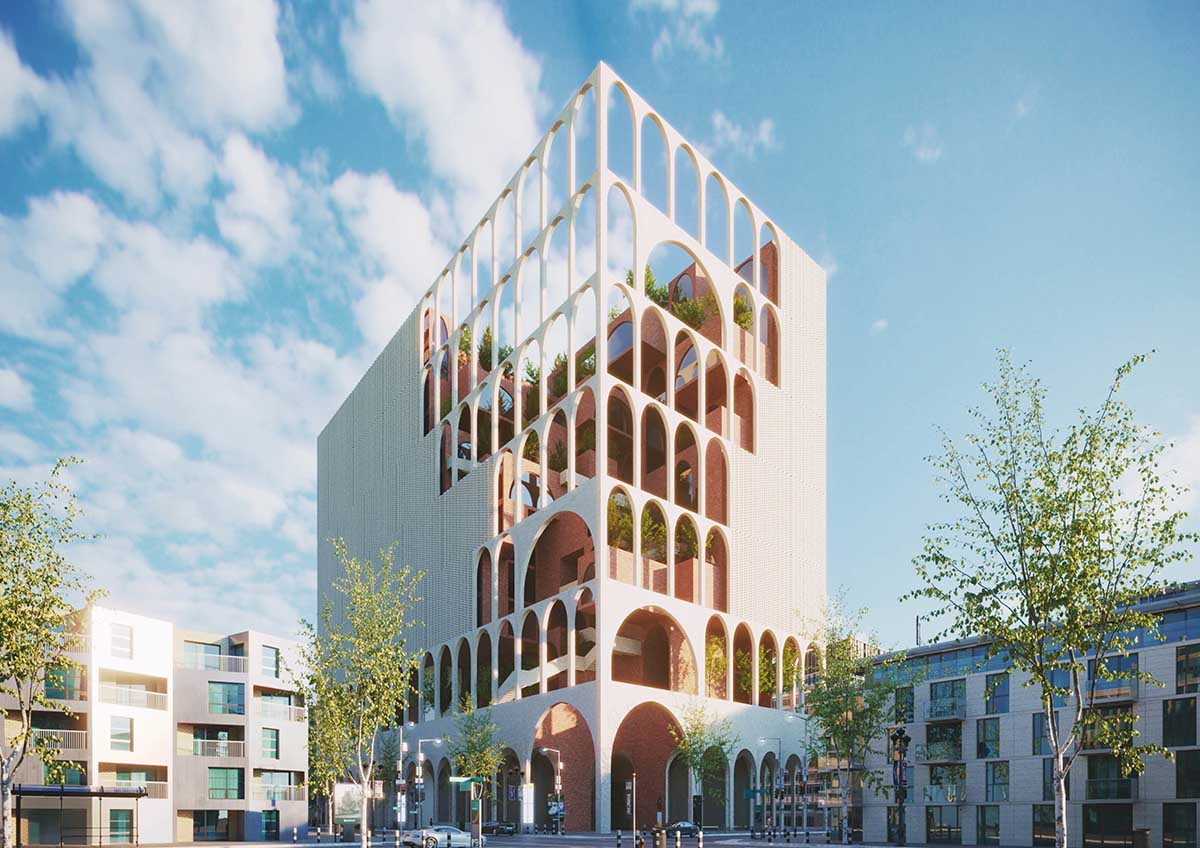 Overall Street View
The building's exterior design is inspired by arcs, frequently found in Mash-had's prominent bazaars, such as Sar-Shoor Bazaar and Reza. The brick mesh crust, as a second shell, blocks unpleasant light from east and west, while still filtering a mild degree of light into the office areas.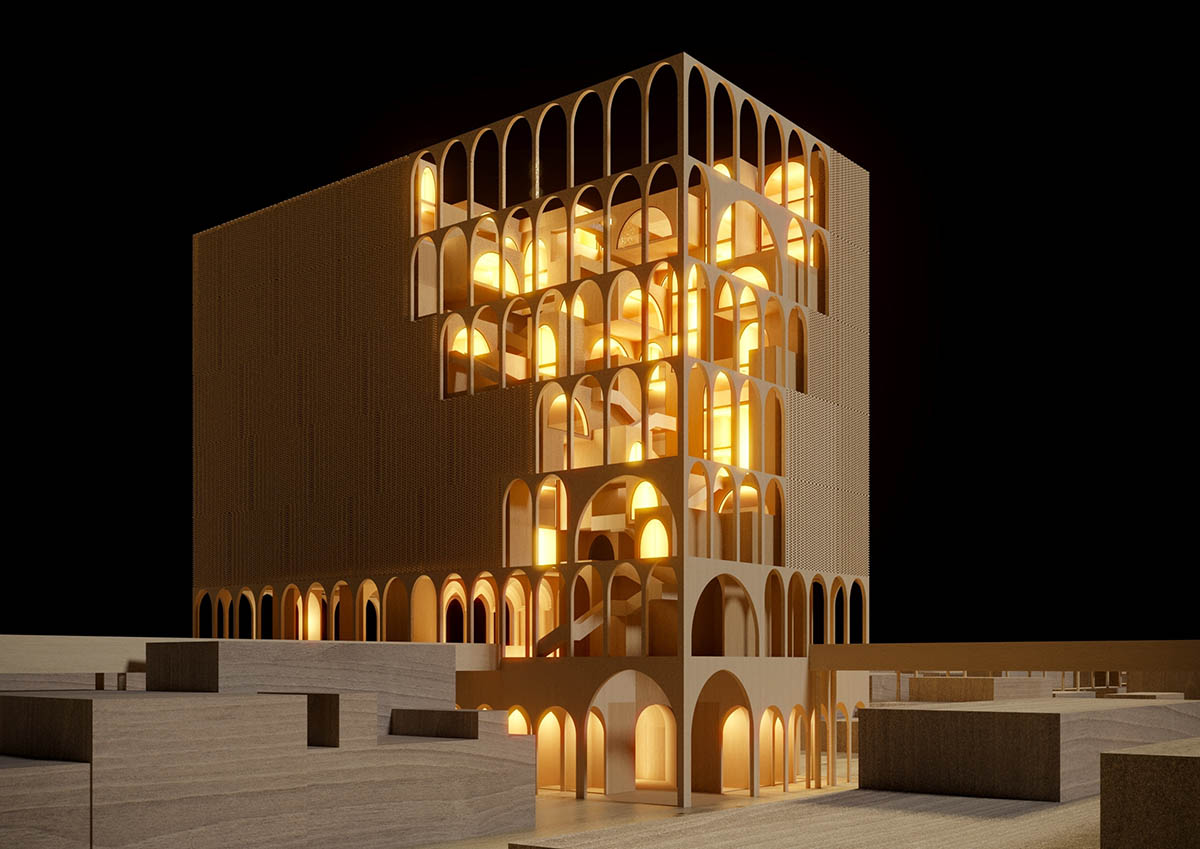 Maquette Render (Front)
Water has always been a symbol of life and serenity, and a vital cause for inhabitation. Water is a brilliant influence on producing clear air and breezes, especially in dry and hot areas such as the city of Mash-had.
The construction of a small pond in the lower building floors not only allows for cool airflow during hot summers, but also creates a beautiful and enchanting view.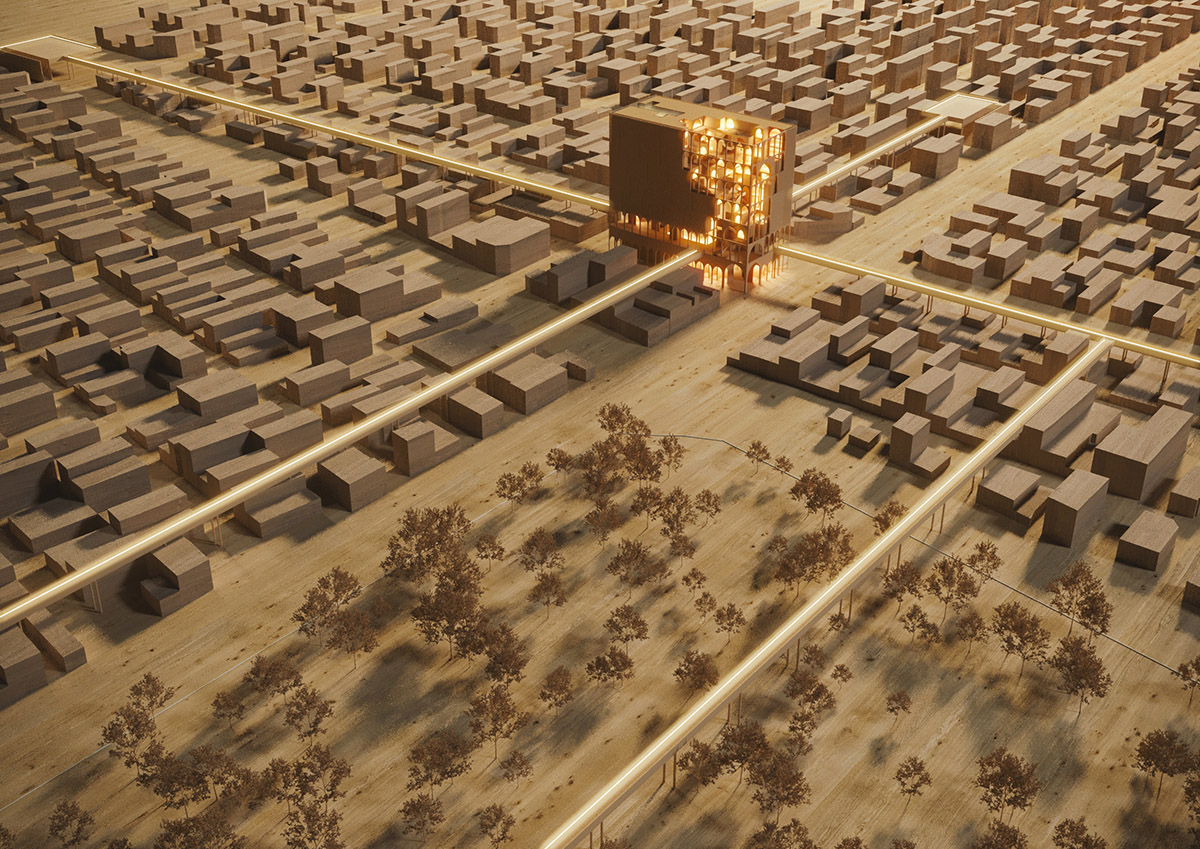 Urban Interpretation - Maquette Render
Maquette Render (courtyard)
Maquette Render (Front)
Massing Evolution
Urban Interpretation
Plans Drawing
Sustainability Diagram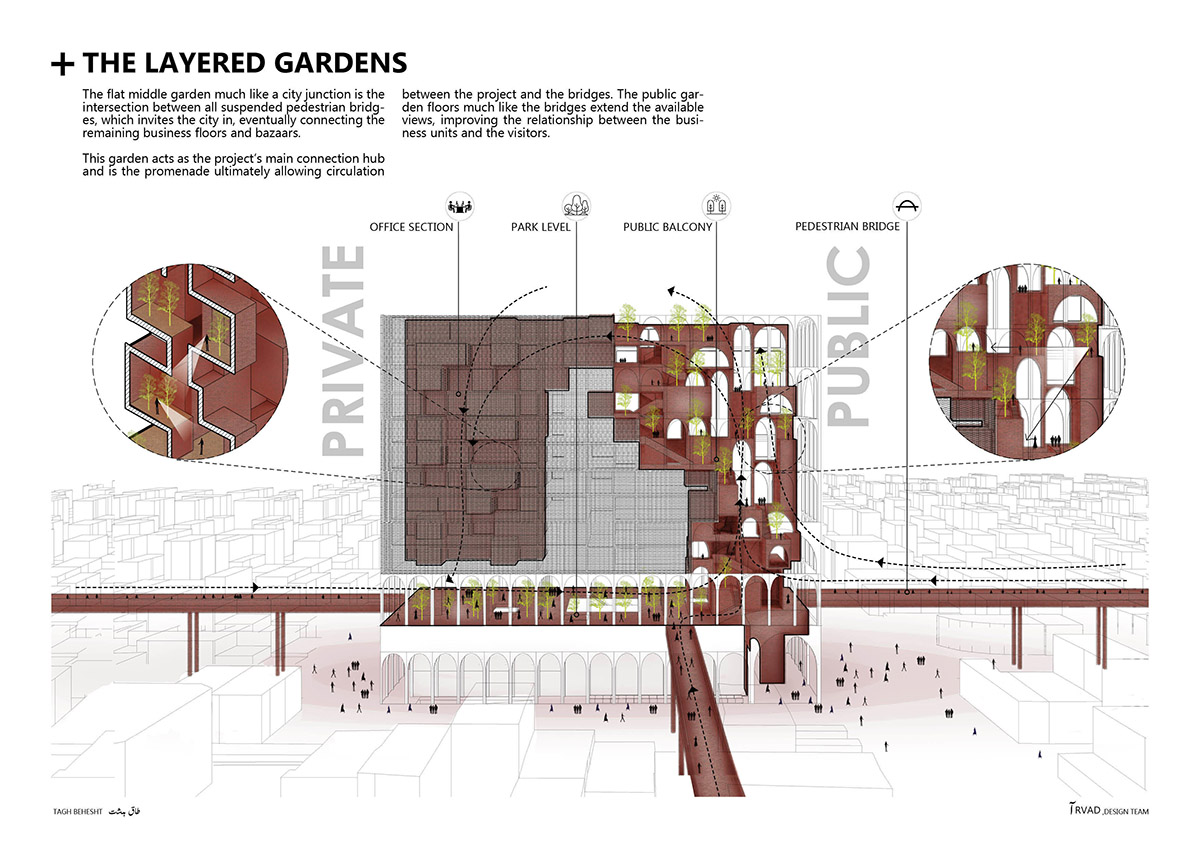 Layered Garden Diagram
All images courtesy of RVAD Studio.
> via RVAD Studio