Es Devlin creates 24-metre-long red-lit tunnel at 180 The Strand, London
Award-winning British artist and stage designer Es Devlin has created a 24-metre-long red-lit tunnel at 180 The Strand which has been opened today in London.
The project is designed as part of a new immersive group show, titled LUX: New Wave of Contemporary Art, organised by SUUM Project in collaboration with Fact at 180 Studios.
In addition to Es Devlin, the show features other works by Refik Anadol, Carsten Nicolai, Hito Steyerl, Random International and Universal Everything. LUX is the second in the ongoing LG OLED ART SELF-LIT GALLERY series.
Featuring 13 large-scale installations, the LUX opens to the public today, 13 October and will be on view until 18 December 2021 at 180 The Strand, London.
Devlin's work, named BLUESKYWHITE, has been designed in response to solar engineering proposals to "dim the sun" in order to counter global heating, with unpredictable potential side effects including an end to blue skies.
The project is formed of two parts: in Part I, text read by the artist from Byron's 1816 poem Darkness underscores the viewer's passage through a 24m long red-lit tunnel.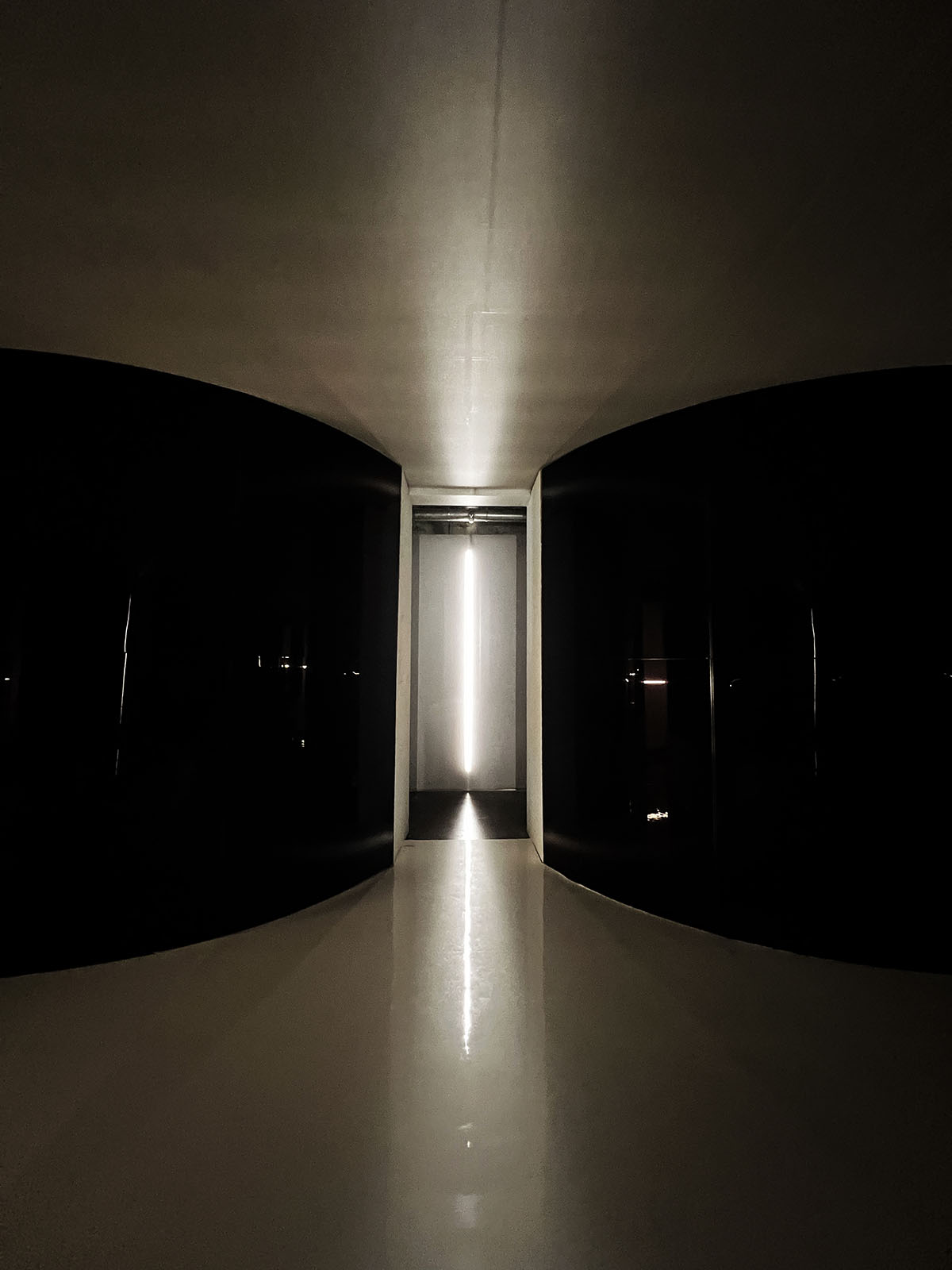 The poem was written during the aftermath of the eruption of Mount Tambora, Indonesia on 5th April 1815, which released more than 100,000,000 tonnes of gas and fine particles into the atmosphere, resulting in a perceptible dimming of the sun, and a reduction of the earth's temperature of around 3 degrees celsius in what became known as the 'year without summer' whose intense glowing red sunsets were documented in the paintings of J.M.W. Turner and Caspar David Friedrich.
The second part draws from contemporary solar geo-engineering models documented by Elizabeth Kolbert and others which use volcanic eruptions like Tambora as precedent to suggest that a haze of suspended particles might reduce global temperature to pre-industrial levels while potentially turning blue skies permanently white.
"The work invites the viewer to experience two perspectives: in the tunnel they are immersed in a nineteenth century Romantic poet's first hand account of 'the year without summer' caused by an 1815 volcanic eruption," said Es Devlin.
"Once through the tunnel they are presented with contemporary accounts of solar geo-engineered solutions to global heating based on the phenomenon experienced by Byron - none of which feel palatable yet some of which might become inevitable."
LUX: New Wave of Contemporary Art brings together 12 of the world's most celebrated media artists and collectives, creatives working with the latest audio-visual technologies to expand the boundaries of interactive, immersive art, blurring the lines between the physical and virtual worlds.
Es Devlin recently designed the timber UK Pavilion at Expo 2020 Dubai. Es Devlin is the first woman to design the UK Pavilion since the inception of Expo in 1851.
All images courtesy of Es Devlin.
> via Es Devlin