Red pigmented lattice wall creates contrast with gray concrete base in Bugambilias House in Mexico
Mexican architecture studio Taller Mexicano de Arquitectura has completed a dwelling featuring red-pigmented lattice wall that creates a contrast with gray-colored concrete basement in Merida, Mexico.
The house, named Bugambilias House, is a two-storey house setting its own privacy with porous wall, internal garden and ensuring a good relationship between inside and outside.
Covering a total of 263-square-metre area, the house is located on a 300-square-metre plot located in the neighborhood where it gives the name of the house in the city of Mérida, Yucatán, Mexico.
The architects intended to create like a refuge place for the house considering its immediate context, closing inwards. The team stated that as the neighborhood is under development, they considered the safety issues that might be a problem for the users.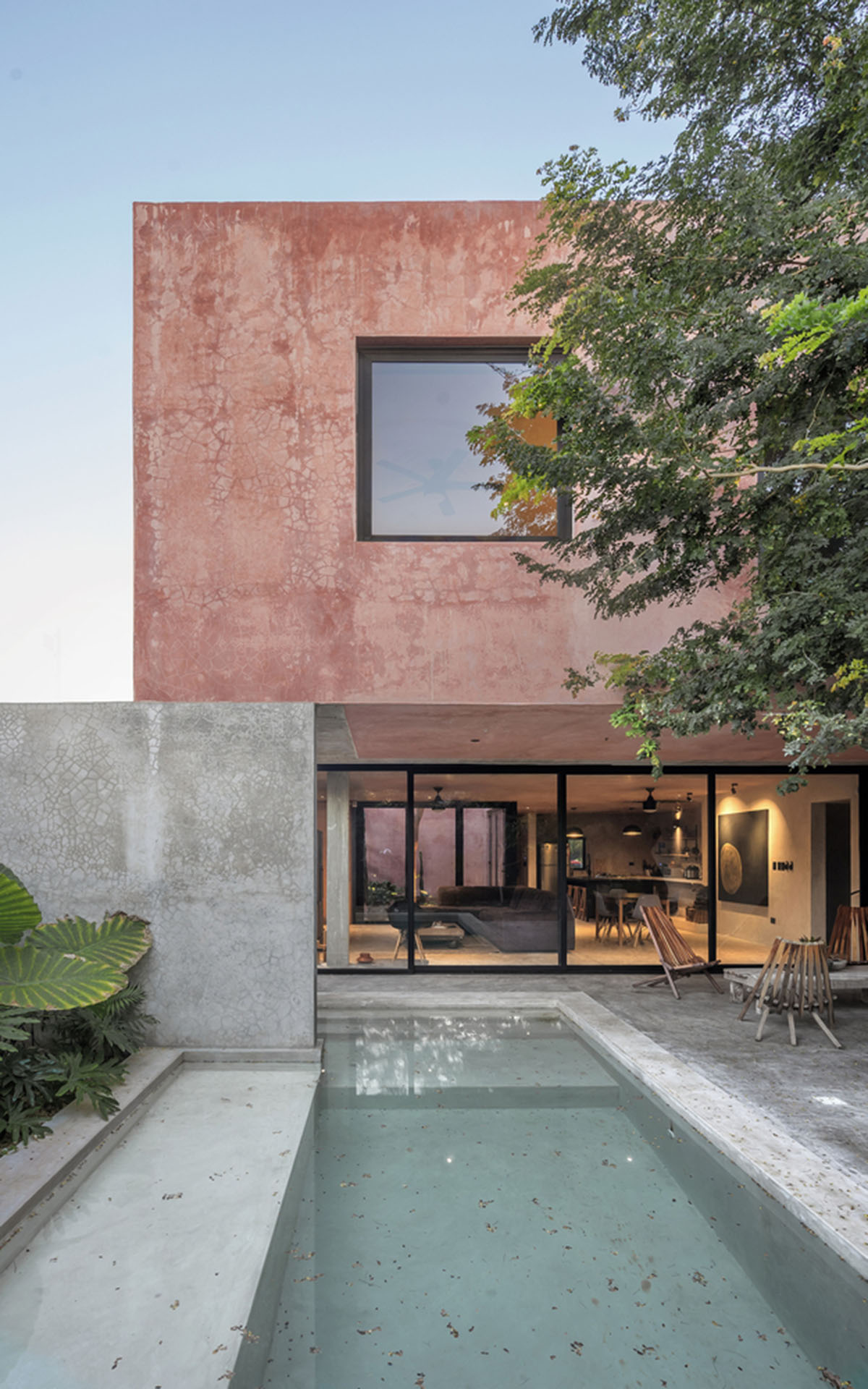 A very introverted from outside, the house is enriched with a good play of solid-void relationship. It aims to form a gray concrete basement on the ground floor on which a monolithic volume of pigmented concrete rests to generate that contrast between the two levels.
For material choice, the architects preferred to use raw materials that can be something characteristic to the house and that intentionally seeks the aging of these with the passage of time.
The house is kept open at certain points with windows, and red-pigmented lattice wall in the facade allows passersby to see outside, while providing the feeling of security being inside.
On the ground floor, there is a common space described as a shelter for the service and social areas, all these are connected to the backyard and terrace thanks to an interior patio that functions as the heart of the project.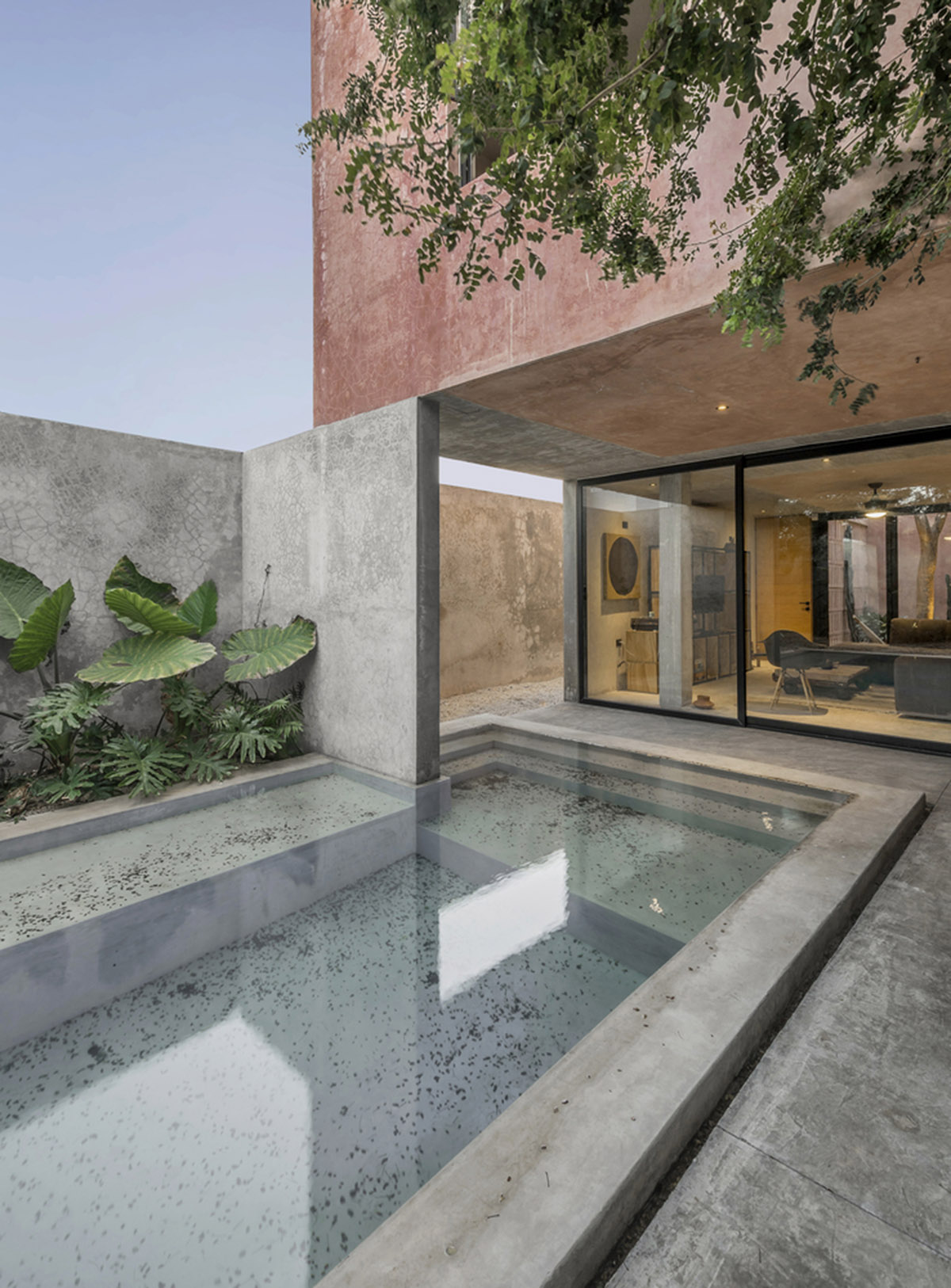 A patio, situated in the entrance hall, takes users into a backyard garden and the patio also works as a thermal regulator due to its lattice wall. It generates natural ventilation and lighting on both floors of the house.
At the backyard, a huge terrace is accompanied with a small swimming pool with abundant of lush trees and plants. Interiors are designed as flexible as possible with minimum furnitures.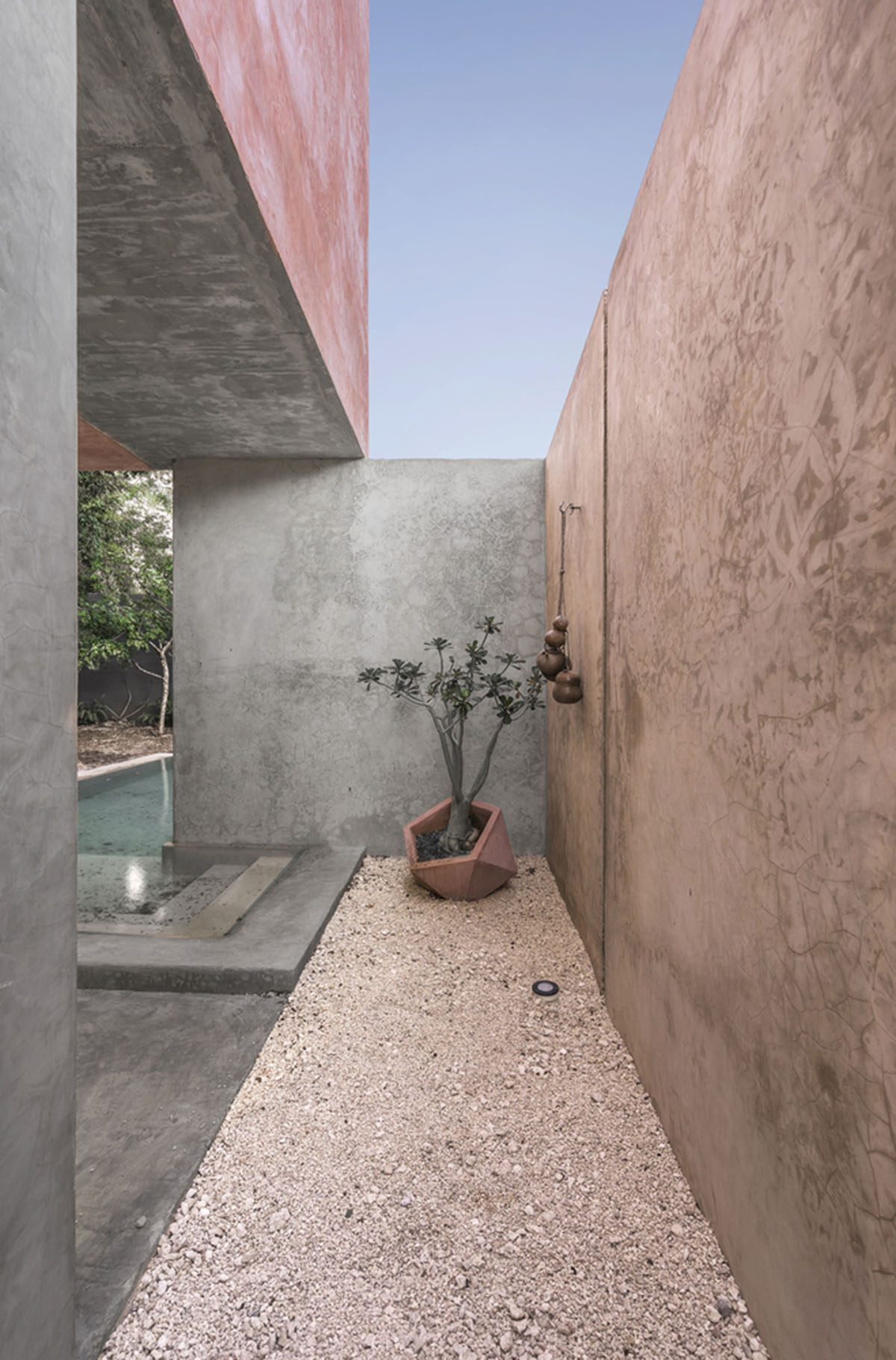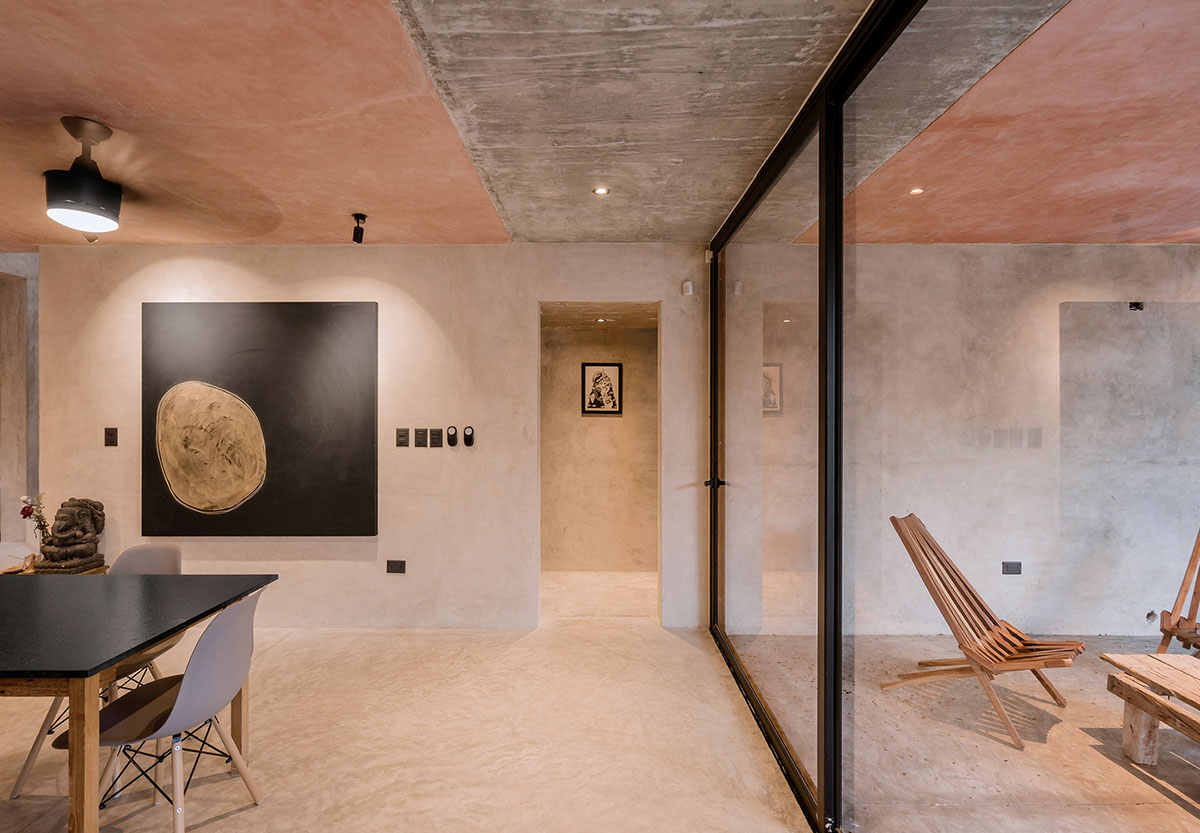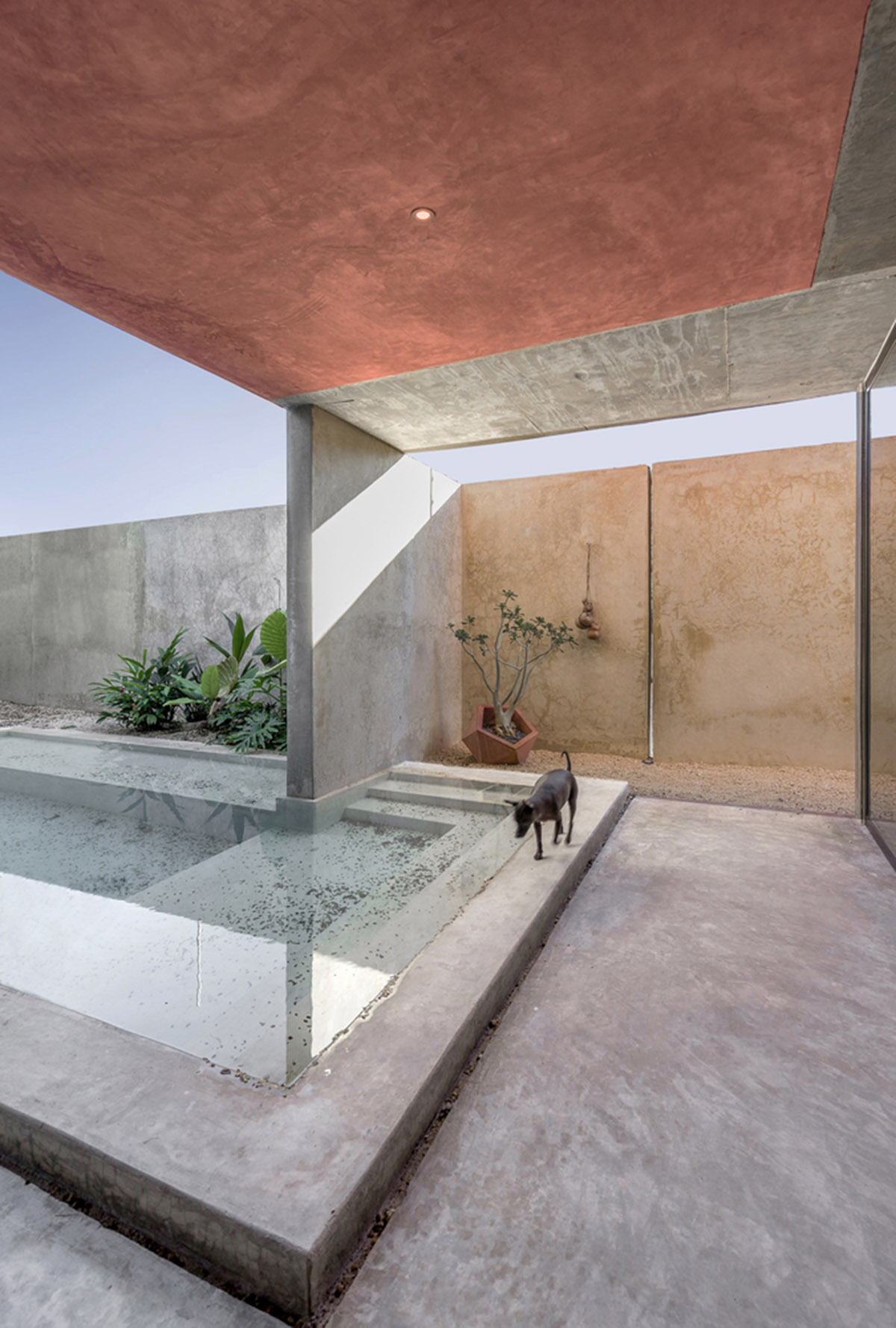 Site plan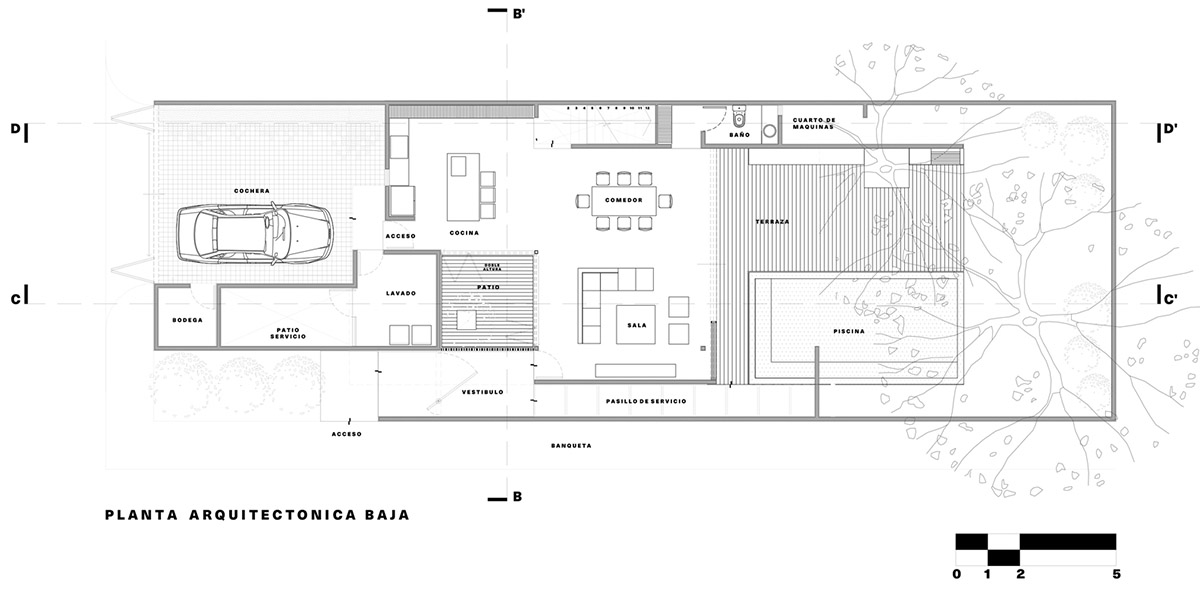 Ground floor plan
Upper floor plan
Section
Section
Elevation
Elevation
Project facts
Project name: Bugambilias House
Architects: Taller Mexicano de Arquitectura
Location: Merida, Mexico.
Size: 263m2
Date: 2019
All images © Alejandro Loustaunau
All drawings © Taller Mexicano de Arquitectura