studio patricia meneses completes Pedregal House on a rocky terrain in Mexico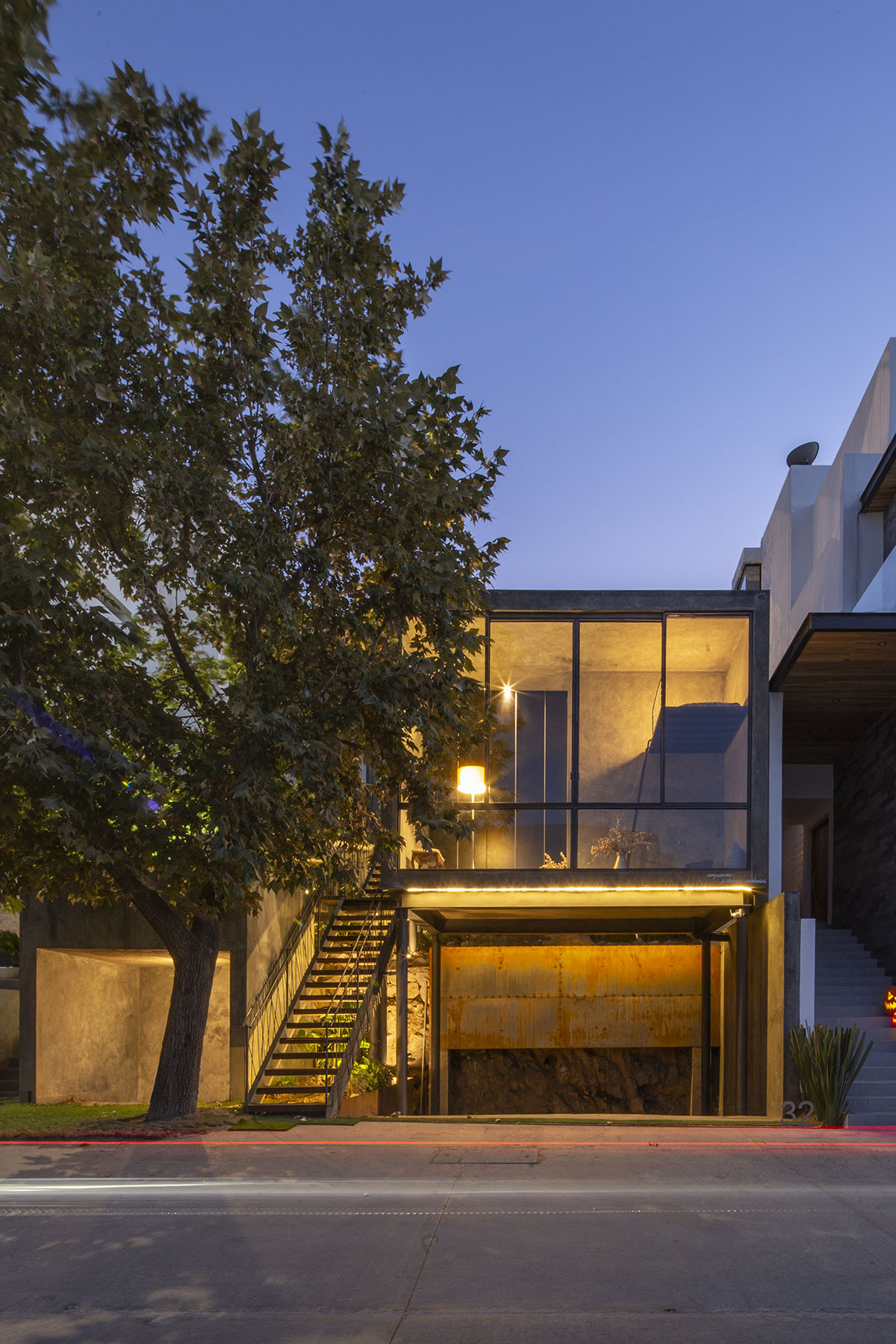 Mexican architecture practice studio patricia meneses has completed the Casa Pedregal (or Pedregal House) on a rocky terrain in San Luis Potosí, Mexico.
Covering a total of 165-square-metre area, the house, comprising living spaces, is scattered in different volumes that emerge from among the rocks in the middle of a rocky desert landscape, a wide slope rises and connects with the liminal space of an ever expanding city.
The volumes are scattered across the landscape, a bridging space between the urban forest and the hillside of the city. As the studio explained, the project aims to give continuity to this great natural tapestry and expand towards the mountains, from which the broad horizon of the entire city can be contemplated.
"Intense skies, violet sunsets and desert ochers envelop the views of the house from all its spaces," said studio patricia meneses.
Structured around a set of large rock formations that dominate the terrain, a series of prisms subtly rise and stand above the ground.
A large garden branches out from these structures and melts with the topographic continuity of the mountain. Allowing the natural course of water and its symbiosis with spontaneous native vegetation to continue unimpaired.
Elevated walkways branch off from the vertebral axis of the project: a central walkway rises for more than ten meters heigh and stretches along the territory, introducing us to a series of prisms detached from the earth that house the living spaces.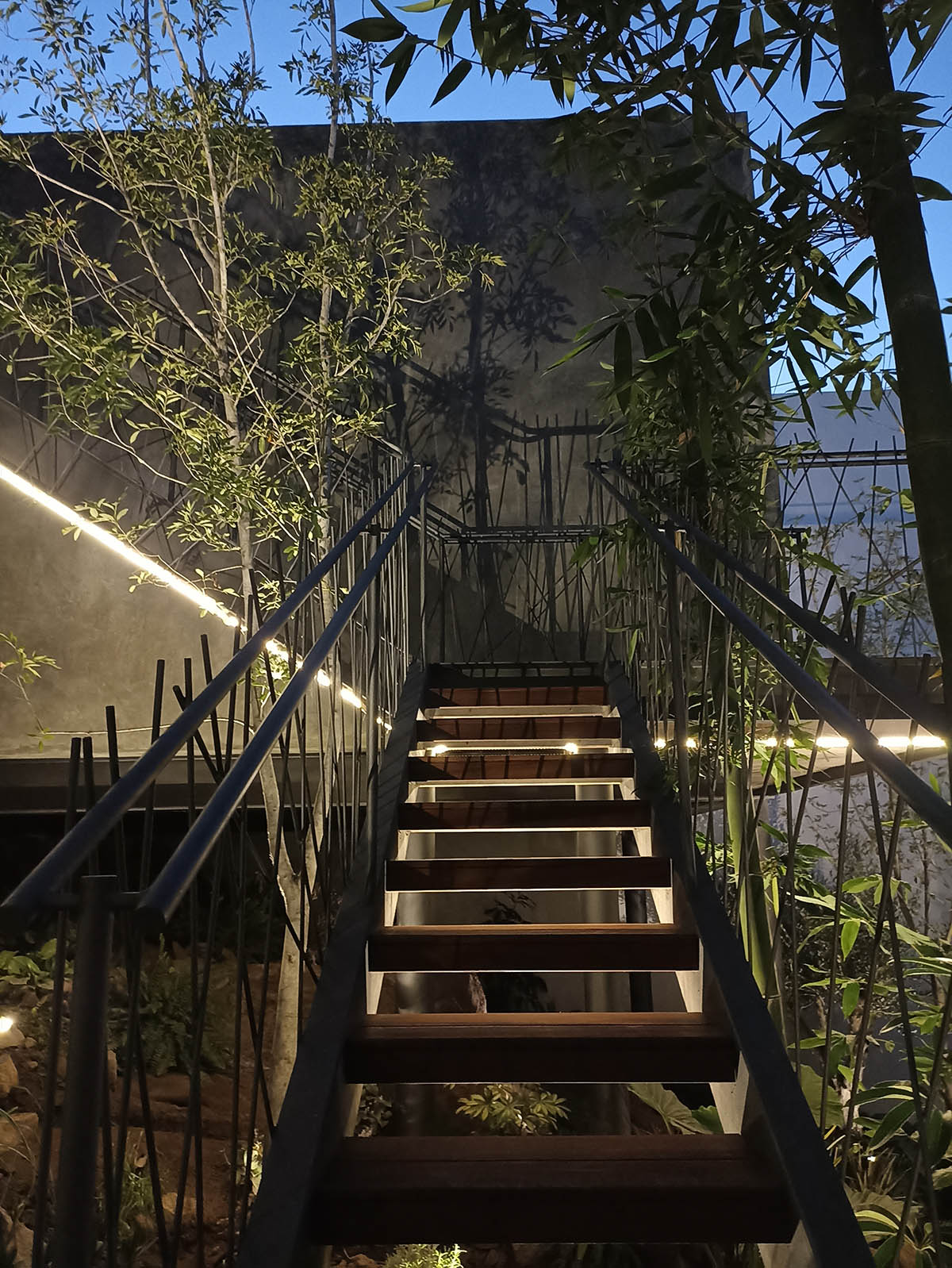 The ascending pathway suspends you above the vegetation, a garden created to encircle the daily paths, turning the route into a space of transition and contemplation, returning the individual to his original state of connection with nature.
The landscape is just as much a part of every living space, as every living space forms an integral part of the landscape.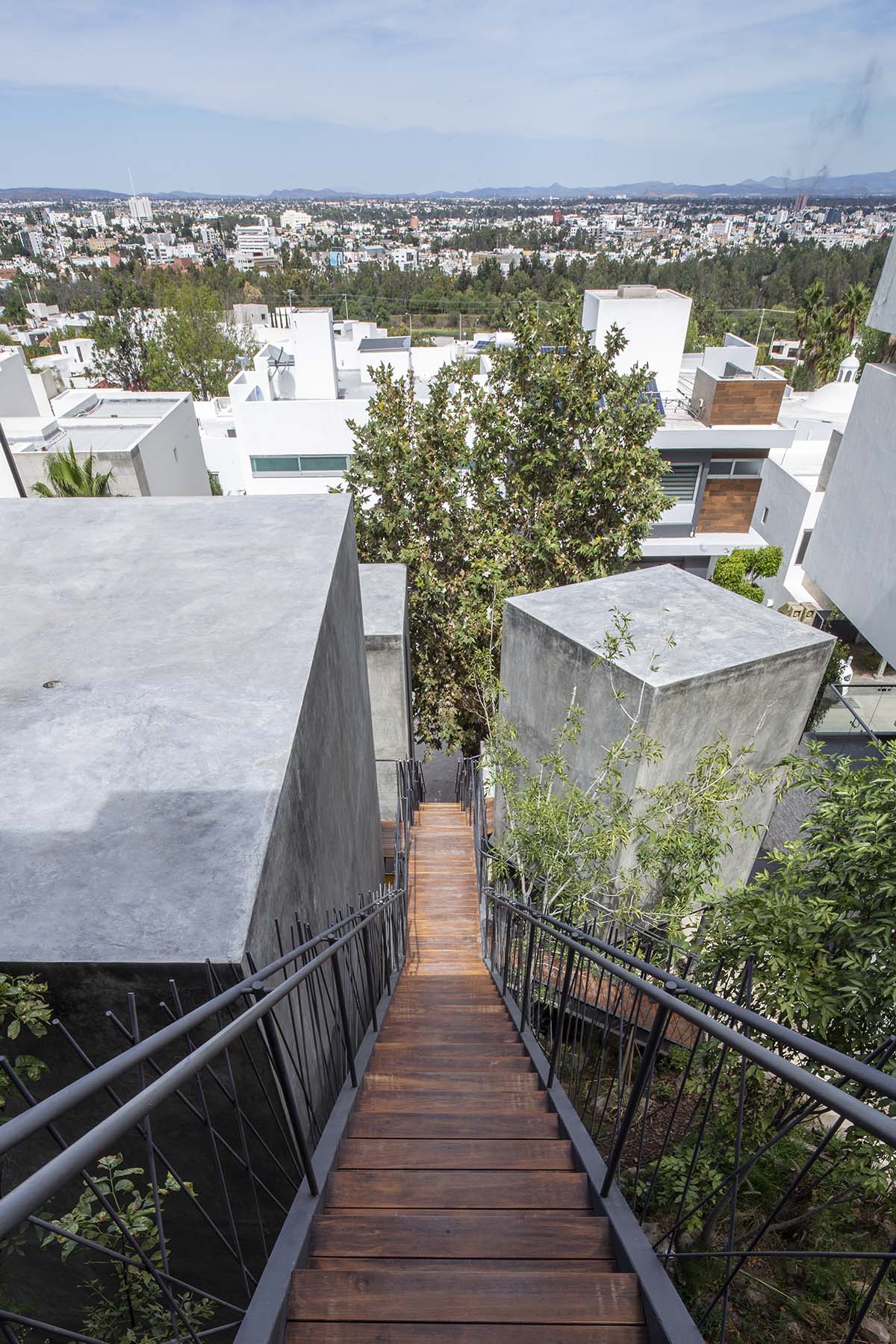 Wind and vegetation filter and scatter light over water, springing up a microclimate humid, cool and green. A welcomed respite from the harsh and arid context.
A large tree frames the access by raising its leaves, which in a cadence, fossilizes its way in the surface of the upper space, where the individual is invited to step in and explore from the heights, his personal refuge.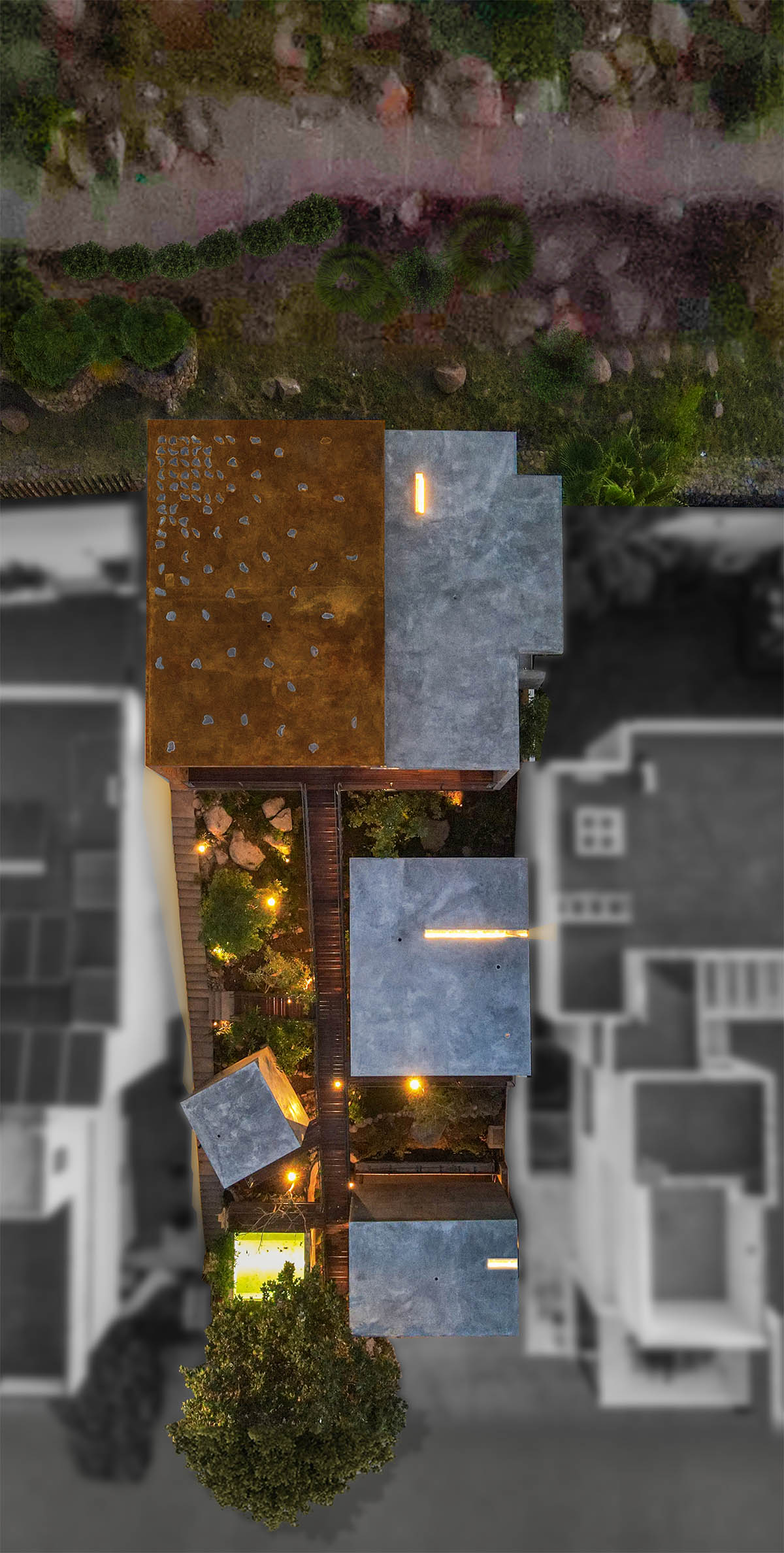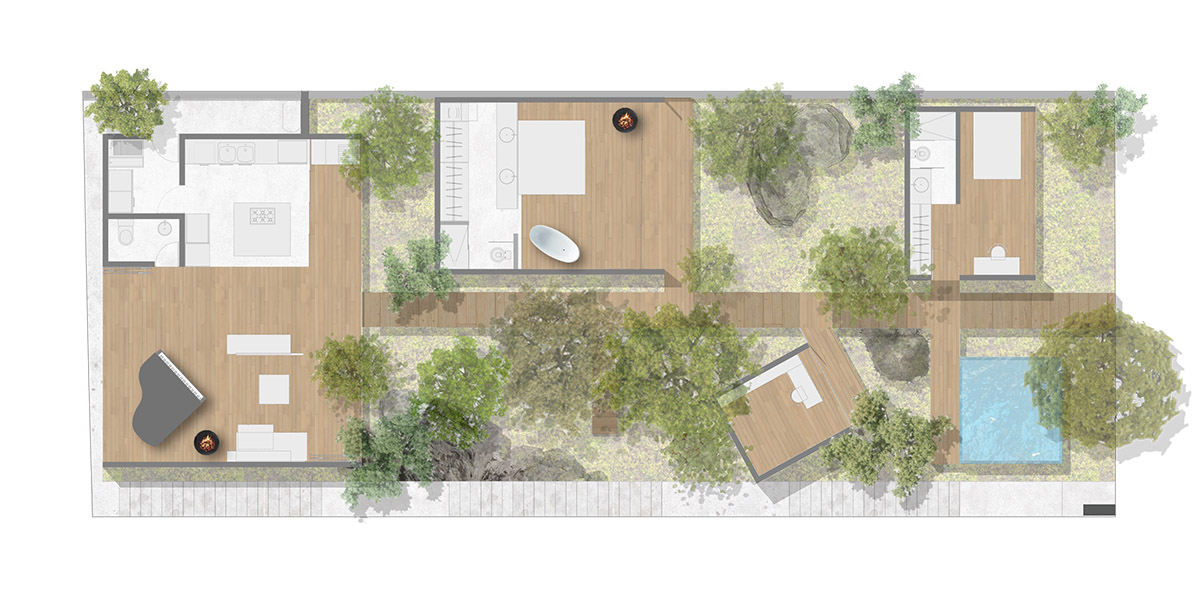 Floor plan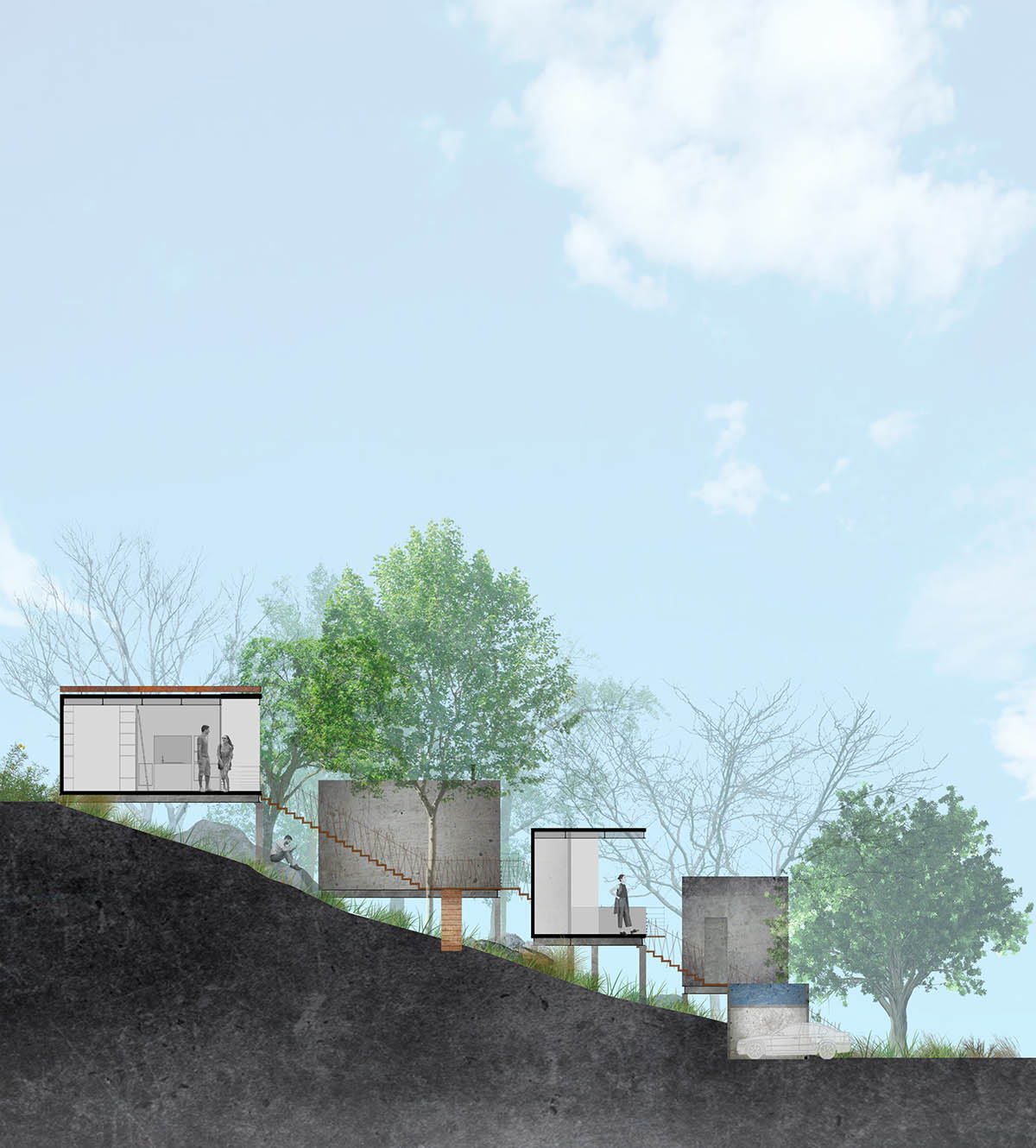 Section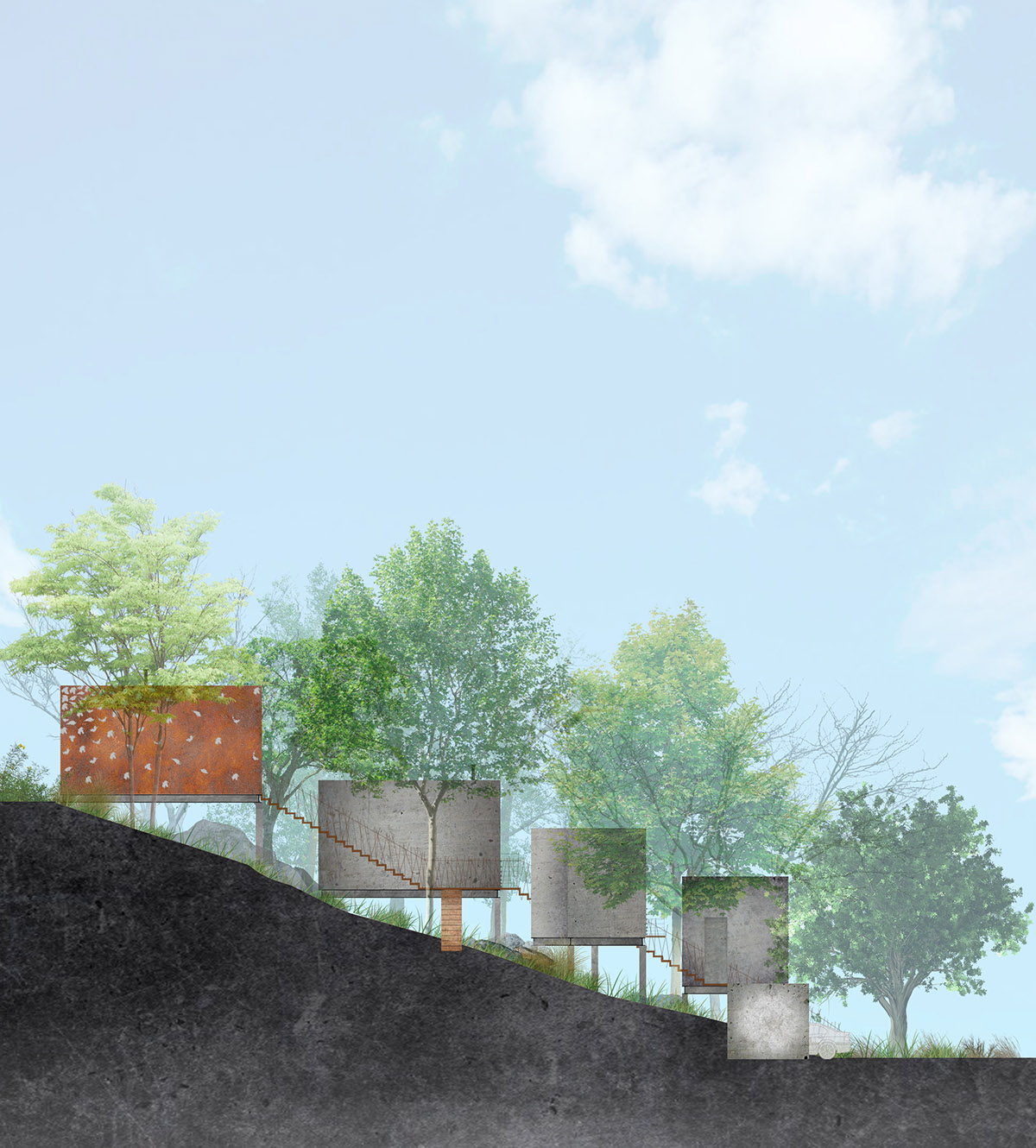 Elevations
Elevations
Project facts
Project name: Casa Pedregal
Architects: studio patricia meneses
Size: 350m2 land / 165m2 built area
Collaborators: Sergio Castillo, Gabriel Ramírez, Larissa Aguilar, Luz Elena García, Raúl Iván Vidalés, Marcela Metlich, Daniel Meneses.
Date: December, 2021
All images © Rodrigo Calzada Albers studio + Patricia Meneses
All drawings © studio patricia meneses
> via studio patricia meneses