The Ledge by Wallmakers seamlessly merges into a hillside in Peeremedu
Built on a cliff edge, 'The Ledge' overlooks Peeremedu, a hill station in the South of Kerala. Conceptualised by Wallmakers, a Kochi-based practice, the design is based on the human tendency to be drawn towards a precipice. On one side, it has an indiscernible presence tucked away into the hillside. On the other, it appears to rise out of the landscape like a rock outthrust.
The two-bedroom residence commands a view of the village while being visually and structurally sensitive to its surroundings. Indigenous and fast-growing Casuarina trees, which traditionally find their use in fences and scaffolding, inhere in multiple forms throughout the property. Externally, the pointed roof and Casuarina slats unify the building and its surroundings. Nooks created within the staggering facade form communal terraces.
Ground Floor Jacuzzi. Image courtesy of Wallmakers
Ground Floor Vantage Point. Image courtesy of Wallmakers
Sustainable practices and innovative recycling of mud and waste material are distinctive to the firm. In a similar vein, the residence is a mix of materials repurposed in-situ. Small stones found during excavation make up the Shobri wall (shuttered debris wall). The house also features grills made from cable trays and flooring from waste wood.
"The crux of this home still revolves around creating a living space that gives the best of both worlds, living inside a mountain and on a ledge that is up in the clouds," says the firm.
Entryway. Image courtesy of Wallmakers
Elevation. Drawing courtesy of Wallmakers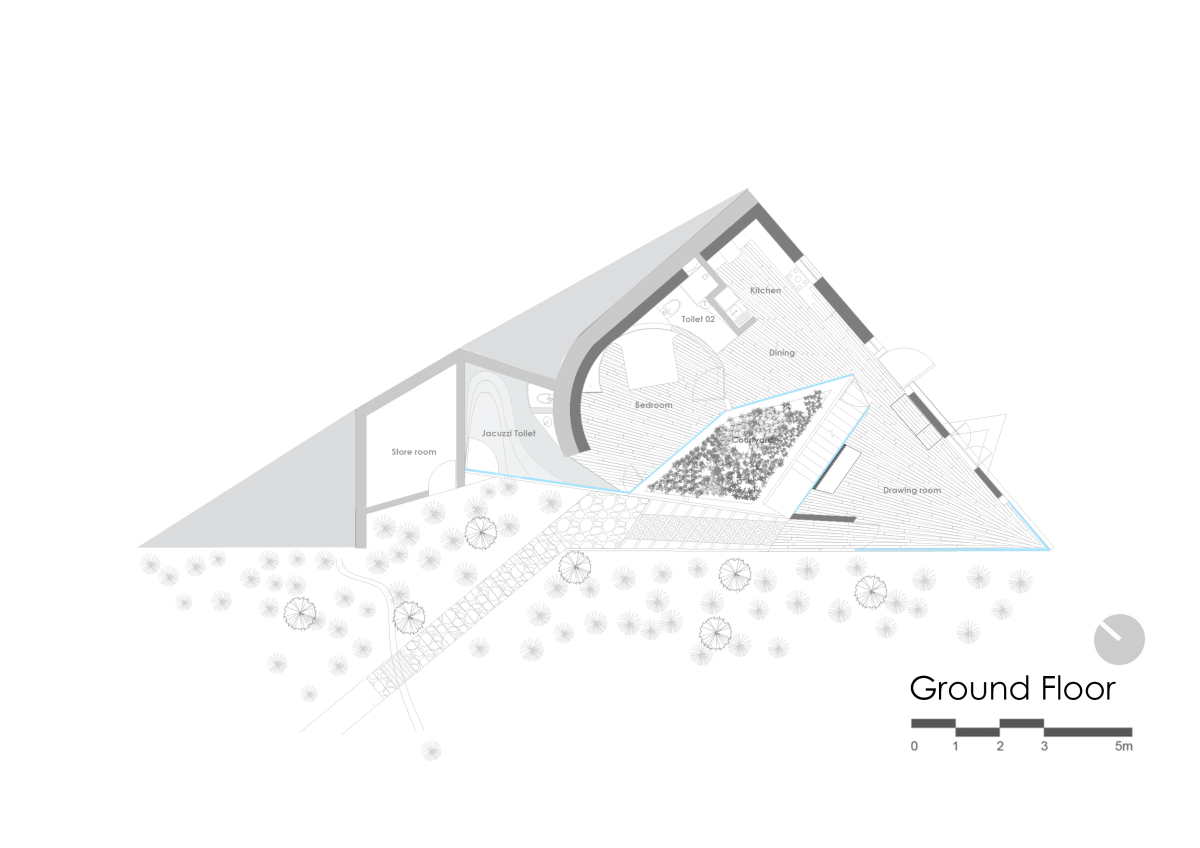 Floor Plans. Drawing courtesy of Wallmakers
Project Facts:
Architects: Vinu Daniel, Petchimuthu K., Ayush Nair, Yash Sukhwani, Jaison Joy, Pinak Bhapkar, Pratika Bandiwadekar, Niha Ann Baby, Akshay Sarath
Gross Built Area: 178 m2
Project location: Peeremedu, Kerala
Client: George Manu
Contractor: Johnson N. and Team
Fabricators: Kunjumon James and Team
MEP: Dhanaraj K.N. and team
All images © Syam Sreesylam, courtesy of Wallmakers.
> via Wallmakers