Hollywood-inspired Studio City Phase 2 by Zaha Hadid Architects reaches full height in Macau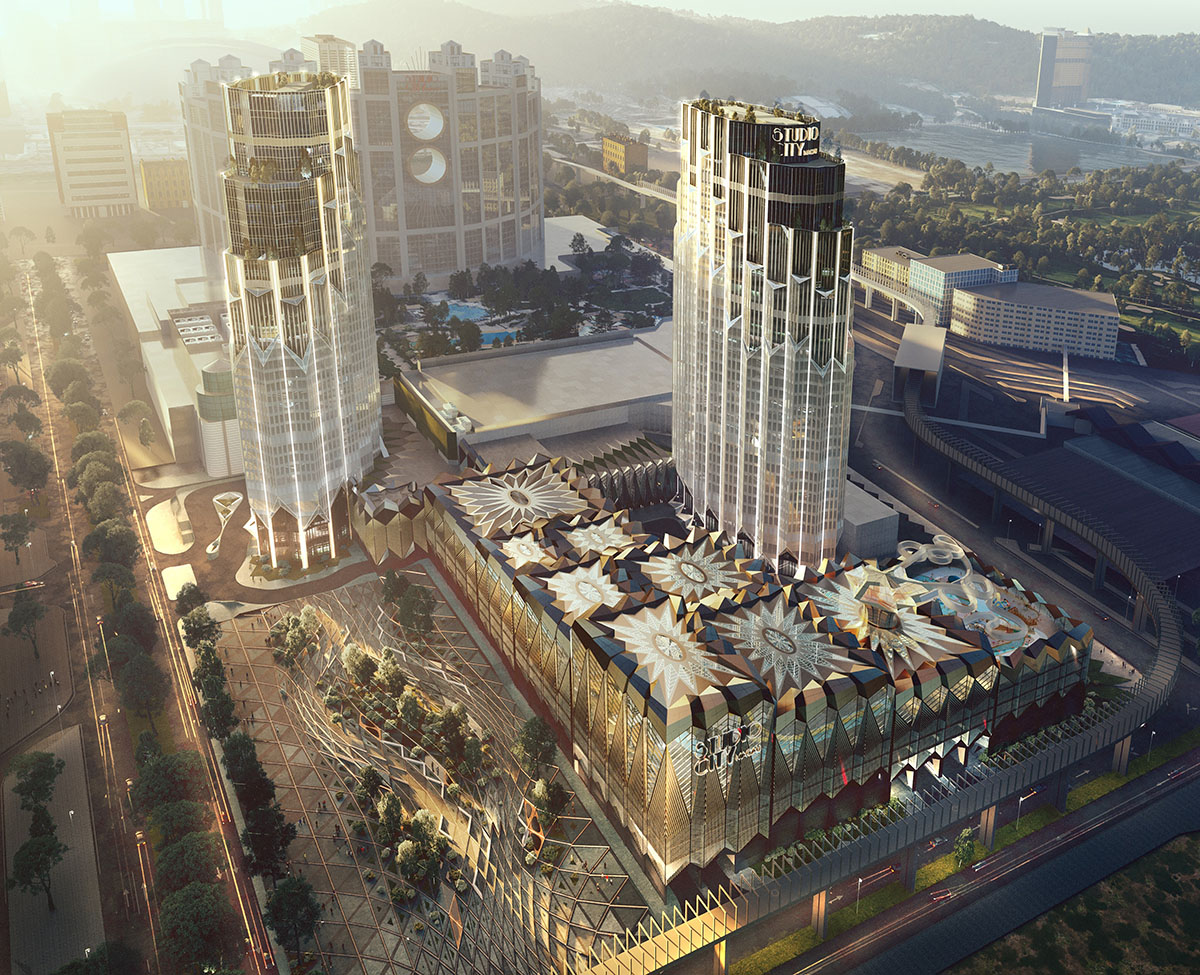 Zaha Hadid Architects' Hollywood-inspired Studio City Phase 2 project has reached its full height in Macau, China.
Located in the Cotai district of Macau adjacent to the Lotus Bridge crossing with mainland China, the Studio City resort has opened its doors to its guests and visitors to the city since 2015.
The expansion of the resort was appointed to Zaha Hadid Architects in 2017 to incoporate new leisure, entertainment and hospitality facilities, including one of Asia's largest indoor & outdoor water parks and a six-screen Cineplex together with extensive conference and exhibition spaces.
Scheduled to complete in December 2022, the Studio City Phase 2 development was named winner of the 'Regional Award Asia' at the BREEAM Awards 2021.
Studio City Phase 2 is the second project of the studio in Macau, ZHA designed Morpheus Hotel, featuring the world's first free-form high-rise exoskeleton in Macau. Morpheus Hotel won the WA Award in the 30th Cycle.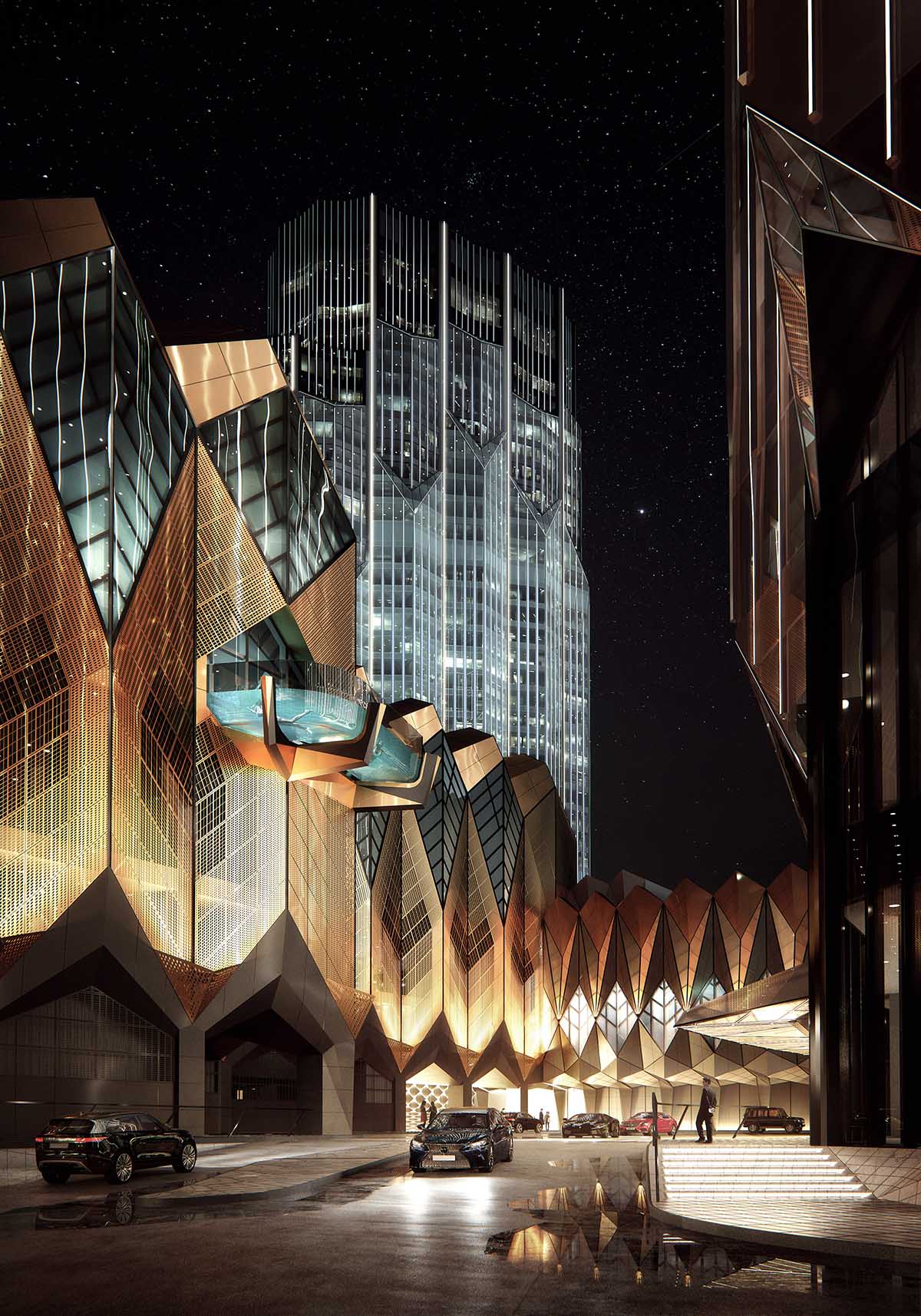 Image © MIR
The complex is comprised of two hotel towers with 900 rooms and suites, including 21,000 square meters of shopping and dining, as well as 2,300 square meters of gaming space, which will cover a total of 250,000 square meters in total.
ZHA's design is informed by the existing resort's cinematic references with a contemporary reinterpretation of the rich detailing, bold geometries and craftsmanship of the Art Deco period.
"Zaha Hadid Architects and Melco share the same vision and determination to push boundaries. Studio City Phase 2 continues our ten year collaboration with Melco that includes the Morpheus Hotel at the City of Dreams in Macau," said Viviana Muscettola, Director at Zaha Hadid Architects.
"Extending the thriving Studio City resort, the highly adaptable spaces of Phase 2 have been developed by a truly global team of professionals."
"Melco has a strong track record of contributing to Macau's ongoing development as a world center of leisure tourism. Studio City Phase 2 reaffirms our ongoing commitment to the city and contributes to reinforcing Macau's non-gaming proposition in Asia and internationally. We are grateful for the support of the Central and Macau governments during the project construction," said Mr. Lawrence Ho, Chairman and CEO of Melco Resorts & Entertainment.
Image © MIR
The tower are made of three different gradations of glass with external fins that delineate the verticality of the towers, while the insulated glazing units and shading fins will help to reduce solar heat gain and glare and maintain thermal comfort for hotel guests.
To reduce energy demand, the project is designed with a high-performance envelope together with highly efficient services and systems.
As ZHA explained, "all timber and timber-based products specified within the design have been harvested, traded and sourced in accordance with Forestry Stewardship Council certification."
ZHA has developed a comprehensive environmental site assessments to determine the composition of Studio City Phase 2, the project had to be placed away from the 15-hectare protected wetland of the adjacent Macau Cotai Ecological Zone.
The orientation and configuration of the elliptical towers have been placed to facilitate natural ventilation within and around the resort. The project's ecologist developed preservation measures for the site's existing flora together with compensatory planting of species compatible with the landscape and habitat.
Zaha Hadid Architects recently revealed plans for mixed-use Zugló City Centre project in Budapest. The firm completed Infinitus Plaza with bronze perforated façade in China.
Project facts
Architect: Zaha Hadid Architects (ZHA)
Design: Patrik Schumacher
ZHA Project Director: Viviana Muscettola
ZHA Project Associates: Hee Seung Lee, Luca Nicoletti, Subharthi Guha, Bianca Cheung
ZHA Project Architects: Alvin Triestanto, Andrea Balducci Caste, Marina Martinez, Thomas Sonder
ZHA Project Team: Alessandra Catello, Ashwanth Govindaraji, Amittai Antoine, Angelica Videla, Christina Bali, Daniel Coley, Juwhan Han, Michael Cheung, Marie-Perrine Placais, Michael Rogers, Mattia Santi, Nhan Vo, Natasha Gill, Neil Rigden, Sara Criscenti, Valentina Cerrone, Vincent Yeung, Yoo Yeon Noh
ZHA Concept Team: Viviana Muscettola, Hee Seung Lee, Luca Nicoletti, Alvin Triestanto, Alessandra Catello, Daniel Coley, Marina Martinez, Mattia Santi, Vincent Yeung, Yoo Yeon Noh
Consultants
Executive Architect: Leigh & Orange [Hong Kong]
Local Architect: EWA Project Consultants [Macau]
Civil, Structural & Geotechnical Engineering: AECOM [Hong Kong]
M&E Engineering: Meinhardt (M&E) [Hong Kong]
Façade Engineer: Inhabit Living Engineering [Hong Kong]
Water Park Consultant: Water Technology [UK/US/Hong Kong], White Water West [Canada]
Other Interior Designers: Rockwell Group, CDC Designs, Westar Architects, OMA
Quantity Surveyor: WT Partnership [Hong Kong]
Lighting Design: Inhabit Lighting [Hong Kong]
Landscape Designer: Morphis [Hong Kong]
Fire Engineering: Meinhardt (M&E) [Hong Kong]
Acoustic Consultant: SM&W [Hong Kong]
Traffic Engineer: Systra MVA [Hong Kong]
Environmental Consultant: XCO2 [UK]
Signage Consultant: DEAI Design [Hong Kong]
Top image © Minmud
> via ZHA