BIO27 Super Vernaculars Design for a Regenerative Future
Updated: The 27th edition of BIO Ljubljana, the oldest biennial in the world, has been extended until 23 October, 2022.
The opening of the 27th edition of BIO Ljubljana, the oldest and one of the leading design biennials in the world, will be held between 25–30 May 2022.
The exhibition will be held from 26 May to 23 October 2022 in Ljubljana, Slovenia.
Under the curatorship of Jane Withers, the theme for BIO27 Super Vernaculars brings together forward-thinking designers, architects, thinkers and researchers from around the globe, who take inspiration from vernacular architecture and design intelligence to shape a more resilient and equitable future.
Floating Roof by Oton Jugovec, part of the series 'When International Style Went Local: Vernacular Modernism in Croatia and Slovenia' by Adam Štěch, 2022, commissioned by BIO27, 2022
Super Vernaculars reveals how designers and architects are taking note of vernacular traditions and value systems largely ignored in the modern era to create imaginative responses to contemporary challenges such as water scarcity, waste and declining biodiversity.
The projects featured in BIO27 foreground localism, connection to nature and ecological resilience. Super Vernaculars approaches include a city-wide nature-based water management system, low-energy alternatives to air conditioning, zero-waste food systems and design that supports local communities and landscape regeneration.
Curated by leading independent curator, design consultant and writer, Jane Withers, with assistant curator Ria Hawthorn (UK), Super Vernaculars is envisaged as a collection of stories told through case studies that show how these ideas serve as a springboard for contemporary innovation.
The Sausage of the Future by Carolien Niebling, 'Bangers and Mash', Bangers and Mash, anatomical model. Filled with a pea puree, mashed potato puree and 60% of the traditional meat, hundreds of variations of this sausage are possible. Photography by Younès Klouch
The Exhibition
Introduction to the Super Vernaculars theme
The introductory section of the BIO27 exhibition is staged as a Wunderkammer of objects and ideas that illuminate the beliefs underpinning this contemporary movement. Drawing on works from Slovenian national heritage and beyond, it shows how vernacular practices inspired designers throughout the 20th century and were often an unacknowledged element of modern design. Setting the scene are works by Enzo Mari and Bruno Munari (Italy), alongside Marjetica Potrč (Slovenia), and Adam Štěch (Czech Republic).
City out of balance, City of 1000 Tanks, Chennai, Ooze architects & urbanists. Image by Ooze architects & urbanists
Negotiating Traditions
Through the works of Carolien Niebling (the Netherlands), Ant Studio (India), Alicja Bielawska + Centrala (Poland), Francesca Sarti of Arabeschi di Latte (Italy), and others, Biennial visitors have an opportunity to explore how contemporary designers are reimagining, adapting and subverting traditional ideas and deep-rooted practices to address contemporary needs and challenges.
Reimagining systems and infrastructures
Super Vernaculars' third exhibition section showcases various design processes and systems proposed as alternatives to the centralised infrastructures that accommodate our modern lives and, in many cases, are no longer able to sustainably support the requirements of growing populations in a time of climate change. Projects such as Marjan van Aubel's (the Netherlands) solar panels, new material research by Atelier LUMA (France), and water systems by Ooze Architects (the Netherlands) reveal hidden local-scale processes and rethink them in terms of circular, nature-based systems.
Catalysing Community
Exhibiting at BIO27 are the NGO project Isla Urbana (Mexico), Girjegumpi Sami Library (Norway), Kamikatsu Zero Waste Village and Centre (Japan) and INDUS by Bio-ID Lab at the Bartlett School of Architecture (UK), all of whom present human- and community-centric research and projects that foster social justice and healthy, flourishing communities.
Indus 2.0 tile by Shneel Malik, Dr. Brenda Parker, Prof. Marcos Cruz with Dali Al Naeb & Tairan Li, Bio-ID Lab, Bartlett, UCL, UK. Image courtesy of BIO Ljubljana
Commissioned Projects – BIO27 Production Platform
BIO27 Super Vernaculars' production platform produced in cooperation with CzK, features five Slovenian interdisciplinary teams mentored by internationally acclaimed mentors to tackle compelling problems of local communities and the environment. CzK programmes are built on international production projects by MAO, among which BIO is of key importance. BIO has shown that an experimental interdisciplinary process is conducive to creative research and innovation, making social or entrepreneurial progress possible. This is why CzK is the co-producer of this element of the Biennial.
1. Forbidden Vernaculars
Design collective Krater in dialogue with Atelier LUMA (France) and BC Materials (Belgium) is developing ongoing research into rammed earth architecture to create a teahouse that is situated on the crater-like construction site in the heart of Ljubljana occupied by Krater. More at @kratercollective
2. Grains for Brains
Delving into the 'world of grains', team Robida.plus based in remote Alpine village Topolò and mentored by designer and food futurist Carolien Niebling (the Netherlands) is drawing on Slovenia's rich cultural, agricultural and culinary heritage to redesign the Slovenian tradition of buckwheat use. More at @r_o_b_i_d_a.
3. Water - Designing a BioVernacular
Pjorkkala, the team mentored by Shneel Malik (India), an architect, biodesign researcher and social entrepreneur, is addressing the problem of pollution in natural water sources in Slovenia by creating prototypes for local, nature-based solutions. More at @pjorkkala.
4. Communicating Modern Architecture
Adam Štěch, an architectural historian and co-founder of the creative group OKOLO (Czech Republic) is mentoring Garnitura to communicate the architectural legacy of the renowned Slovenian architect Jože Plečnik to new audiences by drawing on the architect's profoundly human vision for the city of Ljubljana. More at @garnitura_
5. Regenerative Cultural Production
Futuring is undertaking an environmental audit of the Super Vernaculars biennial and is guiding the reduction of its environmental impact. Mentored by designer and sustainability expert Sophie Thomas (UK), Futuring is developing an open source toolkit to help BIO27's design teams to raise their awareness and reduce the impact of their work. The pioneering toolkit will be published and available to designers and cultural institutions globally, sharing the Biennial's sustainability study for others to build upon.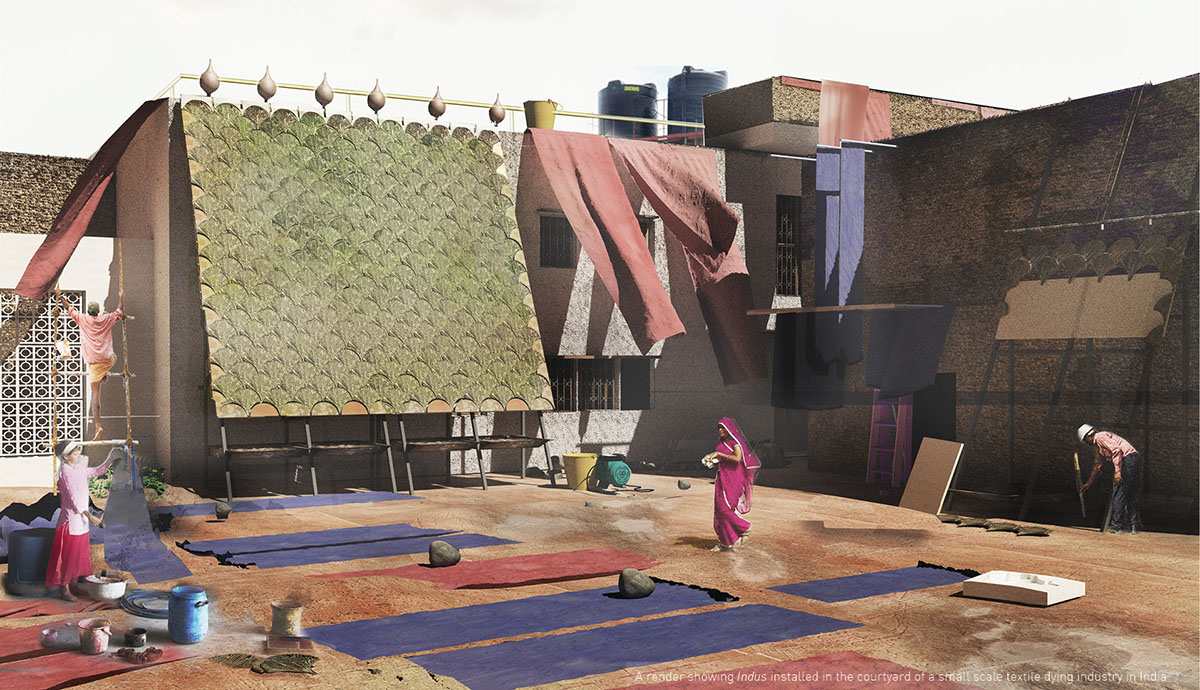 Render of Indus installed in the courtyard of a small-scale dying industry in India. Image by Shneel Malik
Other Commissioned Projects
KW BIO27 – a new open-source font
London-based graphic design studio Kellenberger-White was commissioned to create the logo for BIO27 and develop a freely available font that could be used by other participants in the Biennial. Here the letterforms of the upper-case typeface were inspired by the skilfully hand-drawn texts on architect Jože Plečnik's drawings. The translation from the hand-drawn to the digital creates a contemporary vernacular, accessible to all. Part of the design brief was to consider sustainability and the typeface is purposefully lightweight to reduce ink and energy use.
When International Style Went Local – Vernacular Modernism in Croatia and Slovenia
Adam Štěch has also been commissioned to document Vernacular Modernism architecture in Croatia and Slovenia through a new series of photographs which reveal how the vernacular was an often hidden and unacknowledged element of Modernism from the 1930s onwards.
Slovenian Sausage of the Future
Caroline Niebling's Sausage of the Future project reinvents the sausage for more climate friendly eating, and activates the existing production system of independent butchers to produce local recipes for plant-based sausages. For BIO27 Niebling has been commissioned to create a Slovenian Sausage of the Future. Working with chef Igor Jagodic of Strelec restaurant from Ljubljana and butcher Marko Butalič, the new recipe is inspired by local food culture, and includes key ingredients such as buckwheat, wild garlic and mushrooms.
BIO27 Supervernaculars posters on Plečnik Kiosk. Photography by Peter Rauch / MAO, 2022
BIO27 – Transforming Into A Sustainable Cultural Producer
As the environmental impact of hosting international cultural events becomes clear, BIO's mission embeds sustainability as a guiding principle. In response to this, Jane Withers has dedicated one of the Biennial's production platforms to exploring 'Regenerative Cultural Production' and assessing BIO's environmental footprint. BIO27 is taking active steps to reduce its impact across its activities and aims to demonstrate and communicate innovative approaches to sustainable cultural production.
---
The Biennial is organised by the Museum of Architecture and Design (MAO) and Centre for Creativity (CzK) at MAO and comprises of the Super Vernaculars exhibition, five production platform commissions and a vibrant programme of talks, workshops and engaging events.
The Biennial of Design (BIO Ljubljana), established in 1963, is the oldest and one of the most preeminent international design events in Europe. BIO is a cultural event that seeks innovative intersections that are ripe for development between architecture and the industrial and academic sectors.
A city-wide satellite programme of exhibits and events will be announced in April and see all up-to-date programme on BIO Ljubljana's website.
Top image courtesy of BIO Ljubljana.
> via BIO Ljubljana