Maya Lin to design new headquarters of Museum of Chinese in America in Manhattan
American architecture practice Maya Lin Studio will design the new headquarters of the Museum of Chinese in America (MOCA) in the heart of downtown Manhattan.
The new renderings have been revealed by the Museum of Chinese in America and the new building will expand MOCA's footprint from 12,000 (1,114-square-metre) square feet to 70,000 square feet (6,503-square-metre) in the heart of downtown Manhattan.
The expanded building, located at 215 Centre Street, will serve as a permanent home for Chinese American history and culture.
Maya Lin's design scheme is inspired by the spirit of a Chinese tangram and Chinese vertical landscape painting, which evokes a sense of movement upwards through natural elements of stone, metal, trees, and clouds.
Exterior view of the transformed building from Lafayette Street. Image: Museum of Chinese in America/ © 2022 Maya Lin Studio with Bialosky New York
Incorporating various program elements, including classrooms, a research and genealogy center, a theater, and exhibition spaces, the new national MOCA will be "the first-ever museum design partnership" between Maya Lin and Ralph Appelbaum Associates.
The museum spaces will be designed by New York-based firm Ralph Appelbaum Associates and create a cohesion between the past, present, and future aspirations of the Chinese American journey.
The nine-story building's façade is clad in perforated metallic panels, creating the form of Chinese tangram.
Temporary exhibition space will be designed on several galleries spread throughout the reimagined building. Image: Museum of Chinese in America/ © 2022 Maya Lin Studio with Bialosky New York
The building will include gallery spaces, while providing space for the institution's permanent collection documenting the Chinese diaspora in the United States as well as other temporary exhibitions.
Thanks to the building's puzzle-looking and porous façade, the panels will "allow daylight to strategically enter the exhibition spaces and larger openings to light workspaces and classrooms as well as create views," MOCA explained.
View from the Atrium space. Image: Museum of Chinese in America/ © 2022 Maya Lin Studio with Bialosky New York
Lin's design also takes cues from Vertical Chinese landscape painting. MOCA stated that "Rising from a stone plinth, the solid body of the building, like a tree-covered mountain, disappears into a cloud-like lattice that holds a two-story lecture hall/auditorium."
"This is a true passion project for me," Maya Lin explained in a press statement.
"As a child of Chinese immigrants, I have throughout my life experienced firsthand anti-Asian discrimination and hostility."
"I've been drawn to MOCA and its critical mission for years and am incredibly moved to be able to present our design for its new headquarters — a place that will welcome, teach, and inspire visitors from around the world," Lin added.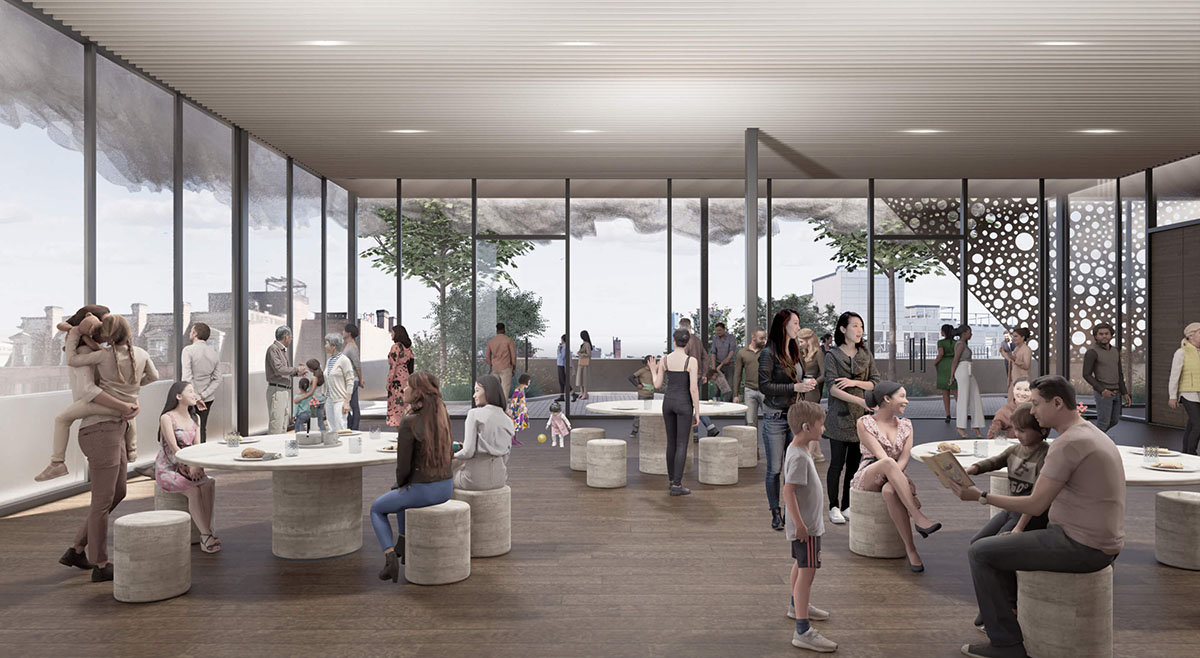 View from the event space on an upper level of the museum featuring city views and access to an outdoor terrace. Image: Museum of Chinese in America/ © 2022 Maya Lin Studio with Bialosky New York
MOCA's Genealogy Center is conceived as a unique center of learning where individuals and families can advance their understanding of their family's history and the role their ancestors played in shaping American history, contemporary America, and their own lives.
Located on the second level of the new national MOCA, the Genealogy Center is aimed to attract local and visiting family history researchers, scholars, and patrons that want to gain the tools that can help them to discover their ancestral story.
A rendering of the main lobby at the Museum of Chinese in America following a significant transformation of its current home in Lower Manhattan. Image: Museum of Chinese in America/ © 2022 Maya Lin Studio with Bialosky New York
The Center will present a dynamic multi-media presentation of ancestral stories and artifacts, as well as providing access to MOCA's archival records and research rooms, visitors and scholars will have the opportunity to advance their studies and knowledge of Chinese American ancestry.
"Our expanded new permanent home in the heart of America's largest Chinese community anchors a full range of new participatory visitor amenities that include a Center for Chinese American Genealogy, collection archives, conservation labs, research spaces, community-in-residence workshops, a theater, and classrooms weaved through and around exhibition floors that feature the lived experiences of generations of Chinese immigrants through artifacts from MOCA's rich collection," said Ralph Appelbaum, founder of Ralph Appelbaum Associates.
"Collaborating with Maya Lin, whose narrative architecture embodies our story-based approach to history, is sure to offer resonant moments to all visitors in unexpected, beautiful, and memorable ways," he added.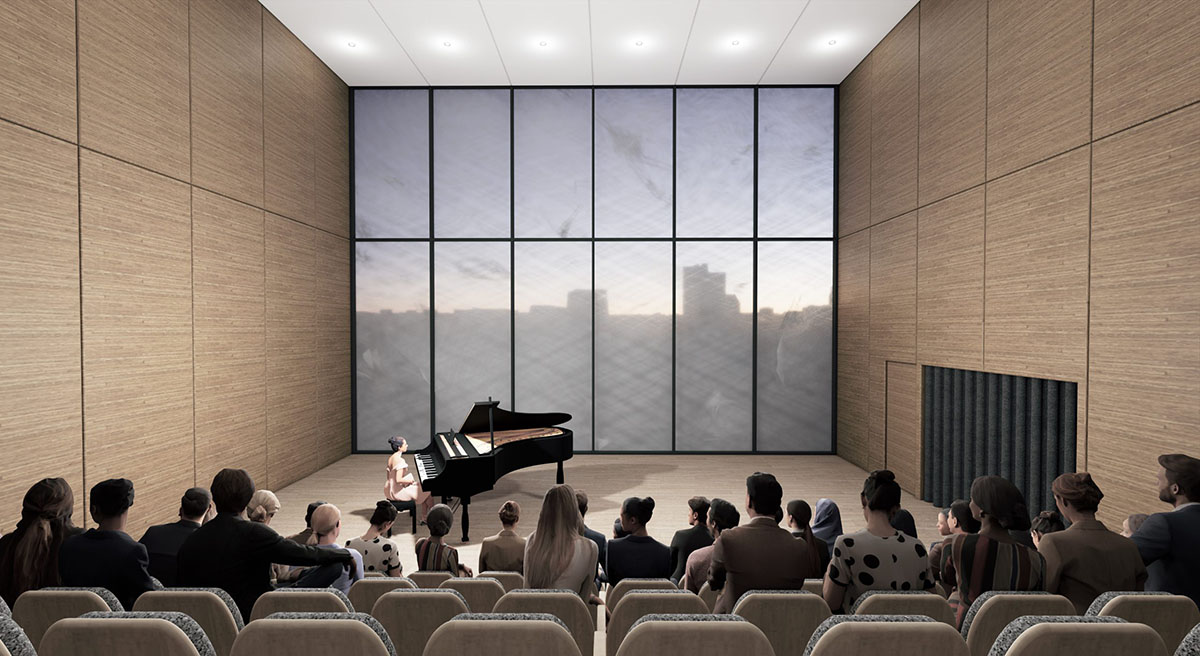 View from Auditorium. Museum of Chinese in America Interior Rendering – Auditorium. Image: Maya Lin Studio © 2022
The Theater, located on the 8th floor, will be a 199-seat double-height theater for performances, lectures, and events.
The theater space will have glazed façade facing on both the east and west sides, with double blackout shades to adapt the theater for stage performances. Visitors will access the theater from the 7th level theater lobby, which expands out to two outdoor garden spaces.
The current facility of MOCA is scheduled to be closed at the end of 2023, allowing for construction. The new headquarters of MOCA is expected to be completed by 2025.
Video by Museum of Chinese in America via Museum of Chinese in America
Maya Lin Studio was founded by American architect and artist Maya Lin in 1986. Lin is known for her work in sculpture and landscape art.
She designed the Vietnam Veterans Memorial in Washington D.C. and since then has pursued a celebrated career in both art and architecture. In 2016, she won the Presidential Medal of Freedom for their contributions to global aesthetic and landscape.
> via MOCA