YGH Designs a Tsunami-Responsive Marine Research Center
In 2020, Oregon State University has gained a resilient and sustainable marine science center located in Newport, Oregon. Hatfield Marine Science Center serves as the Marine Studies Initiative. This is a new and interdisciplinary program that involves 11 OSU colleges and aims to provide access to the sea for the university with its waterfront location. The building comprises two buildings; one three-story academic and research core and one two-story community space, auditorium and an innovation lab. Collaboration lounges connecting the two buildings with the labs provide the school with a new teaching and research model. The university supports these programs with its new curriculum that mixes natural a social science, serving the users with a suitable environment for cross-disciplinary discovery, collaboration and expression.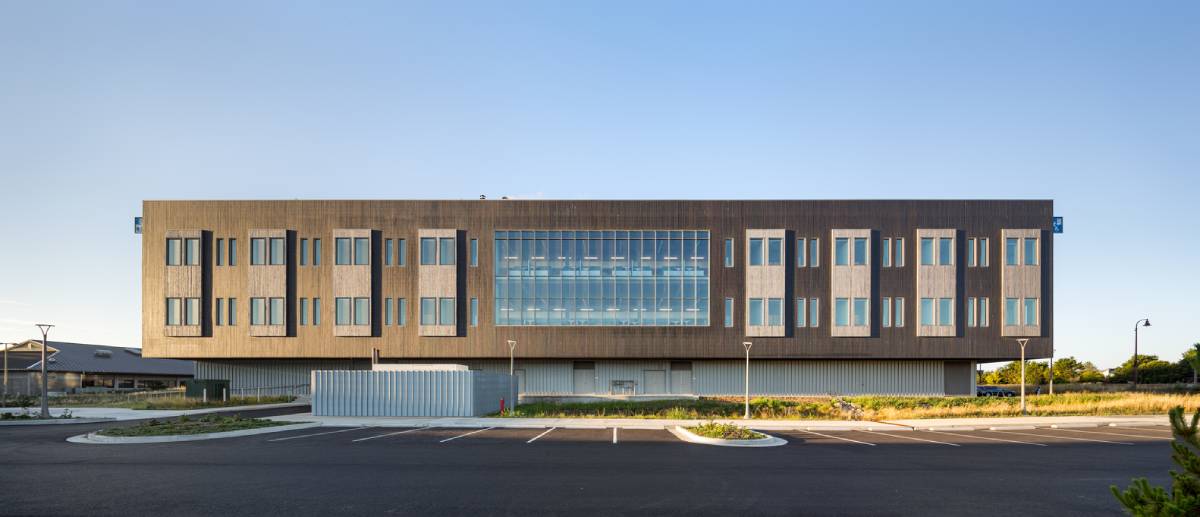 Being a newly built marine research center, as we experience unprecedented sea level raises, the building sets and accomplishes its lofty resiliency goals. It uses cutting-edge architectural and engineering techniques to serve as one of the nation's first locations as a vertical evacuation site against tsunamis. The building is also able to withstand a 9.0 earthquake. A ramp lead carries people from the ground level to the roof of the three-story wing. Calculated with tsunami modeling software, this height is enough for up to 900 users to be safe and over the flood line during a natural disaster. The architects have invited community review, comments, and investigation during the pre-design and design phases.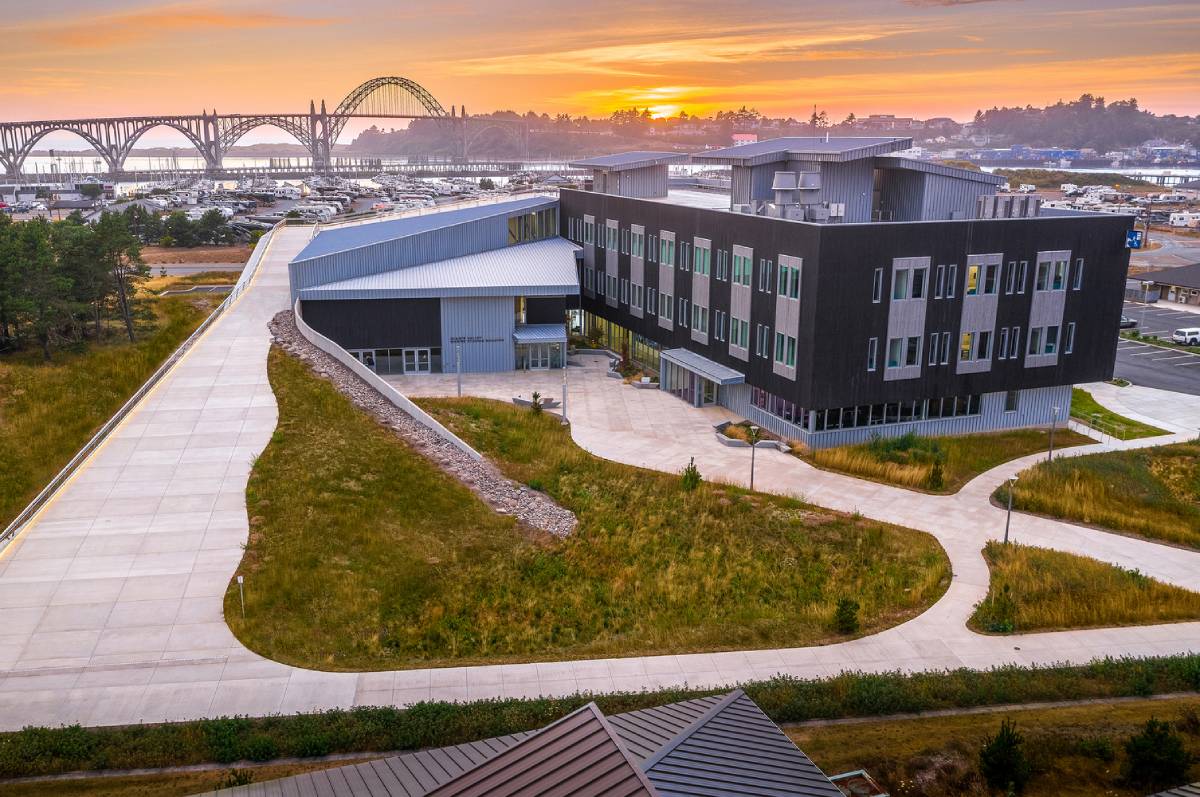 The local community has informed the building design. Architects' office organized "meet and mingle" events, which allowed the Newport residents to be involved with the design. High community interest allowed the project team to define the guiding principles that steered the project throughout design and construction. These design guidelines ranged from programmatic to formal principles that reveal themselves in the finished building.
The building connects itself to its location and community with its color, texture, materiality, and even its art. Exposed cast-in-place concrete provides durability and strength to the building and expresses the tough conditions the building must endure. Shou sugi ban siding and zinc cladding are familiar materials used in marine environments and carried throughout the building's exterior. The site connects to marine environments by including native coastal vegetation, while rainwater is collected via the ramp and diverted to the collection ponds around the site.
The building achieves a high sustainability performance compared to its peers. Thanks to using heat recovery, the building reduced its EUI to 51% below the baseline code for its building type. The Gladys Valley, Marine Studies building not only represents OSU's determination to have its Hatfield Campus as a place of innovation, research and education. This project also demonstrates building responsibly in tsunami inundation zones and designing a building rooted in its region's history and culture.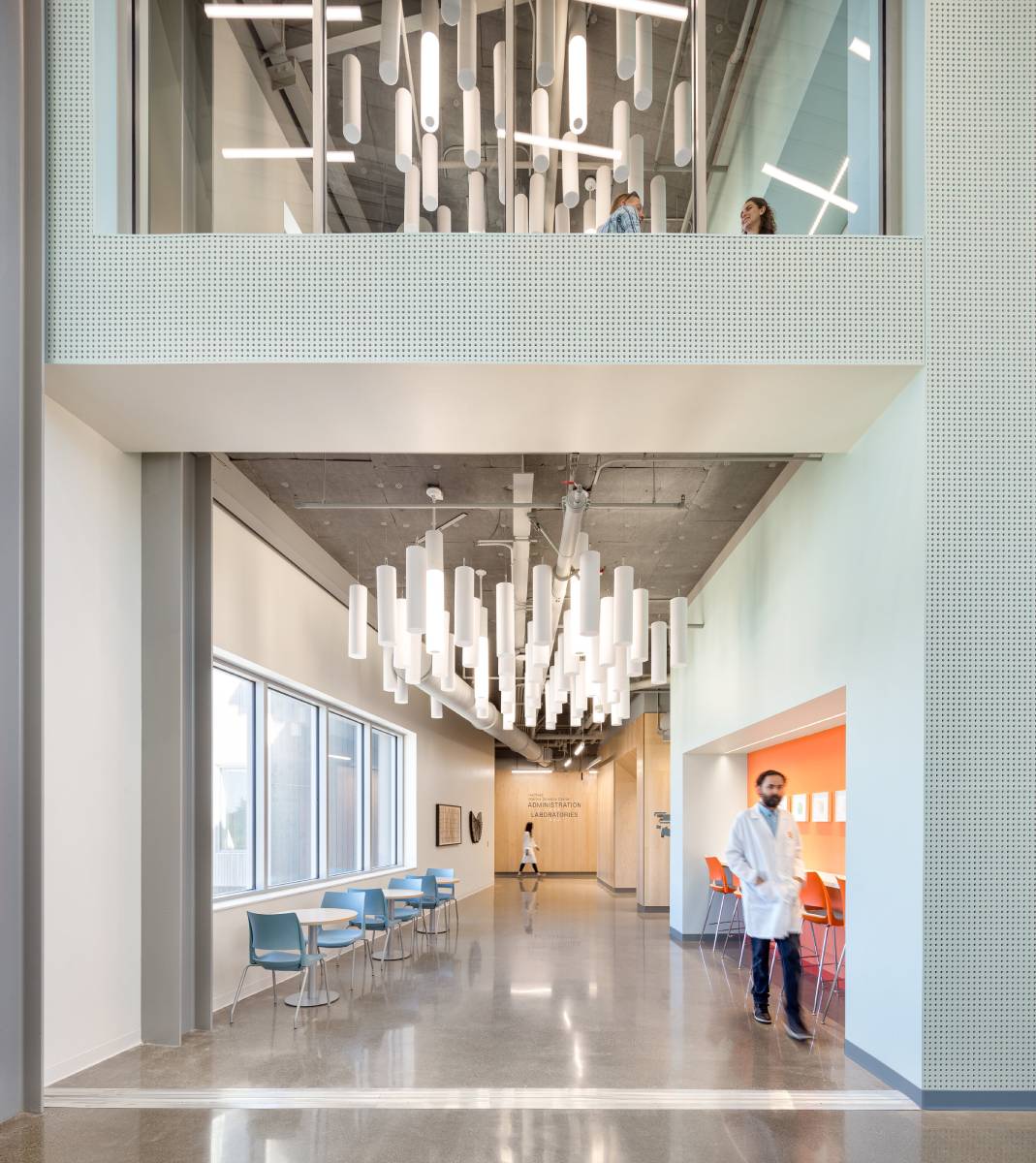 Project facts
Architects: Yost Grube Hall Architecture
Location: Newport, United States
Area: 72000 ft2
Year:2020
Clients: Oregon State University
Manufacturers: Ann Sacks, Construction Specialties, Daltile, Kawneer, Landscape Forms, Nakamoto Forestry North America, Nora, Patcraft, Sedia Systems, Skyline Sheet Metal, Armstrong Ceiling & Wall Solutions, DaVinci Custom Fireplaces, Epic Metal Corp, JFEC USA Inc, Kirei, Milliken & Co, Rhinzink, Saxton & Bradley
All photographs © Josh Partee