UNStudio designs new tech-assisted masterplan for a 10-minute city in Seoul
UNStudio has designed a new masterplan creating a superior, green, mixed-use neighbourhood in Seoul, South Korea.
The new masterplan, called Project H1, is designed to be a smart 10-minute city where it can contribute to the new digital economy. The project will foster open innovation, green energy and diversity that create an attractive and productive area to live, work and play.
Commissioned by the Hyundai Development Company in 2019, the new 504,000-square-metre complex will transform an existing industrial site and railway area into a new neighbourhood for the new digital economy.
The program of the masterplan includes 8 radial-shaped residential towers with a wide variety of layered private, semi-public and public spaces. Project H1 will be a pedestrian-friendly neighbourhood with spacious streets and nature that will allow citizens to access their daily needs within 10 minutes by foot.
UNStudio collaborated with the consultancy arm of UNSense to propose a plan for the integration of tailored, on-demand digital packages for the future residents.
"This added tech layer is designed to complement the physical urban plan and create a fully digitally serviced neighbourhood - thus going beyond the usual efficiency focus of Smart City models to enhance the daily lives of the residents and free up time for leisure activities," said UNStudio.
"This digital infrastructure can also be used for the management of energy production and consumption and of communal spaces, such as those cultivated for local food production schemes."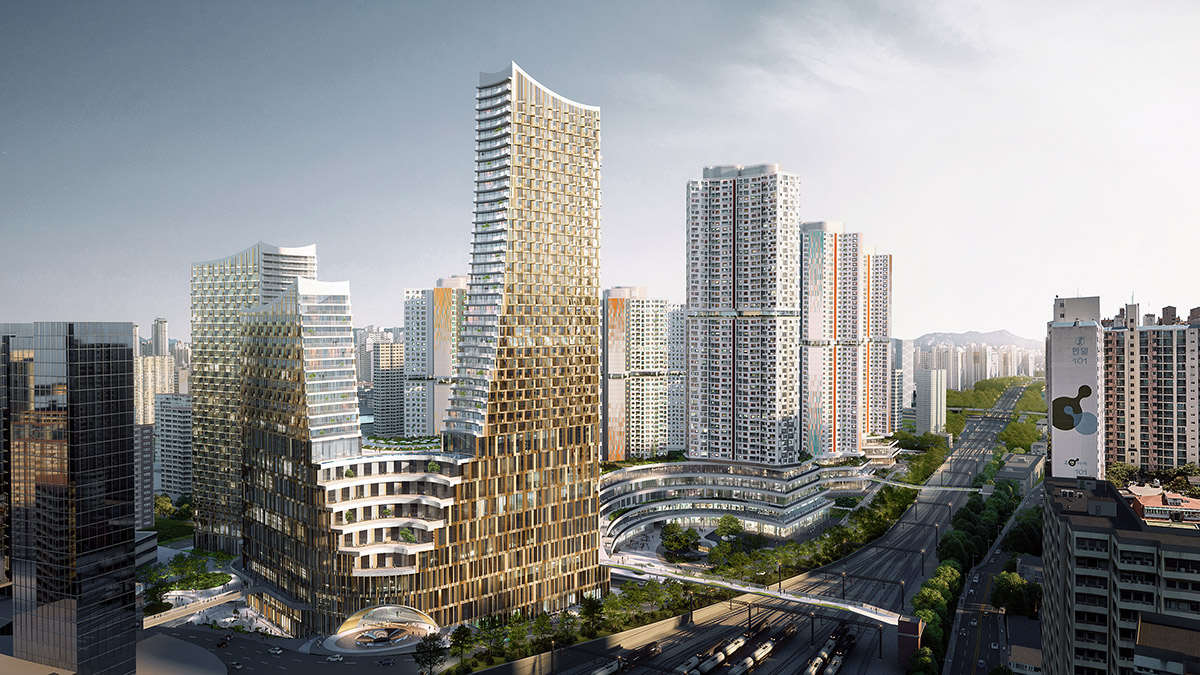 In the design, the different layers of the physical masterplan and the digital interface will work together to provide residents of all ages and family configurations with a smart, healthy, green environment where contemporary working, living and entertainment are all combined in one neighbourhood; a productive neighbourhood of convenience, comfort and community.
According to the studio, Project H1 can serve as a pilot for an adaptable strategy for mixed-use urban developments of the future.
Project H1 will be a place where residents have all the conveniences of the city within a 10-minute walk from their homes.
"For the H1 masterplan we have aimed to create the ultimate contemporary 10-minute city, where the daily life experience of the residents is the top priority," said Ben van Berkel, founder and principal of UNStudio.
"We do this through the inclusion of a rich density of uplifting, curated on-site experiences that provide an extensive range of options for how they can spend their living, working and leisure time, thereby also saving them the time needed to travel elsewhere in the city - because with time that is saved, more time is created."
In the masterplan, UNStudio devised a System Design, where, rather than being fixed, certain components can be arranged according to different needs. Based on this approach, the masterplan incorporates various approaches to flexibility and adaptability across different typologies and scales.
"We have taken an approach of 'flexible urban density," added Ben van Berkel.
"This enables the multi-functional use of public space and employs mixed-use organisational models to ensure that the residents can meet, connect and socialise, both in planned and spontaneous scenarios."
"The components of the masterplan not only encourage the creation of strong community bonds, the proposed digital service packages also create an unprecedented level of convenience for the residents," he continued.
In 2019, the Hyundai Development Company asked UNStudio to design a new mixed-use economic hub, where quality of life, health, nature and "growing together as a new the local community" are paramount.
The concept for the area design would ideally also be guided by traditional Korean urban planning principles, which typically respond to the surrounding natural landscapes.
UNStudio takes inspiration from the surrounding mountains and the venation pattern found in leaves for the masterplan. While a continuity of green space is maintained throughout, while the form language of the buildings is derived from the soft topography of the nearby mountains and visual corridors.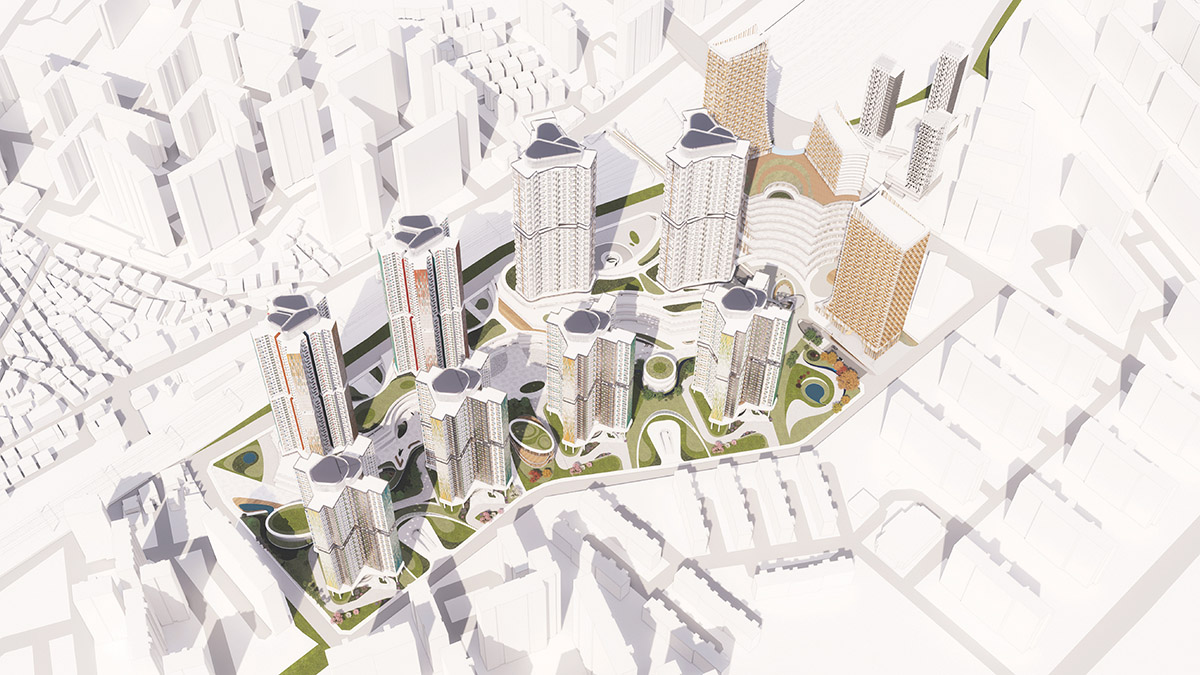 The programming of the site is divided into two zones of different densities, based on a context-specific, vernacular T-junction grid. These T-junction links are connected to one another by three main squares and a network of smaller plazas, creating social meeting points within the overall layout of the masterplan.
As the team explains, conceptually and strategically the H1 masterplan is based on a principle of 'productive landscapes'. A synergy of people, nature and technology is seen as the main driver connected to innovation, education and multi-generational exchange.
"The aim of this concept is to put the community firmly at the centre of the design as a 'production force' for health, innovation and culture," the studio added.
"Programming for health focuses on fitness, food and clean energy, with the incorporation of climbing walls, public parks and running tracks, in addition to encouraging people to walk and cycle through the site by excluding cars."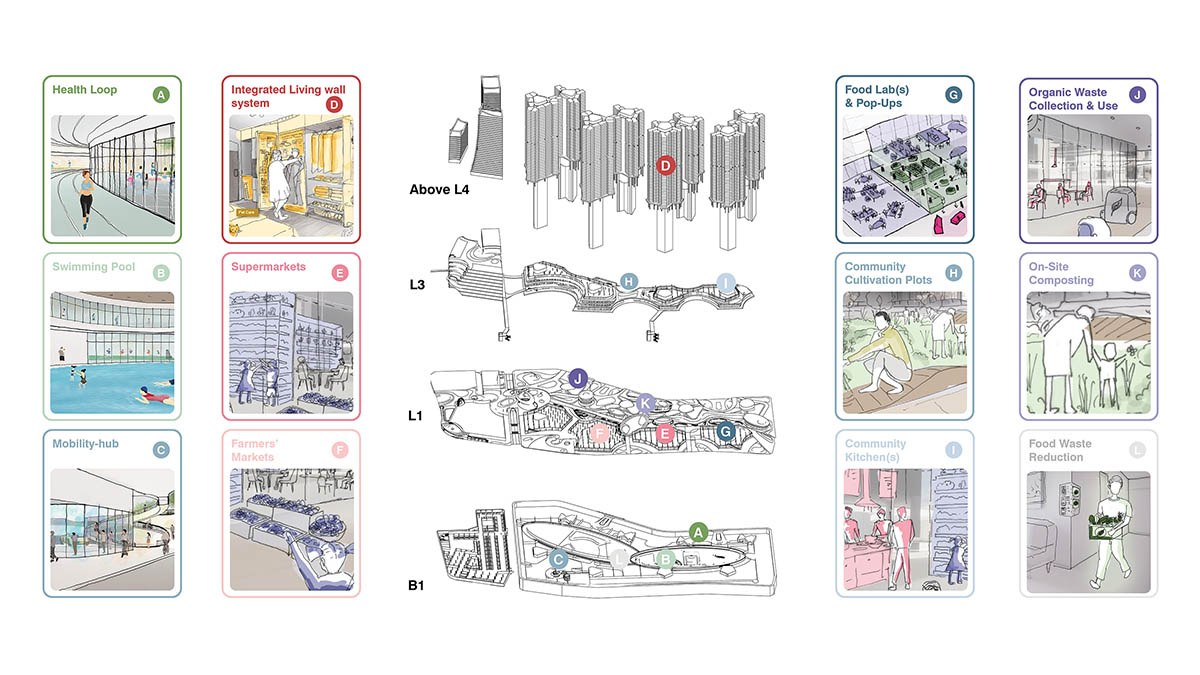 Services
The masterplan incorporates facilities for hydroponics and urban farming.For the production of innovation, spaces are created that encourage learning, creativity and imagination, such as an ideas hub, a library and an incubator for innovative new businesses.
The plans also include a retail component, which is called Third Places, that is planed as an undefined spaces where users and residents can meet and where serendipitous encounters can occur.
H1, Communities, Three scales
"These are comprised of multi-purpose communal spaces with no fixed programme, discussion 'salons', spaces for pop-up events and urban break out spaces. Further amenities such as leisure, co-working spaces and health services are located on strategic locations throughout the Masterplan," the studio explained.
The larger portion of the masterplan houses a mixed-use plot accommodating 8 residential towers which stand on what are referred to as "Stepping Stones". Increasing ground area, these leisure levels provide spaces for commercial, educational and cultural activities on street-level and on two to three additional levels above.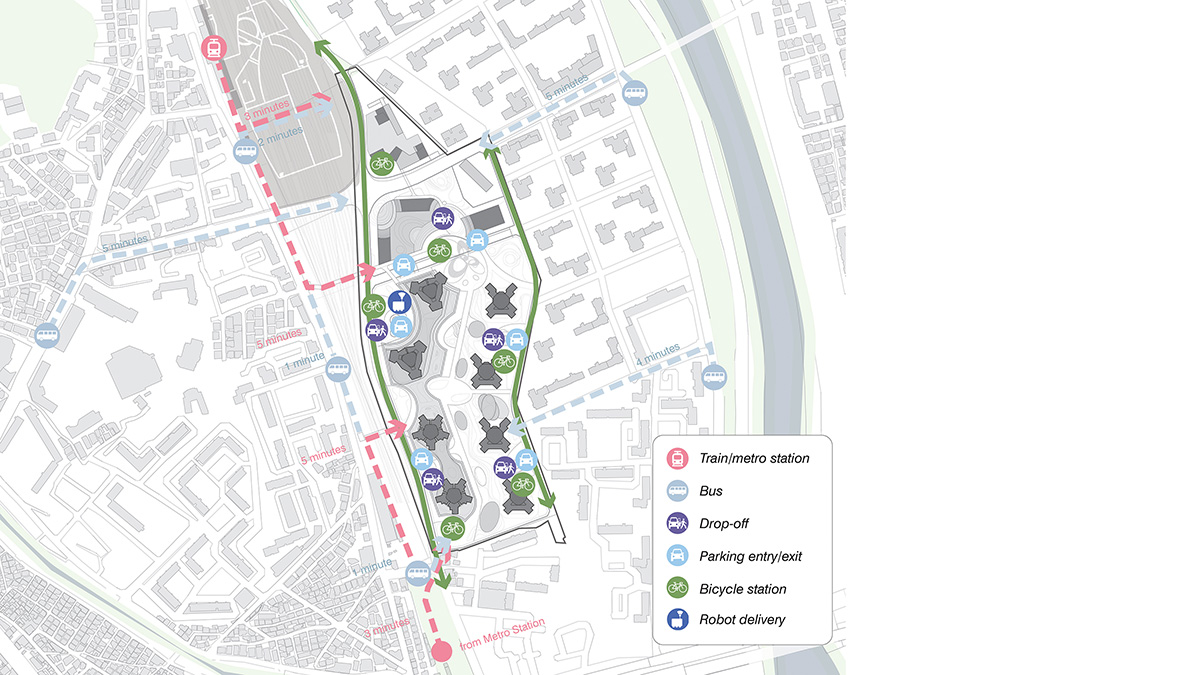 Mobility
Running through the mixed-use plot, the retail-based street-mall provides shared 'third space' multi-purpose typologies, cinema's, community centre and a kindergarten for the residents, thus ensuring a rich programme mix for visitors and residents alike.
The apartments in the towers propose a new typology, based on the Radial typology. This enables multi-generational and lifecycle housing of different sizes and price classes; flexible, compact, apartments that cater to multiple family and tenant configurations that can change over time.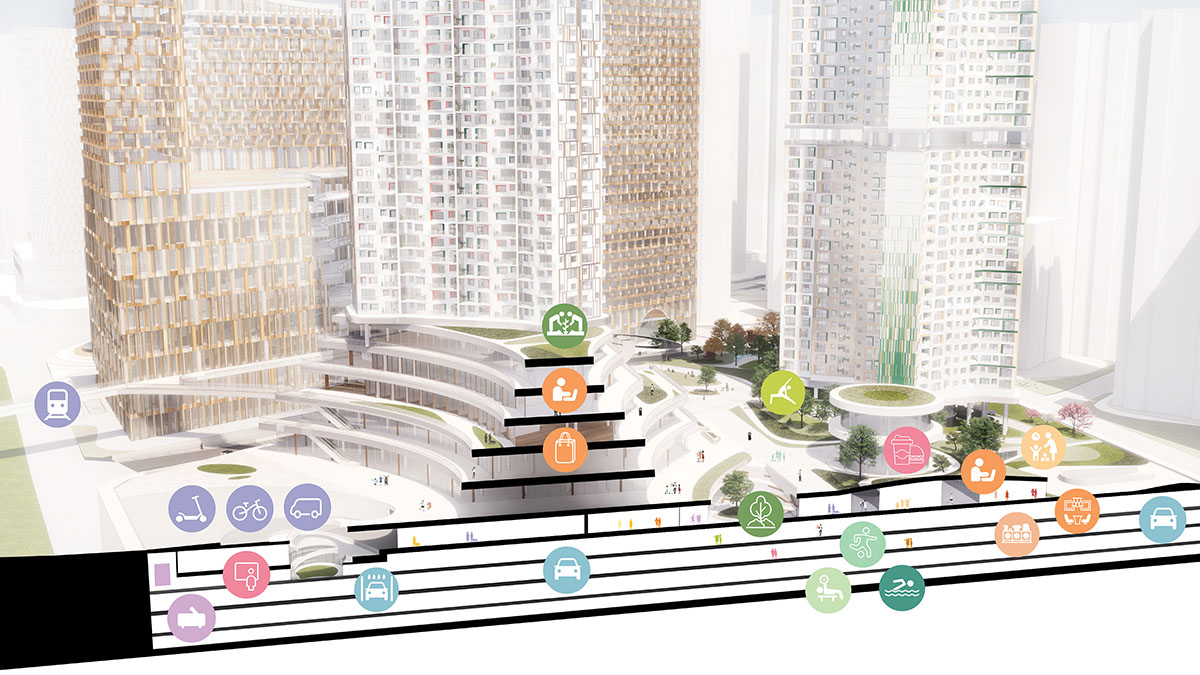 Section
The Commercial Business plot
Connected to the mixed-use area is the new ' Commercial Business plot', which is situated strategically in the vicinity of 11 universities and next to a train station and future high speed train connection.
These factors create fertile ground for knowledge exchange. Thus, the Commercial Business plot is designed for innovators and creatives, with the ambition to become a destination where people can work, live and learn together.
The programming of this Commercial Business plot consists of a hotel, co-living residences, co-working spaces with pockets for private work, and officetel - an office model that combines the features of a house, a hotel and an office.
Section - inspiration
Water concept
In order to cope with the large amounts of water that can suddenly fall in Seoul, most horizontal surfaces in the masterplan are covered with a thick layer of soil.
This layer of soil and green will capture the large quantities of rainfall, which is then filtered in a water filtration system. "Not only can the water be stored and used to irrigate the green landscapes, the planting itself can benefit the bio-diversity on site, whilst combatting the urban heat-island effect with vegetation," said the studio.
Sustainability Strategy
Waste re-use and storage
Waste collectors are placed in the basement with designated recycling areas and organic waste is used to develop compost for urban farming.
Whilst compost is commonly considered to be mere dirt, in H1 the compost stations are also used as an example of how the life-cycle of food actually works. It creates an opportunity for the young urbanites to experience the cause and effect which is inherent to our eco-system.
Sustainability Strategy
Well-being and Comfort
Three elements that are considered crucial to well-being are daylight, fresh air and space. For the design of the residential component, the aim was to ensure optimal access to daylight and good ventilation. Every residential unit is designed to have sufficient facade length, while balconies with space for pots and planters are introduced in order to give the residents access to outside areas and to grow their own green.
UNStudio will work with local architecture firm Kunwon Architects and Amsterdam-based landscape studio Lodewijk Baljon on the project.
The project is expected to be completed in 2024.
System Design
Unit types and usergroups
Urban concept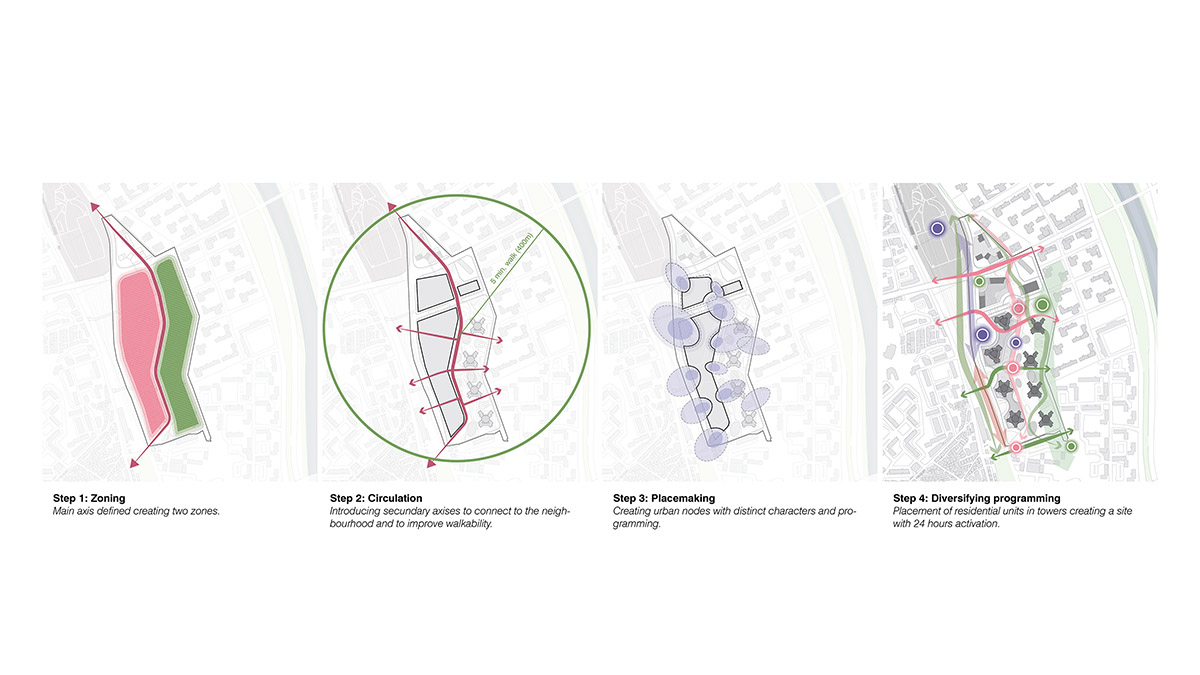 Urban formation
Urban systems
Urban systems
Project facts
Project name: Project H1
Architects: UNStudio
Client: Hyundai Development Company
Location: Seoul, South Korea
Building surface: 504.000m2
Building site: 78.000 m2
Programme: Masterplan and architecture for Kwangwoon University Station Redevelopment Area
UNStudio: Ben van Berkel, Gerard Loozekoot with Crystal Tang and Sara Campagna, Nawid Piracha, Atira Ariffin, Gys le Roux, Tommy Kim, Kyuseung Kyoung, Dongmin Lee, Moon Young Jeong, Alistair Williams, Wael Batal, Nanang Santoso, Rebekah Tien, Luigi Olivieri, Aleksandra Swilinska, Maria Zafeiriadou, Alice Haugh, Pedro Silva Costa, Sujie Park, Yangkenan Li, Jinhyun Kim, Yinying Chen.
UNSense: Ben van Berkel with Ren Yee and Huey Hoong Chan.
Advisors:
Local architect of record: Kunwon Architects
Landscape Architect: Lodewijk Baljon
All visualizations © WAX & Virgin Lemon, courtesy of UNStudio.
All drawings © UNStudio.
> via UNStudio