Norihiko Dan Unveils A Project in Taiwan- Sun Moon Lake Visitor Center
A few years ago Japanese architect Norihiko Dan created a successful landform project in the mid Taiwan, his project was realized upon winning an international competition in 2003 called the "Landform Series."
It was for the Tourism Bureau's Sun Moon Lake administration office in the Hsiangshan lake district. Known as one of the main tourist spots in Taiwan, Sun Moon Lake has a certain calmness that is particularly oriental. This project consists of two wings: the Visitor Center, which is the entrance for domestic and foreign tourists; and the office, where the tourism bureau is situated.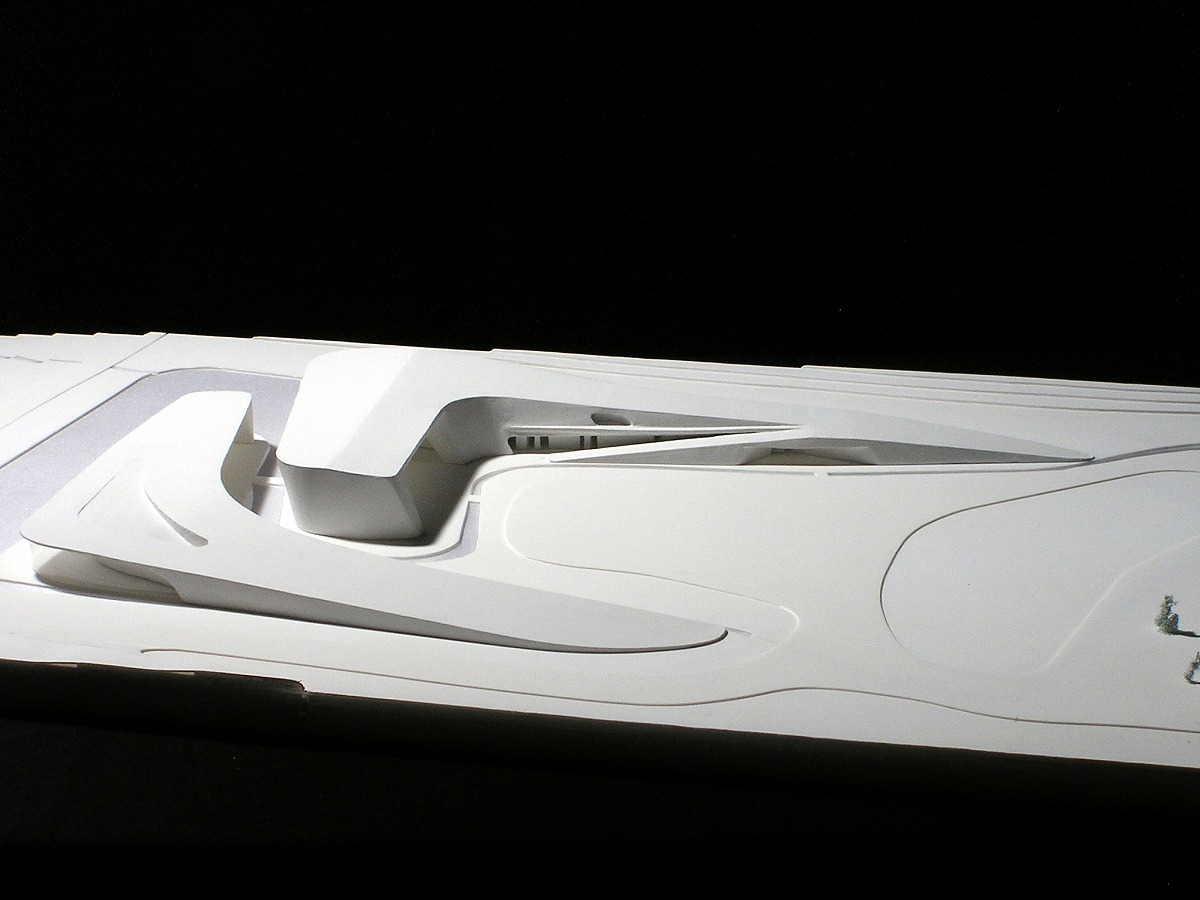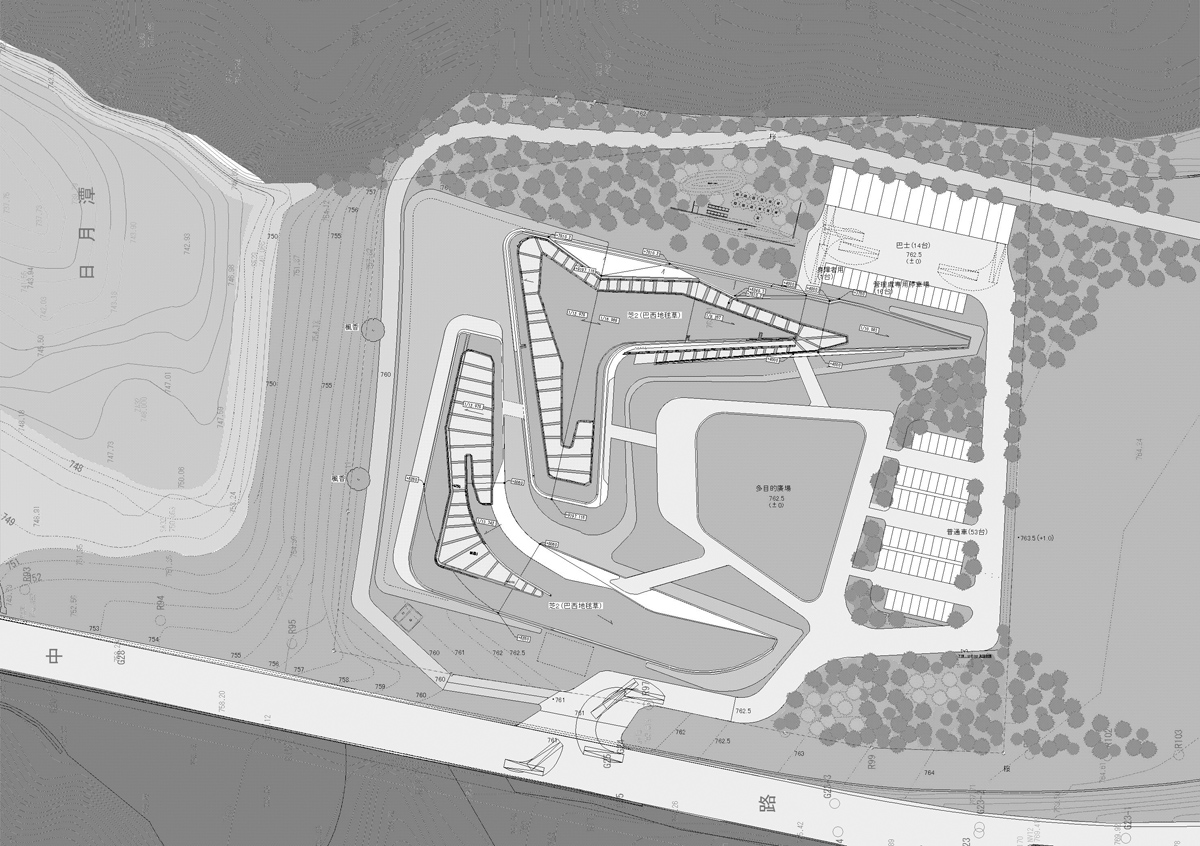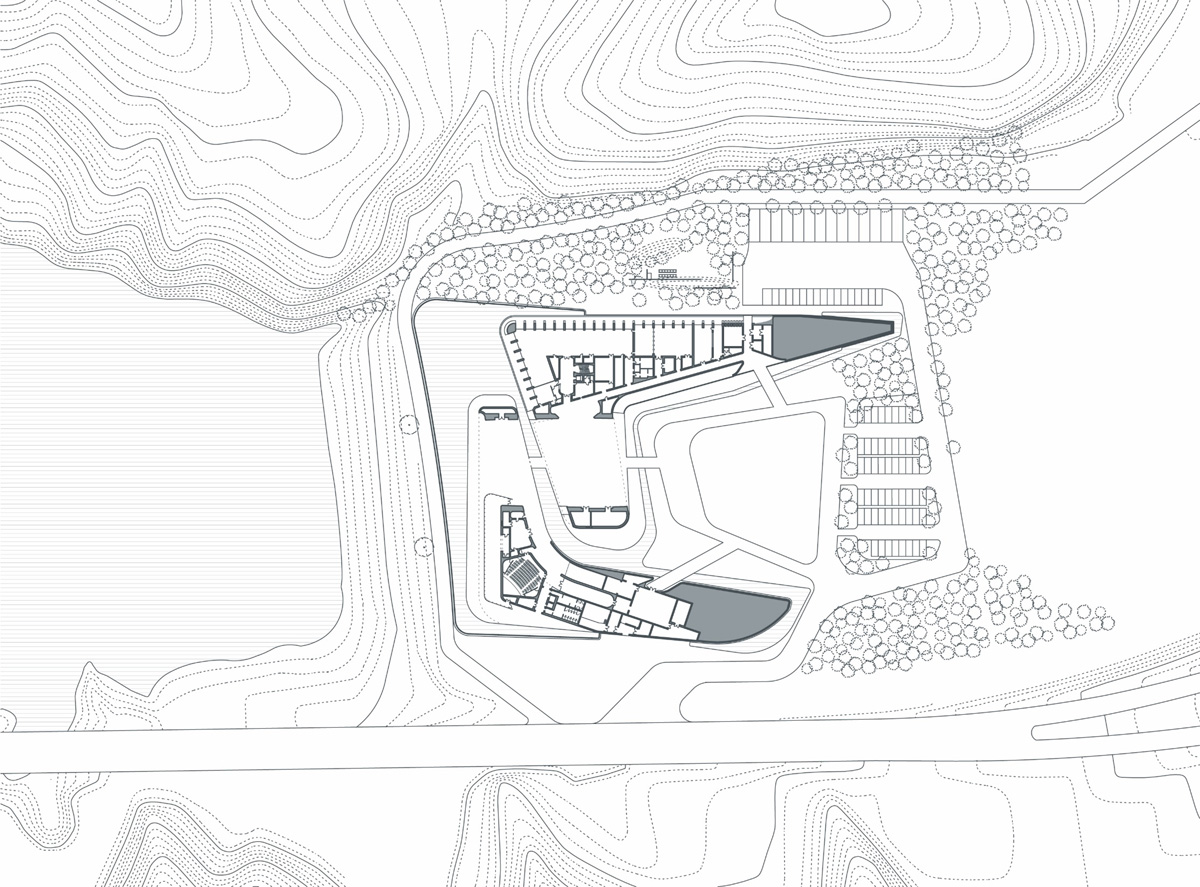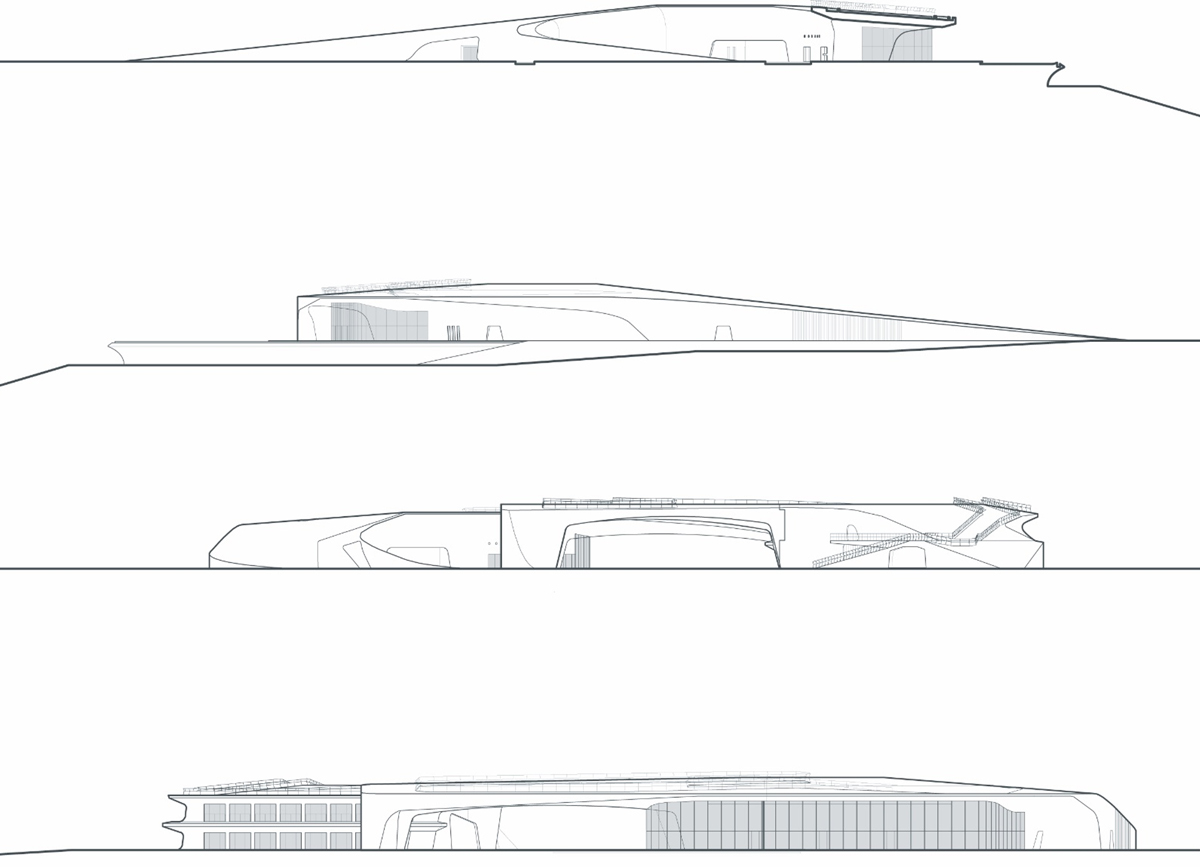 The basic policy was to present a new symbiotic example of the relationship between the architecture and its natural environment, which would refrain from destroying the surrounding landscapes, and bring out and expand the property's potential strength as much as possible. Buildings have been built on "top" of land since ancient times, but there are some that have been constructed directly in the land—such as the early Christian monastery of Cappadocia, and the Yaodong dwellings of the Loess Plateau. Thus, from a historical perspective, the relationship between architecture and landform has always been variable, because it reflects the rich cultures of the location.
However, efficiency was the utmost priority for architecture in the twentieth century; less attention was paid to the relationship between landform and architecture. Therefore, undulating land was carved and beautiful cliffs were filled to suit the convenience of architecture. This particular project was designed to revise the relationship between architecture and its land, including the issue of waste soil disposal.
Consequently, the soil produced during the foundation construction was not disposed of, but added to the volume of the building. By allowing the building this autogenous deformation, the conceptually "soft" building and its volume integrate with the soil for an amalgam of half-architecture and half-landform.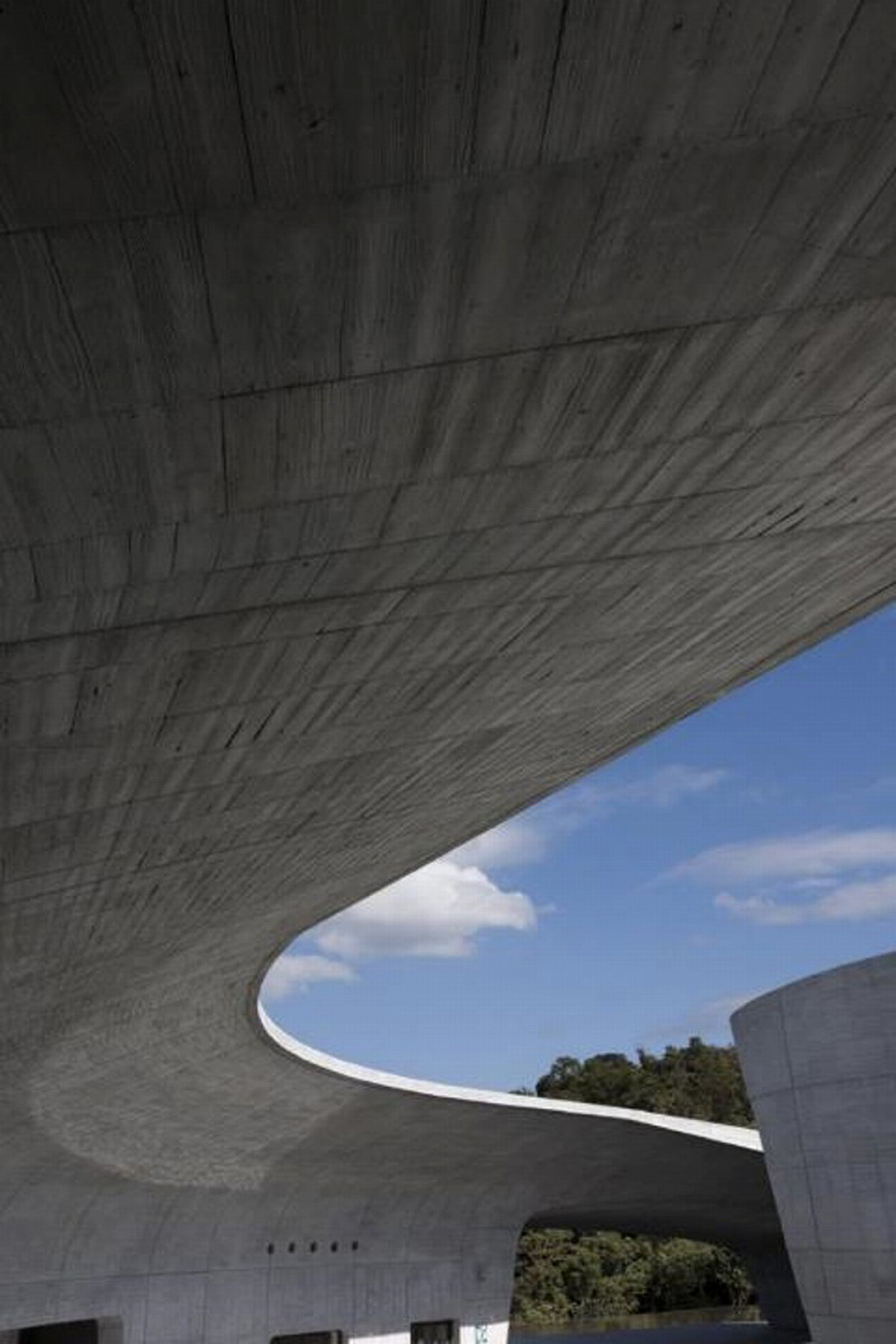 Project facts
Project name: Sun Moon Lake Visitor Center
Client: Sun Moon Lake Administration office of Tourism Bureau
Location: No.599, Zhongshan Rd., Yuchi Township, Nantou County 555, Taiwan
Design period: Dec. 2003 to Oct. 2007
Construction period: Jun. 2008 to Dec. 2010
Architect: Norihiko Dan, Norihiko Dan and Associates
Project team:
Design team: Norihiko Dan, Tadashi Yoshimura, Eiji Sawano, Minghsien Wang, Masato Shiihashi
Collaborator(s): Su Mao-Pin architects
Structural engineer: Structural Design Group(Japan), Horn Gyun Engineering Consultants Ltd.(Taiwan)
Electrical engineer: Uichi Inouye Research Institute(Japan), Huan-Chiou Electrical Engineering Co.(Taiwan)
Landscape architect: Norihiko Dan and Associates(Japan), Su Mao-Pin architects(Taiwan)
Lighting engineer: WORKTECHT CORPORATION(Japan), Cheng Yi Lighting Co., Ltd.(Taiwan)
General Contractor: HUACHUN Construction Co., Ltd.(Phase 1), YIDE Construction Co., Ltd.(Phase 2)
Building system: Structure: RC, part of prestressed concrete
Technical data:
Site area: 33,340m2
Bldg. area: 6,639.59m2
Gross floor area: 6,781.21m2
Bldg. coverage ratio: 19.9 %
Gross floor ratio: 20.3 %
Exterior finishing: (including outdoor areas, corridors)
Roof-- Exposed concrete, polyurethane waterproofing, insulation t30, Soil t200, and grass
Floor-- Tiles in slate stone pattern
Wall-- Exposed concrete in local cedar wood pattern, water repellent paint in milky white
Celling-- Exposed concrete in local cedar wood pattern, water repellent paint in milky white
Opening-- Stainless Sash in Powder Coating, Part of DPG Joint (Curtain wall of Café)
Planting-- Grass
Paving-- Asphalt
Laver-- Tiles, border by stone in jetbar surface
Handrail-- Stainless frame within stainless net, part within tempered glass
Interior finishing floor-- Long PVC sheet, plywood in oak tone surfaces(stage)
Wall-- RC, mortar repair in white paint
Celling-- Plasterboard, putty repair in white paint
Material(s): RC, steel frame curtain wall, stainless sash, stainless handrail, glass handrail, stone border, wood deck
All images © Norihiko Dan and Associates
All images and drawings courtesy of Norihiko Dan and Minghsien Wang.