Rural villa by Fragmentos features earthen tones and a central patio in Grândola, Portugal
A rural villa in Grândola features earthen tones and a central patio that becomes the protagonist of the project in Portugal.
The house, named Melides, was designed by Lisbon-based architecture office Fragmentos to offer a feeling of privilege and tranquillity in nature.
The 325-square-metre residence is located on a rural site which is a short distance from the Atlantic Ocean. Situated in a rural village, silence prevails and the surroundings are characterised by an extensive pine forest and a few small, scattered buildings. On approach, the slope and the natural elements prevent any overview of the plot.
The single-story villa is made of in earthen tones, the design team aimed to create a transition between the construction and the landscape that can be harmonious, privileging tranquillity and nature.
The construction is composed of a single volume with a flat roof from which a mass is removed to form a central patio and around which the dwelling develops.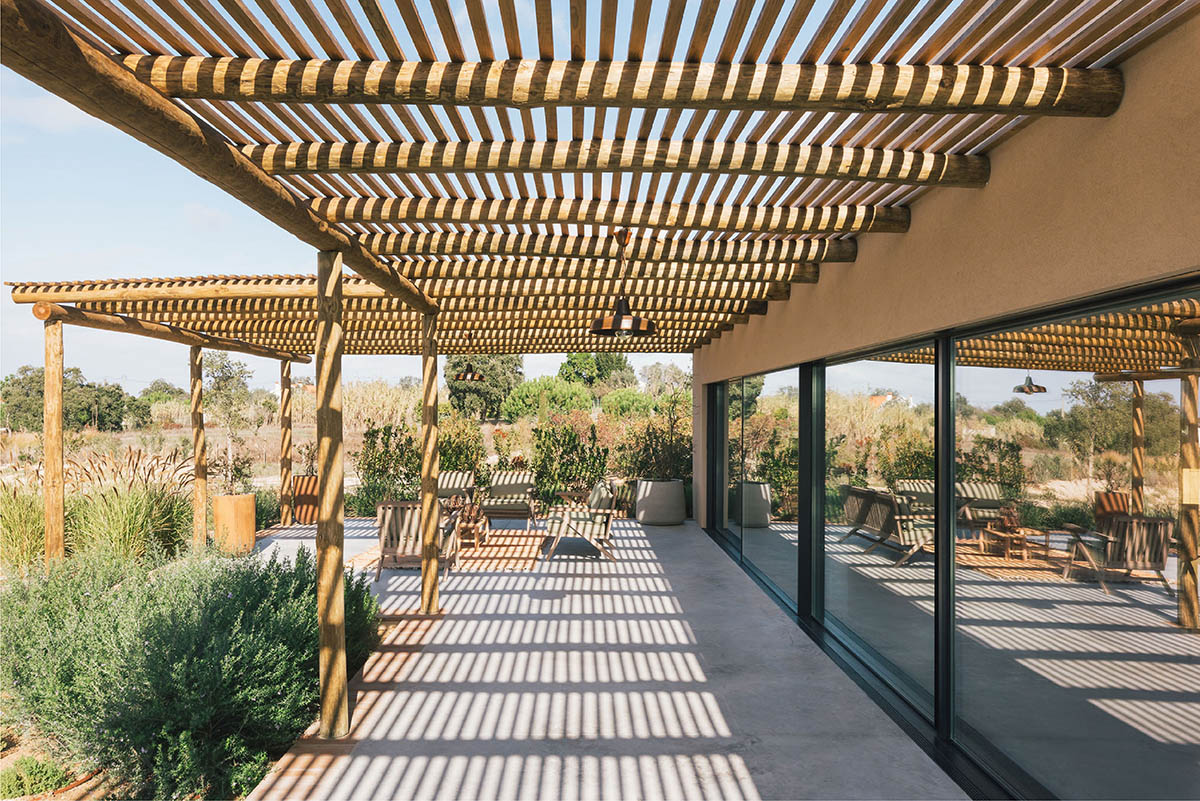 The disposition and arrangement of this volume creates exterior spaces with greater privacy and interior spaces with varying relationships to the surroundings.
In the interiors, the functional components are organised from the north, from where the central patio is accessed, providing a visual relationship between the various parts of the house.
The eastern wing consists of the social areas, enhanced by large glass planes that overlook the terrace and swimming pool. Five suites are placed in the central and western wing, two of which are independent and all rooms have a strong relationship to the surrounding area.
The roof is projected to different lengths according to the solar orientation, extending the interior of the dwelling to exterior spaces covered by pergolas.
The residence features different pathways formed of wooden beams, leading users to the swimming pool which, designed over a natural amphitheatre, takes advantage of the sun's exposure and invites users to reflect on the visual relationship between the space and the landscape.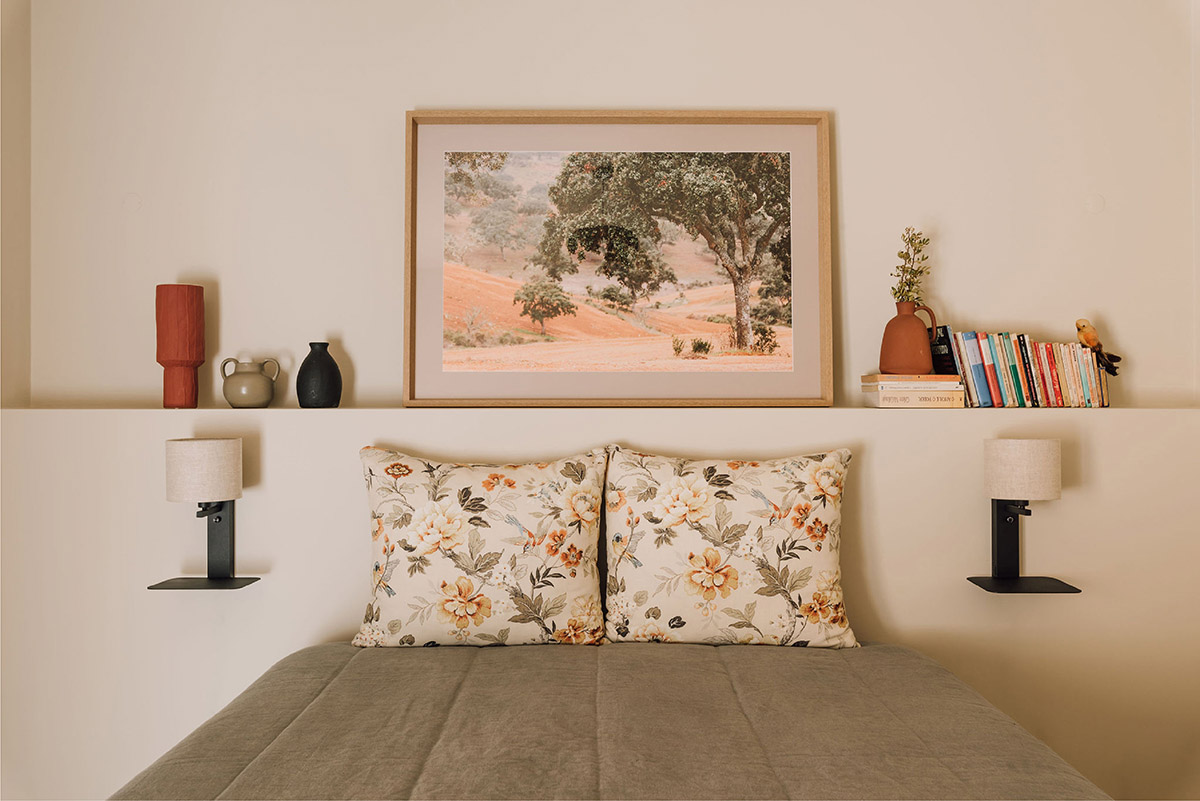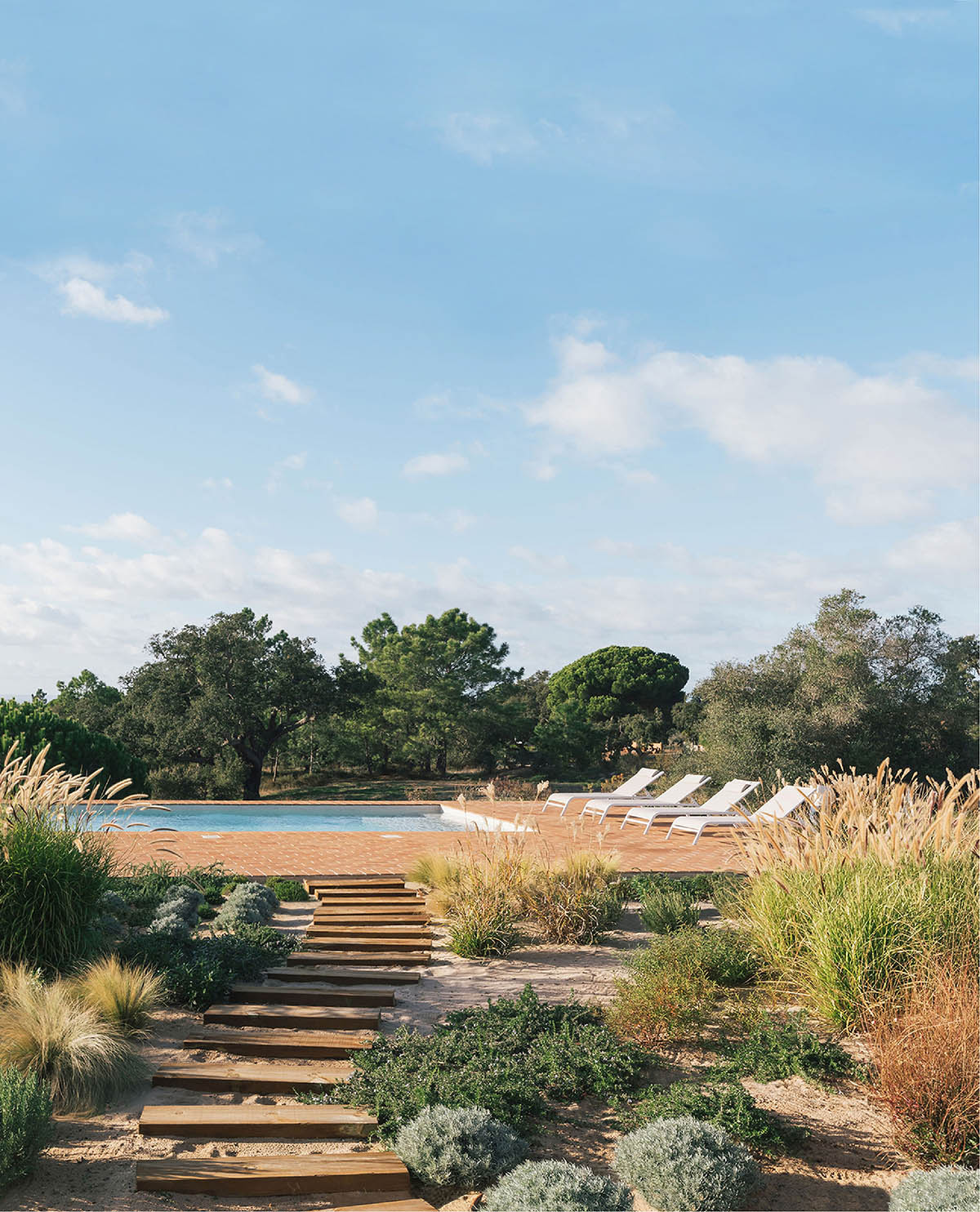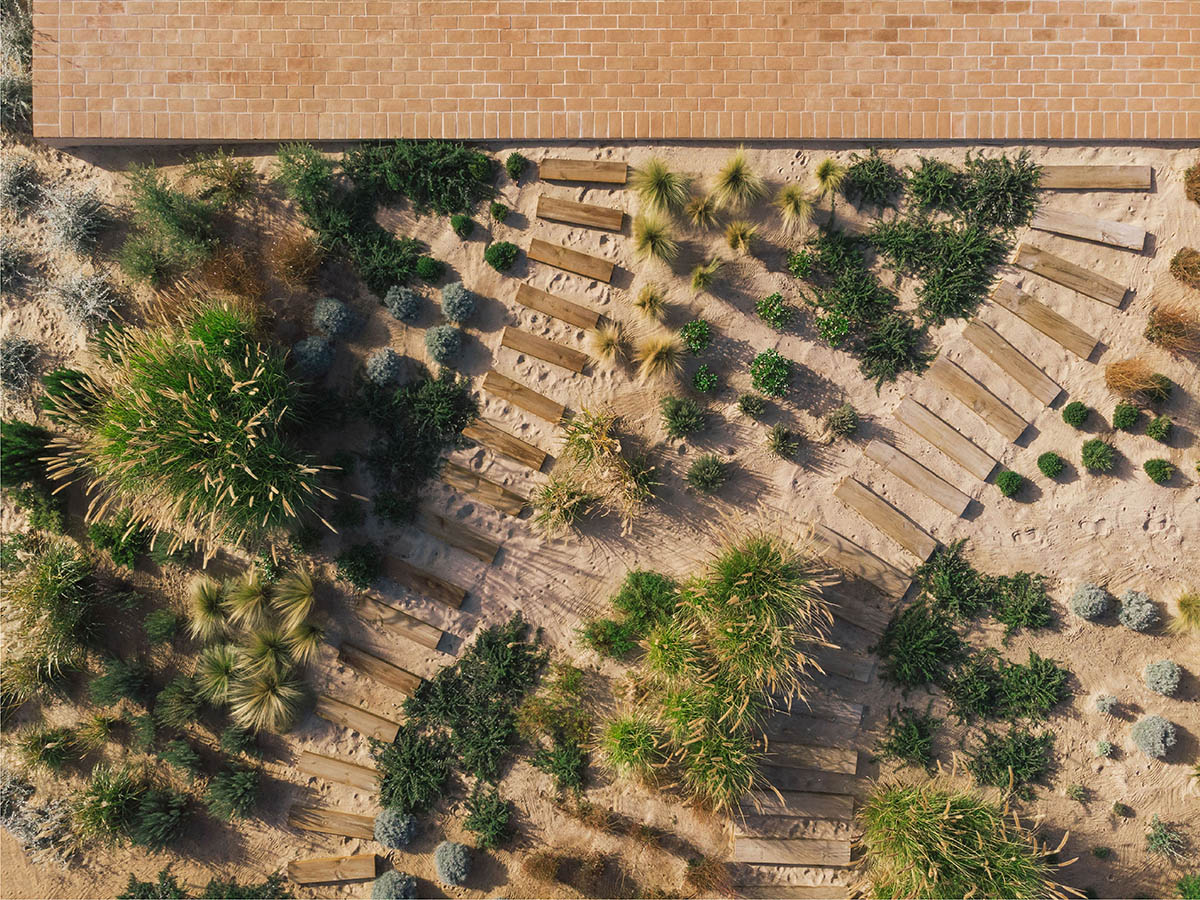 Floor plan
Fragmentos, founded in 1994, is led by a collective of four architects Duarte Pinto-Coelho, Marcus Cerdeira, Miguel Martins Santos and Pedro Silva Lopes.
Headquartered in Lisbon, the office designs projects in various scales, sizes and typologies.
Project facts
Project name: Melides
Architects: Fragmentos
Location: Grândola, Portugal
Client: Private
Area: 325 m2
Phase: Built
Year: 2017 - 2021
Architecture: Pedro Silva Lopes, Fernando Flora, Rita Sousa, Madalena Wemans (Fragmentos)
Specialties: João Paulo Branco (Fragmentos), Espaço Civil
Supervision: Dione Mateus
Construction: Fernando Pedreiro
Measurements: Coopas
Landscape architecture: Polen Land Design, Terra Lógica
All images © Lourenço Teixeira de Abreu
All drawings © Fragmentos
> via Fragmentos