MASK Architects adds light and transparent flower-shaped clouds to Zhengzhou metro line-7 stations
Istanbul-based practice MASK Architects and Shenzhen-based Jiang & Associates Design (J&A) have designed a conceptual interior design for Zhengzhou metro line-7 stations in China.
Called The Flower Clouds I Zhengzhou Metro Line-7 Stations, the first phase of Zhengzhou Rail Transit Line 7 starts from Dongzhao Station to Nangang Liu Station. The line is 26.82 kilometers long and has 20 stations, including 11 transfer stations.
The line passes through Huiji District, Jinshui District, Zhongyuan District, and Erqi District, and is an important rail transit corridor covering the north-south development axis.
Flower-shaped structures will crown the interiors of the station with their light, warm and transparent surfaces that will be an interactive element for passengers.
Currently under construction at site, the project is expected to be completed and ready for opening in 2023.
Led by Öznur Pınar Çer, Danilo Petta, founders of MASK Architects, the architects said "Our new generation concept for a metro station in China is inspired by how commuters interact with the space and how they feel within the space on their daily routes."
"We know that sometimes this daily journey or commute can be very dull and boring, almost an unconscious journey that we don't really focus on too much. Either you are tired, stressed, sleepy, or just not in the mood."
"We have created a concept for commuters to feel like they have transited into a new world. We have created an installation, an application to the normal structures of metro stations, and changed the whole environment. The environment will be welcoming, elegant, light, and warm."
"A place where all pressure and stress will be reduced, where your mind becomes open and active instead of tired and sleepy. We wanted to create a social space, in which the commuters can engage with the surroundings and the environment," the architects added.
The architects added that "For them to have a kind of social connection with the space and to be able to interact with one another as they have never before in this kind of environment. To create this kind of space, it is important for us to make commuters more calm and relaxed, because a commuting journey affects everyone's day, so it is important that we start and finish everyone's commute in a positive way."
The design team aims to take away the negative energy of dullness, boringness, and heavy industrial metro machinery away from this space and transform it into a clean and elegant space.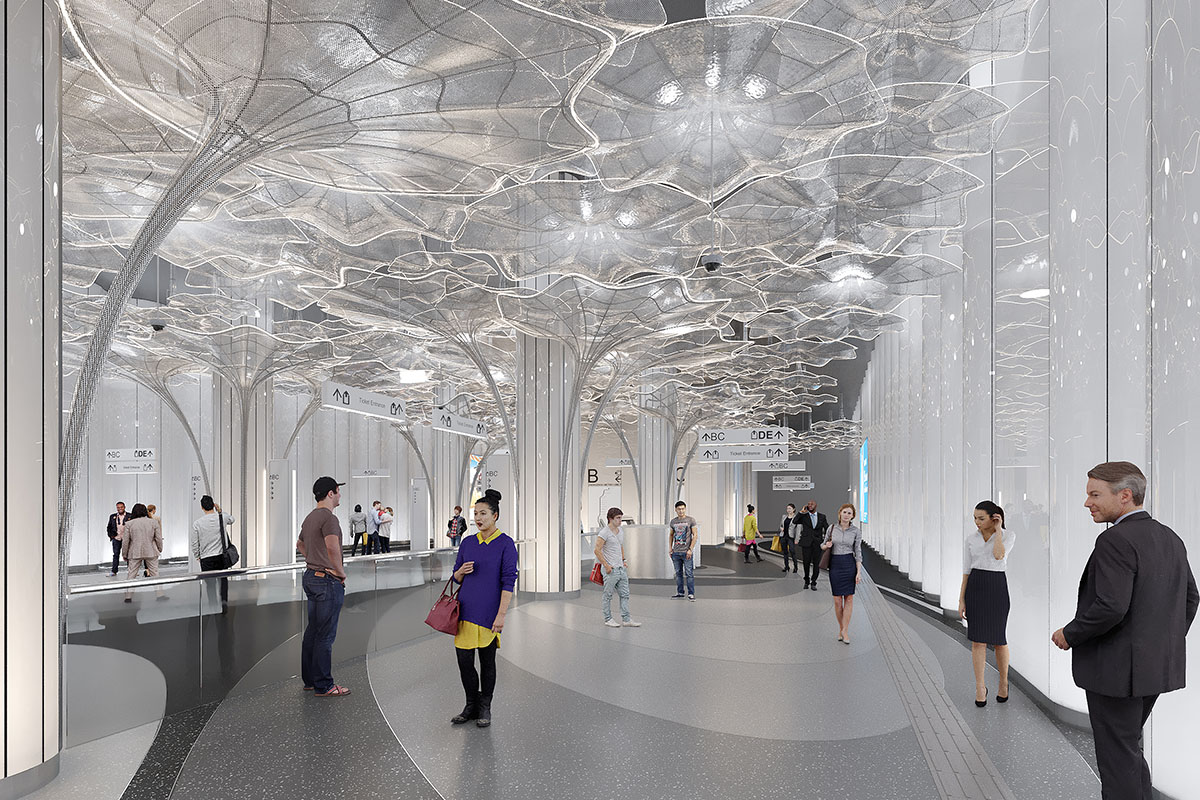 The design is inspired by nature, as the design team emphasised, nature has a way of creating positive disruptions by pulling us out of our interests, ideas, and systems and into something that is often humbling. "Design with nature now means to develop areas and environments that are preparing to grow with policy changes, with changing needs of individuals and communities as well as with altering environmental constraints and potentials."
The architects take cues from the Nanhuan Park to connect the outside environment to the interior of the metro station. The park shows off the city's flowers and roses.
It attracts people to come and take pictures of the beautiful natural landscape and environment. The shape of the flowers create a continuous of flow from outside to inside to help transform the interior of the metro station into something more natural and flourishing.
The installation consists of flower-like structures and modules that will create the base and main attraction point.
The design is made of large modular structures that can be situated in any order or pattern, to be connected together or separated. With this expandable and mobile modular system, the team can create different systems in which the perspective can be changed and can create different flows of avenues for people to explore or be directed to their platforms.
The petals of the flowers act a kind of canopy that will have beautiful light installations that will pulse throughout the canopy and its leaves interacting with light, music, and movement.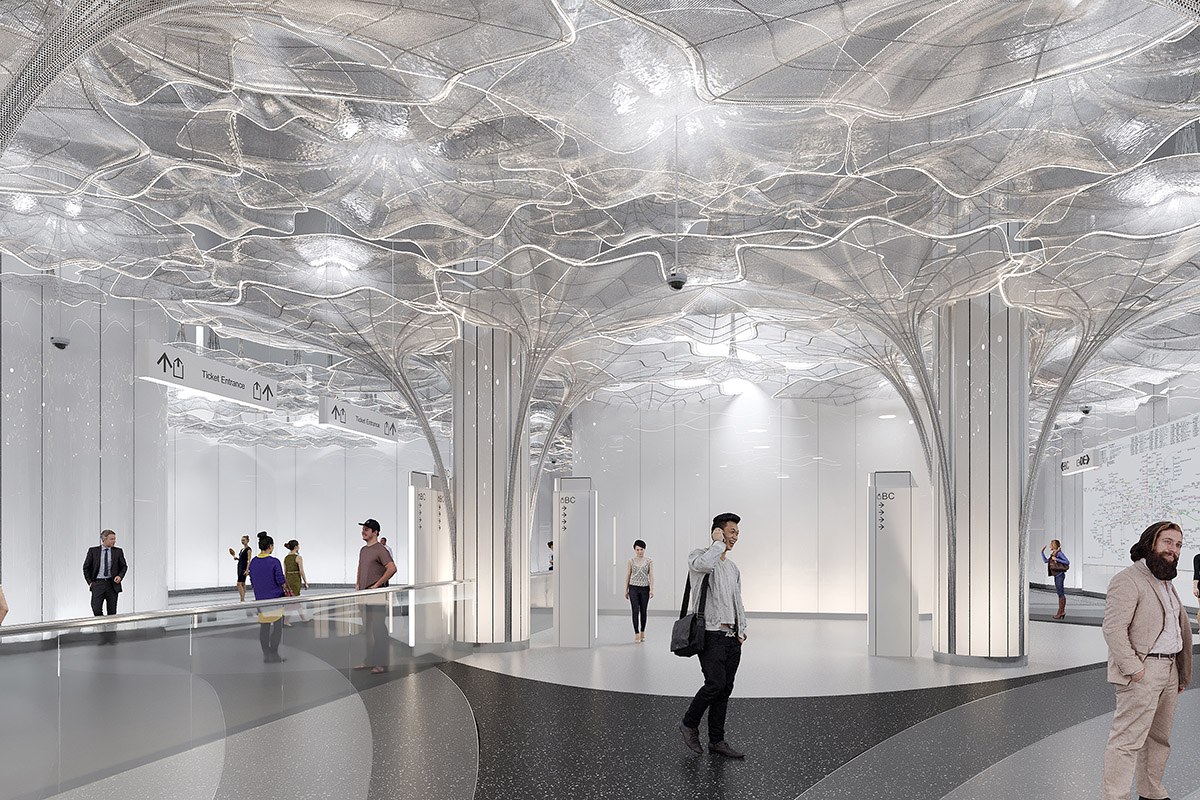 "We went to create a sensation for the commuters to feel like they are under the flowers and get a different perspective and view from under the flowers," Öznur Pınar Çer and Danilo Petta added.
"This kind of environment is refreshing and very playful with the eyes and mind. We aim to distract people from their daily routines and commutes by giving them the opportunity to focus and explore an environment that they may have been using for a long time."
The architects aimed to identify the clarity and transparency and designed it in a very elegant way using 3D volume to create beautiful bespoke shapes of petals and leafs.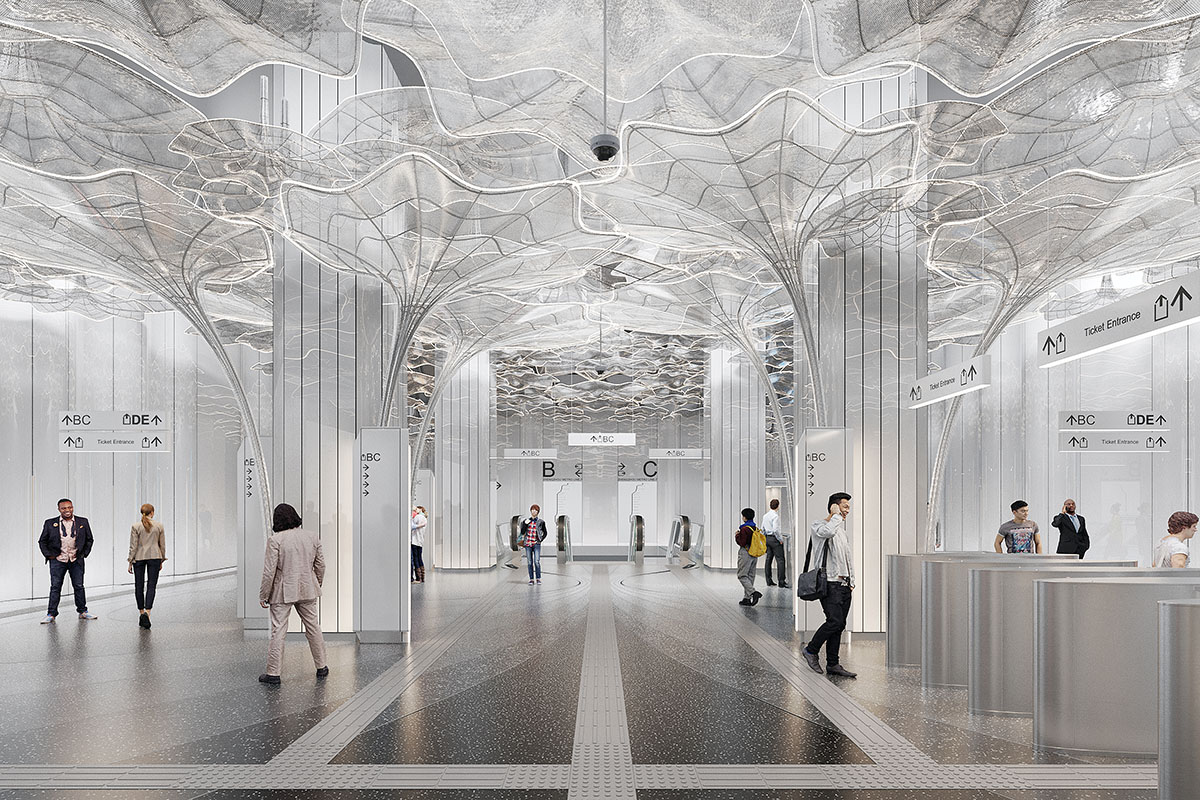 The mesh material allows the structure a kind of transparency, allowing light to reflect and be seen in different perspectives. The lighting sequences and patterns will create beautiful lines streaming and beaming across the ceiling area from petal to petal. The canopy lines will create a ceiling wave to excite the commuters.
Almost like an exhibition, it allows people's minds to wander and think freely. The leafs and petals on the branches of and stems of the flower will have multiple lighting effects. They will beam and pulse creating a beautiful harmonic lighting solution as well as a light show. The elegant petals and leaves contribute to the flow of nature into the transport hub. Taking away the full, boring, mechanical elements away from the metro station and transforming it into a more natural, nourishing, flourishing, and refreshing space.
According to the architects, the goal of this space is to transform people's daily routine and commute and how they feel within these metro stations.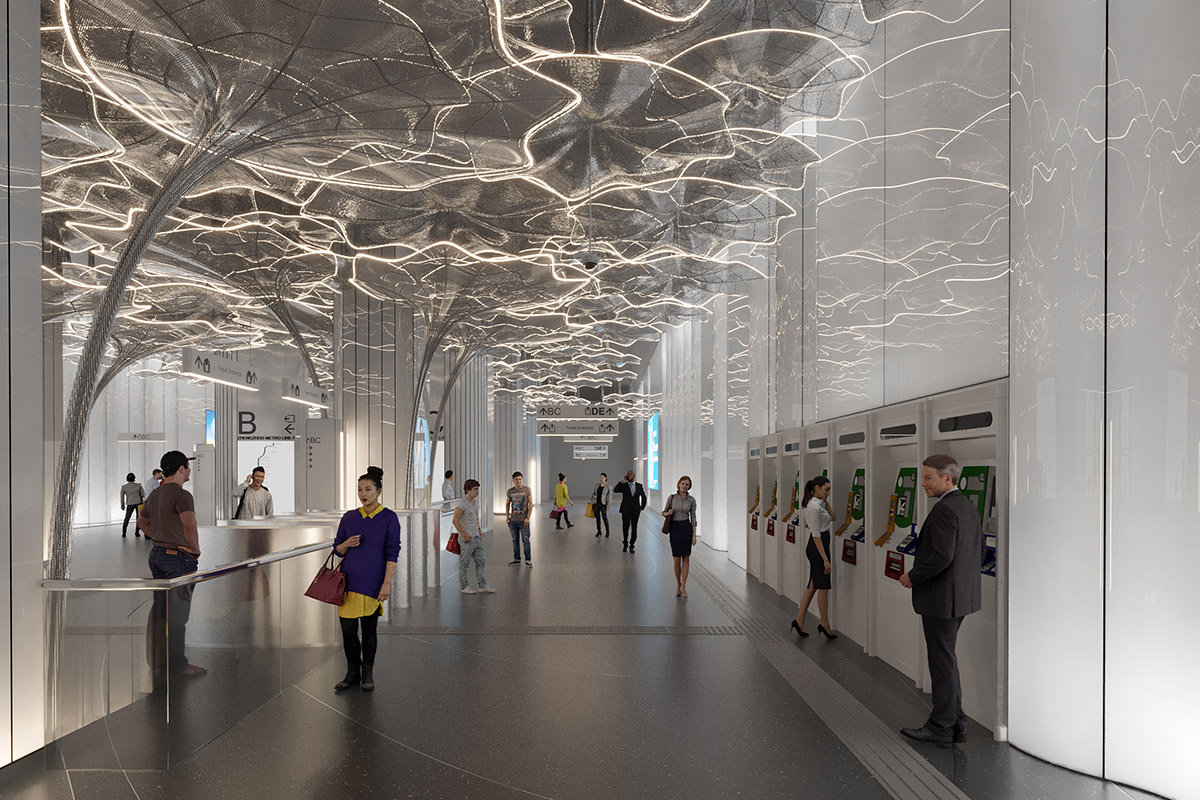 "We want to bring positive natural energy inside and underground. The flooring is important, as we want to make it as easy as possible for the commuters to navigate and get directions from the floor patterns to their platforms," they added.
The station is built on two floors, an arrivals, and a departures floor. Each floor will have patterns on the floor to direct the commuters throughout the metro station. The commuters can feel the flow all around them. The installation will engage with emotions and take them away the passengers' negative emotions and implement a happy environment to create happy emotions for them.
The material used for the flooring is a gradient terrazzo pattern on vinyl. This gives the team the flexibility of a floor made beautiful and durable. The ceiling material is a stainless steel mesh that has 0.10mm thickness. The stainless steel mesh is easily sculpted and is usable in different methods to create beautiful sculptures.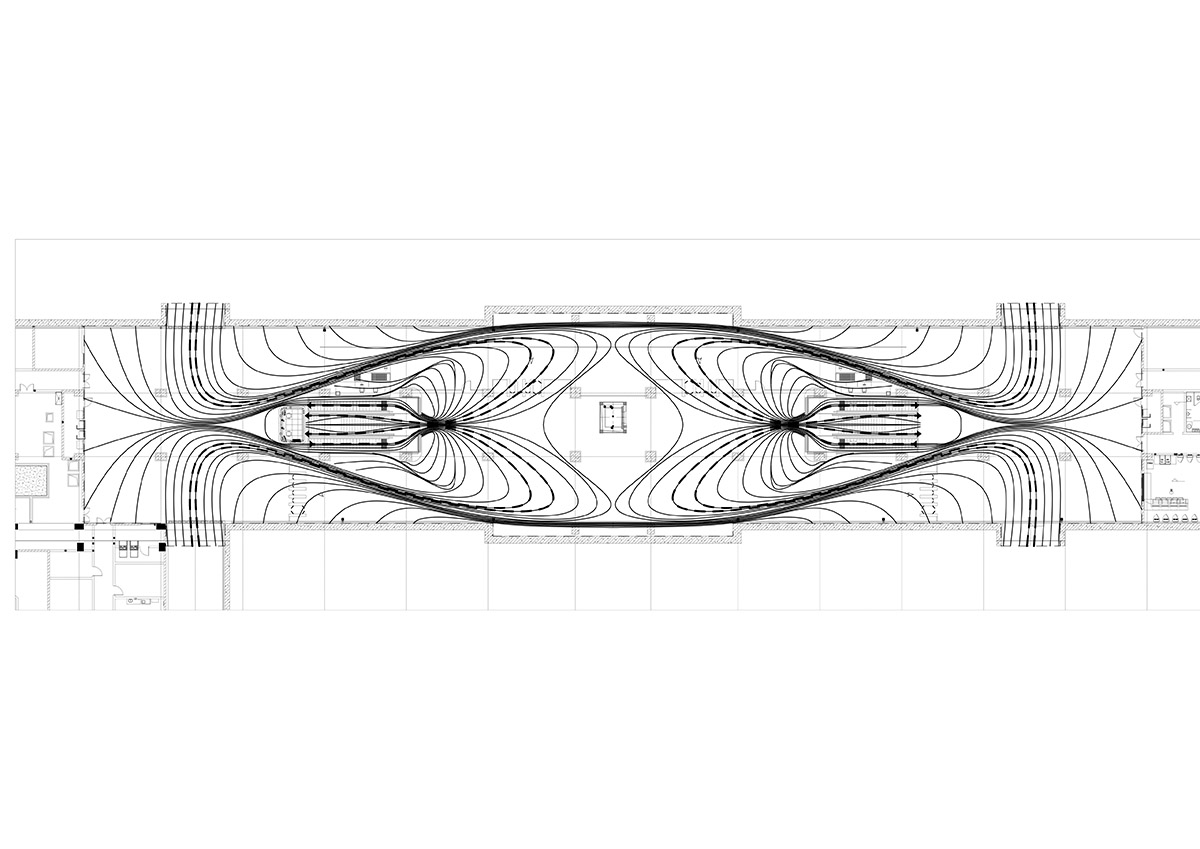 Ceiling plan with floor planning
Ceiling plan with floor planning
Ceiling plan
Project facts
Project name: The Flower Clouds I Zhengzhou Metro Line-7 Stations
Architecture Design Firm: MASK Architects, Italy
Joint Partner Company: Jiang & Associates Design (J&A), China
Lead Architect: Öznur Pınar ÇER
Design Team: Öznur Pınar ÇER, Derya GENÇ, Danilo PETTA
Visualizations & Animation Studio: Derya GENÇ, GENC Design Studio
Report: Sarje Nagda
All images & drawings courtesy of MASK Architects.
> via MASK Architects