Carme Pinós unveils interconnected wooden roof for 2018 MPavilion in Melbourne
Spanish architect Carme Pinós, the founder of Estudio Carme Pinós, has unveiled design for the 2018 MPavilion, which will be on view from 8 October 2018 to 3 February 2019 in Melbourne's Queen Victoria Gardens.
Commissioned by the Naomi Milgrom Foundation each year, the fifth edition of MPavilion will welcome Barcelona-based architect Carme Pinós of Estudio Carme Pinós with sharp design proposing an open civic space and invites interaction as well as a discourse between people, design, nature and the city.
"Celebrating Carme's design philosophy, which advocates building communities, inclusivity and universal connection, the pavilion will be a sensorial summer experience built in the Queen Victoria Gardens," stated in a press release by the Naomi Milgrom Foundation.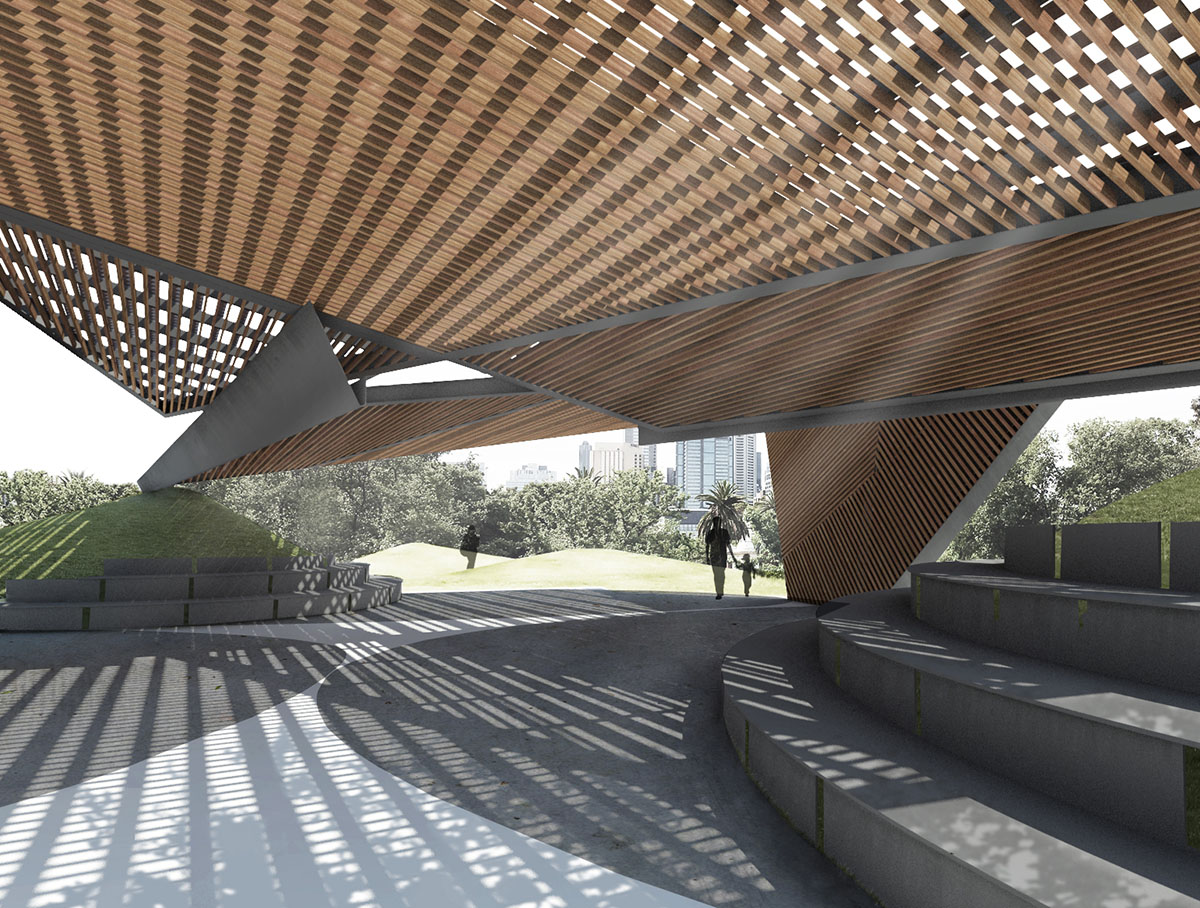 "Carme's sculptural design incorporates floating planes resting at angles on elevated points within the park, connecting the MPavilion to the city. The structure's interconnected shapes bring to mind folded materials like origami. Dissolving the lines between architecture and urbanism, an ease of relationships is suggested—material, environmental and human."
"MPavilion 2018 is a place for people to experience with all their senses—to establish a relationship with nature, but also a space for social activities and connections. Whenever I can, I design places where movements and routes intersect and exchange, spaces where people identify as part of a community, but also feel they belong to universality," said Carme Pinós, founder of Estudio Carme Pinós.
Carme's design features open geometric configuration assembled in two distinct halves supported by a central steel portal frame. Two surfaces of timber latticework intersect with each other to form the pavilion's roof. An altered topography forms three mounds that incorporate seating, allowing a multitude of community-focused experiences: dynamic, spontaneous and collective.
"Carme Pinós's philosophy of community closely aligns with MPavilion's own mission to facilitate meaningful dialogue about the role of design and architecture, and what it means to foster socially inclusive cities in the context of design and the built environment. I'm excited to see Carme's MPavilion come to life, and to also see the new collaborations and discussions that unfold through her vision," said Naomi Milgrom AO, founder of the Naomi Milgrom Foundation.
Inspired by MPavilion's program themes, which include: building communities, fostering inclusive cities, women in leadership, visual languages: fashion and architecture, regional contexts, and landscape and nature, the architect created an a wooden-like shelter where people can interact each other.
Carme will speak at the Living Cities Forum 2018—Shaping Society, presented by the Naomi Milgrom Foundation, on Thursday 26 July at Deakin Edge, Federation Square, Melbourne.
MPavilion is supported by major partners City of Melbourne, the State Government of Victoria through Creative Victoria, and ANZ.
In 2017, Rem Koolhaas and David Gianotten of OMA installed a "theater-like" Pavilion in Melbourne's Queen Victoria Gardens. British architect Amanda Levete was one of the architects who created a canopy-like structure for MPavilion.
All images © Estudio Carme Pinós, courtesy of MPavilion
> via MPavilion