SWA/Balsley, Weiss/Manfredi and ARUP complete Hunter's Point South Waterfront Park for Phase 2
The second phase of Hunter's Point South Waterfront Park has been completed in New York by New York-based firms SWA/Balsley, Weiss/Manfredi and Arup with new infrastructure, roadways and waterfront park.
The opening of Phase II has seen the realization of the larger park master plan, which first welcomed the public in 2013 with the completion of Phase I. Spearheaded by the New York City Economic Development Corporation, on behalf of the New York City Department of Parks and Recreation, the project presents a new model of urban ecology and a prototype for innovative sustainable design.
View of Island. Image © Albert Vecerka/Esto, courtesy Weiss/Manfredi
The park's integrated design weaves together infrastructure, landscape, architecture, and art, and is located adjacent to the City's largest affordable housing development since the 1970s.
"It is a great honor to work on a project like this for the people of New York and specifically for the Hunter's Point neighborhood," said ARUP Principal Tom Kennedy.
"Reforming disused areas of our densely populated city is an incredibly important part of our social responsibility as designers in New York, and the new Hunter's Point development provided the perfect opportunity to allow people to explore and enjoy the city's waterfront."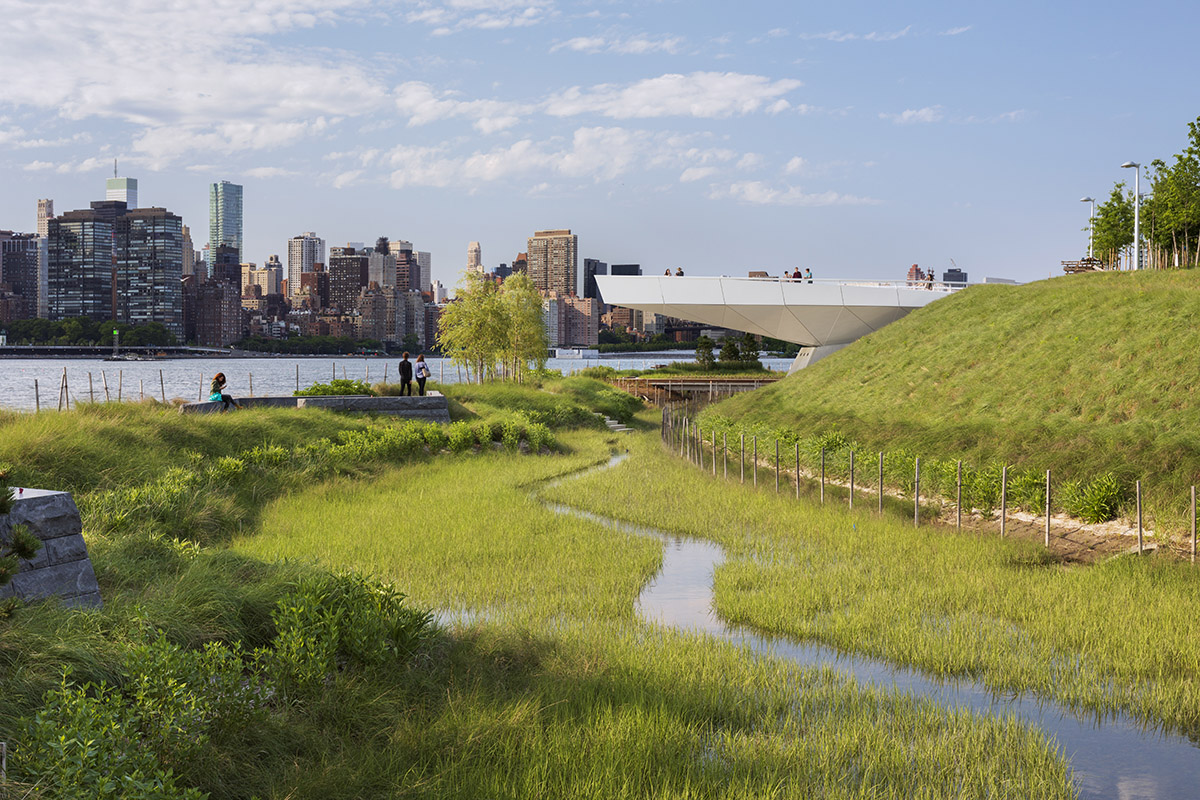 View of Overlook, wetlands, and pedestrian paths. Image © Albert Vecerka/Esto, courtesy Weiss/Manfredi
The architects transformed 11 acres of abandoned industrial land opposite Manhattan into a new model for urban waterfront development. The park features the inevitable flooding patterns and rising water levels of the East River while leveraging its rich histories and spectacular views to establish a multi-layered recreational and cultural destination and environmental habitat that completes the team's collaboration.
The designers have sculpted an industrial peninsula to feel like New York City's newest "island," a dreamlike landscape surrounded by salt marsh, where one can be a part of or apart from the world. Visitors arrive by crossing a narrow bridge to discover a land art installation: Luminescence by New York-based artist Nobuho Nagasawa, which depicts the phases of the moon with glowing six-foot discs.
Aerial of Promontory Green. Image © SWA Bill Tatham, courtesy SWA/Balsley
"It's a new kind of park," said lead landscape architect Tom Balsley of SWA/Balsley, as his 25-year vision for this waterfront transformation is finally fulfilled.
"Hunter's Point South is at once resilient infrastructure and contemplative retreat—a dynamic, living platform with extraordinary power to touch the daily lives of so many people."
As an extension of Phase I, the site's paths unfurl into a promenade at the Park's southern terminus, leading to the Overlook, a 30-foot-high cantilevered platform whose steel-clad formwork recalls the site's industrial legacy while offering unparalleled views of the Manhattan skyline and East River. It is intimately connected to the tidal marsh and trails below and the river beyond.
Current Site Aerial, Hunter's Point South Waterfront Park. Image © SWA Bill Tatham, courtesy SWA/Balsley
"For us, it has been a dream to be a part of a design team that is creating a waterfront park like no other," said Marion Weiss and Michael Manfredi, founders of Weiss/Manfredi. "Hunter's Point South is equally a place of discovery, ecological resilience, and extraordinary drama with the Overlook that hovers above the water to frame the city's magical skyline."
Pathways also lead through sculpted grasslands and a shaded picnic promontory embedded with wooden "rafts" for relaxing. Beyond, three fitness terraces descend the site's dramatic grade with views down the river to the bridges. A kayak launch connects the community to the water's edge and will host boating and educational programs for local students and residents.
Top image: Aerial of Peninsula, with Luminescence by Nobuho Nagasawa. Image © SWA Bill Tatham, courtesy SWA/Balsley
> via Weiss/Manfredi