ROB|ARCH 2018 To Explore "Radical Cross-Disciplinary" With Conference And Workshop Series
The ROB|ARCH 2018 conference, hosted by the NCCR Digital Fabrication and ETH Zurich are going to investigate in the interdisciplinary application of digital design and robotic fabrication. Key speakers like director of ARUP's Foresight research group Chris Luebkema, Mette Ramsgaard Thomsen from CITA Copenhagen, Philip Yuan of Archi-Union Architects and Jonas Buchili from Agile and Dexterous Robotics. There are also workshops with different topics available during the conference. These workshops cover a wide range of construction techniques, material and methodologies.
The conference will start with pre-workshops on September 9, 2018 and will continue until September 15, 2018 with site excursions. Detailed program can be seen from here.
3D Printing of Mechano-Adaptive Space Frame Structures. Image © ROB|ARCH 2018
Key topics and issues of ROB|ARCH 2018 include autonomous control systems, advanced construction, collaborative design tools, computerised materials and structures, adaptive sensing and actuation, on-site and cooperative robotics, machine-learning, human-machine interaction, large-scale robotic fabrication and networked workflows.
ETH Zurich's Arch_Tec_Lab. Image © Detail
Here are a few of our favorite projects from some of the key speakers and workshop instructors:
Chi She Gallery, Archi-Union. Image © Su Shengliang
Chi She Gallery, Philip Yuan (Archi-Union)
The facade of the gallery applies highly precised robotic masonry techniques executed by Fab-Union. The building is traditional in terms of material use but innovative in term of design and construction processes. Philip Yuan will be speaking in the conference about his researches, including integration of traditional local materials with computation design, the robotic new craftsmen, and the future digital architecture factory.
Complex Timber Structure. Image © Gramazio Kohler Research, ETH Zurich
Complex Timber Structure 2, Gramazio Kohler Research
Complex Timber Structure optimized the robot-based fabrication process from design to construction. Robotic fabrication allows the precise fabrication of the timber beams. Furthermore the placement and the geometries of these beams was designed to an optimized, non-stop robot-based process, and to respect all the constraints given by the robots and the space around them. This project show how comprehensive design and analysis and robotic fabrication can enhance not only design complexity, but to optimized construction time and processes.
Timber structure by master students from ETH with Gramazio Kohler Research. Image © ETH Zurich
This year, members from Gramazio Kohler Research will be realizing one-to-one scale prototype in order to understand the relationship between complex spatial structure and specific constructive logics. Compas_fab will be used to facilitate interface between existing software libraries and robotic field in order to work on parametric design environment.
Image courtesy of Mark Burry
Dermoid, Mette Ramsgaard Thomsen (CITA)
The project aims to incorporate material performance into digital design process. Structural design often consider only the compressive strength of the material, however the internal material strength such as the tensile flexing of wood are rarely applied into structural research. New digital design tools were developed in order to corporate knowledges of architectural design, structural engineering and material science. These tools allow interdisciplinary research, material and structural simulations and prototyping.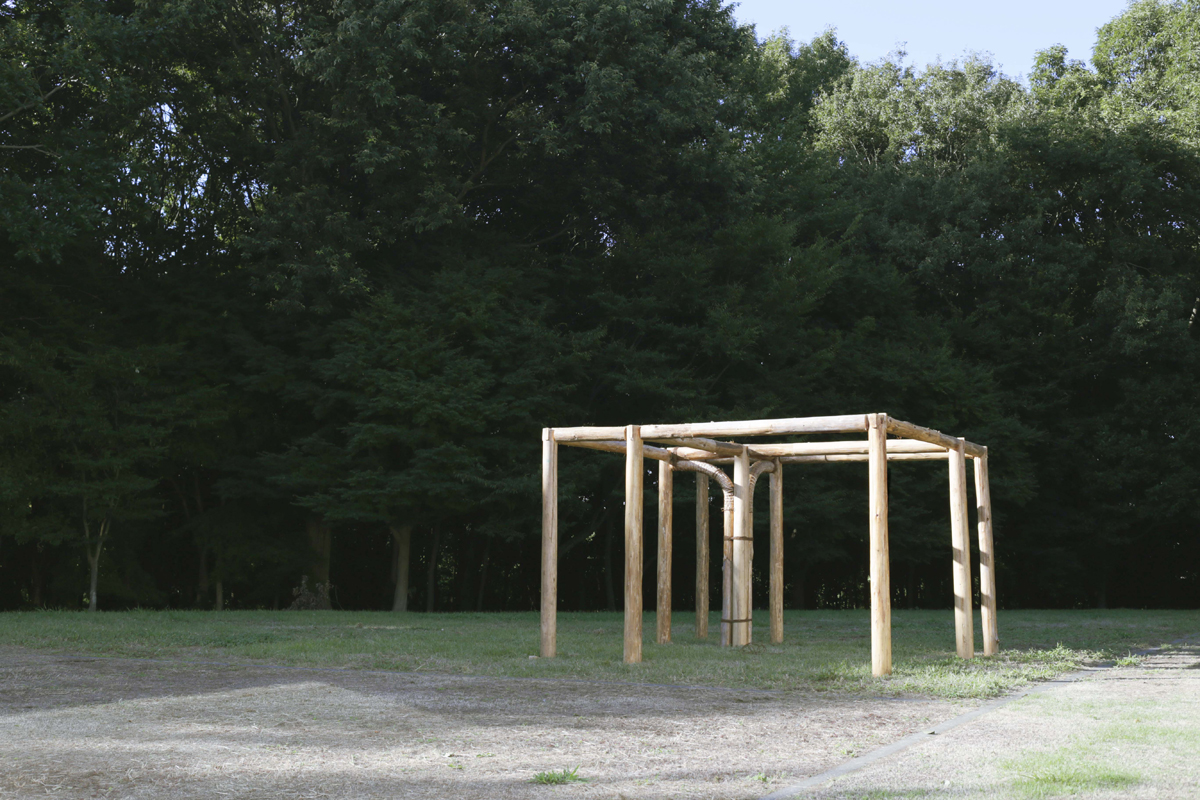 IRW Pavilion. Image © AWRD
IRW Pavilion from Archilleas Xydis and Yuko Ishizu
Use local, raw, untreated ceder and cypress logs that could not be used to produce timber, the pavilion design incorporate material imperfection into digital design. With precise scanning process and analysis on the structural abilities of the timber and the pavilion design, three different joint types were developed and realized with robotic fabrication. Check out this video to understand more the construction concept and processes.
IRW Pavilion. Image © AWRD
In ROB|ARCH 2018, Archilleas Xydis, Florian Fend and Yuko Ishizu will introduce the techniques from 3D scanning tree trunks to generating robot codes on the wood joints with the use of Kukalprc in Grasshopper.
Mao House, Martin Miller and AntiStatics Architecture. Image © AntiStatics Architecture, Photography by Xia Zhi
The advent of robotics in the creative and construction industries has led to an amazing revolution, changing not just how things are designed and made, but also transforming knowledge cultures, politics and economics that surround them. ROB|ARCH 2018 will look into transformation processes of emerging robotic research and applications, and to redefine cross-disciplinary work in an era of global digitalization.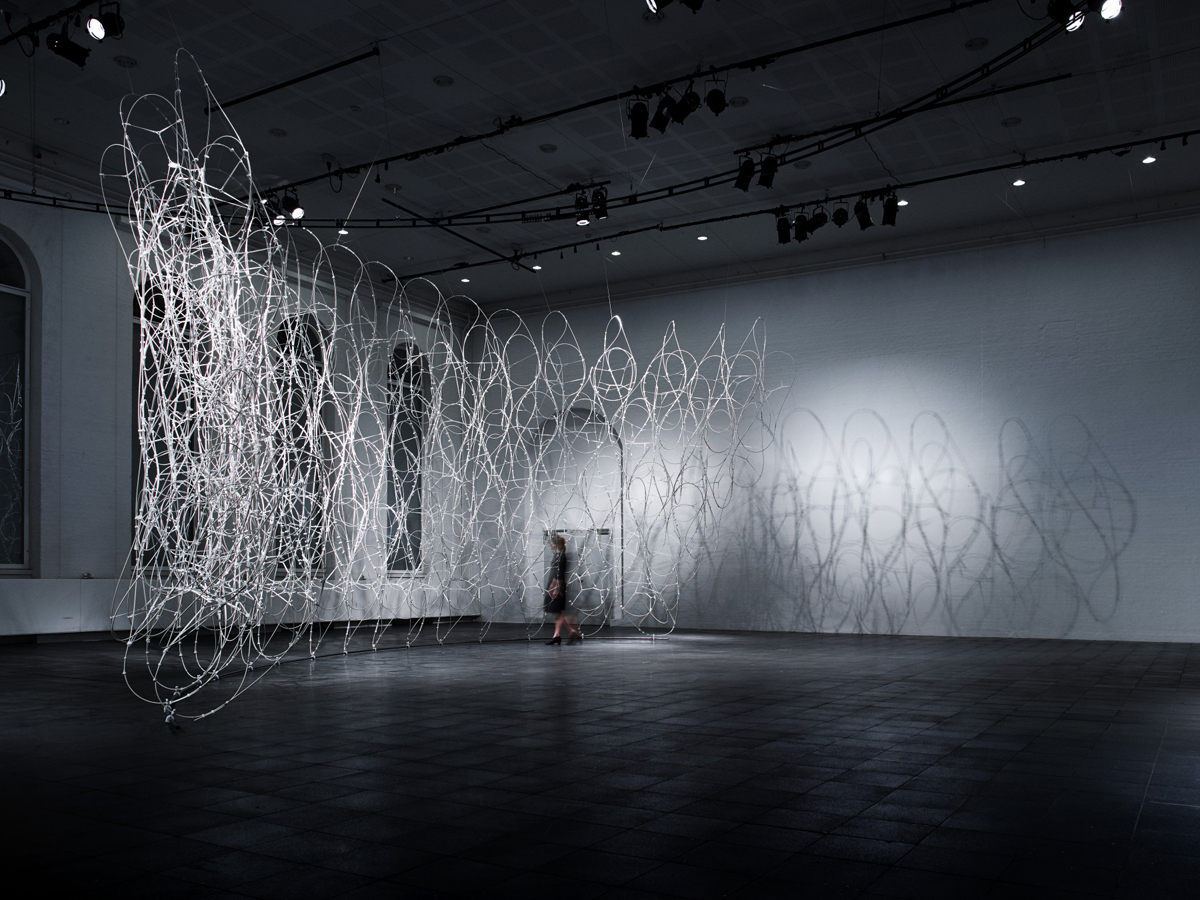 Lace Wall, Martin Tamke, Mette Ramsgaard Thomsen, Anders Holder Deleuran, Yuliya Baranovskaya, Ida Friis Tining, Mateusz Zwierzycki © Complex Modelling
A particular focus lies upon cross-disciplinary approaches and applications, providing state-of-the-art knowledge, techniques and methods of robotics not just in individual areas of exploration, but also beyond. These ideals aspire to complement the transformation processes of emerging robotic research and applications, and to redefine cross-disciplinary work in an era of global digitalisation and knowledge transfer.
Image © Digital Building Technologies
The ROBIARCH 2018 is still receiving submissions for Videos to publish the best submissions on the Robots in their Architecture Vimeo channel. Deadline is August 14, 2018 to send your videos on the Robots.
More information about the conference can be found here.
> via ROB|ARCH 2018