Robin Falck built this zero-emissions cabin that can be installed anywhere
Finnish designer Robin Falck has built a triangular wooden cabin that has zero-emissions and minimum footprint on Vallisaari, one of the most diverse islands in the Helsinki archipelago.
Dubbed Nolla, the 10-square-metre tiny cabin was developed for Neste's Journey to Zero campaign, which has been launched this summer, a Finnish renewable energy company.
"Neste was looking for ways to build a world with minimal emissions. The first lap of this journey, the Nolla cabin, was a challenge for me to design and demonstrate a way of living that has a minimal carbon footprint in every aspect," said Robin Falck describing his project.
The cabin, covered by mirrored panels and placed on wooden stilts on a rocky hillside, functions entirely on renewable energy and excludes most modern commodities.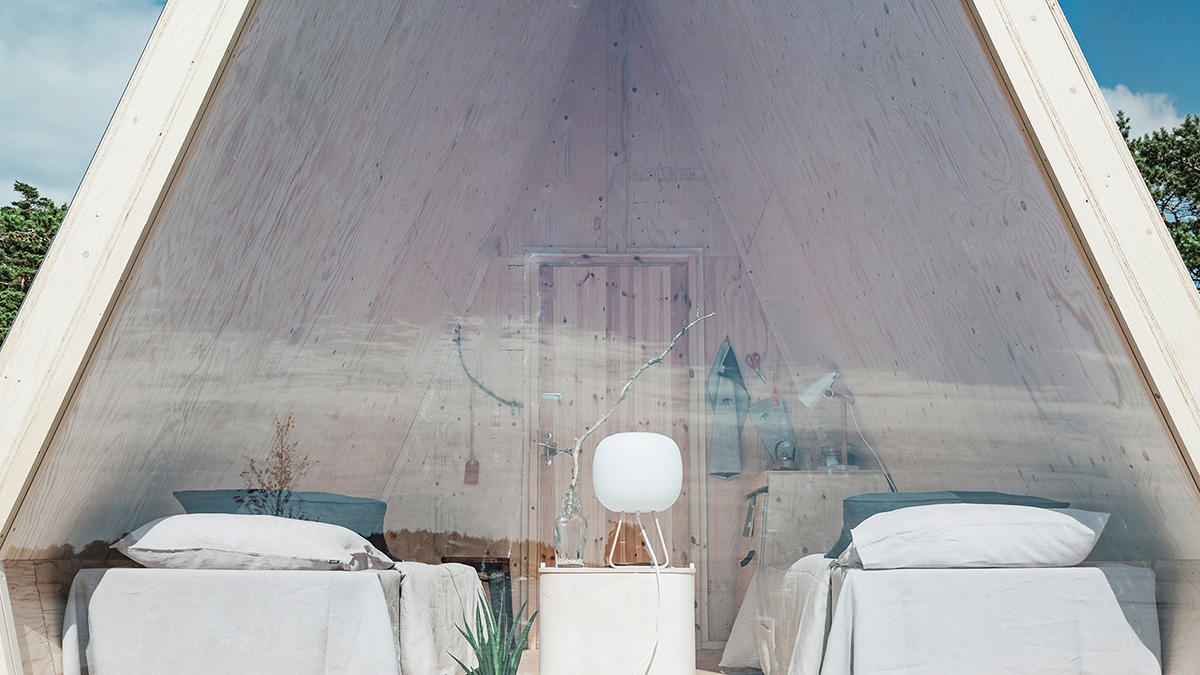 Designed as a compact and mobile holiday home, the cabin can easily be assembled, dissembled and transported without any heavy machinery. It demonstrates a low-impact daily life, that is based on self-sufficiency and renewable solutions – thus generating minimal to no emissions.
"The cabin represents an alternative way of living, without any of the unnecessary commodities we consume these days. It represents an approach to living where the focus is more on what lays on the outside of a dwelling, rather than within," said Robin Falck.
Nolla is a compelling space for simple living in the realm of nature – yet in the immediate proximity of the Helsinki city centre. The cabin and its surroundings offer an excellent environment for a relaxing getaway from everyday life, where visitors have the chance to wind down and distance themselves from their daily routines and obligations.
"One aspect that I wanted to bring to the design is movability. Why tear up the surroundings and leave the environment in pieces to slowly recover. Having a solution you can carry by hand to the chosen location you can start enjoying your stay as if it always been there - or hasn't," added the designer.
Described as a "cradle-to-cradle" structure, the dwelling can easily be repaired that enhances the cabin's life cycles for many times. The cabin structures have been fastened together with screws, so it can be taken apart and put back together like a puzzle.
The pedestals are adjustable, so that the cabin can adapt to different kinds of terrain. In essence, there are no special parts used in building it – a replica of any part can be made from scratch by anyone, all they need is timber.
"The culture of repairing things is disappearing, and we're quick to buy a replacement rather than fix what we already have – but that's not a very sustainable way of living," Falck continued.
"I find modern-day helplessness and the inability to make things with our own hands slightly scary, so I wanted to make the cabin easily repairable and thus give it an infinite number of life cycles."
The sustainable and completely emission-free solar panels were a natural and ideal choice for the Nolla cabin, located on a sunny cliff in Vallisaari. The solar panels are installed on the northwest side of the roof to ensure effective exposure to the sun and therefore a maximal energy production. The panels do not generate noise, pollution or burden their surroundings in any other way. This is especially important as the cabin is located in a delicate and diverse natural habitat.
As creating open fire is strictly forbidden in Vallisaari, a sustainable solution for cooking had to be devised for the cabin. A Wallas stove, designed for sailing purposes proved the optimal solution for a cabin that has both a limited electricity supply and little space.
Robin Falck in front of the Nolla cabin
The designer also stated that he lived in the cabin to test the structure, and added "I hike a lot and spend time in close contact with nature, and I've come to realize that a place the size of a tent is all we really need for living. Most importantly, the cabin enables life in the realm of nature, from which I feel people have become alienated."
All images courtesy of Neste & Robin Falck
> via Robin Falck