KNOCK ON WOOD wins IIID National Design Excellence Award 2017-18 in Product Design Category
Based out of New Delhi and Chandigarh, with a focus on craft, customization and bespoke hardwood furniture, Knock on Wood (KNW) voices stories through its designs. Crafting a special line of custom-created furniture that is focused on high quality craftsmanship, fine detail and elegant style, KNW aims to "enhance life and spirit through timeless, responsible design…..total design," said KNW in a statement published in its website.
Whether it is numerous cabinets for a hotel chain or a signature coffee table, that takes centre stage in a living room, KNW's creations are designed to become a part of homes and their stories. Classic or contemporary, sometimes bold, sometimes eccentric, sometimes daring, KNW is always genuine and honest to materiality.
Image: IIID Certificate-Trophy, Knock On Wood
Knock On Wood won the coveted IIID National Design Excellence Award 2017-18 in the Product Design Category. The esteemed jury comprised of Gurdev Singh, Hari Agashe, Pramiti Madhavji and Tanuja BK and many others. The awards were concluded on March 25th 2018 in Srilanka. Knock On Wood's entry, a set of tables named "Allies", won the appreciation of all participants and the jury for successfully addressing this year's theme "design to the masses" by employing scrap wood in craft of the tables, using a Danish technique of wood lamination, as emphasized in Business Standard's website.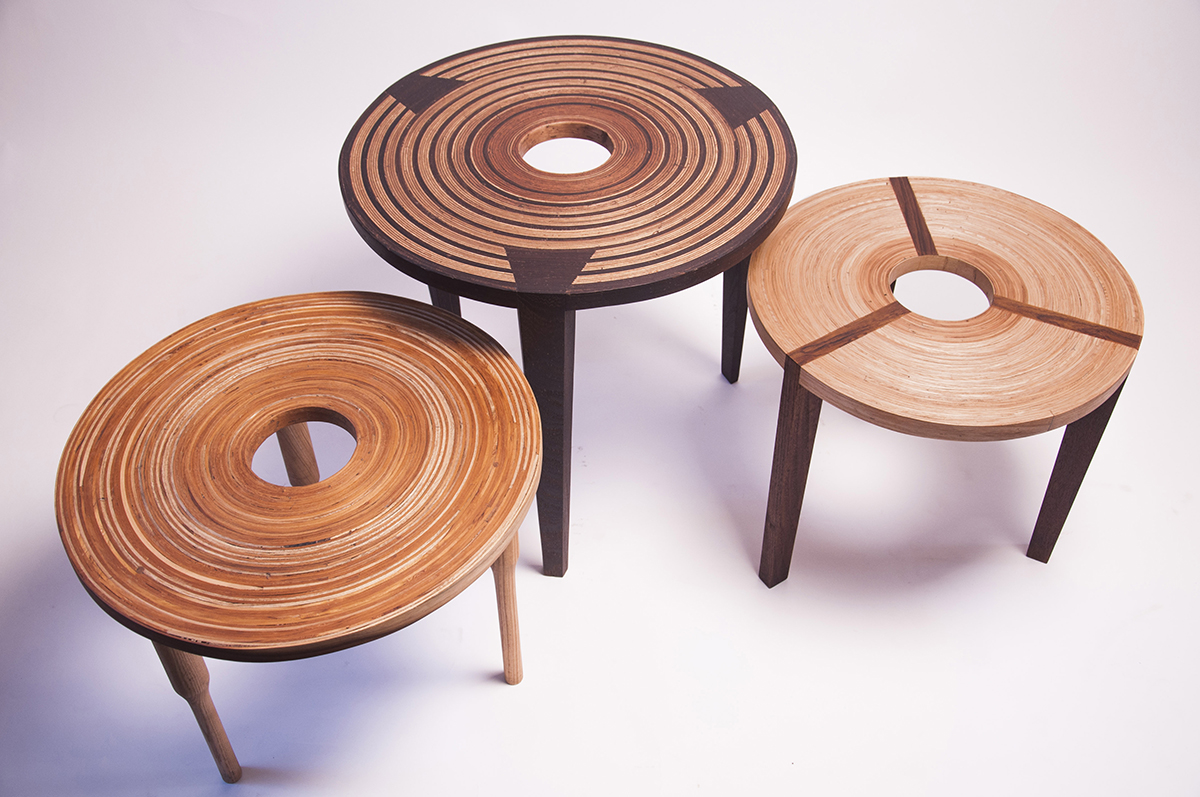 Image: Allies, Knock On Wood
Allies, a range of coffee tables and side tables, is a result of a global learning experience in a chair design course at the Danish Skole of Design. Various repetitions and reiterations led to the formulation of Allies. The pattern of the table is the result of gluing strips of wood together. The coming together of strips of wood adds strength and durability. The art is completely nail-less, as steamed strips of wood are glued and clamped together till they dry. Being much lighter than tables with a solid wood top, its lightweight construction suits big and small spaces alike.
Image: Aarti Aggarwal, Leader, Creative Design Team, Knock On Wood
Aarti Aggarwal leads the creative design team at Knock on Wood (KNW). Aarti has studied domestic design from University of Arts, London and specialized in Chair design from Danish Skole of Design, Copenhagen. Aarti's strong design sensibility articulates her international exposure and innate love for Indian art & culture.
"I firmly believe that good design is important for growth in all aspects of life. Allies was our attempt to challenge our creativity by way of using scrap wood in a renowned craft technique, and I am delighted that it was loved and appreciated by the stalwarts of the industry," Aggarwal told ANI News Agency.
Image: Allies, Knock On Wood
All images courtesy of Knock On Wood
> via IIID Awards