Frank Gehry unveils images for Colburn School concert halls in downtown Los Angeles
Frank Gehry has unveiled images for a pair of concert halls for the Colburn School which is planned to be added as a public arts building to Gehry's long-delayed project The Grand Avenue in downtown Los Angeles.
The project recently stopped due to financial issues caused by the pandemic and was put on hold indefinite period, according to The Los Angeles Times.
However, Gehry shared the first images of a new arts complex for the Colburn School with The Los Angeles Times, which is expected to cost $310 million and will be an important addition to Gehry's $1 billion mega-development.
According to the article, despite an official suspension, the school received "a major donor" to proceed on the project, and the project could be revived in the light of various public and private proposals.
Areal view showing the two concert halls. Image courtesy of Gehry Partners LLP
Gehry's plans comprises two concert halls, one of them is designed as a glass-enclosed 1,100-seat concert hall on one end, and other proposes a cubic 700-seat theater for dance, chamber opera and experimental performance work.
One of the concert halls features a crystalized glass appearance that creates a fragmented facade.
In the concert halls, there will be a founders room and roof terrace to further serve as a facility for late-night cabaret and edgy work. Thanks to a glassy lobby, it is aimed to bring together all the audiences inside.
The concert hall contains a rounded indoor catwalk and seating area that is connected with outdoor. Image courtesy of Gehry Partners LLP
In the interiors of the two halls, Frank Gehry will work with the celebrated Disney Hall acoustician Yasuhisa Toyota. According to The Los Angeles Times, the larger concert hall will not only serve the Colburn School's orchestral performance needs but also create a new home for Los Angeles Chamber Orchestra, hosting recitals and performing arts from a variety of cultures.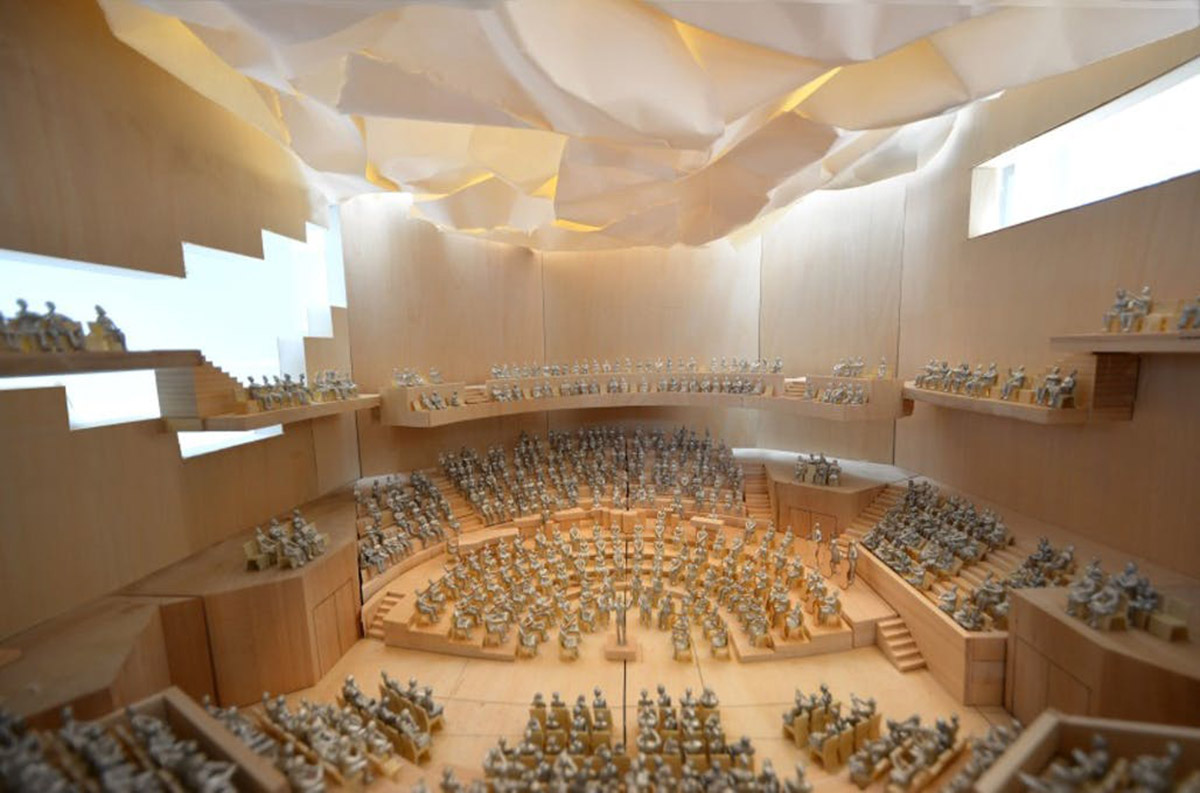 Image courtesy of Gehry Partners LLP
The smaller concert hall is planned to provide a space for dance and musical theater activities for Los Angeles' diverse communities. However, Mark Swed writes that "the glass exterior of the new building not only will be a window into the larger hall, lobby and dance studios at ground level but will allow "sound leakage" to passersby and permit musicians to step out onto platforms and be part of outdoor events."
Swed adds: "The Grand is a giant commercial enterprise that in the worst of all possible worlds could become L.A.'s Hudson Yards, the Related development in New York that even with its performing arts space, the Shed, is a soulless, high-roller monument to income inequality. What do we want for L.A.?."
All images courtesy of Gehry Partners LLP
> via The Los Angeles Times