Interview: Trash into Toys and children's spaces for playing
The city has multifaceted perceptions laid by the miscellaneous stakeholders and contributors in the city life. A city that should fulfill the needs and prospects of all groups. Children, as might be ostensibly perceived as a foreign component, are key in constituting the left-behind piece in multiple city representatives' jigsaw.
In Egypt, according to Central Agency for Public Mobilization and Statistics (CAPMAS), the number of children below 18 years old is 38.9 million in July 2018 making up 40.1 percent of the Egyptian population. Hence, Egypt is well-thought-out as a mostly youth populated country. Children have their own right in the city where their childhood is burnished. The right to play is vivacious in the children's upbringing. Urban Spaces and undertakings consecrated for playing and developing the kids' aptitudes are intrinsically crucial in the country's life. Kids are the would-be grownups citizens silhouetting the future of any nation.
Trash into Toys, founded by Hadeer Ahmed Ghareeb who is interested in the development work, is considered to be a promising Egypt-based initiative. The initiative carried out activities to craft toys for children out of trash in various parts, primarily underprivileged, in a country where children do not possess much space or happen to engage with happenings. However, the originative and inventive part of the initiative is the delight and joy resulted from the process of making a toy out of trash, bringing to the front another issue, the country is facing with recycling.
In this interview, Trash into Toys exclusively spoke to WAC's Egypt Country Reporter Asmaa Kamaly about their initiative, mission, their works, and inspiration behind their works.
Read the full transcript of WAC's interview with Trash into Toys below:
---
Asmaa Kamaly: Trash and Toys….What is the concept behind turning trash into toys?
Trash into Toys: I see trash into toys having many arms. My first motive was to give a second life to the dead trash but then in the process, I found the kids are learning a lot behind. They learn how to change their perspectives towards the surrounding things, expressing their real identity through their toys ditching the globalization standards of things (like 'girls' beauty or a fancy car, etc.) and flame their creativity and creation, they create something literally from trash, how confident they can gain from that.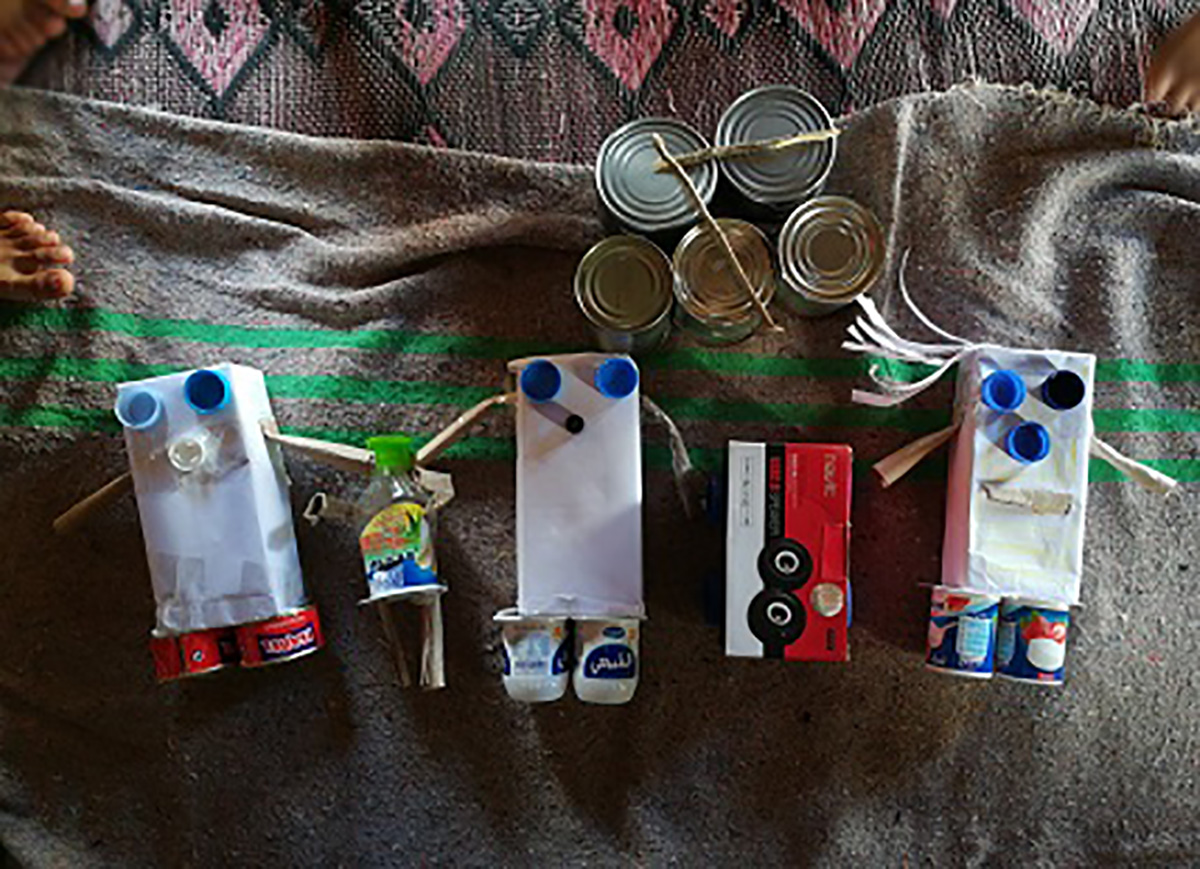 Asmaa Kamaly: Could you mention if you have been inspired by the built environment and architecture in your workshops?
Trash into Toys: In Trash into Toys, the kids are the designers. I understand now the how-to design is "a lean back to reflect" process. The kids represented their surroundings clearly in their toys. I noticed for example how Sinai kids for their toy house wanted firm walls but never for the ceiling, also kids from Sidi Kaouki, never looked for multi-layered buildings, involving the color of the ocean in most of their toys. also, kids of Bogota, most of their toys were not logical to us "outsiders", they mixed a lot of fantasy characters and animals in the same toy not concerned with our standard of shapes and combinations, they were reflecting the walls around them filled with magical graffiti.
Asmaa Kamaly: Your workshops primarily interact with children, so, why does your target group involve particularly children and not including adults?
Trash into Toys: When I started, I was giving both adults and children but then I found how the impact is stronger with the kids. Adults have other forms to learn and work but for kids playing is their main work, so such workshops and concepts are crucial for them. Play is very important for the kids' development and I am trying to use the playing concept to help in their development regarding shaping their principles toward the environment, understanding their cultural identity, and relating to their surroundings. I involve adults as facilitators and to be honest, I see them play too.
Asmaa Kamaly: Could you tell us more about the interesting process of conducting such workshops and how well are the children responsive to your workshops?
Trash into Toys: first, we want to draw the kids' attention and stretch their minds, so we start with funny meditation, shouting, flexing and stretching, and whatever the environment allows us. then we give a brief talk about plastic and trash and their effect on the environment. then we talk about toys in general asking them to skitch the toys they dream to have after that we kind of shock them that they themselves are going to create it from the trash. we guide them through the creation encouraging them to express their colors and designs. and at the end, those who want will explain their toys to others.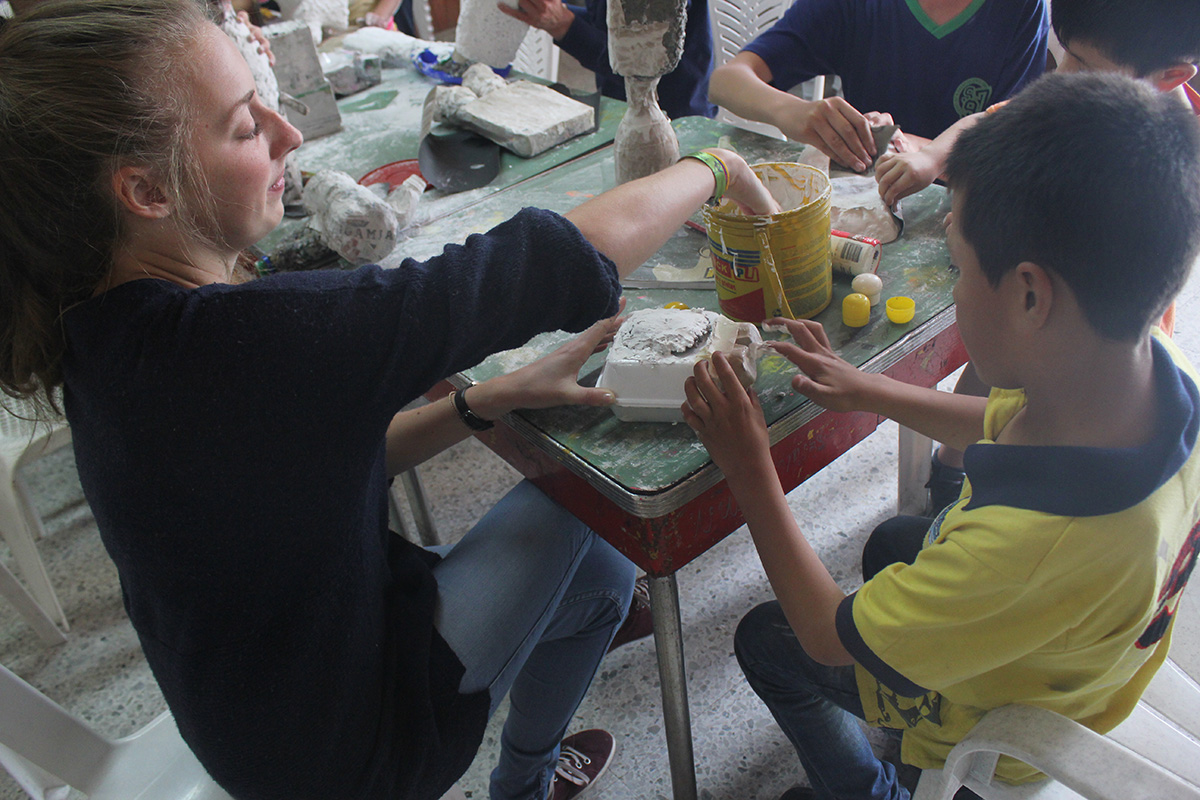 Asmaa Kamaly: I also knew that you consider children's opinions and perspectives as a key developmental stakeholder in your initiative. Why, do, from your point of view, their opinions have value to either your initiative or even life?
Trash into Toys: They say in entrepreneurial education that your customer is your boss. So basically, all the kids of the world are my bosses and mentors. They shape how trash into toys should strategically think to win reaching them at the end. Even if I am trying to keep my inner child dominant but still, I need their eyes to see from their perspective. And to be honest they are more creative and flexible than adults that you can reach the horizon with them. So, for me, kids are the dreams crafter then adults job comes to make it true, we then try to bend over the limitations and fix challenges to make it happen.
Asmaa Kamaly: Do you think children are still interested in playing with toys or they are more into technological devices and the internet?
Trash into Toys: I worked with kids who have the accessibility to technology and others who are not. For sure the responsiveness of those who don't have the technology in their hands is more. It is always challenging with those with technology but I try as much to imitate the same charm coming from technology making the process smoother, quicker to see results that keep them motivated and it worked very fine with them so far.
Asmaa Kamaly: You have conducted your workshops also locally and abroad. Could you inform us more about this?
Trash into Toys: I started in Cairo conducting many workshops with art centers and organizations that work for underprivileged communities. It felt different to those who cannot afford to have a favorite toy of their own. Therefore, I started to roam outside the cities, reaching the less lucky of having a toy of their choice. Also, I conducted a workshop in Nabq protected area a closed community in Sinai Egypt then I wanted more so I made a workshop in New Delhi India, then morocco in Agdaz and Sidi kaouki ( two rear areas), also in Colombia in Bogota in la perseverance one on the neighborhood that is isolated for its high rate of crimes, where kids are paying the bad reputation of their families and the second in Zipaquira a town. so far trash into toys has realized the dreams of creating favorite toys for more than 450 kids on 3 different continents.
Asmaa Kamaly: What are the disparities you witnessed in the various places where you conducted your workshops?
Trash into Toys: it is the details that really represent the cultural difference. kids in India would make their dolls having Indian features (black hair and wearing saree) ditching the forced standards of a girl presented by the international dolls that have blonde hair and blue eyes. in Sinai kids wanted more the truck representing their daily life the car they see in reality. in Agdaz the oasis a kid made a watering system representing the value of water to them. Usually, the kids connected more to nature are more flexible and proactive to connect and reuse what is surrounding them.
Asmaa Kamaly: Do you have a team working on your initiative or the initiative rely completely on individualistic efforts? If you do have a team, how many members are there in your initiative?
Trash into Toys: I started with a friend, and together we shaped the methodology as she was the one more experienced working with kids. she didn't continue as she had other commitments. Then I shifted the work to be always in collaboration with other organizations, they provide the volunteers and materials and with that, I make sure that the methodology and the concept are known by others and they repeat it afterward. Volunteers are sometimes needed to help in the management, other than that, the volunteers are needed according to the workshops' needs.
Asmaa Kamaly: What are the challenges and difficulties you faced/are facing?
Trash into Toys: stigma about trash, usually this is the first concern I found whenever collaborating or even explaining the idea. people forget that we are the source and it is our responsibility to produce it wisely. Usually, I rely on the trash that we know its source for example in Agdaz, morocco. we asked the ecolodge resident to clean their trash first and threw it in a specific can, we had trash into the toy's name on it. and we make the toys out of those. Also, in a school in zipaquira, I asked the students to keep their own trash clean and be responsible for it to also notice their burden on earth and make the toys out of it. Nowadays, it is very challenging as contact with kids is not advisable and online workshops are not applicable especially trash into toys that want to reach those far with fewer resources and have no internet for sure.
Asmaa Kamaly: What are you aspiring for your initiative in the future?
Trash into Toys: I want it to be implemented in schools. so, students keep their production of trash with them learning about it more and more and then monthly making toys with it. I see a lot of collaboration between science and art. Also, I want to have collaborated with the water company and beverage those that produce a lot of plastic and trash. to add a tutorial on their packages so any kid having this trash in hand can then follow the tutorial to create a toy then they can add their touch on it.
All images courtesy of Trash into Toys.