REX releases its competition proposal for a skyscraper in Mexico City
New York-based architecture practice REX has released its competition proposal for a skyscraper in Mexico City, the studio won the second place in the competition.
Called CDMX Mash-Up, the program of the skyscraper includes offices, hotel, residences, and amenities—and retail base, forming the centerpiece of the regeneration of Santa Fe, Mexico City. REX's design is a manifestation of the firm's commitment to architectural agency as well as a polemical statement.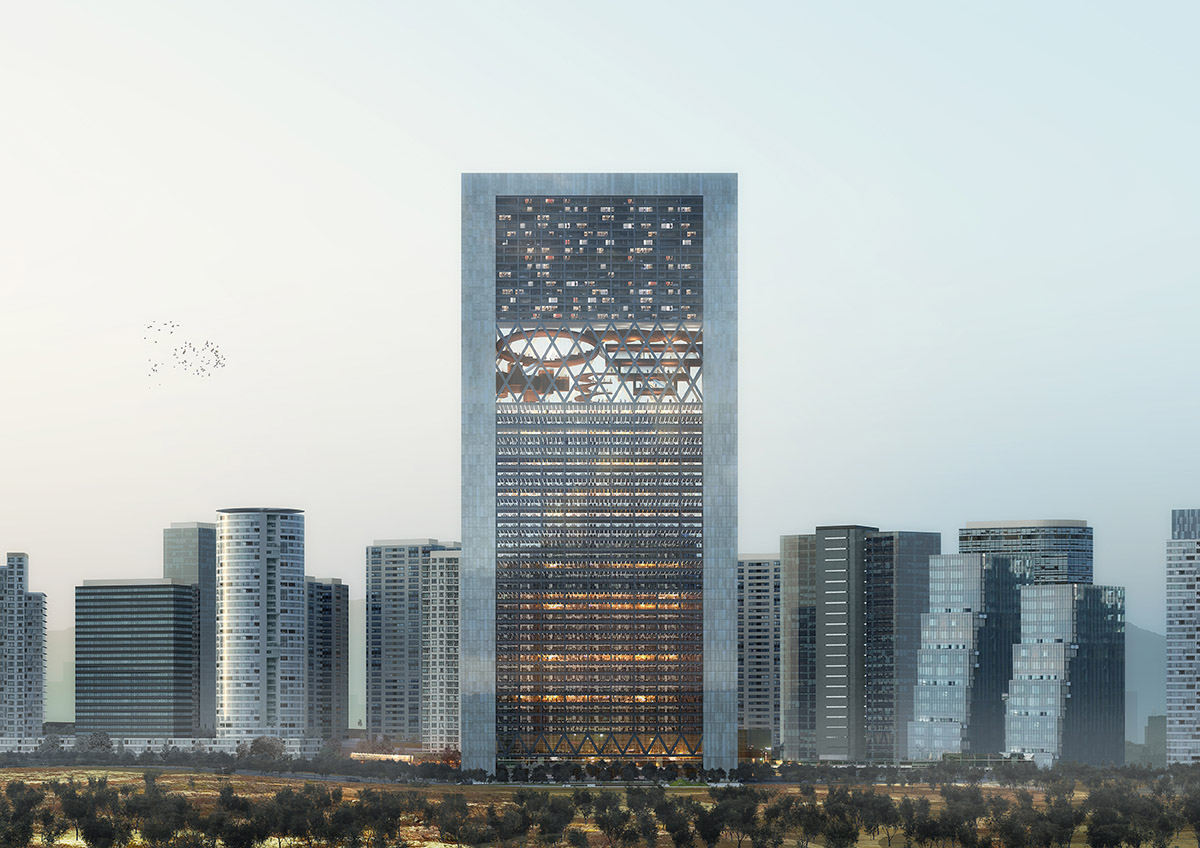 Image © Luxigon
For this competition, which held a complex program, a large amount of deliverables, and a very short, two-and-a-half week timeframe, REX unabashedly "mashed up" and re-evolved the underlying ideas from three of REX's previous competition proposals: Al Jazeera & QMC Headquarters, IIᴑᴑ, and Farley Annex High Garden.
In most spheres of knowledge, making incremental advancements to one's own ideas is a sign of serious, committed thought. In architecture, the continual refinement of an architectural language is appreciated, but the ongoing progression of non-stylistic ideas is largely regarded as intellectually corrupt.
As a firm committed to architecture doing things, not merely representing things, REX practices design as an iterative critique from which an argument evolves.
Image © Luxigon
"We therefore often return—unapologetically—to our previously advanced ideas to mine them further…or 're-evolve' them," said the studio.
"Contemporary commercial architecture is swiftly being reduced to willful forms, enveloping and at odds with market-driven, generic floorplates."
"In contrast, 'CDMX Mash-Up' uses ideal development standards to create an economically robust and graceful design that contributes an elegant inflection into Mexico City's evolving skyline," REX added.
Image © Luxigon
In this proposal, REX aimed to optimize operational costs, human comfort, and sustainability (and hence lease rates), "office buildings should be slender bars oriented east-west or north-south," according to the office.
Taking advantage of its narrow site's north-south orientation, CDMX Mash-Up manifests these benefits in a very specific, high-performance building organization.
This north-south orientation maximizes daylighting and cross-ventilation year-round, and passive heating in winter, all significantly reducing energy use and therefore electricity costs. The tower's 21 m width (ideal for the north-south variant) in combination with custom blinds enable sunlight to penetrate the full depth of its floors without heat gain or glare.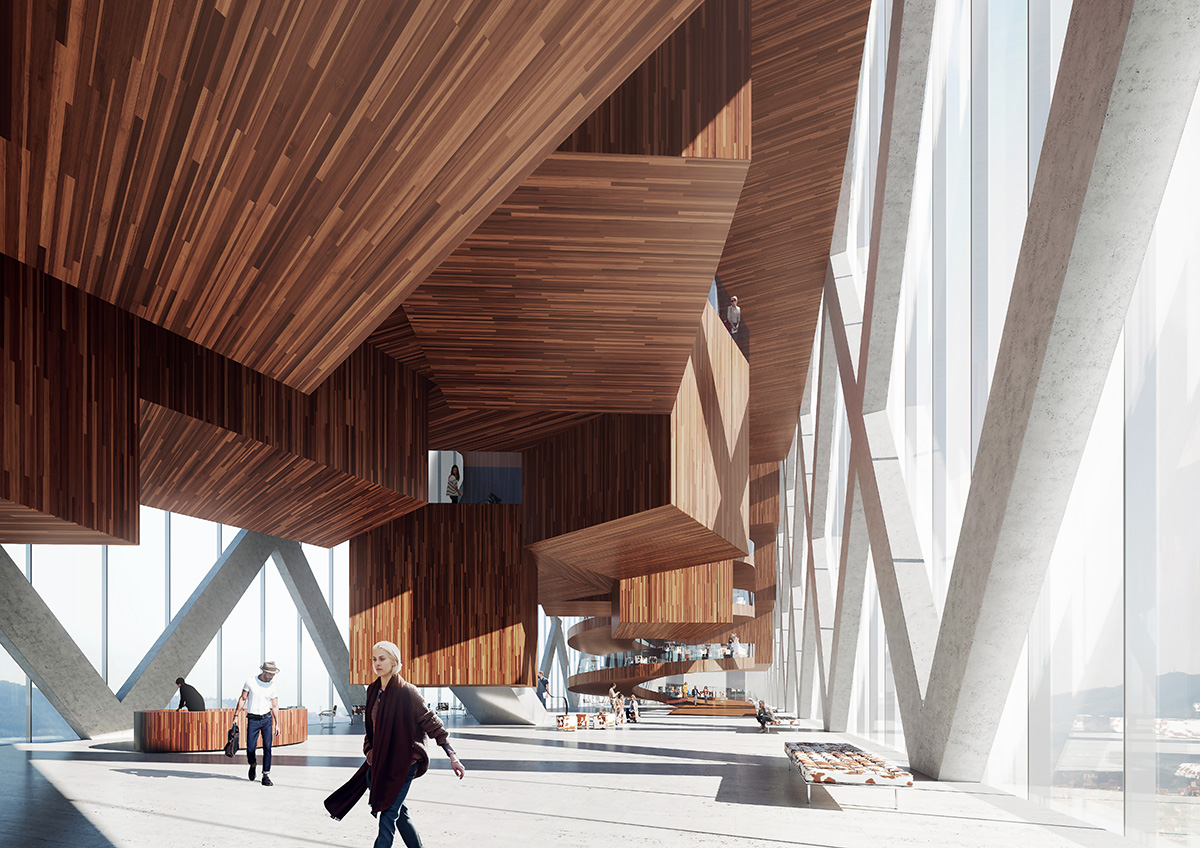 Image © Luxigon
"This width also creates efficient open and closed office layouts on a 1.5 m module and equally efficient, double-loaded corridors of hotel rooms—of a market-desirable 38 m2—and rental housing units," explained the studio.
The footprint of the building is extruded to create 32 floors (70,000 m2) of office space and 15 floors (25,000 m2) of hotel and residential units. The office floors have a floor-to-ceiling height of 2.7 m, with 3.3 m at the window walls; their floorplates are 1.3 m thick, structured with castellated steel beams that taper at each end to create the additional perimeter height.
The hotel and housing units also have a floor-to-ceiling height of 2.7 m; their floorplates' thickness is minimized to 0.5 m by use of concrete "hollow-core" concrete planks.
Image © Luxigon
Taking its cue from the highly successful Asian hotel model where lobbies and amenities are placed as high as possible, CDMX Mash-Up's hotel lobby and a 'Playground' of amenities are inserted between the offices and the hotel / residential on the 34th to 39th floors.
Accessible to all, the Playground includes a piano bar, a restaurant, a ballroom, pre-function spaces, meeting rooms, a gym, and other attractions.
This public space at the tower's midlevel affords panoramic views over the Santa Fe district and creates a dynamic node enlivening the Mexico City skyline.
Image © Luxigon
The studio designed dual cores providing high-efficiency vertical transportation, with: dedicated shuttle elevators that move quickly from ground lobby to sky lobby and its amenity Playground; separate low- and high-rise office elevator banks; dual hotel elevator banks stacked above the office elevator banks; dedicated high-speed residential elevators that bypass all other uses; and ample goods elevators.
At the office levels, castellated steel beams span the full width of the building, providing column-free interiors for maximum flexibility. The holes in the beams reduce weight by removing steel from the webs where material is least effective, while simultaneously providing prefabricated locations for routing building services. The castellated beams are tapered to increase the height and view at the window wall.
Image © REX
At the sky lobby and Playground levels, a structural diagonal bracing grid ("diagrid")—built-up steel boxes encased in concrete for fireproofing, with dampers at strategic locations—links the cores to increase the building's stiffness, optimize wind resistance, and provide additional seismic energy dissipation.
The diagrid also acts as a multi-story truss, supporting the structural columns above and below, creating a column-free ground lobby.
Image © REX
At the hotel and residential floors, one story tall trusses—staggered vertically—span between columns. The story-tall trusses allow floor framing to attach into their W310 truss chords to minimize floor thickness and maximize floor-to-ceiling clearance.
Combined with hollow-core precast concrete planks that span the 9 m distance between trusses, both the overall weight and overall floor depth are greatly reduced.
Image © Luxigon
Depressions in the public square form multifaceted windows and light wells into the retail that follow the organization below.
The retail garden is parceled into highly programmed spaces, such as an amphitheater, a French garden, a tree grove, a water feature, or a wild topographical adventure. Food carts on the travertine paths around these spaces encourage visitors to linger longer in this oasis.
As the studio highlights, CDMX Mash-Up forms a coherent urban ensemble; its powerful simplicity pays homage to the namesake of Calle Luis Barragan, which winds through the garden and park.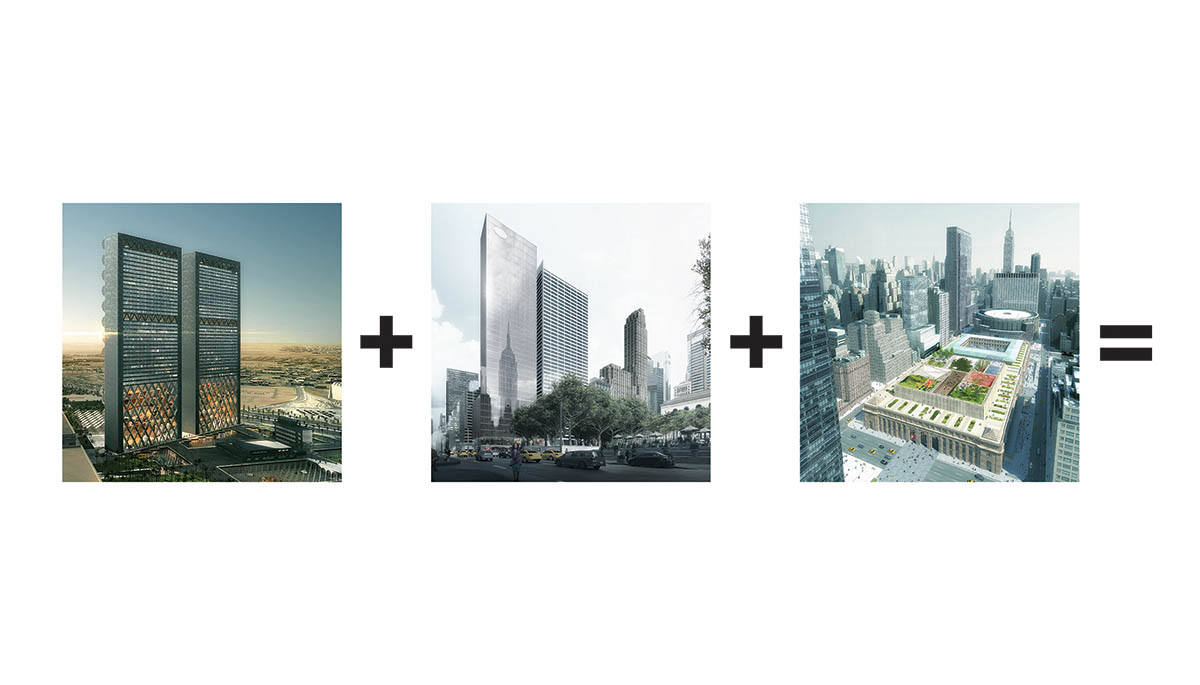 Image © Luxigon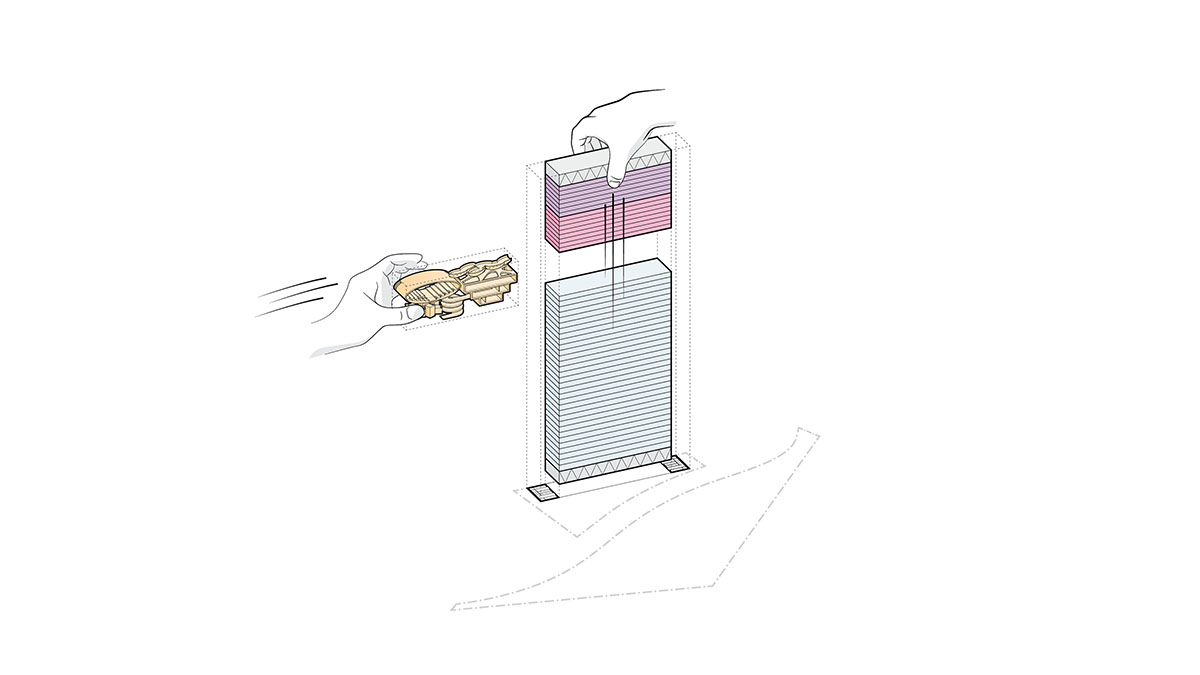 Image © REX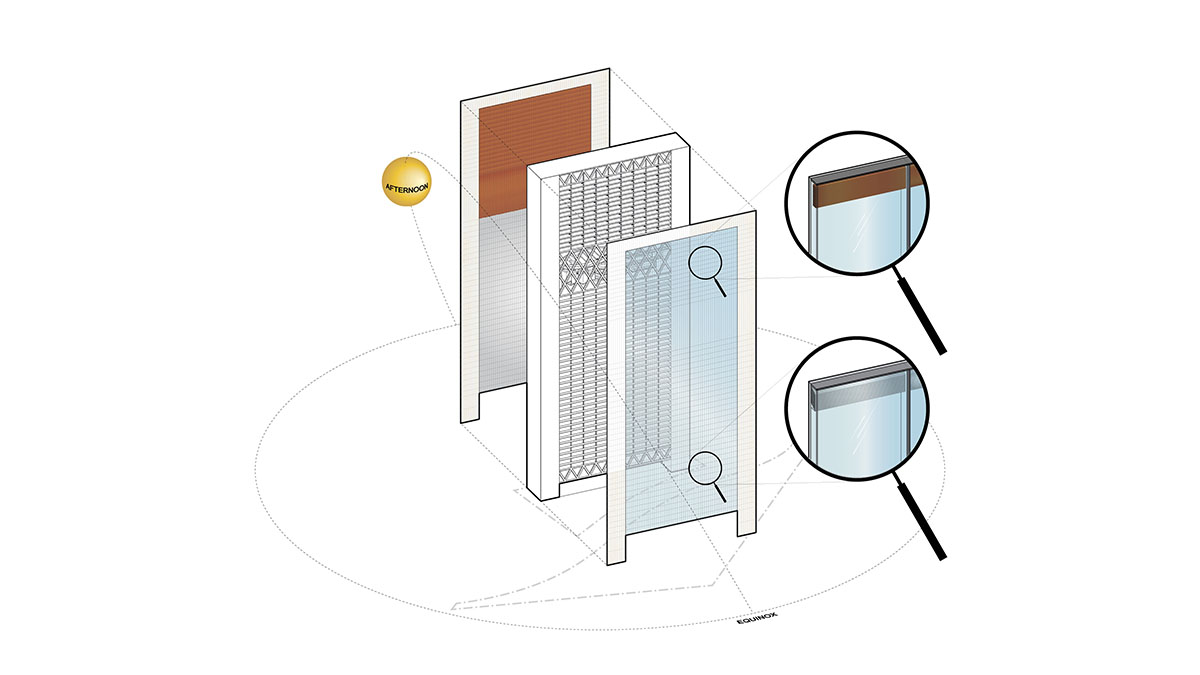 Image © REX
Image © Luxigon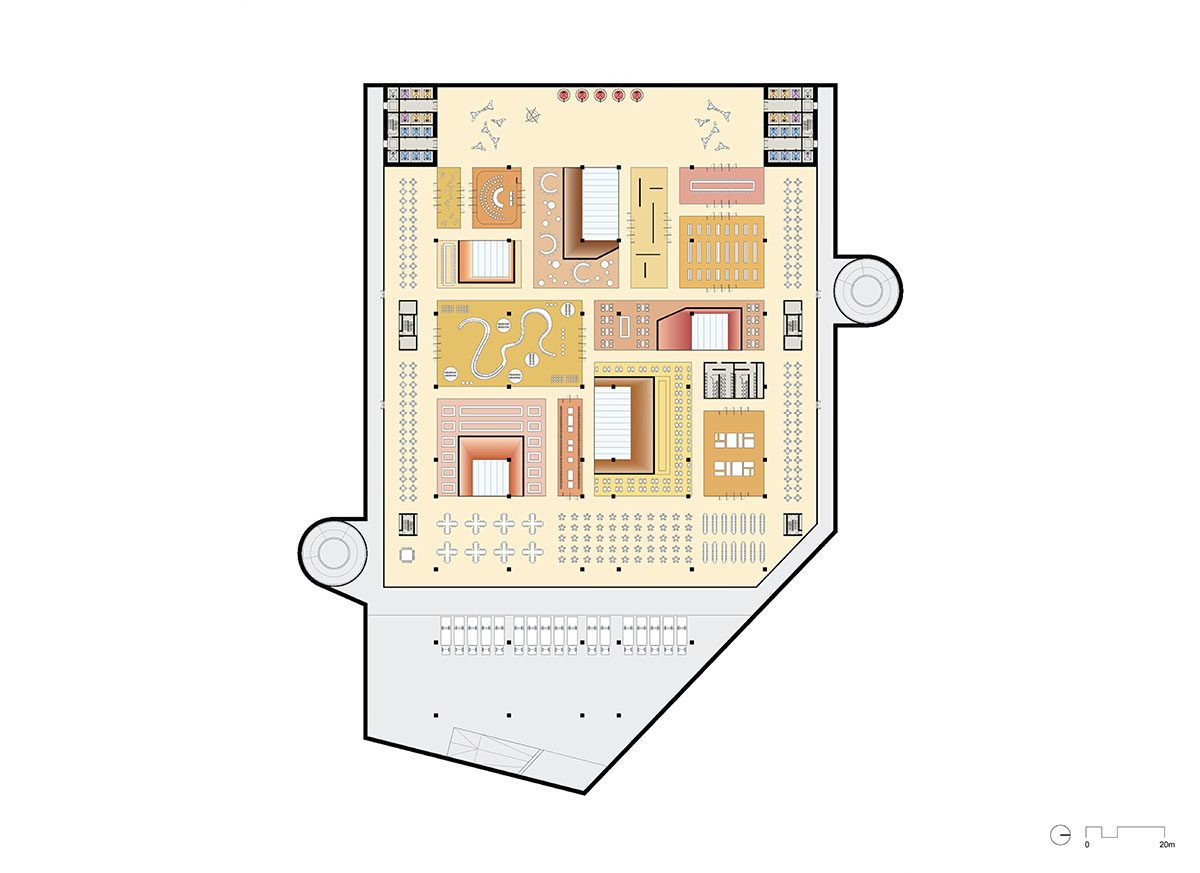 Image © REX
Top image © Luxigon
> via REX