LOLA Landscape Architects' KOER design brings back lost biotopes in Rotterdam
The KOER project is a collaboration between LOLA Landscape Architects, developer VORM, V8 Architects and Studio Architectuur MAKEN. KOER was chosen by the municipality of Rotterdam as the winner for the development of a vacant plot in the city. The plot is situated between Laan op Zuid and the Hilledijk in Rotterdam, the Netherlands and will house 167 new homes.
In the KOER project, urban living will be intertwined with flora and fauna. The design includes a large and richly planted courtyard and will have green roofs. The project is characterized by its wide variety of housing typologies and the inclusiveness of greenery and nature. The project includes both apartments, townhouses and family homes. Varying between 50 to 120 square meters for apartments and between 135 and 170 square meters for the other typologies, the project offers housing for a large target group. The design also includes a mobility hub, a language school and collective workplaces.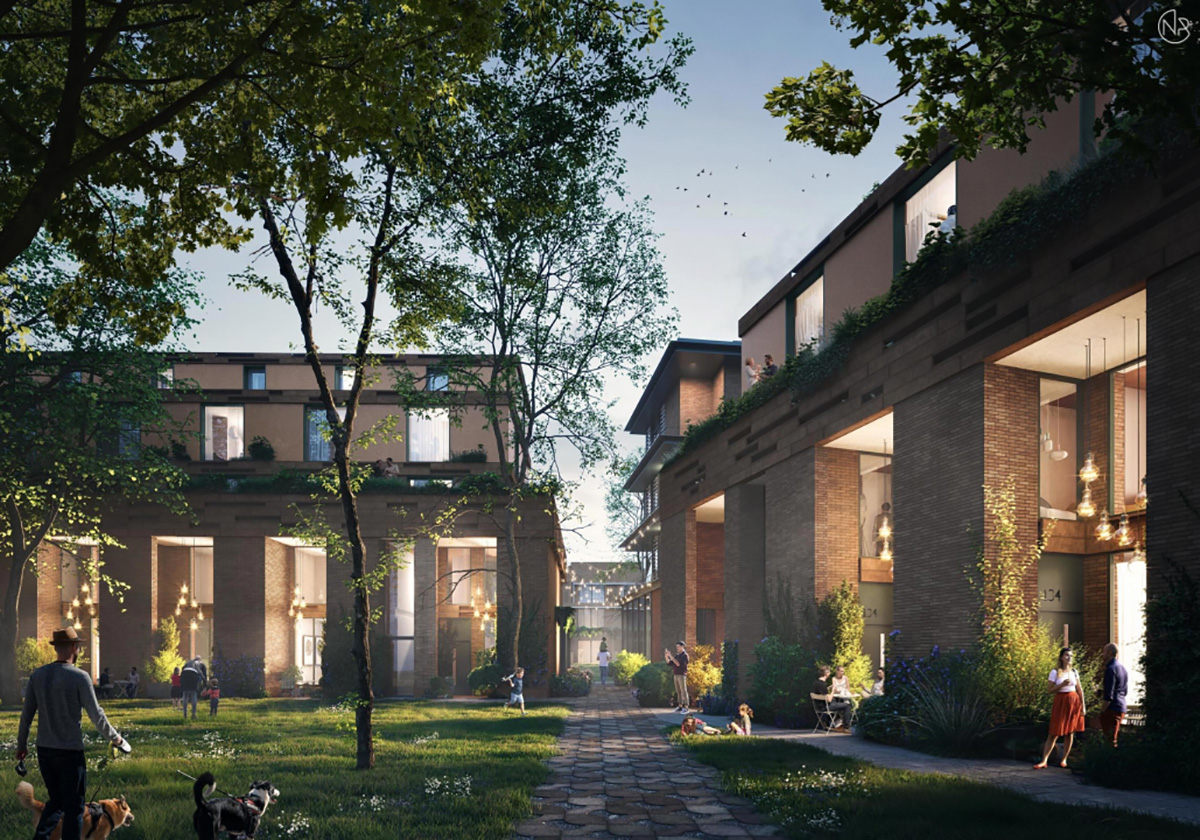 LOLA Landscape Architects states that "KOER is ready for the climate. This means that the roofs of the houses, the inner garden and the façade gardens will be climate-adaptive, with plenty of space for water and biodiversity."
The open collective courtyard forms a connection with the adjacent Hilledijkpark. The building block will be surrounded with the longest façade garden in the Netherlands, which will contribute to the water collection of the water-neutral design. The recycled stacked stone walls, wooden pergola and the custom made bricks with nesting areas for birds contribute to intertwining architecture with the Rotterdam plants and animals.
LOLA Landscape Architects states that "KOER was designed based on the idea of limiting energy and material use, but not making concessions with regard to the comfort and health of residents. For example, the KOER homes have a flexible concrete and wood supporting structure that makes future adjustments easy." Circularity has been a theme throughout the project, with the highlight being 'Villa Residu', the collective work place. This building was completely built with recycled materials, thus 100% circular.
Project information:
Collaboration: VORM, V8 Architects, Architectuur MAKEN, Bureau Stadsnatuur, DGMR, Pieters Bouwtechniek, Hely.
Location: Parkstad Blok 1, Rotterdam, the Netherlands
Construction: start in the first half of 2022.
Top image courtesy of Architectuur MAKEN.
All other images are courtesy of LOLA Landscape Architects.
> via LOLA Landscape Architects & VORM developers (Dutch)