Foster + Partners designs new innovation centre covered by larch shingles in the Swiss Alps
Foster + Partners has revealed plans for a new innovation centre in the heart of the Engadin valley in Switzerland.
Named InnHub La Punt, the new centre, featuring a contoured roofscape, is set to be built at the entrance to the village to offer a new space for collaboration and creativity.
Covering a total of 6,000-square-metre area, the project will incorporate work and seminar spaces, sports facilities, retail shops, a restaurant as well as an underground car park.
The project is aimed to act as a catalyst for transformation by bringing innovative people and ideas to the valley. InnHub La Punt will offer locals, tourists, technology companies, start-ups and universities a place to exchange ideas.
For this design, Foster + Partners is inspired by "the landscape and the local architecture", the low-rise ensemble has a protective wall that envelopes the site.
Thanks to its thick walls, it is intended to block the cold winds and enable pockets of shelter and enhanced microclimate.
"This wall acts as a contemporary interpretation of the thick, insulating walls and deep windows of the Engadin valley where smaller openings are introduced to minimise heat loss," said Foster + Partners.
"The roof has been carefully designed to combine renewable energy generation systems, arranged on angled surfaces to avoid snow accumulation, while allowing daylight to enter the deepest parts of the building."
"These energy efficient systems together with the photovoltaic panels generate a third of the building's total energy demand," the firm added.
On the street level, there will be shops and public functions, while the more private functions face the surrounding landscape, pulling greenery into the site through the courtyard.
A public route through the site will bring life into the meeting and collaboration spaces, allowing people to glimpse the energy and vitality of the community hub.
Comprised of 3-storey volumes, the innovation centre features a contoured roofscape with roof lights which will bring natural light into the interior spaces. The shape of contoured roofs is perceived from the interior, while visitors can also see the textured walls in detail.
At the heart of the building, there will be a "village square" – an amphitheatre, a gathering space which will become the social focal point of La Punt.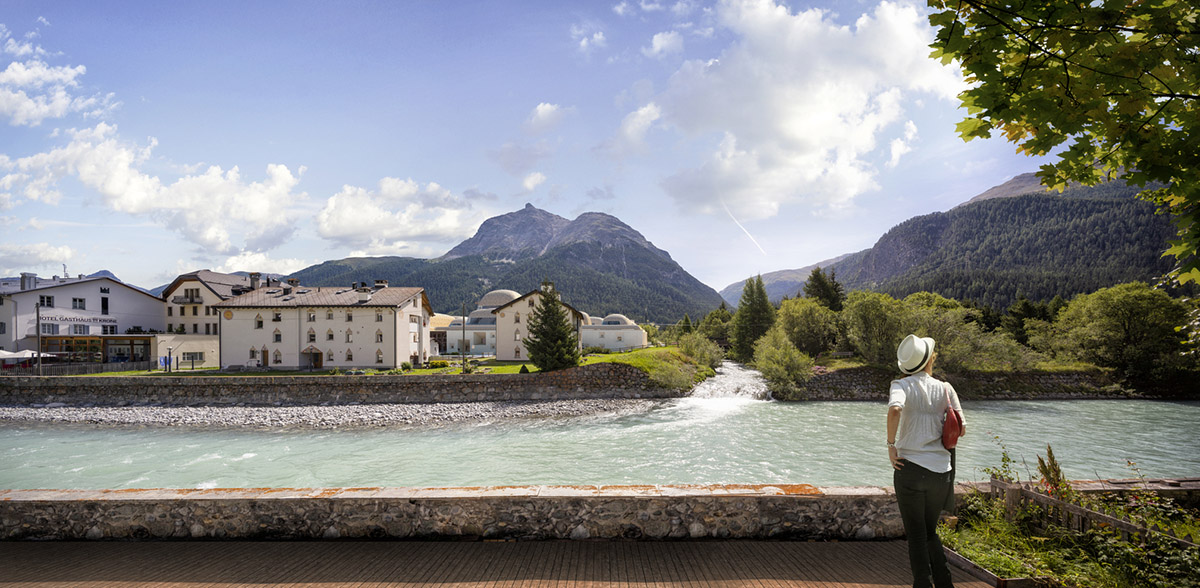 The building will be made of local materials and covered in larch shingles. A distinctive rooftop café and terrace will placed on top of the theatre, set beautifully against the backdrop of the valley.
"It is based on the idea of the 'third place' – away from the workplace and home – to create a space for collaboration and creativity," added the studio.
The project is scheduled for completion in 2022.
Project facts
Architect: Foster + Partners
Client: Caspar Coppeti, Christian Gartmann, Beat Curti and Jon Erni
Collaborating architect: Kuechel Architects
Foster + Partners design team: Norman Foster, Nigel Dancey, Pablo Urango, Taba Rasti, Lucas Mazarrasa, Emilio Ortiz, Alex Duro, Julio Serrano, Piers Heath, Anis Abou Zaki, Liam Alsop, Martha Tsigkari and Sherif Eltarabishy
Mechanical engineers: Foster + Partners
Cost consultant: Kuechel Architects
All images courtesy of Foster + Partners
> via Foster + Partners