Sumayya Vally named as world's most influential architect shaping the future in 2021 TIME100 List
South African architect Sumayya Vally, founder of Johannesburg-based architecture practice Counterspace, has been named as the world's most influential architect shaping the future in 2021 TIME100 Next List.
Releasing its "best 100" list each year, the TIME listed the Johannesburg-based collaborative founder Sumayya Vally as the most influential architect "who is shaping and defining the next generation of leadership."
Vally was named among other world renowned icons, including journalist Steve Kornacki, author Brit Bennett, fashion designer Telfar Clemens, chef Sohla El-Waylly, actor Shira Haas, marine biologist Ayana Elizabeth Johnson, Instacart CEO Apoorva Mehta, newly elected United States Sens, filmmaker John Wilson.
Sumayya Vally is the only architect listed among the most influential people under the "Innovators" category, this category includes Sarah Al Amiri, UAE's first Minister of State for Advanced Sciences and also the chairperson of the country's space agency, Jason Ballard, co-founder of ICON, New Zealand politician Ayesha Verrall.
Vally was praised for her design for the 2020/2021+ Serpentine Pavilion becoming the youngest woman architect commissioned for one of the industry's biggest accolades in a tribute by Aryn Baker, TIME's Africa Bureau Chief.
Serpentine Pavilion 2020/2021. Image © Counterspace
The 2020 Serpentine Pavilion was designed by Counterspace, led by Sumayya Vally, Sarah de Villiers and Amina Kaskar, to be installed between June 11 and October 11, 2020 in Kensington Gardens.
However, due to the coronavirus pandemic, the opening of the pavilion was postponed to Summer 2021. "For this first time since the annual architecture programme was founded 20 years ago, the 2020 Serpentine Pavilion designed by Johannesburg-based practice Counterspace has been extended into a two-year commission," had said the Serpentine Gallery.
"Studying architecture in her native South Africa, Sumayya Vally and her fellow students were regularly told that anything they could imagine had already been done," stated in a tribute by Aryn Baker.
"The subtext was clear: architecture belonged to the West; all they could hope to do was build upon it. Vally didn't buy it. To her, the rarefied world of architecture had long ignored the African experience."
Sumayya Vally said that "There is so much that has been taken away from us or erased or ravaged on the continent."
"In looking at these other ways of being, there is so much design waiting to happen."
"Means that things are shifting and changing, not just for me and my voice, but for the generation behind me," Vally added.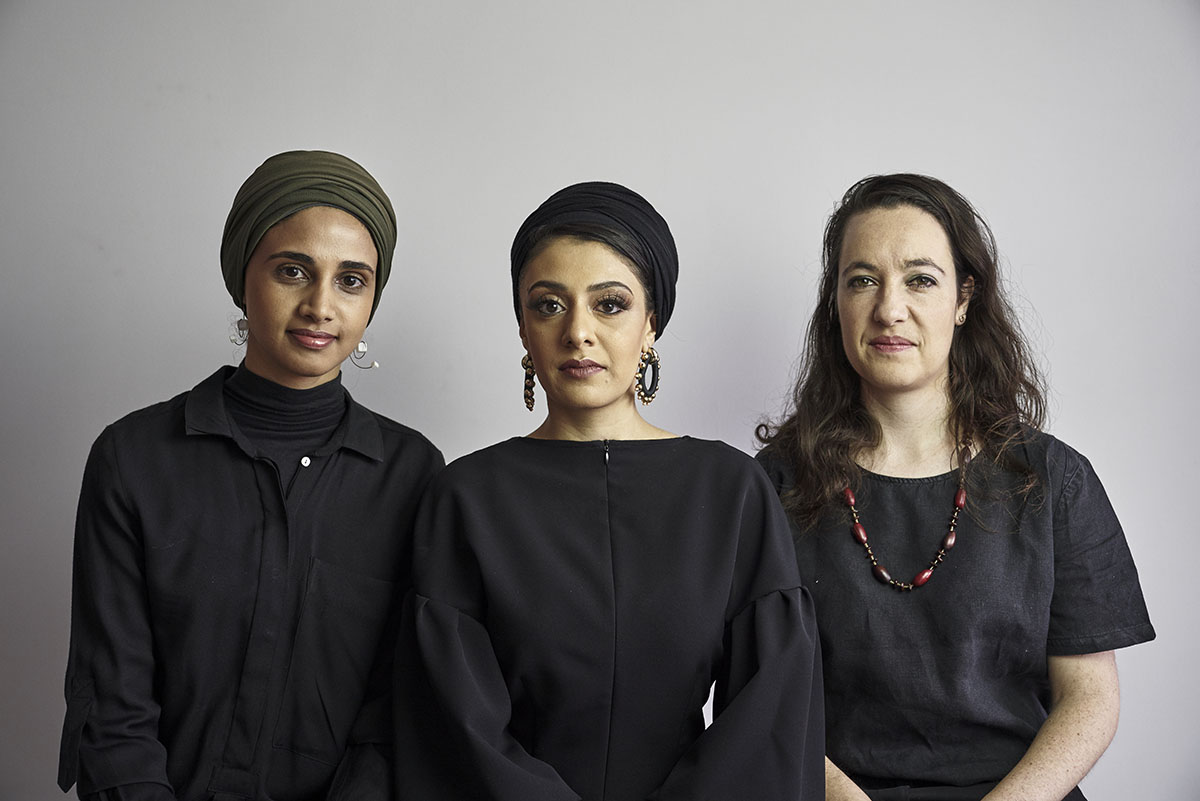 Amina Kaskar, Sumayya Vally and Sarah de Villiers of Counterspace. Photograph © Justice Mukheli in Johannesburg, 2020, © Counterspace
South African studio Counterspace was founded by Sumayya Vally, Sarah de Villiers and Amina Kaskar in 2015. Based on community engagement, the studio develops installations, exhibitions, installation conceptualisation, urban research and design at the intersection of the functional and the speculative; pedagogy and praxis.
The studio's philosophy is dedicated to finding expression for hybrid identities and contested territories.
Sumayya Vally is also leading Unit 12 of the Graduate School of Architecture Johannesburg and make collaborations on several research projects with the City.
The studio also runs a platform Counterparts, which is an interdisciplinary space, residency, dialogue and publishing platform, with an interest in tracing, seeding and carving collaborative ways of working.
The 2021 TIME100 Next List also includes Jon Ossoff and Raphael Warnock, comedian Amber Ruffin, United Kingdom Finance Minister Rishi Sunak, see the full list here.
Top image: Sumayya Vally. Photo courtesy Counterspace Studio.
> via TIME