Counterspace-designed Serpentine Pavilion postponed to 2021 due to coronavirus
The Serpentine Gallery has announced that the opening of the Serpentine Pavilion, designed by Johannesburg-based architecture practice Counterspace, has been postponed to 2021 summer due to the coronavirus pandemic.
Celebrating its 20th anniversary, the 2020 Serpentine Pavilion was planned to be installed in Kensington Gardens, and was planning to extend a public programme across London between June 11 and October 11, 2020.
"For this first time since the annual architecture programme was founded 20 years ago, the 2020 Serpentine Pavilion designed by Johannesburg-based practice Counterspace has been extended into a two-year commission," said the Serpentine Gallery.
Counterspace, directed by the all-woman team of Sumayya Vally, Sarah de Villiersand Amina Kaskar, will collaborate with the Serpentine on a series of off-site and online research projects throughout 2020, which will culminate with the opening of the Pavilion in Summer 2021.
Adjaye: "The global COVID-19 crisis has changed the immediate context"
"The global COVID-19 crisis has changed the immediate context," said Sir David Adjaye, a Serpentine Galleries trustee and Serpentine Pavilion Advisor.
"Rather than rush to execute Counterspace's stellar design as soon as it is safe to do so, the Serpentine has chosen to accept the slowness reshaping society today and utilize it to develop a deeper relationship with the architects."
"We look forward to working with Counterspace over the next 12 months to draw more meaningful connections between their pavilion and the people, communities, and nature of London," Adjaye added.
"While the circumstances that have prompted this evolution are by no means easy, we believe it is an important opportunity for this pavilion to stand as a bridge of sorts between either sides of this unfathomably significant time in history."
Image © Counterspace
The Serpentine Gallery has revealed Counterspace's proposal in February this year, the 2020 Serpentine Pavilion was tackling the problems of "recycle of materials".
By using cork and bricks gained from recycled construction waste, the studio was going to draw attention to "recycle of materials and construction techniques", while the design was going to refer to migrant and other peripheral communities of London.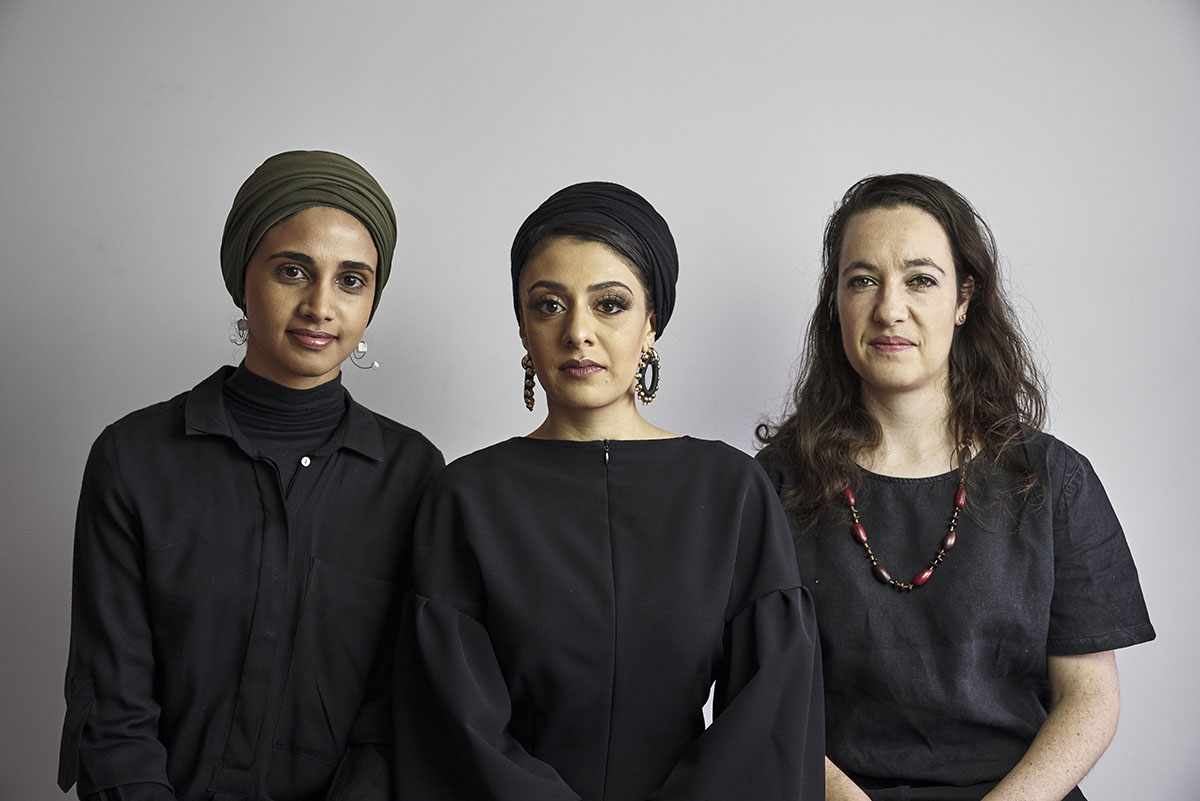 Amina Kaskar, Sumayya Vally and Sarah de Villiers of Counterspace. Photograph © Justice Mukheli in Johannesburg, 2020, © Counterspace
"We've always relied on places of gathering to come together and we miss them when they're gone," said Sumayya Vally of Counterspace.
"COVID-19 has brought the Pavilion themes of community and gathering sharply into focus - allowing us the opportunity to extend and deepen our engagement process over two years."
"We are excited to launch a set of initiatives that will redefine and celebrate the role gathering and the construction and preservation of belonging in times of crisis - reversing the original procession, so that a cascade of dialogues, events, programmmes and fragments of the Pavilion will pop-up incrementally in real and digital space over the course of 2020 coming together in 2021 in Kensington Gardens for from Pavilion 20 plus 1," Vally added.
Counterspace's principals are the youngest women architects commissioned for the Serpentine Pavilion
All three were born in 1990 and are the youngest ever architects to be commissioned for the Serpentine Pavilion so far. In design, the architects use both innovative and traditional building techniques.
Counterspace's design will be based on gathering spaces and community places around the city, folding London in to the Pavilion structure.
Many events, design fairs, trade shows have been postponed or cancelled due to the global coronavirus pandemic, including Venice Architecture Biennale 2020, Milan's Salone del Mobile, MIPIM trade fair and more.
All institutions, schools and organizations have closed their doors to the public until further notice. See the full list of architecture & design events, schools, institutions, conferences affected by Covid-19.
Top image © Counterspace
> via Serpentine Gallery