Winning Entries Announced: Poetry Competition, 3rd Cycle – Improvisation 2021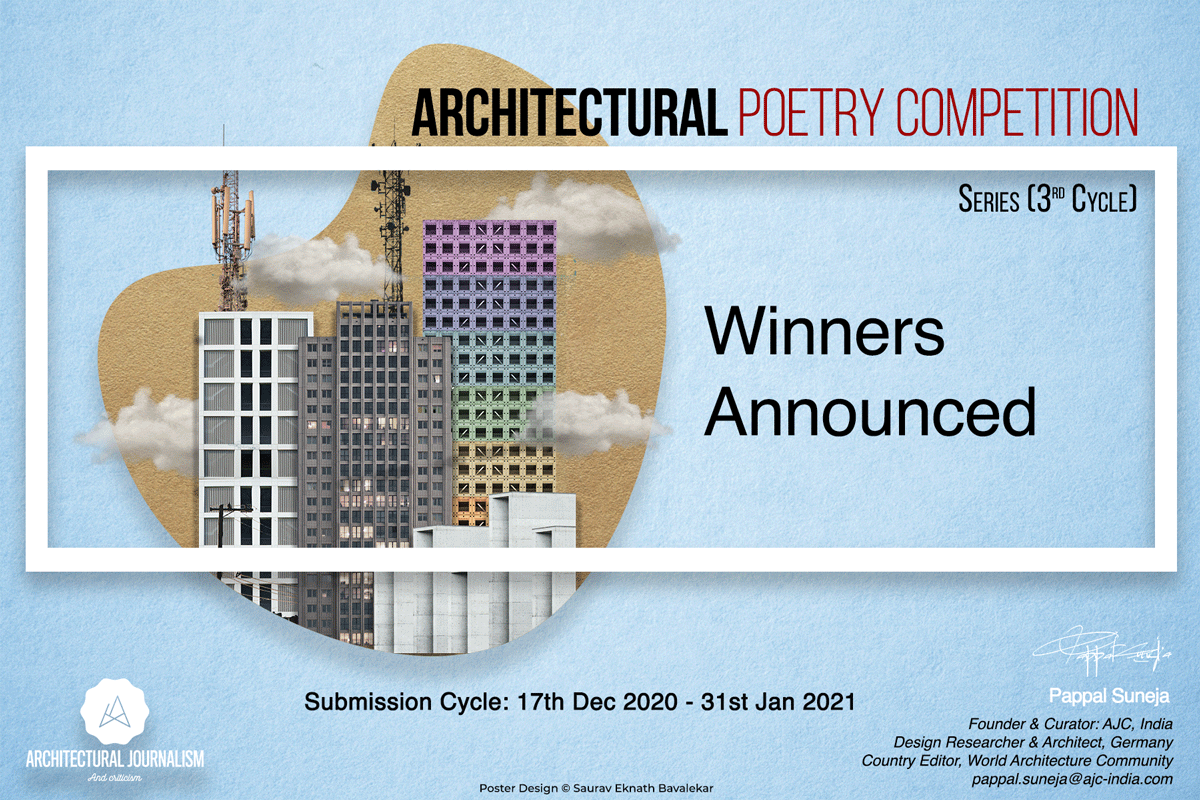 Architectural Poetry Competition, 3rd Cycle floated by Architectural Journalism & Criticism Organisation announces the Winning Entries.
Theme described for the Competition was;
'Improvisation 2021'
'Poetry' is a very subjective interpretation of one's thoughts and ideas. As we know that the current situation calls for a complete shift in our lifestyle and thinking. Let us give wings to our imaginations and consider 'Poems' as a tool to map our incoming thoughts and musings. Open your mind and capture the essence of change that we are envisioning with each passing day. The loss of connections between diverse forms of public-life needs to be rethought. The need of the hour calls for a reconceptualization and unfolding of the changed public activities and ambiance associated with it.
The 'Citation Award' goes to Vinita Agrawal
"Home is a Crusade"
We believe in many things
but right now I believe in the 'walkers'
who trudge from Mumbai to Khurja
with children too tiny to leave the breast
who rest by day and walk by night
cleaving lands with their bare feet
lands whose names I can't pronounce
their belongings in shapeless sacks,
faded jholas, worn canvas bags.
Slaking their thirst at every river
every creek
as though on a pilgrimage.
Home is a crusade.
The biscuits have crumbled, bread, stale
but they taste alright under the awning shade
of an evening tree.
When they look at each other, they
draw strength for the other's resolve.
What it is to be a labourer. A migrant at that.
I am guilty of a roof over my head
of the rent not burning a hole in my pocket.
The digital newspaper carries their photos
the women wearing bangles, bindis, pretty beads,
trinkets he must have bought one rare day
when he didn't have to work.
Togetherness is a jewel that can dim a solitaire.
Out there in the heat they're walking
Saying we can do it, Don't give up, We're going home.
The scorching April sun, the starvation
the terrible thirst, might kill them.
But they will be cradling their children to their bosoms
dreaming the same dreams
exhaling the same last breath.
'Special Mention Award I' goes to M I Sandhya
"Bridging hopes"
Fruitful talks ran through hours
sparkling pebbled teeth played hide and seeks;
Do I get a chance to play the same act
once again without any adorable shutters.
Dazzled eyes pulled me nice
towards the lengthy huge search my beloved ones;
Is it easy to stop looking out at gatherings
instead of hanging up with gadgets meet.
Lovable carrying spent with sharing
healthy splitted loads groomed the house;
Who promises me this shift never cause
the bond of cheesy rolled pie once more.
Holding hands lived in lands
honored palms learnt the important life songs;
Are the dares catches up the nearest gaps
or demands the tipped fingers to howl.
Innocent sights falls in frights
blindfolded earth puzzling when to overcome the storm;
Flashing wavy situation are capable of survival
to accompany me with the rebegining.
'Special Mention Award II' goes to Vidhi Pandit
"The Leakage"
On some nights, fill me up with people.
Fill me up with those who loved me.
Fill me up with the warmth of their palms.
Those minds that think of me in solitude.
Fill me up with our forgotten calms.
Fill me up with the tunes of their saddest songs;
with the way, they used to look at me.
Fill me up with the charm of their misspelled words;
with the sounds of how they used to say my name.
Fill me up till I am full-
full of their known wholeness;
like how a book swells a little, after being read.
Fill me up with their names and breaths,
layered and woven gently together.
If all last things are deeply cherished,
then fill me up with their parting hugs.
Fill me up with their bodily spaces.
For their summation is what I am-
-and my heart is leaking through a hole.
Fill me up with the scent of their homes.
On some nights, fill me up with people.
Certificate of Appreciation_1: Amy Nash
Are the Buildings Alive?
Buildings have rhythm.
One plays the sax, a corner apartment window open
to release the unknowable wail
to the street. A scene from a film noir classic,
a gray cat licks its paw on a sill one floor up.
Buildings eat, some devour
smog with their skin
like primitive scavenger fish
out of water. The truth about London fog
cannot be unlearned.
Buildings are patient.
Some defy chronology,
become wild horses running through the marshes
of Saintes-Maries-de-la-Mer
on their way to a silent beach.
Buildings play tricks.
One traps an unsuspecting poet in a bathroom
with a temperamental lock in a door prone to swelling
dangerously. A copy of The Prison Diary of Ho Chi Minh
lays open on the cold, black-and-white tile floor.
Buildings age and rumble toward their last gasp.
Another poet writes captions to invisible sketches
of skeletal structures. A designer swims on the other side
of the Malécon with porpoises and seahorses
inside crumbled concrete reefs.
Buildings play and sweat.
One houses the oldest merry-go-round in the country.
A cedar-shingled utilitarian structure with a low-gabled roof.
She was the girl in the "boy on horse" photo framed and hung on the wall.
Those oxide eyes, that motor moaning in the basement below.
Buildings heal, if only briefly. The gazebo, the tent in a city park, a pandemic raging outside/inside. Inflatable ones might cave under the weight of too much fear.
Buildings regenerate.
An old boathouse casts a wounded shadow across the cracked river.
A scratch really, a light hiccup, really just a shed
emptied of all viable shells and sculls. A calm January sky and the frozen water below
prevent the jumble of wooden beams from collapsing, or floating up, forever away.
Some buildings follow the rules of improv,
no longer in denial. Others refuse, as they ask:
where will the horses go when the Rhône delta drowns?
Certificate of Appreciation_2: Sanyukta Joglekar
Where were the slippers?
The edges of the house carve a vision,
The walk till there encroaches mind-space
"Huh, seemed much smaller then"
Untouched by movement,
The room reveals a neatly preserved time
The stillness is crafty,
Undoubtedly cunning, the memory of space constructs every visual
"Should've fixed that cabinet"
Ironically, the only thing old in the space was her
Without objects, the architecture of space begins to find meaning
Distraught through disposition of space,
Under the chair, the lost yellow slippers uncovered
"Finally, found them"
Gawking at the slippers leave,
The space shrugs and slumbers again
Jury Panel for the Competition was comprised of
- Rochelle Potkar, Fiction Writer & Poet, Mumbai.
- Madhu Raghavendra, Poet, Curator, Social Activist; Mumbai.
- Mariane El Ghrayche, Architect & Designer, Beirut and Stuttgart.
- Pappal Suneja, Lecturer & Design Researcher, Stiftung Bauhaus Dessau.
- Jinisha Jain, Architect, Conservationist & Poet, New Delhi.
- Sangeet Sharma, Architect, Author & Poet, Chandigarh.
For more updates, visit the Instagram handle of the Organisation.
Head Image © Saurav Bavalekar