UNStudio reveals Van B residences in Munich featuring intelligent, adaptable systems in interiors
UNStudio has revealed design for a new residential project in Munich, Germany, featuring intelligent and adaptable systems in interiors providing options for multiple family constellations. The project is currently under construction on site.
Called Van B, the new project, commissioned by a Munich developer Bauwerk, has been conceived as a completely new "analogue smart" urban living concept.
Located on Infanteriestrasse next to the future 'Kreativquartier' (creative quarter) in Munich, Van B will offer "a completely new form of housing that reimagines the future of urban living."
The project is developed as a prototype for modern city dwelling, Van B is designed "to cater to changing demographics and multiple family constellations," said UNStudio.
Featuring a gridded façade with protruding window frames, it will contain 142 highly flexible apartments, outdoor and shared communal spaces and striking facade. "Van B offers a new form of urban living," according to the studio.
"What makes Van B truly special and unique is that it offers a completely new form of 'smart' living," said Ben van Berkel, founder and principal of UNStudio.
"This is not smart in the usual sense of tech integration; it instead involves reinterpreting ideas from the digital world in order to improve the analogue, physical spaces we inhabit."
The project is comprised of multifunctional plugin modules. These modules will allow users to have maximum flexibility according to their changing demands in daily life.
"Individual spaces in our homes have had to become multi-functional, serving as offices, gyms, living rooms and sleeping nooks, all at the same time. This means that now, more than ever before, we need to develop new living concepts that cater to the changing demands of our homes," added Ben van Berkel.
As the studio highlights, flexibility has become more important to people today than sheer size. "With Van B we introduce new ways to make the footprint of an apartment more flexible," added the firm.
UNStudio devised an architectural strategy to provide as many different ways as possible to reconfigure an apartment.
To achieve this, the studio designed an adaptable partition and furniture "plugin-based" system that allows homeowners to use the space in a 40-square-metre apartment almost as if it were a 60-square-metre loft.
"The Van B plugin system allows users to easily change the use of the same floor space in a matter of seconds, making it possible to transform a room from a generous office into a cozy living room, or a bedroom," said UNStudio.
"Van B challenges old conventions of square footage and fixed footprints to empower people to live in more flexible ways. Quality meters become more important than square meters."
"The flexibility lies in the fact that each element can work in different configurations and that the resident can chose an individual configuration of plugins based on a catalogue of nine elements," added the firm.
In order to achieve this, the studio designed a grid system that was devised upon which each element is based, as whenever one element is opened, the back of the other one needs to be adjacent to it.
"This means that no matter which elements the homeowner chooses, and no matter how they arrange them inside their apartment, the modules will work together," added the firm.
"With the possibility to reconfigure the apartment to their immediate needs, the homeowner can choreograph their space around their day, instead of the other way around."
Interior view from an apartment unit
"Van B goes beyond traditional ideas of flexibility"
"Related ideas have been seen in architecture in the past, but Van B goes beyond traditional ideas of flexibility as we know them in architecture," said Ben van Berkel.
"It is more intelligent, adaptable and user friendly, while also providing high levels of comfort."
Van B offers a variety of apartment types and sizes including one to three room apartments, flats, gallery lofts and rooftop flats, each catering to different demographics and resident constellations.
Interior view from bathroom
Essential in the design of Van B is the relationship of the inside to the outside and the creation of a community within the development. Creating connections between people and to the outdoors, and using outdoor space as an extension of the living spaces was essential to the design.
In the apartments, the studio designs large bay windows and balconies to create visual connections between the street, the homes and the beautiful trees that line the road.
"A sense of expanding the space is created by pushing the inside out and pulling the outside in," the firm added.
"The bay windows also serve to provide the building with a sculptural three-dimensional shell."
In the apartments from the first to the fifth floor, the living space expands from within, enabling 180-degree cityscape views while retaining privacy for the neighbours.
The result is an apartment block that makes the most of both neighbourhood living and its interior spaces.
Interior view from penthouse
The units will have glazed facades, the gallery lofts that face the courtyard on the ground floor invite residents to open up their apartments and extend their living rooms into the garden.
Furthermore, the voids that span over all three levels create unique spatial configurations. Having their own address, these triple height apartments almost work as small houses nestled within the building.
As the firm emphasizes, Van B also "offers an architectural expression of the ideas of the sharing economy, community creation and inclusive ways of living."
"It provides a roof terrace that is open to all residents, alongside communal 'Kitchen Lounges' that provide space for entertaining, working and socialising outside of the home. There is also a fitness patio, a bike repair station, alongside car and bike sharing services."
According to Ben van Berkel, "the current pandemic has highlighted how important social connections are for our wellbeing. Now more than ever, we are seeing that many people desire and need to meet regularly with their families, friends and neighbours."
"But with neighbours in particular, such encounters are usually spontaneous and so they need to be facilitated. Architecture can create frameworks that enable people to meet, where neighbourhood communities can be shaped and where spontaneous encounters can occur," he added.
Interior view from townhouse
The Van B project fulfills all of the strict sustainability regulations in Germany. In addition, parts of the foundation and basement structure from the previous building were re-used for the new building and the basement walls were reinforced.
In this way it was possible to save on construction materials, while speeding up the building process. The roof garden also serves to cool the building, while the bay windows are orientated to optimise daylight in the apartments.
Bay window balcony
Plug-in configurations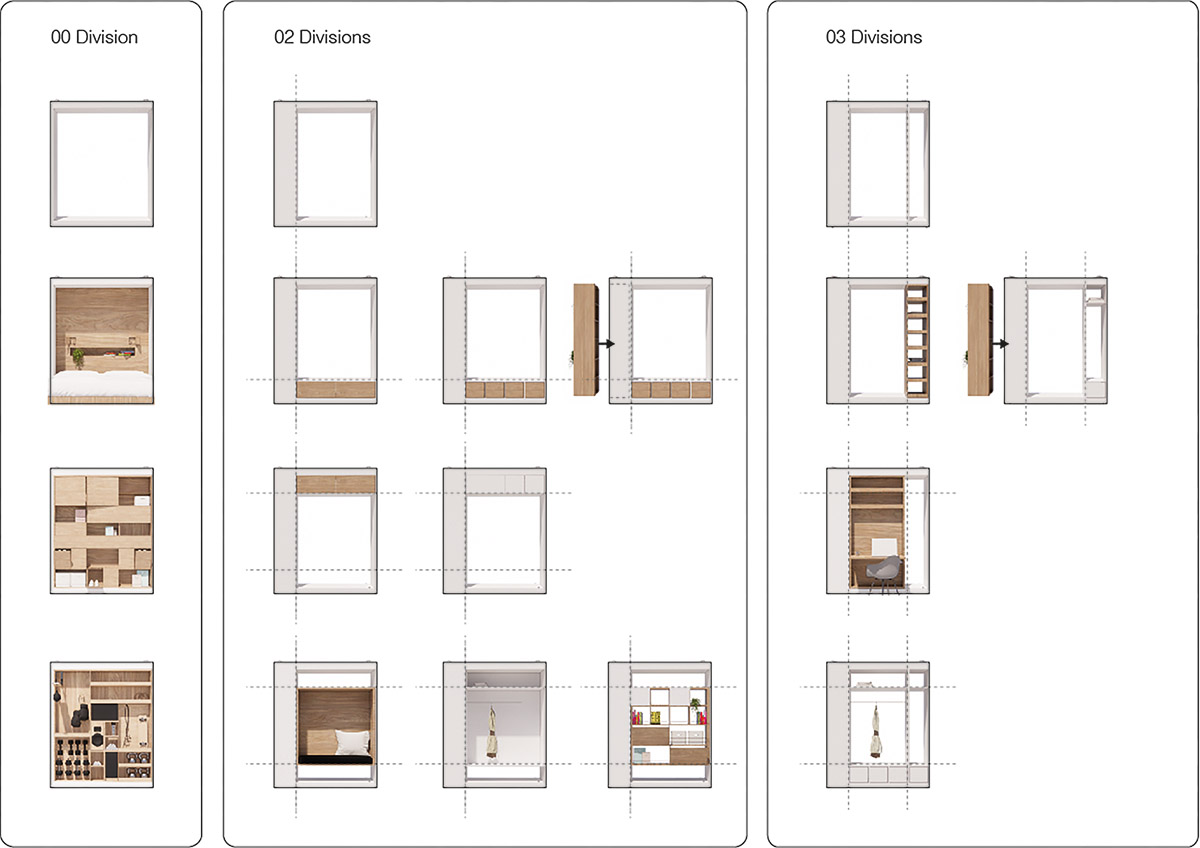 Plug-in grids
Plug-in matrix
Ben van Berkel spoke to WAC editor-in-chief Berrin Chatzi Chousein about the future of transport hubs in a live talk as part of WAC's Live Interview Series. Watch Ben van Berkel's live talk on WAC's IGTV.
Project facts
Project name: Van B
UNStudio: Ben van Berkel with Jan Schellhoff and Julia Gottstein, Bart Chompff, Alexandra Virlan, Dimitra Chatzipantazi, Ana Maldonado, Patrik Noomé

Advisors:
Local Architect: BKLS Architekten
Landcape Architect: Andreas Kübler und Partner
Cost and Quantity Surveying: Leitwerk AG
Structure: Ingenieurgesellschaft albrecht + brettfeld mbh
MEP: IB Schmidbauer Planungsgesellschaft Haustechnik mbH &
MTM-Plan GmbH
Fire safety: Brandschutzservice Zobel GmbH
Client: Bauwerk Capital GmbH & Co. KG
Location: Munich
Building surface: 15.945 m2 total (9.905 m2 above ground)
Building volume: 51.380 m3 total (29.807m3 above ground)
Building site: 2.419 m2
Programme: residential & office
Status: under contstruction
All visuals © Bloomimages
All drawings © UNStudio
> via UNStudio