BIG reveals design for innovation campus for Terminus Group's Chongqing HQ with wavy green rooftops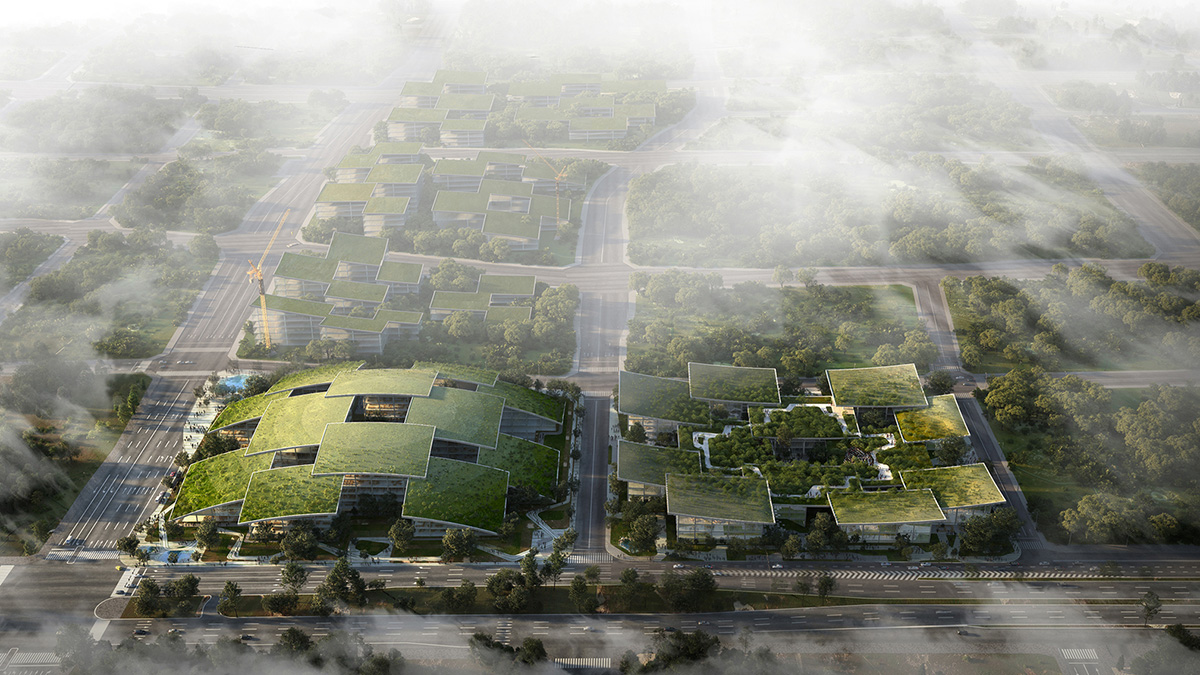 BIG has revealed design for a new headquarters of tech company Terminus Group in Chongqing, China.
BIG's project, covering a total of 135,000-square-metre area, will be a new AI CITY, the new hi-tech campus is dedicated to "Terminus Group's ambitions in artificial intelligence, robotics, networking and big data."
AI CITY, comprised of Cloud Valley, is situated in two plots that mimic each other's opposites: the Mountain, which forms a striking landmark and shelter to a protected network of courtyards for public functions, and the Valley, which offers the largest publicly accessible green rooftop in China for open-air events.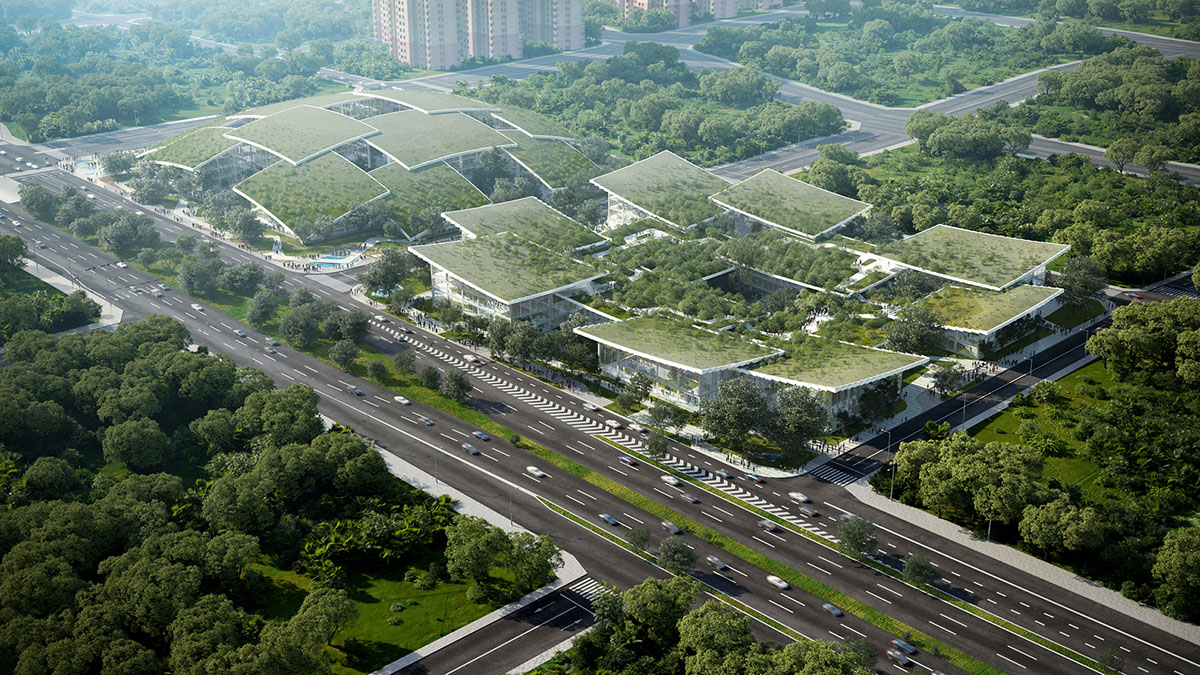 Image courtesy of Lucian R and BIG
As BIG highlights, "AI CITY is envisioned as a city where people, technology and nature thrive together – with spaces designed for all types of life: human life, plant life, animal life & even artificial life."
Designed for Terminus Group, the world-leading smart service provider, AI CITY is located in Chongqing also known as the "mountain city" for being a sprawling megacity that's crisscrossed by rivers and mountains in Southwest China. The project is specifically situated within the Chongqing Hi-Tech Industrial Development Zone.
Image courtesy of Lucian R and BIG
There is the Mountain, which offers the largest publicly accessible green rooftops in China for open-air events. Below the roofs cape, the building opens up to the surrounding public to invite visitors into this view neighborhood.
BIG stated that "AI CITY aims to advance of the future of artificial intelligence and robotics, and build the foundations of a new sustainable development".
In Cloud Valley, the barriers between nature and buildings will be removed. The porous structure of the urban fabric will create generous green courtyards with natural light and ventilation throughout both plots.
Image courtesy of BIG
Each courtyard will be programmed to host specific public activities. Sports Events, art exhibitions and product fairs will be hosted in the technological park spread between the buildings.
The barriers between human and artificial intelligence will also be removed in the project. Newly created spaces including AI exhibition spaces, markets and cafes will invite the public to join under the roof.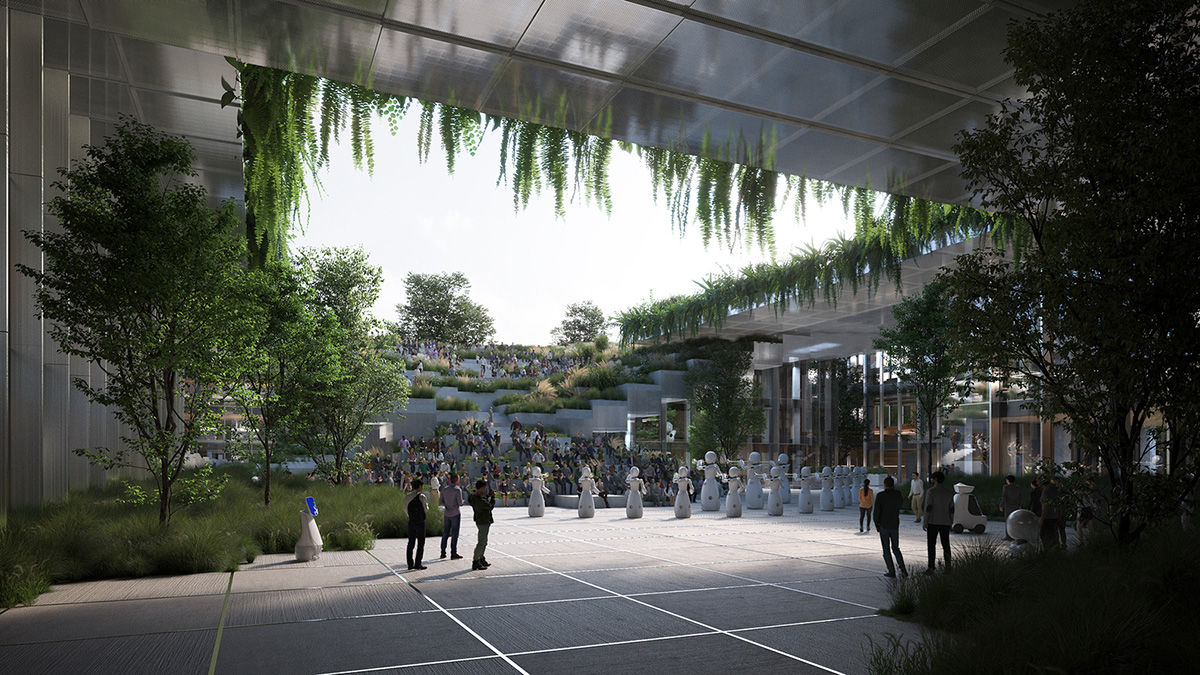 Image courtesy of Lucian R and BIG
Under the same roof, professionals and robotics working in the most innovative companies of the country will develop future technologies. The traffic strategy focuses on a flexible transition towards a future re-balance of nature with development. Throughout AI CITY, e-bikes, robotic vehicles and self driving cars will define a new, smart mobility system.
Image courtesy of Lucian R and BIG
With Chongqing's unique location between the mountains, impressive cloud formations shield the building from direct sun exposure and creates a special atmosphere condition that allows the façade designs to be more transparent as usual.
To protect the façades and exterior public spaces from further sun radiation and heavy rain, the building's rooftops are extended by a significant distance, depending on the façade's orientation.
Image courtesy of Lucian R and BIG
The key elements of design are the roofs of the complex, they are designed as wavy, convex and concave forms and drop all the way to the central courtyard in one place, creating access to the roof lush garden, and in other places, the roof lifts in two corners to create entryways from the inside.
The roofscape of the project allows for an abundance of nature to co-exist with the office programs, preserving the wild landscape experience that's traditionally difficult to access within the city limits.
Image courtesy of BIG
The green roof also embodies an ecological cohesive coexistence between an ecological cohesive coexistence between human, nature, climate, and technology.
To display the ultimate gesture of nature meeting technology, the green roof carpet shaping the valley and the mountain turns into the largest digital display in China at night.
Image courtesy of BIG
Image courtesy of BIG
Image courtesy of BIG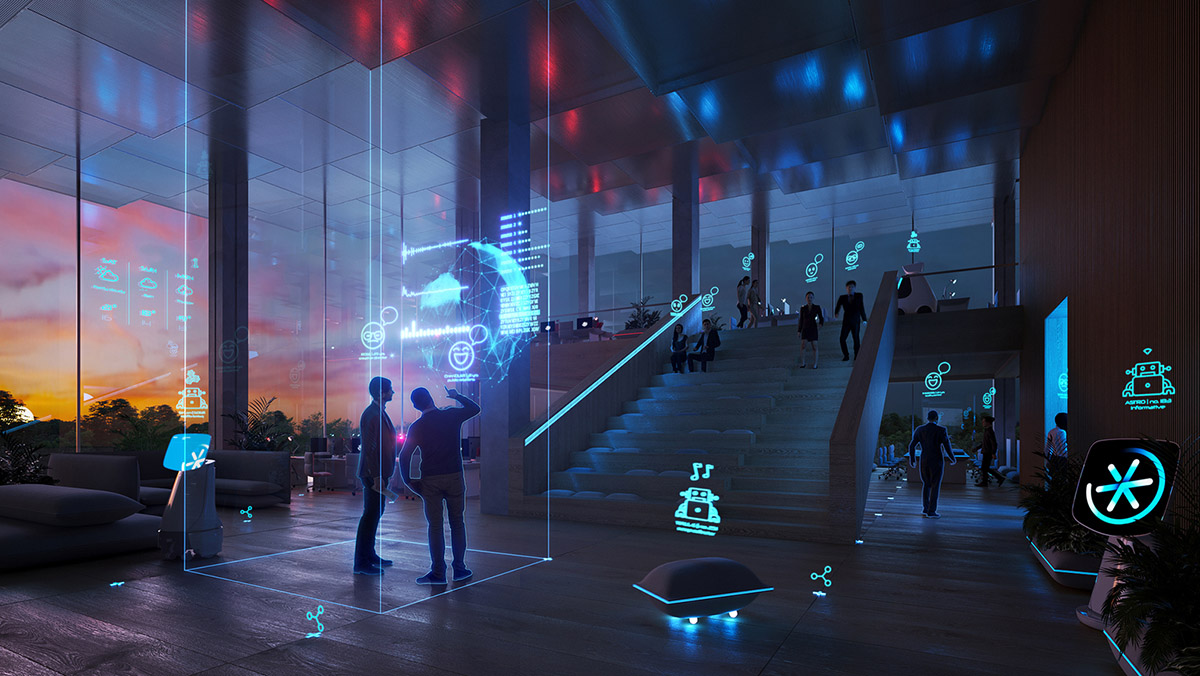 Image courtesy of Lucian R and BIG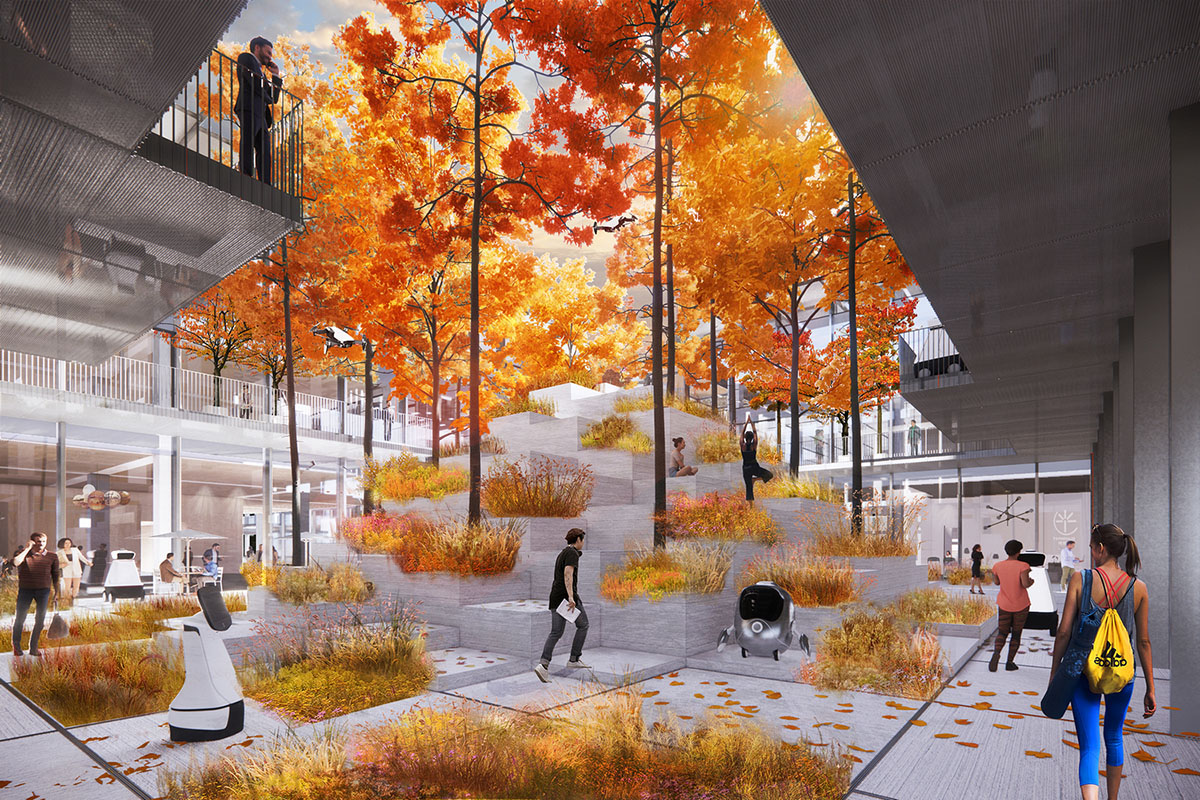 Image courtesy of BIG
Image courtesy of Lucian R and BIG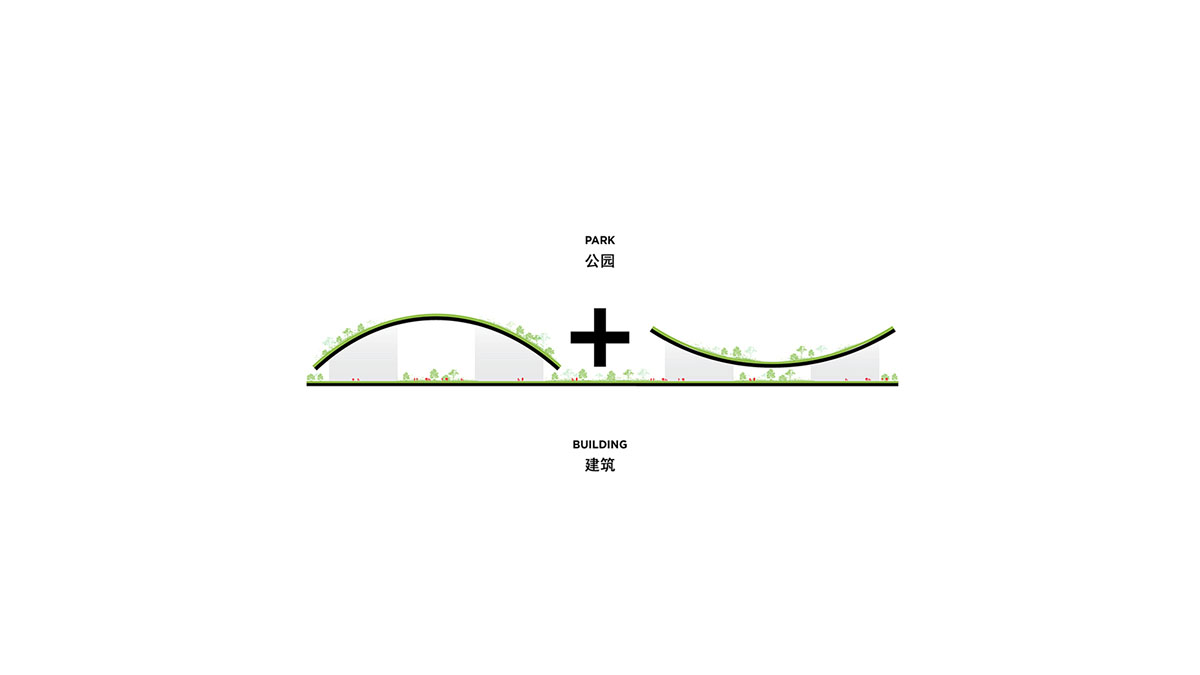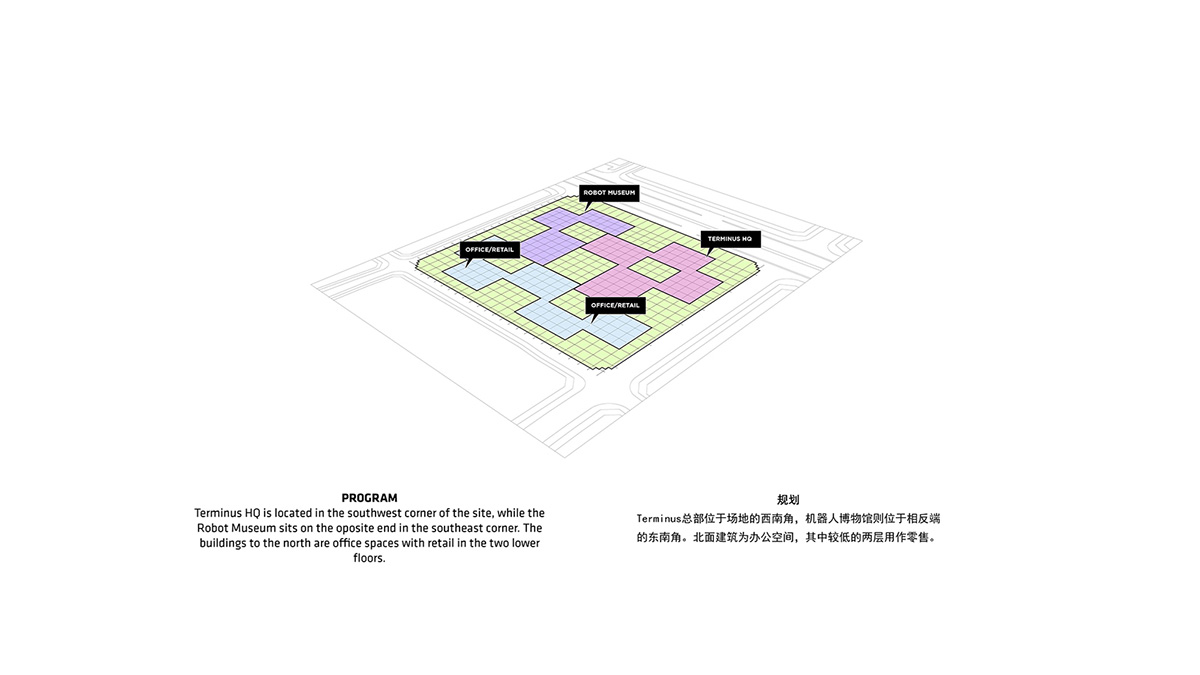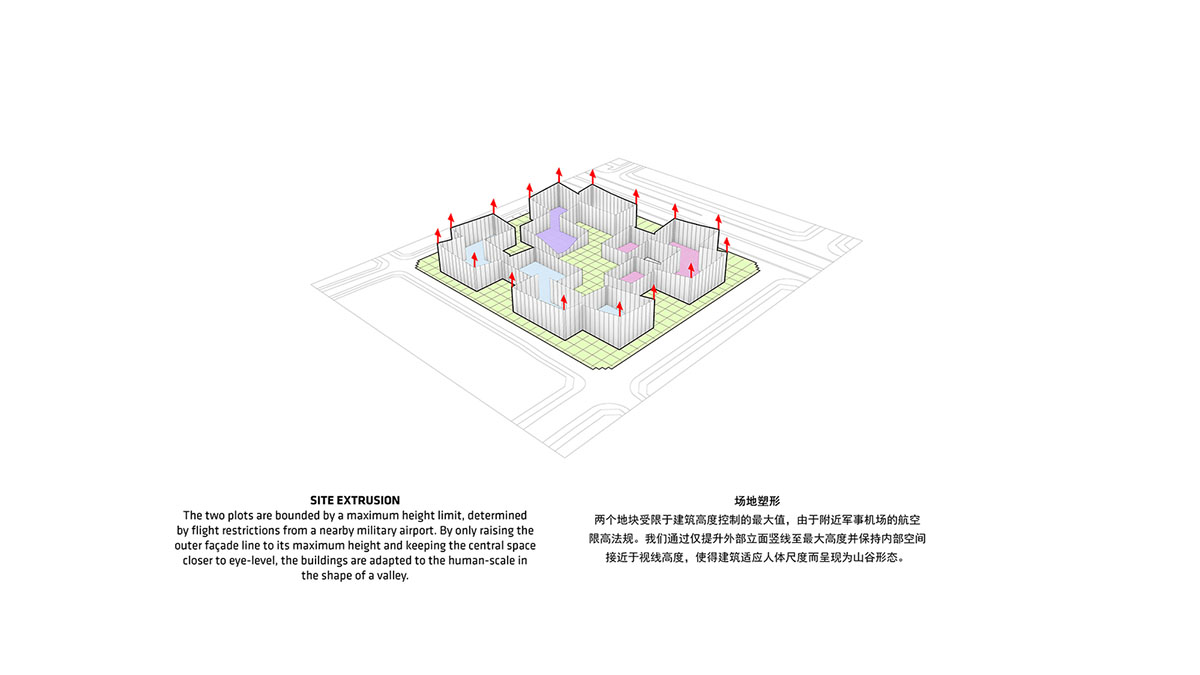 Project facts
Name: AI CITY
Size: 135,000m2
Location: Chongqing, China
Client: Terminus Group
Collaborators: LDI: Huiting; Green Building Consultant: CMCU; Facade consultant: Forster; Structure Consultant: BIG E
Design firm: BIG – BJARKE INGELS GROUP (www.big.dk)
Partners-in-Charge: Bjarke Ingels, Jakob Lange, Ole Elkjær Larsen
Project Leaders: Per Bo Madsen, Nanna Gyldeholm Møller, Dominic James Black, Gabrielle Nadeau, Dora Jiabao Lin, Enea Michelesio
Team: Biqin Li, Yara Rahme, Natchaluck Radomsittipat, Ipek Akin, Linnea Lujak, Laura Wätte, Peter Mortensen, Sergiu Calacean, Mattia Di Carlo, Høgni Laksafoss, Jan Magasanik, Eddie Can, Annette Jensen, Mussa Algasra, Marcela Dominika Rydalska, Laurent De Carniere, Cheng-Huang Lin, Nandi Lu, Henrik Jacobsen, Seda Yildiz, Lucas Coelho Netto, Marah Wagner, Vladislav Saprunenko, Jean-Sébastien Pagnon, Dimitrie Grigorescu, Alexander Matthias Jacobson, Kamila Abbiazova, Katrine Juul, Ella Murphy, Tore Banke, Cristian Teodor Fratila, Frederic Lucien Engasser, Ulla Hornsyld, Paul Johann Kohlhaussen, Eric Li, Erik Kreider, Karolina Lepa-Stewart, Tristan Harvey, Miles Treacy, Timo Harboe Nielsen, Andy Coward, Qingfeng Li, Milan Moldenhawer, Mamak Mazaheri, Daniel Ferrara Bilesky, Jesper Petersen.
Top image © Lucian R and BIG
All drawings © BIG
> via BIG